Limit one gift card per person, subject to completion and submission of the survey. Offer limited to qualified survey respondents who are residents of the United States, aged 18 or older. Use of the gift card is subject to the Visa
terms and conditions
.
Check out this week's featured VTS Marketplace listings
string(0) ""
What do I get with VTS Marketplace Early Access?
Get Exclusive Access to First-to-Market Inventory
VTS Marketplace solves the present challenge of not being able to physically tour spaces by allowing you to share beautiful, interactive listings digitally. Tenant reps will also get exclusive first-to-market listings straight from the top landlords in the industry.
Every Thursday, receive the latest VTS Inventory straight to your inbox
With a steady stream of spaces flowing right to your inbox, you'll never miss any first-to-market listings.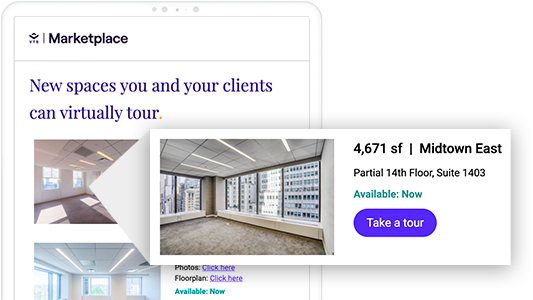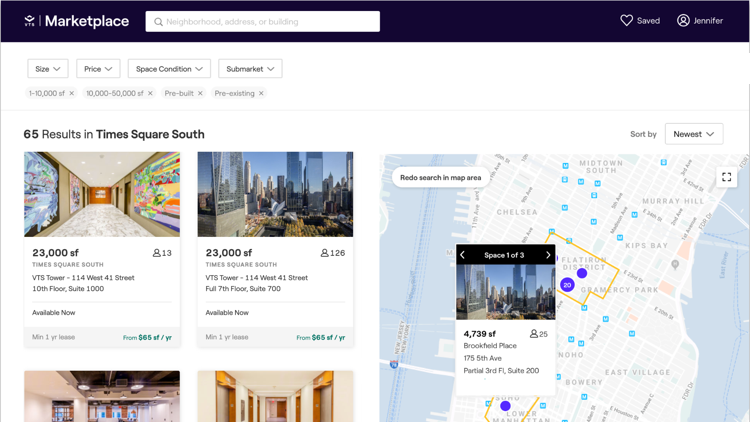 COMING SOON: Easily search and share the most accurate effective listings
VTS Marketplace is powered by verified, first-party landlord data from the VTS leasing platform - so you can trust the listings you see are accurate and up-to-date. And it's free.
Get FREE early access to VTS Marketplace