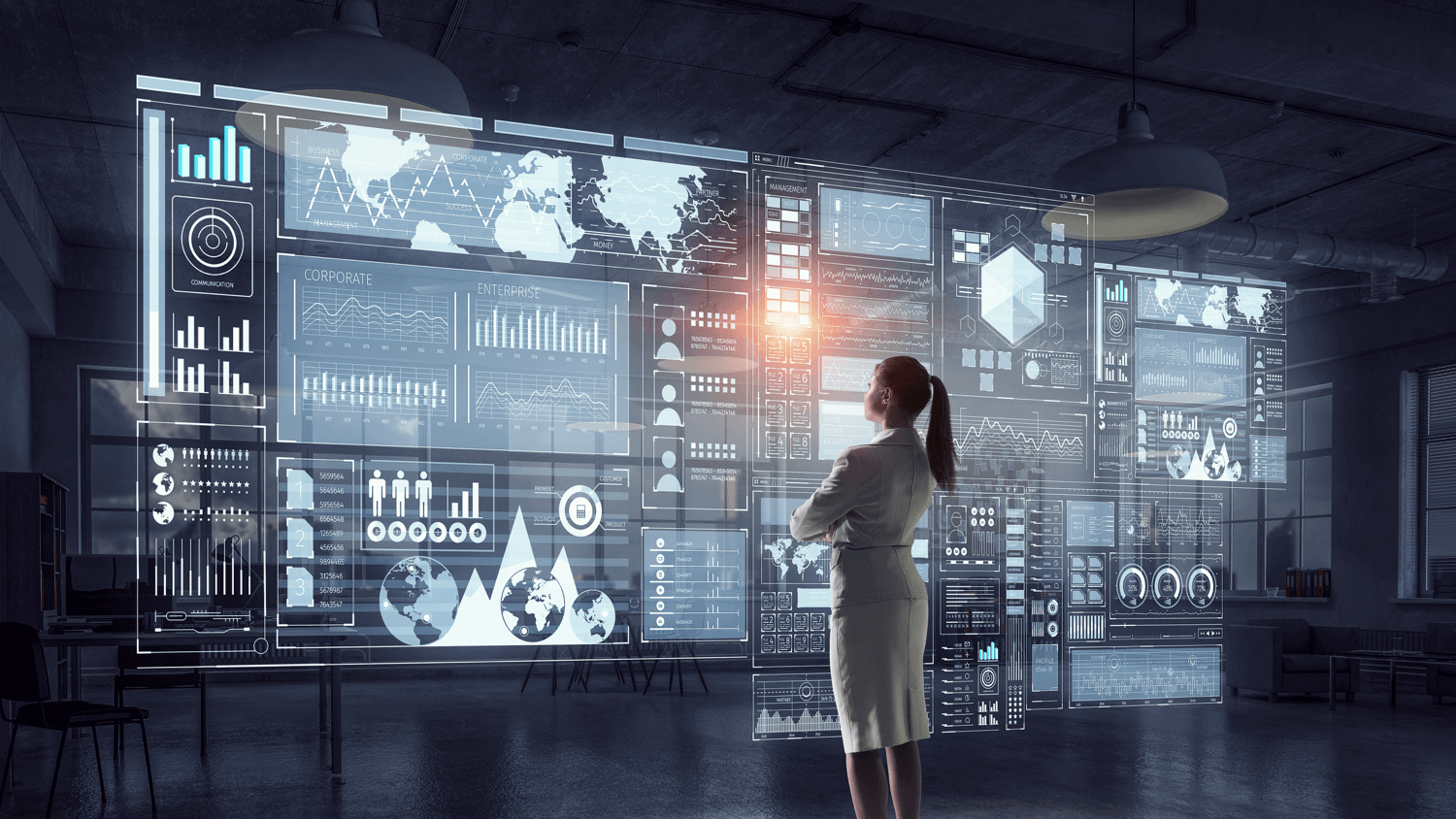 9 Essential Components of a CRE Enterprise Tech Stack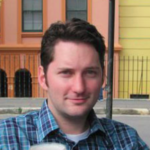 As the commercial real estate technology ecosystem undergoes a rapid expansion, one of the common questions the VTS team hears from landlords is: "How should I build out my tech stack?" It's one of the most important questions landlords should be asking — a best-in-class tech stack gives landlords the ability to understand performance across their entire business, not just within siloed functions.
So, what solutions should be in your tech stack? My experience as Chief Data Officer at VTS has given me a unique perspective into this question. In more than four years at VTS, I've worked with some of the world's leading landlords to build out modern technology stacks tailored to their business needs, and seen incredible successes, as well as monumental failures.
Based on this experience, I've put together my observations to help landlords that are getting started building a tech stack. While there isn't a one-size-fits-all approach and landlords have many considerations based on portfolio size and composition, there are certain core technologies that every owner needs to be thinking about when building a best-in-class stack.
Where should you begin?
The most important place to start when building your tech stack is to implement the core systems required to manage your business — for example, leasing and asset management, budgeting, and accounting. These will become the foundation for the rest of your stack.
A significant factor to understand from the outset: no one technology will solve the needs of your entire organization. Just as you may specialize in a specific market or asset type, technology providers focus on a specific area of technology that serves a particular business unit. Be wary of any vendor that promises an enormous scope of technology — chances are the features of their product are shallow and underdeveloped.
It's also critical to keep in mind that the technologies you choose need to be open platforms that easily integrate (or connect) with each other. This means the data within each system automatically flows through the stack and there is no need to manually enter information into multiple places. This ultimately ensures everyone is on the same page at the same time – giving your team a holistic view of your business and arming them with a single source of accurate, real-time data to inform their decisions.
The Nine essential commercial real estate tech stack platforms
Let's now run through the key components of a best-in-class tech stack. We've listed these platforms in the order of priority in how you should roll them out.
1. Enterprise Resource Planning (ERP) or Accounting Software:
ERP/Accounting software is common across most businesses — and commercial real estate is no exception. These tools help streamline and centralize the actual running of your business, from accounting to invoice management.
2. Budgeting & Valuation Software:
Budgeting and valuation platforms help you make accurate forecasts for your buildings by collecting assumptions and past expenditures. This could include space-level budget assumptions (speculative leases) as well as MLAs (market leasing assumptions).
3. Property Management Software or Facilities Management Software:
Software in this category will help you monitor and ensure a standard level of maintenance in your assets. These tools can help facilitate communication between tenants and property managers, and track maintenance requests.
4. Leasing and Asset Management Software:
Leasing and asset management solutions, like VTS, help you manage your spaces, deals, and tenants in one place, enabling you to move leads to leases faster, and make informed asset management decisions. Your focus here should be on the revenue side of the business.
5. Data Warehouse:
A data warehouse does exactly what the name implies. It's an enterprise-wide, cloud-based platform that houses data from a variety of sources within your business. These tools sit beneath your other technology platforms to collect and process all of your data in a centralized place.
6. Business Intelligence Software:
Business Intelligence (BI) technology integrates and analyzes the data collected in your data warehouse so it can deliver you actionable business insights from your data sources throughout the stack. Focus on modern tools that allow you to easily combine data from various sources using the BI interface.
7. Portfolio Monitoring or Investor Reporting Software:
These software solutions reduce the time-consuming process of pulling reports on your portfolio performance for investors and help you provide the information they need quickly and accurately.
8. Acquisition and Disposition Software:
These tools are similar to leasing and asset management software in that they help you manage your deal activity in one place – but at the asset level. They help you track, manage and complete deals, allowing your teams to optimize the acquisition and disposition process.
9. Capital Project Management Software:
These tools help you manage your capital and construction projects to ensure they are delivered on time and on budget. They can be particularly helpful if you have several developments going simultaneously.
How do they all work together?
Check out the below image to see how each of the nine categories work together, enabling you to manage your business and portfolio more effectively. We've also shared some best-in-class examples of each system.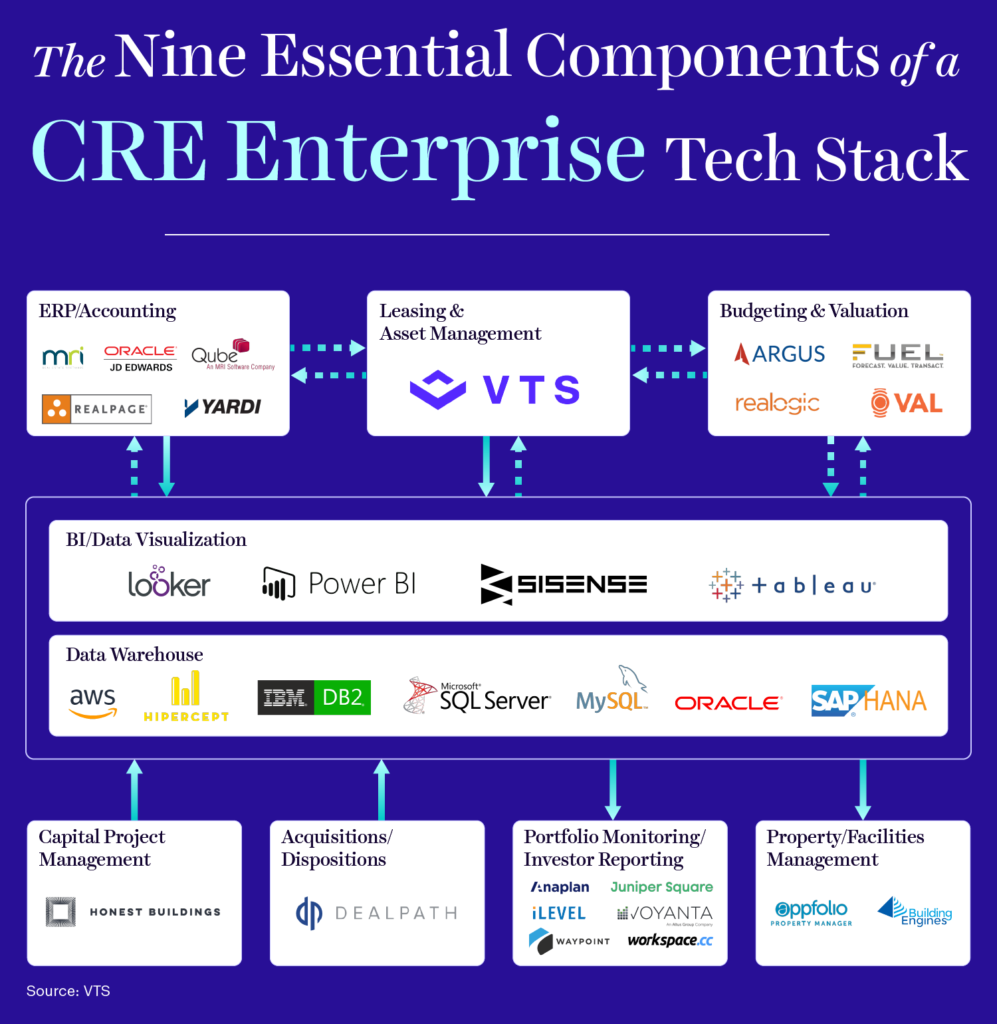 What's next?
Once you've successfully rolled out these solutions, there are two other emerging categories of technology you should explore:
1. Tenant engagement technology:
Technology dedicated to maintaining, engaging and keeping tenants satisfied.
2. Building technology:
Technology focused on making sure your building operates efficiently. These include smart building apps, IoT devices, and more.
You need to build a best-in-class technology stack now to ensure your business is in a strong position for the coming years. As commercial real estate becomes a faster, data-driven industry, these solutions will be vital to an owner's success. Build the tech stack that works best for your business needs sooner rather than later to ensure you can focus on what really matters: running a successful portfolio.