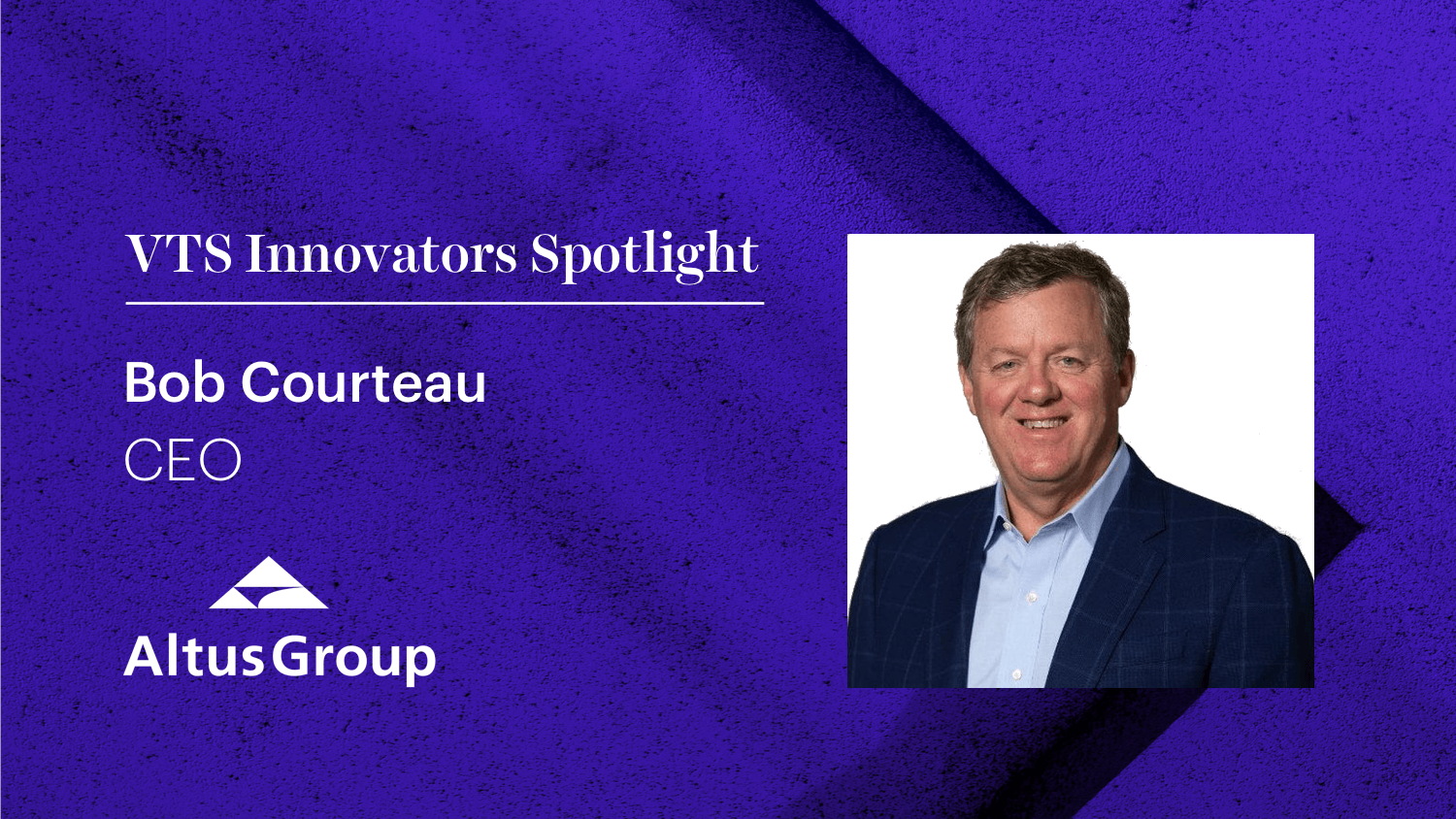 Altus Group CEO Bob Courteau's Top-of-Mind Technology Trends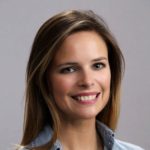 Director, Content and Communications, VTS
VTS sat down with Bob Courteau, CEO of Altus Group, to get his perspective on building a best-in-class tech stack that benefits every part of the business. According to Bob, "If you're going to be a modern, innovative, well-run business, you have to leverage technology. We've moved into a place where technology is core to how you run your business, and in my opinion, this is really accelerating in the commercial real estate industry."
Enjoy!
VTS: You joined Altus Group as CEO in 2012 from an enterprise technology background. What appealed to you about this role and the commercial real estate industry?
Bob Courteau: Coming from the technology industry, most of my career has been spent building solutions for clients. What I saw in the commercial real estate industry was an increasingly important asset class with an even higher level of institutional involvement. And at the time I joined, there was a situation where there wasn't a very mature foundation of technology companies that offered global solutions, so frankly, I saw it as an exciting market to participate in.
Lastly, when I did my research, it seemed to be a great industry to work in as well — and this has been proven since I've joined. So, all of those criteria made joining this industry an appealing and exciting opportunity.
VTS: Commercial real estate has changed significantly, particularly in the last couple of years. From your perspective, what have been the most impactful changes?
Courteau: The largest contributor has been the acceleration of technology use and adoption, led by the most influential companies in the industry. The largest investors and asset managers are leading the way in the deployment of technology and creating a level of differentiation and understanding. They are just well-run companies.
These companies are also now investing in PropTech organizations, which accelerates the deployment and broad use of these new capabilities, and distributing the data and analysis capabilities. I think both trends are really interesting. Not only are they supporting data and software solutions in their own companies, but also through their networks.
We've seen the use and adoption of technology evolve quickly in recent years, and we now have people in roles, like data scientists, who are gaining insights from massive amounts of proprietary and third-party data.
VTS: How are you seeing the asset management function taking advantage of data and using those insights to make business decisions?
Courteau: When we've collected data on behalf of our customers and they can now really analyze it, there's great value. And so, as part of our business in the US, we collect data for over 100 of the largest institutional players. We give them the ability to examine performance, both by revenue and expense and to see how the asset class is performing overall.
All of the information gets pulled together into an index that also gives performance indicators. And when asset managers have access to it, they have a roadmap to value and the ability to start thinking about how they're currently performing and where the opportunities to improve exist — both on the revenue and expense side.
Then, we'll plug into a company, like VTS, where asset managers are able to collect additional revenue data. It gives them a greater understanding into realizing value and a good perspective on income. More and more, there's a better ability to aggregate and normalize data, provide visibility, create benchmarks, and move the commercial real estate industry, and asset managers, to a point where they have the right capabilities to proactively run their business.
VTS: Since you started at Altus Group, are you seeing companies place a higher value on having access to data?
Courteau: The industry has some progress to make in terms of understanding the potential data-sharing constructs that are available. But, what's really encouraging is the number of executives, venture-backed companies, and leading innovative companies that are pushing the value of data. With so many leaning into this agenda, breakthroughs are starting to happen. There are now more and more companies with the ability to aggregate public data, benchmark data, and collect data in the cloud to serve multiple purposes — everything from acquisition and development decisions, to balancing portfolios against risk.
We're starting to see the emergence of modern, innovative companies with the ability to analyze their data, and it's catching on. We seem to be at a point where companies can easily find a platform that enables them to pull insights from their data. And frankly, as a company, Altus Group is now seeing some of the largest companies in the world using our products to gain global visibility into their data. And that's a big breakthrough. Ten of the largest RE companies in the world have employed our products to achieve global data standardization.
VTS: How do you select the technology vendors and players that you work with?
Courteau: If you want to be a standard in your category so people choose your software and data to run their business, then you have to be prepared to work with other category leaders. Not only for the sake of partnerships but to give a full view of how data moves through a workflow. In order to create that workflow, you have to work with others.
So, our first step in selecting technology vendors and players to work with is by talking to our clients. By meeting the customer requirement, you also make sure you can operate with the leading technologies. We also have a good understanding of who the emerging companies are and the importance of global standards.
Second, we've invested in venture-backed firms ourselves. We see them as breakout companies and can start making additional data available to increase the value of their existing data. Partnerships with like-minded firms makes it easier for our clients to make better decisions through the use of data.
In the case of VTS, there's still a human factor. You want to work with people you like, who you trust, and who will work with you to pursue each other's objectives in a way that's productive for the industry. And we've built such a great relationship with Nick and the VTS team, that it's easy to not only make this happen technically, but to make it happen personally.
VTS: In your opinion, for landlords and asset managers, what's the value of building a tech stack of different vendors versus using a single platform solution?
Courteau: A single platform solution may reduce the friction of distributing data through your organization, but they can be limited in their ability to be best-in-class across all of a business' functional areas. And it's important for companies to be able to manage and analyze data across the entire organization. Any place there's a gap creates work and inefficiencies.
That's where building a tech stack comprised of different vendors has its advantages. Each functional area wants to adopt a best-in-class solution. And the person in charge of acquiring the solution from that function is in the best position to determine the business needs. Everybody wants to work with the best solution for their needs and objectives.
Fair to say it is really important to have it all, access to data and workflows, and best-in-class operating software tailored to your business need. That is why it's important for the industry to collaborate and work hard to take the friction away.
So, why did we move to a more cloud-based solution? The CRE industry can have the best of both worlds when software solutions, like VTS and ARGUS, are integrated. They can get the best-in-class technology and put it in the hands of those functional experts while still making data available across their entire organization. And obviously, that's one of the reasons we're working closely with VTS.
VTS: Why is it important for landlords to have a tech-centric mindset and culture?
Courteau: If you're not introducing technology into the business in any industry, you will be disadvantaged. If you're going to be a modern, innovative, well-run business, you have to leverage technology. We've moved past the point in time where you should be thinking about a technology-centric mindset and into a place where technology is core to how you run your business. And in my opinion, this concept is really accelerating in the commercial real estate industry.
But the second part of your question is interesting — if you think about creating a culture in your company that allows you to take advantage of the breadth and depth of younger, newer employees coming into the industry. They expect to have access to technology in order to do their job and combining those two things creates competitive energy.
If you're running your business in an antiquated fashion, you will absolutely fall behind the new breed of investment and asset managers who are all investing in technology companies and deploying data strategies to help them operate both locally and globally.
VTS: What's next for Altus Group, particularly for your ARGUS software products? Are there any upcoming announcements you can share with us?
Courteau: We released our cloud platform in November. And around July, we're also releasing our valuation capability for Germany and France, which is a large part of our strategy to become a global provider of data solutions for valuation, and portfolio and fund management. Put those releases together and we're creating more value for our clients.
VTS: Last question, what would you be doing if you weren't in commercial real estate, or in the job you have now? Is there a dream job?
Courteau: I'd probably say that I'm in my dream job now. It's so much fun. But if not, I'd be skiing somewhere with Nick and trying to get him out of surfing and into the fun stuff. I'm still a pretty active skier and, during the winter, it's certainly a place I want to be when I'm not working.