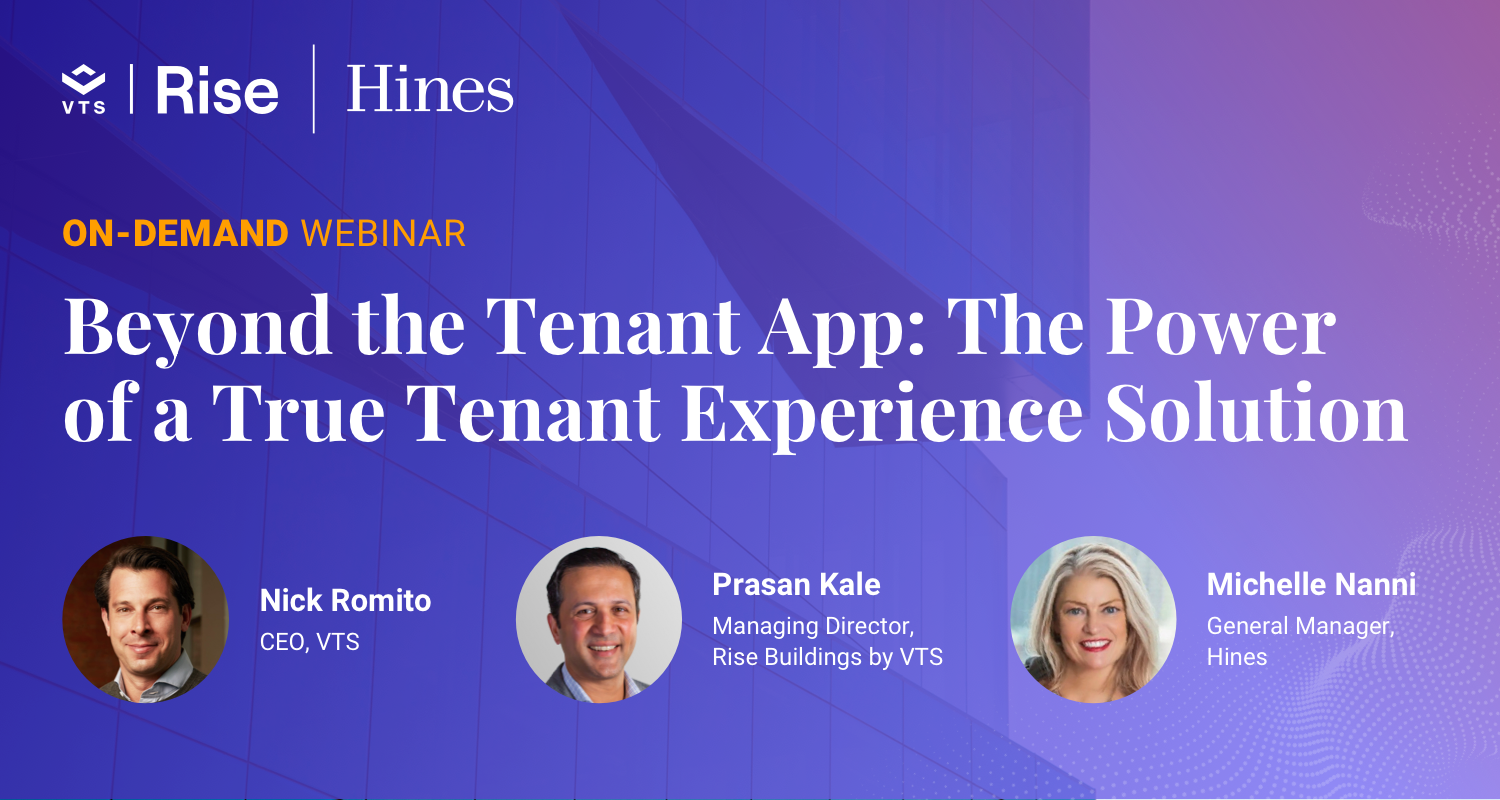 Beyond the Tenant App: Exploring the Power of a True Tenant Experience Solution [Webinar]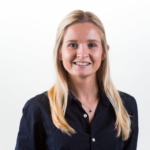 Sr. Manager, Content Marketing, VTS
Commercial real estate is entering the renewal economy after a year of diminished tenant activity — and it's now clear that excellent tenant relationships and high retention are more critical than ever to a landlord's business.
Today's most competitive landlords, asset managers, and property managers are investing in tenant experience solutions so they can equip their buildings with premium amenities towards the goal of attracting and retaining high-value occupants.
But what does a real tenant experience solution look like — and how soon do you need one? VTS CEO Nick Romito led this discussion with VTS Rise Managing Director Prasan Kale and Hines General Manager Michelle Nanni to answer exactly that. The trio cuts through all the noise in the industry to weigh in on the make-or-break features in a chosen solution, why hardware integrations and data collection are a top priority, and ultimately, why landlords everywhere should be evaluating a TenEx solution now. Enjoy!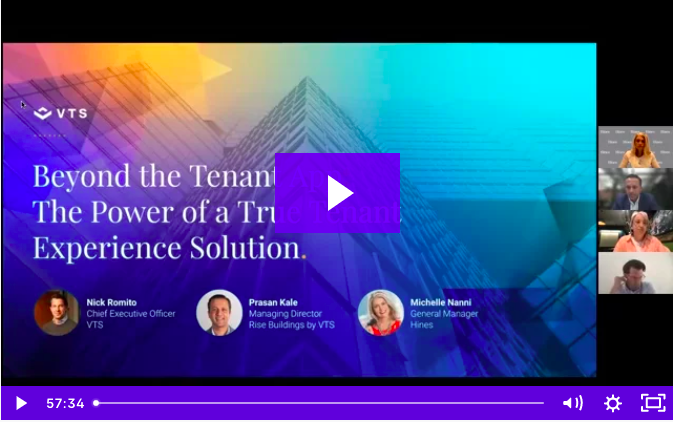 VTS: What are the make-or-break features in a tenant experience solution?
Michelle Nanni: Integrations are key. I've worked with a plethora of different building applications in a variety of buildings. Each building has its own tech stack that requires a different set of software integrations. Before we chose to move forward with VTS Rise, one of the biggest factors that was important to both our upper management folks and our tenants was how long it would take to integrate everything we would need for seamless access control, for example. And when you think about everything that's happened with the pandemic over the last year and a half and the new rise in touchless entry, it was even more beneficial to have these platform integrations from the start instead of waiting for months.
And then for the tenants, they're going to come in every day and use the app for this access into the building. Then they'll see something else on the app that makes them do a deeper dive, whether it's an event or a new perk. Integrations are key when you're looking to implement a solution and give your tenants the best experience, and VTS Rise is the way to go.
Nick Romito: Access is key and it has to be deeply integrated. It has to be seamless. It can't be, "get an email and copy and paste the token and all that stuff." It has to be "press a button" because tenants want digital access. It's in your app, and from there on out, you use that for access into the building.
The same app also has to be able to do visitor management and amenity booking, and it can't be, "Hey, we have a bunch of amenities in the building, call downstairs to book one." That's no good. Your tenant experience app needs to be an end-to-end transaction engine. We can find the time, the date, the hours, configure the room the way you want it, and you can even pay for it all, in one app. But it has to be end to end before you start doing the other fun things in the building.
Once you have those functional benefits, you can reserve that yoga class, or order and pay for your lunch. Those features are really the engagement drivers of the tenant population. And when you're done providing them the remote control and engaging them with all these fun activities within the building, they get to give you feedback. That also has to be native to the platform. It's through satisfaction surveys and polls where you really get deep insights. If it's in the app, and easy to respond to a survey that you've sent out at a building, people actually respond.
VTS: How has Hines deployed some of these functionalities across the portfolio?
Nanni: At our River Point office tower in Chicago, we're super excited to start engaging our tenants and letting them know about events taking place in River Point Park, including classes, games, and different virtual events. We have security locked down with the app, including visitor management. We can use the app for everything and it's definitely elevated the tenant experience. The park is one huge amenity at this amenity that we're trying to activate and use to motivate tenants to come out and use. It's so beneficial to have something that tenants are seeing and getting excited about. We're trying to use everything we can from the technology side to make the tenants see that we're here and excited to have them here with us.
Prasan Kale: Michelle, one of the key things that you've done is take advantage of VTS' beacon technology and the ability to sense how many people are in a space. We have that deployed at your property, and we're able to see, for example, how busy is the lobby? How busy is the conference center or fitness center, or even specific areas within the fitness center? If you were an occupant in the building and wanted to go to the fitness center and use the treadmills, you can see, "The treadmills are really busy right now." There's a convenience element to that, but there's also a safety and transparency element, especially as tenants come back to the office.
Nanni: Obviously with COVID-19, that feature was key. It also acts as a check-in, if you will, for our janitorial staff, who's disinfecting the fitness center throughout the day and monitoring the occupancy. And as a tenant, you make an appointment. You know only so many people are allowed in the fitness center, and you see that there are three people in there. Maybe you don't feel comfortable going right now. Or you see only one person is in there, and now is a good time to go.
VTS: Why are hardware integrations and data collection a top priority?
Romito: As part of the VTS Rise platform, we have a patent on a beacon that we place in any area you'd like, and there are multiple use cases. One is per Michelle's point, in which the occupiers in the building can actually see whether an area in the building is densely populated right now. "If the gym is super busy, I probably don't want to use it. I'm going to wait." That's highly valuable in any environment. It's all real-time.
Secondly, we're all spending lots of money on CapEx projects, whether it's a gym, amenity center, or other amenities. Now you can actually see what the utilization is for each amenity — down to a specific section. It's just understanding what's working and driving engagement versus what's not working. So, as we think about the next project, it's really valuable.
The third piece is these beacons can be used as triggers to drive engagement, meaning if someone walks by, you can program it to give them a discount on lunch today. It's an awesome tool to use, and you can come up with some really creative ways to engage people where it's a bit of a surprise.
VTS: As landlords look to the return to the office, why should they be evaluating a tenant experience solution now?
Nanni: It's about the tenant experience. For example, we've been hosting different raffles and events, and offering new perks, but tenants have to access them through the Rise app.
We had Father's Day specials, including a grilling demo, where we told people to sign up for the specials on the app. We were trying to engage tenants still a little bit virtually, but it also allowed us to get them back on-site to pick up the grill kit and gave us the opportunity to showcase everything we've been working on at the building while they were gone. For example, we revitalized our fitness center and got to show that off. We're trying to engage whoever isn't here in these different ways to get them excited about being back in the office environment.
Romito: One thing that I've seen Michelle and others do, which I think is so important, is creating opportunities to make everyone at the building accountable for engagement. And with VTS Rise, we're actually tied into the point-of-sale systems and all the amenities in the building, giving coffee and lunch vendors and other perks partners this ability to be involved with engagement. The program you can put in place says, "Hey when you access the asset, we know you're here. We're going to trigger an alert and give you 30% off your lunch today. Come on down." Once they get there, they buy their food in the app, which triggers another alert. It's programming that's possible when everything is tied together, and it's just so valuable because everybody is accountable to adoption.
That leads me to my next point about our existing tenants and the return to work. Let's not forget that there's more supply coming to market than demand, and so first impressions matter. So even in VTS Market today, which is the fastest-growing marketplace for brokers in the world, every single broker is asking when they have a tenant touring in VTS whether a building has a tenant experience solution in place — because their tenant clients want to know.
For folks who are still on the sidelines on tenant engagement platforms, you're going to feel that pain very quickly, because you're going to see occupiers start to demand it. We're not going to a building that has no way for our teams to get in and out remotely from their phone, because that's just how we live our lives. As we get into this potential war for tenants, we have to think about that.
Nanni: Nick, your point is right on. This is 2021. We have to move forward. I always say that I don't want to be behind the ball — I want to be in front of it, so our tenants have the best experiences.
To your point, that's happening right now. That's not the future — it's now. I'm an advocate to help other managers because I think we need more people helping other people rise up to use new technology and have their staff integrated with their tenants and partnering with their tenants and partnering with leaders like VTS.
Kale: One last thing I'll touch on is that the time really is now to start evaluating your own tenant experience solution. VTS recently conducted a survey of the commercial real estate community and we found out that 75% of landlords plan on having a tenant experience solution implemented by the end of 2022 — and 30% of those respondents were already in the final stages of their evaluation. In other words, if you haven't started exploring a solution yet, you're already behind a large portion of the industry.
Want to hear more of the conversation? Stream the full webinar on-demand now.
Ready to jump in and start exploring your own tenant experience solution? Request your free demo of VTS Rise.