Building an Integrated Tech Network: Managing Data Across Multiple Systems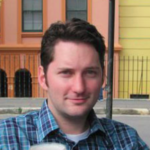 Technology is becoming increasingly important in all aspects of the commercial real estate industry. As that need grows, companies are forced to evolve to stay competitive. From finding the best ways to manage data across numerous systems to deciding whether it's better to develop solutions in-house or buy from vendors, integrating data systems is a critical task for commercial real estate firms.
This issue was explored in a powerhouse panel at Accelerate 2017, including Bill Murphy, Chief Technology Officer at Blackstone, Jonathan Lang, Chief Information Officer at Colony North Star, James Whalen, CIO at Boston Properties, John Hart, CIO at Ventas, Inc., and Robert Entin, CIO at Vornado Realty Trust. From constructing the glue that connects systems to rethinking the importance of in-house development teams, panelists offered their insight on how companies can effectively manage data across their businesses.
Managing data across multiple systems
Bill Murphy, Chief Technology Officer at Blackstone, said it's important to start slowly: "Your data environment is like a bunch of lego blocks so you need to make sure they fit together," he said. The panel agreed that data must be housed in a read-only, raw data format that is fed regularly by the primary technology sources to allow everyone to pull the same information. "You want a single source of the truth," said Colony NorthStar Chief Information Officer Jonathan Lang.
While the process begins by having everything in the same place, it quickly expands towards integration. Murphy said that companies spend a lot of money on best-of-breed data systems, but often neglect how they connect. "You want to spend at least as much figuring out how it all fits together," he said. The panel agreed that achieving this requires a push from both real estate companies to ask for it and technology companies to build it. To effectively manage data across multiple systems, it's critical not only to have strong singular systems, but to work on connecting them together.
Given current technology, much of that connection happens in the cloud. But transferring systems is not always straightforward, and Boston Properties Chief Information Officer James Whalen said it's essential to make sure existing data systems are effectively "evaporated" onto the cloud. Echoing this concern, Murphy said it's important to know what the cloud means for different companies, and said he's always wary of old time vendors who say they have cloud capabilities. Rather than take your chances with them, he said it's better to go with a born digital company that developed their systems on the cloud.
To build or to buy
When looking at data systems, there's the question of whether it's better to build solutions in-house or to work with a vendor. Here the panelists agreed it's better to buy technologies from expert vendors for core tasks than try to build an elaborate system in-house. Lang said he thinks in-house teams cannot reach the same level of expertise as technology companies with a "deeper bench of talent." "That's their core job - to build the best solution," he said. Whalen agreed, urging the audience to "pick your partner smartly and then help influence the product direction."
That doesn't mean in-house development teams are obsolete however.
Vornado Realty Trust CIO Robert Entin said he maintains a large in-house team to develop niche solutions specific to how Vornado operates as a business. Similarly, Ventas goes out of house for most technologies except their "secret sauce" customized platform, said CIO John Hart.
Lang said he has seen the most traction with finding powerful solutions and having a technical staff in-house who can be the "bridge between business requirements and what the vendor is able to produce" as well as the glue integrating the various solutions.
Integrating systems effectively
A huge part of maintaining effective data systems is integrating them in a way that furthers the business. Siloed systems are only as good as their connections with other silos, and vendor software needs the right glue to optimize it. The panelists agreed the best integrations require the right mix of vendor software, centralized data warehouses and an in-house development team to glue them all together.
In addition to consolidating data and working effectively with vendors, Lang said a successful data system depends on having a team that "can face the business, can read a balance sheet, [and] can understand business problems so that they can design the right solution." Hart echoed that the technology team has to become a trusted advisor, collaborating with and across teams, to help the company gain a competitive advantage.
Missed Accelerate 2017? Watch all of the keynote and breakout sessions here.