Commercial Real Estate Innovation: Our Time is Now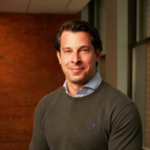 Back in 2010, one of my best friends and I had a crazy idea for a company that we believed would help drive commercial real estate forward. We were put in touch with a venture capitalist to get some honest feedback about the concept and heard some pretty inspiring words: "That's a terrible idea. The people in that industry are never going to change."
Fast forward to Summer 2017, when VTS hosted Accelerate, our first annual user conference. Our team welcomed over 300 of the world's leading commercial real estate owners, along with the C-Suite of the world's largest brokerage firms, representing over five billion square feet in assets under management, to the Intercontinental Hotel in NYC, for three days of content, networking and collaboration. It was with equal parts pride, humility and a sense of community that I delivered the conference's opening keynote to this group of individuals that had gathered not just to understand the change that's underway in our industry, but to embrace and pioneer it.
Watch the keynote in full below, or read on for some of the ideas that are most top of mind for VTS right now, and that I shared with our audience at Accelerate.
Technology is changing the world, real estate included
Every industry is going through massive change at rates we've never seen before. Take the high-powered super computer on which you're likely reading this article right now. Just 20 years ago, IBM's clunky box was the height of technological advancement. Today, mobile technology is revolutionizing almost every industry. We're running our entire lives from our smartphones –  banking, travel, relationships, you name it.
The securities industry is another prime example. Twenty years ago, the floor of the New York Stock Exchange was filled with thousands of people, running around, throwing pieces of paper at each other and trying to execute trades. The modern trader is now ruthlessly efficient. She can execute from anywhere, with real time information, from her phone or a desktop. For the trader, data is no longer a nice to have, it's a must have. It's her weapon.
For the institutional impact of this, just look at Goldman Sachs. The global investment bank could easily be mistaken for a technology company; as of 2015 it had more than 9,000 programmers and engineers. This number eclipses the entire payrolls of Twitter and LinkedIn. They understand the power of data and are committing resources to harnessing it.
These examples aren't isolated to other industries, rather, we believe this change is actually foreshadowing what's to come for commercial real estate. And we need to be paying attention.
What factors have driven CRE to this point?
Real estate is institutionalizing: Over the past three decades, we have seen more than $7 trillion flow into commercial real estate. The people and institutions investing this money are highly intelligent, and use information to manage every other asset class they own except this one. This doesn't make any sense, and it's changing.
Venture Capital interest: The smartest technology investors in the world are watching what's happening in our space and putting their bets here. Real estate technology is being funded (over $6.4 billion has been poured into the space since 2012) at a pace that simply hasn't been seen in other industries. Adam Marcus from OpenView Venture Partners puts it the best: "We've never seen another industry go from paper to a platform like VTS at this kind of speed."
We're all pioneering this change together
I like to the compare the current state of commercial real estate technology to a roller coaster reaching the first peak. It's been a slow ride up but we're almost ready to harness the benefits of the data and workflow efficiency tools available to us in an incredibly powerful way. This change hasn't happened in isolation, it has taken a community.
The VTS customer community, represented in part at Accelerate, is powerful proof of this. And as a result of the VTS-Hightower merger, our combined team is truly in a position to relentlessly focus on the challenges our customers really need us to solve. We now have 30,000 users that we're able to learn from, every day, and a 70-person product and engineering team that is building these learnings directly into the VTS platform, creating a better, more powerful experience for all. Continuing to work in partnership across the industry is the only way we're going to continue to drive commercial real estate forward.
So, what's next?
I challenged Accelerate attendees, as I challenge everyone reading this post, with three key objectives as we all pioneer change within our own organizations:
Be educated and prepared for the future: Change is happening at a rapid pace in our industry, and it's hard to keep up. If VTS can help our users grasp the fundamentals of chapter one, that's a win for us. Our aim at Accelerate and with our customers every day is to connect, inform and arm people with information they can then take back to their own organizations and be educators themselves.
Be inspired and think outside the box: It's going to be a new world very soon – there are no wrong answers. As the late Steve Jobs said so brilliantly, "think different."
Be armed to win: We get it, this is commercial real estate. You're in a competitive market and you want to win. VTS is here to give you the information, data and tools you need to do that.
Click here to watch all of the keynote presentations from Accelerate 2017.