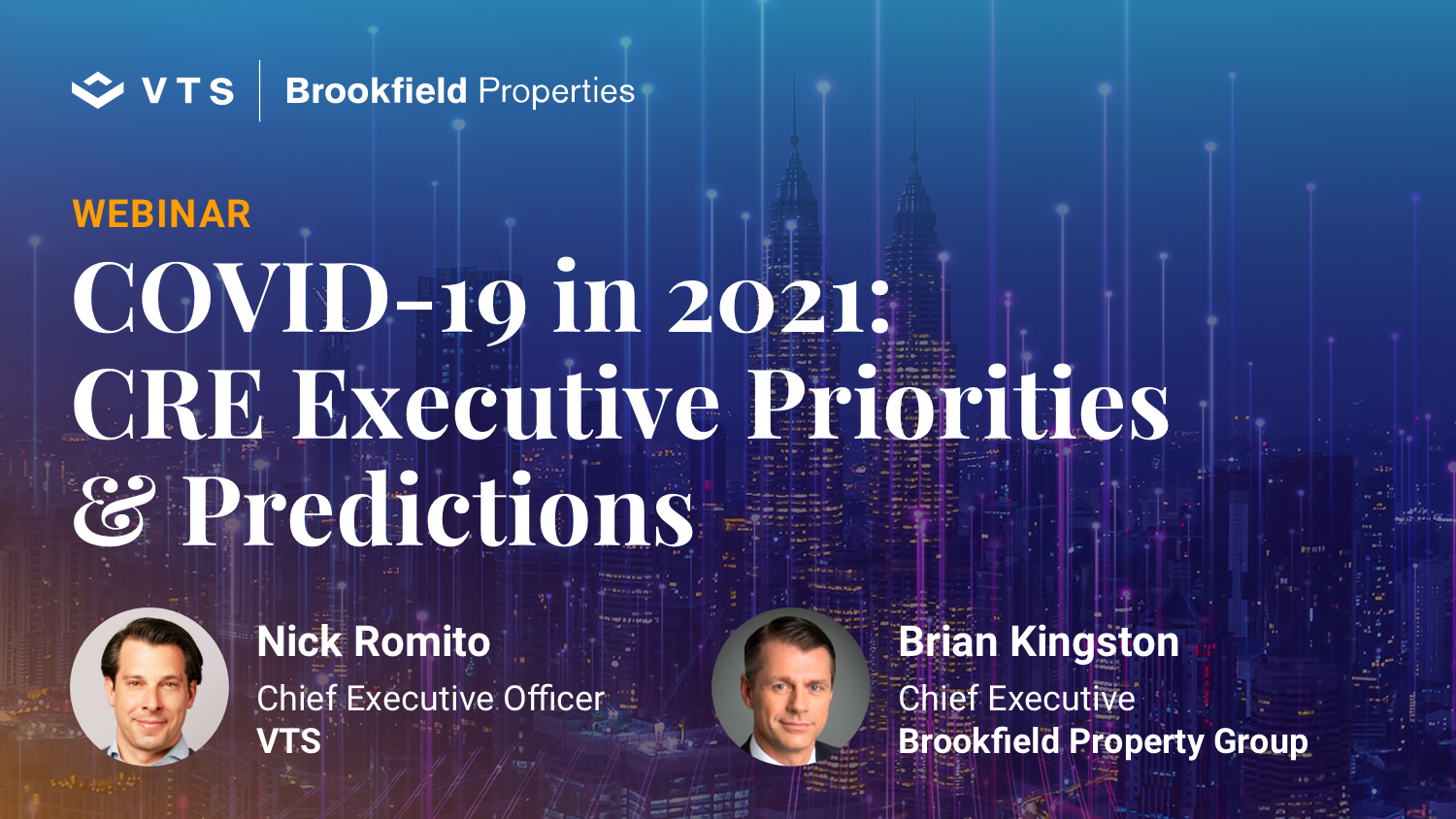 COVID-19 in 2021: CRE Executive Priorities & Predictions with Brian Kingston, Chief Executive of Brookfield Property Group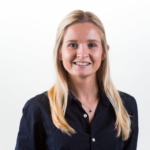 Sr. Manager, Content Marketing, VTS
None of us can say exactly when demand will come back post-COVID-19, but there's no doubt that 2021 will be a year of building strategies and making organizational improvements that will position us to capture the most demand when tenants start to re-enter the market. Which poses the question: as we embark on our journey to COVID-19 recovery, what are the top business priorities for CRE execs – and what are they investing in to ensure their success post-pandemic?
In this conversation, get a firsthand perspective on this very important question from two trusted industry leaders: VTS CEO Nick Romito and Brian Kingston, Chief Executive of Brookfield Property Group. They discuss what's needed to pull through a period of immense uncertainty and solutions for organizational and technological challenges that have become even more pressing due to COVID-19.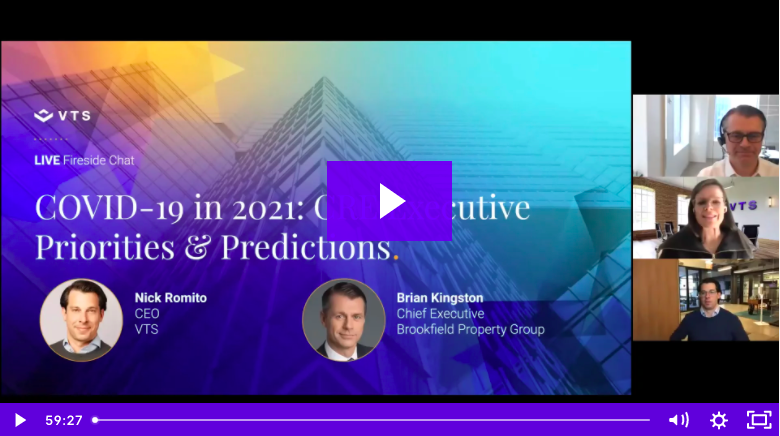 VTS: Looking at the market, where are we today in terms of recovery?
Nick Romito: Looking at our VTS Office Demand Index (VODI), which tracks the first real-time view into tenant demand, we can see some clear seasonality in 2018 and 2019. Then in 2020, we see a very different year and a very different flow, given what's happened. But then look at the start of the orange line, which is 2021. January represented almost the single best month since the start of the pandemic. And again, while it's still 60% below January 2020, it seems everyone's starting to feel like we're getting to the other side and it's time to start thinking about getting deals done again.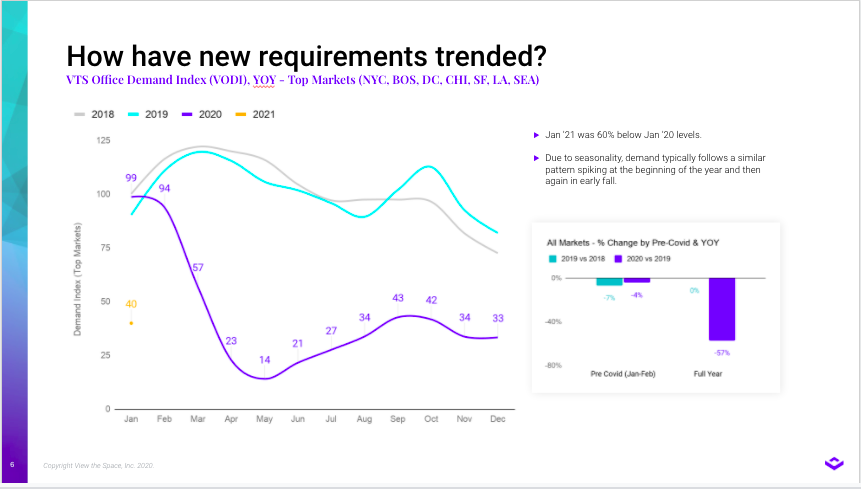 Brian Kingston: The VODI is a great leading indicator, in terms of activity, and, as a result, we've seen a pretty big pickup in activity, but it's mostly been showings. The only people who are really committing right now are people who are trying to be opportunistic. For others, there's still a lot of uncertainty around how much space they're going to need and where they're going to need it. I would describe it as a lot of tire-kicking, but it's a lot more tire-kicking than we saw four or five months ago.
Romito: When COVID first hit, what we also saw in the VODI was that over time as COVID cases increased, activity slowed, which wasn't too surprising. But more recently, we've seen some cases go up in some markets, but so did the number of tenants looking for space, which told us two things. One, people are starting to think about occupying space again and getting people back to work. Two, people are feeling a lot more comfortable with all the safety precautions happening inside the buildings themselves.
VTS: What are you doing to prepare your buildings and portfolio for the return to work?
Kingston: As a landlord, it's obviously in our interest to get everybody back quickly, but we also know it's going to take some time for tenants to come back. We're using the opportunity to get ourselves back into the office ourselves and take some of those learnings to bring people up the learning curve quicker when they do come back. Today, we've got about 75-80% back in the office here in New York.
I think when people first start thinking about it, a lot of their focus is on the inside of the four walls within the office. The cleaning and the protocols. What we found is it really starts before people even leave their homes. How do they get to work? How do they get home? What's going on in their lives, whether it's homeschooling kids or caring for others. There's a lot more involved with it. I think we've demonstrated we can do it safely and we've got a good playbook for people when they're ready to come back.
Romito: What I've enjoyed seeing is the landlord and broker community viewing themselves as the folks who have to set the example. We have to show our customers that we can do this safely.
VTS: What's the importance of this real-time data in today's market?
Romito: Historically, in markets where there are a lot of question marks, we're typically relying on anecdotes. But given it's so different today, we've never really needed data as much as we need it now because there are so many unanswered questions.
Kingston: It's a little chicken and egg. If we go back to the dot-com blowup in the early 2000s, it's not that we didn't need the data, it's just that it wasn't possible. We didn't even really ever dream of having data like this, but if it had been available, it would have been really helpful to have back then too. It's incredibly useful to have this real-time data for two reasons: one, is making investment decisions, and two, is being able to talk to investors about what's going on in the market and where the market is heading.
To look at data that's even four months old and in the rearview mirror is pretty useless right now. The world is very different today than it was in September, and that's typically when you would be reviewing historic data as opposed to this real-time information.
VTS: According to the 2021 VTS Global Office Landlord Report, the top two business priorities for landlords is maintaining tenancy and mitigating the financial impact of COVID-19
Kingston: For some of our tenants who were in the eye of the storm, that was a lot more hands-on in terms of maintaining tenancy. We were working with them on adjusting rent terms or lease terms, or even just working with them in terms of reopening. For the vast majority of office tenants, their businesses weren't nearly as impacted by the shutdown. The focus this year will be on maintaining occupancy and bringing people back to the office. When do we bring them back? What do we need to do? Rather than major financial workouts, we're really working to create a safe environment in the building, helping our tenants maintain that within their spaces, and planning that return, including communicating with their employees about what they're doing and what we're doing at the building to encourage people back.
VTS: Also according to the 2021 VTS Global Office Landlord Report, 85% of landlords say they don't have adequate visibility into what investments or features tenants require in order to return to work
Romito: One of the things that the past year has shined a light on is the importance of the relationship with the customer. I don't just mean the one-to-one person, but the actual economic relationship and exposure one might have to a specific sector that might have been overly impacted by COVID.
We tried to be as agile as we could when this first happened. Most of our customers actually track those tenant relationships in VTS. We're normalizing data, rolling it up to show you the global relationship with each tenant: this is what they pay you, this is every lease, and this is their overall sentiment of the relationship.
But what we didn't have in place were dashboards to expose the industries most impacted by COVID and your exposure to them. We had to change our roadmap and work with our customers to do that. And we actually offered it to everybody to really shine the light on understanding industry groups across the portfolio that they may not have focused on prior to this.
Kingston: As I said before, getting people to return to work starts before people even leave their homes. We started with a lot of communication to employees to inventory their concerns about returning to the office. That was important, and we're not forcing anybody to come back. We want to understand the concerns and try to address them where we can.
Then the second consideration is how are employees getting to work? In a place like New York or London, there's a heavy, heavy reliance on public transportation — which is safe, but mentally for people, was a big hurdle to coming into the office. A lot of people weren't comfortable with it, so we came up with alternate arrangements. We offered car services and dedicated shuttles so that people knew it wasn't a random Uber pulling up to bring them to the office. That's not a long-term solution but was really effective in getting people back. Now, what's happened over time, is it's a pain waiting around for one of the cars and the subway is right there. You take it home one night, and it's not so bad, so before you know it, you start taking the subway again. But it was important to address the concerns and make the solutions highly visible.
VTS: According to the 2021 VTS Global Office Landlord Report, only 6% of landlords completely trust the data sources they use to get market information today
Romito: I think real estate has never gotten enough credit for how smart the people are in the industry. You've got people running transactions worth billions of dollars with really old data, and it's not their fault. To your point, there was no tool. And they still get it right a lot of the time, so these are really smart people. I've always said, what's going to happen, if you consider real estate is an art and a science, you're going to give them actual science and the artists get to do what they're amazing at.
Kingston: If you look at some other asset classes even within real estate that are more fast-moving and where transactions happen more quickly — hotels, multifamily, self-storage — it's much easier to get your hands on real-time data. There has been a lot of science going into the revenue management of those businesses for a long time. With office, the issue was that it's slow-moving. It takes a long time to negotiate one of those leases. Therefore, nobody was really thinking that we could track leases in real-time. Now that the technology exists and you can do it, I think we're going to see data science come in and drive some of that decision-making and make them a little more structured as opposed to a gut feeling on what the asking rent on a space should be today.
VTS: What do you think the office sector will look like after COVID-19? Will all companies now permanently work from home?
Romito: One, what this whole work-from-home period has done for me is I now trust that people are working and that they can be productive. There's no doubt. We're seeing companies have amazing outcomes and years while people have been working remotely. Second, the issue I've noticed is that real collaboration and creativity for me is nearly impossible while remote. I just don't think you can extract everything you want from each other over Zoom vs. working in person.
For me, do I think all these companies are going to go permanently from home? Absolutely not. I read a great article where they called it the worst of both worlds. I'm pretty bullish that even folks who are saying today that they're permanently working from home are going to realize that their people actually want to be together, at least part of the time.
Kingston: The world has definitely changed in terms of being more accepting of remote work, and on the other hand, nobody wants to work from home permanently. If you look at all the industry surveys taking place, nobody's coming up with an answer that everybody wants to work from home five days a week. Most people want flexibility and to work from home sometimes. No question, I think that's going to happen.
Inevitably, though, the conclusion everybody draws from this is the office is dead then. Nobody's ever going to go to the office again. But nobody wants to be at home every day. Everybody wants to come into the office Tuesday, Wednesday, Thursday and take Mondays and Fridays off. So, the issue is, it gets impossible for you to have everybody come in on Tuesday and nobody come in on Friday and use less space. The big question is going to be what does all this mean for space utilization, both how the companies use it, and also how do we as landlords attract a business into our particular building? What is it about our building that's going to make it attractive?
Watch the full webinar on-demand here.