CRE's Leading Female Execs Share 16 Tips for Others Starting Out in the Industry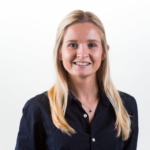 Content Marketing Manager, VTS
March is Women's History Month! In honor of the international celebration, we asked some leading female executives in commercial real estate for their advice: What have you learned since day one that can help women starting out in the industry succeed?
Read on for their amazing insights.
Stacia O'Connor, Senior Vice President of Operations, JBG Smith
1.Raise your hand: Nothing is above you or beneath you; if you'd expect someone else to do it, you should be ready to do it yourself. If someone needs help, raise your hand. Even if it is something you have never done, raise your hand. In the end, no matter the challenge, raise your hand.
2. Be prepared: In any meeting, large or one-on-one, anticipate the overall context of the discussion and come prepared with materials and data so you are ready to answer any questions. You will add value to every discussion…and find you are included in key discussions more often.
3. Knowledge truly is power: Become a "go-to" person for answers about what you know and what you don't know. If you are asked about something you don't know – find the answer and become a resource for that person. Be willing to learn all the time and become an indispensable source of information. Creating a broad knowledge base will allow easier shifts in your career if desired.
Lisa Picard, CEO & President, EQ Office
4. In a recent interview for the Work Design Magazine blog, Lisa said, "More women are bringing their diverse and unique perspectives to real estate and helping to reshape the industry. Having diverse experiences helps to solve the problems of today at all levels and all sectors of the industry. That's why it's so important it is to surround yourself with people who teach you things and allow yourself to be open to them. Also, embody the belief that you belong here. When you don't believe it, no one else does either. Lastly, always be moving forward. I used to race road bicycles and my coach said to me If you aren't moving ahead, you are falling behind."
Amy Hall, Vice President of Leasing, Physicians Realty Trust
5. I have learned perseverance and the power of integrity. When times get tough and life circumstances change, continuing on the sometimes rocky path early on in a commercial real estate career can be very hard. It's even harder to consistently do the right thing.
But as a person — man or woman — we all have one reputation, and it takes a long time to build, and a short time to tear down. Do the right thing in good times and bad, and your career path will reward you. Get involved in your community, love what you do, and work hard to do the right thing – and the rest falls into place.
Michelle McComb, CFO, VTS
6. Build a network and use it.
Real estate is a relationship-driven business and building a solid network is incredibly important for your success and personal development. This was a lesson I had already learned in my finance days – early on in my career, it would have been helpful to know how to actually build a network. As I was coming up through the ranks as an emerging CFO, I had to learn how to do a lot of things on my own which lead to mistakes along the way. But through the years I started to build a solid network of peers who had a tremendous amount of experience and knowledge. I was able to utilize them as a resource and learn from them as well.
The importance of this experience and learning was highlighted when I made my way into real estate as the CFO at VTS – a commercial real estate technology company. While our business is an online SaaS platform, investing time in nurturing offline relationships with coworkers, colleagues, investors, and customers has helped to build trust and mutual respect, and ultimately makes my role easier and more fulfilling. I also try to pay it forward now and help other emerging finance professionals and women leaders in their careers so they don't have to go it alone!
So, find a network that fits, nurture those relationships, and don't be afraid to ask for help.
Jean Farnsworth, Leasing and Market Research Analyst, Merritt Properties
7. If they use their "old boys network", we'll use our "old girls' network". When I started in CRE, I did not meet many women brokers and managers – because there wasn't many. But over my 15 years in the industry, that network has expanded. Still a minority, but indeed a larger cohort than when I began my career. It is advantageous to reach out to this network both for yourself and your colleagues.
8. It's very important to remember intersectionality when talking about women in this industry. The work to promote women in CRE should be inclusive of gender and race. Speak up for and promote ALL women in this industry.
9. Don't forget to promote yourself!
10. Create organized, well-prepared presentations when going for that promotion or raise.
11. Stand your ground, make strong eye contact, and give firm handshakes.
Lauren Sozio, VP of Strategic Marketing, EQ Office
12. Think of yourself first as a contributor: You cannot ignore gender, as it will inherently shape conversations and situations, but focus on the value that you as a person bring to the table.
13. Don't live in your head: How many times have you been in a meeting and thought of something, but hesitated to speak it, only to have your colleague take the words out of your mouth, and then kicked yourself about it for the rest of the meeting? So much of our time is spent wondering if we are saying the right thing. Find your voice early and often.
14. We're all in this game together: Don't make this about you as a woman. Think about yourself as part of a larger team. Diversity of all kinds contributes to the success of a team. Dynamic teams are inclusive, rich with opinion, and divergent thinking. Take the "I" out of it and make it about "we". Aristotle was one smart Greek. The whole is truly greater than the sum of its parts.
15. How do you know when you've achieved parity? You're one of the few women at the table, but you don't even think about gender. That takes work on both sides.
Amy Millard, CMO, VTS
16. So, I'm not in commercial real estate, I'm in commercial real estate technology. But, like commercial real estate, tech is extremely male-oriented, so I think a lot of my learnings will apply in both areas.
My best advice for anyone starting their career, or even in the middle of their career, is to seek out mentors. It's something men do naturally — whether it be in a fraternity or from friends of the family. Men are very comfortable doing it and women need to get more comfortable doing it. Nobody makes it ahead, man or woman, without help. Find mentors and learn from them. Sit down with them and ask, "How did you do it?"
I've been lucky in my career to have amazing mentors, from Pam Kramer, who was the founding CMO of E*Trade, to Amal Johnson, who was my CEO at MarketTools. I learned incredible things from them and their mentorship really made a difference.
We're incredibly proud of our Diversity and Inclusion working group for creating opportunities for people with diverse backgrounds and perspectives to thrive at VTS. Interested in working at VTS?