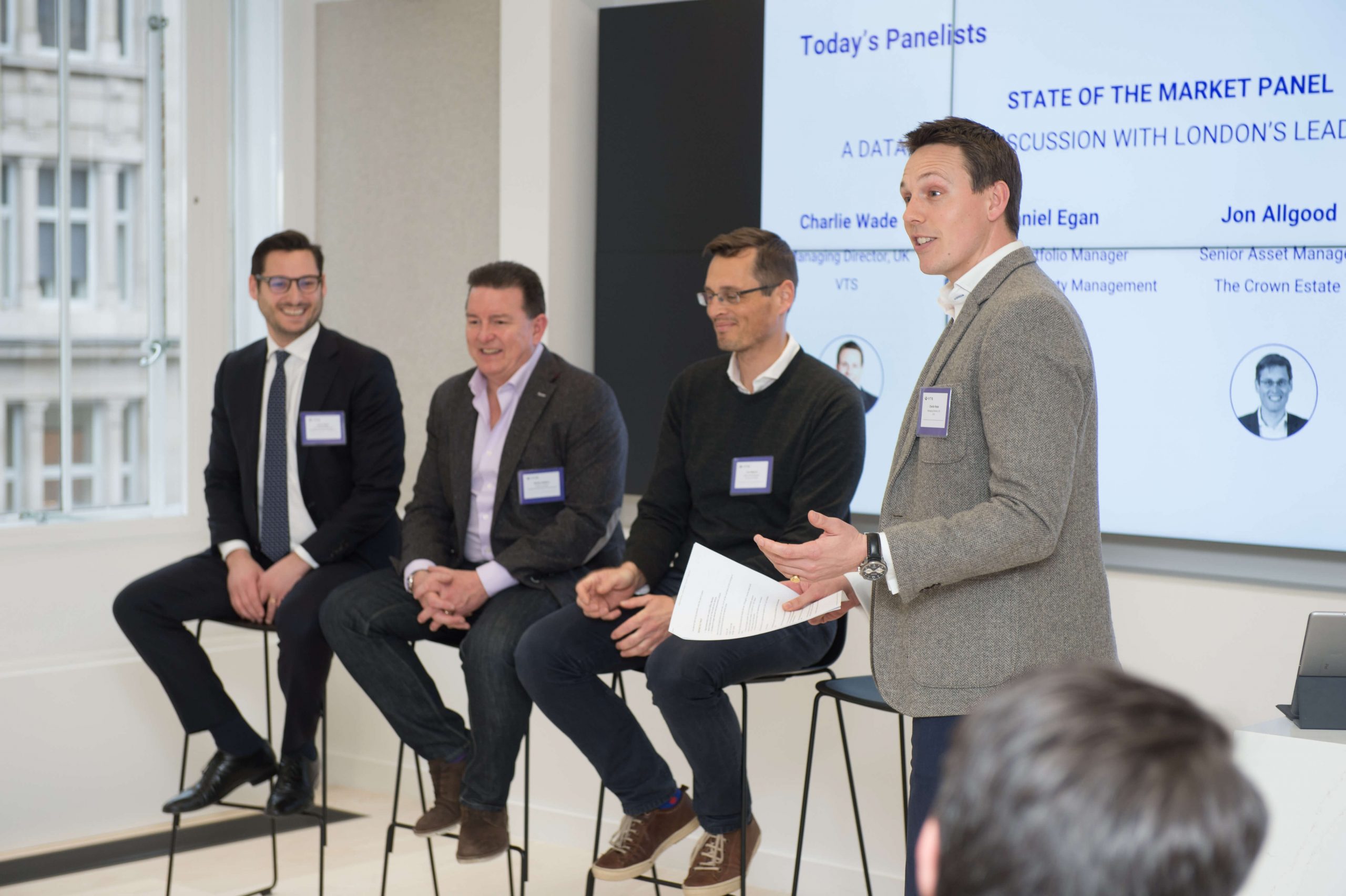 The Crown Estate, Brookfield Office Properties, Blackstone Property Management, and The Office Group Talk About Transformation of the London Office Market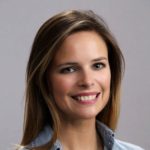 Director, Content and Communications, VTS
In March, VTS continued our global Market Insiders' tour, on which we're gathering landlords for an inside look at the trends, players, and data shaping local markets. Our second stop was London – not only home to our regional HQ, but also our fastest-growing market. A big thank you to the team at The Crown Estate for hosting us at their beautiful coworking space at One Heddon Street.
We were honored to have a group of local London players join us for an afternoon of thought-provoking conversation and insight into the rapidly transforming London market, including The Crown Estate, Brookfield Office Properties, Blackstone Property Management, and The Office Group. Read on for the highlights!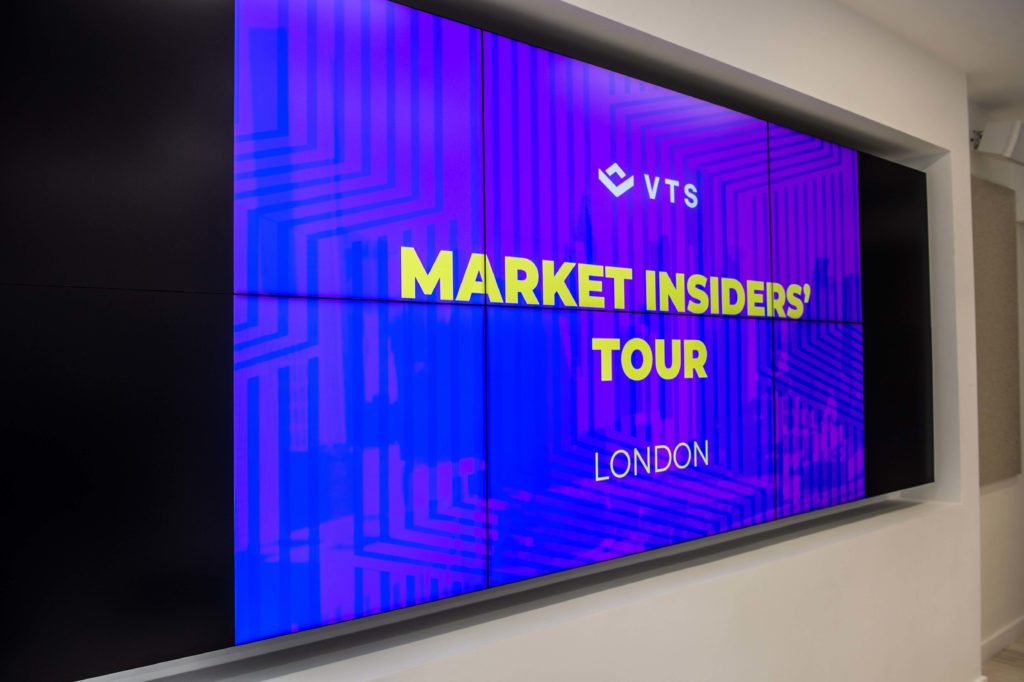 VTS CEO and Co-Founder Nick Romito on Competing in an Era of Unprecedented Change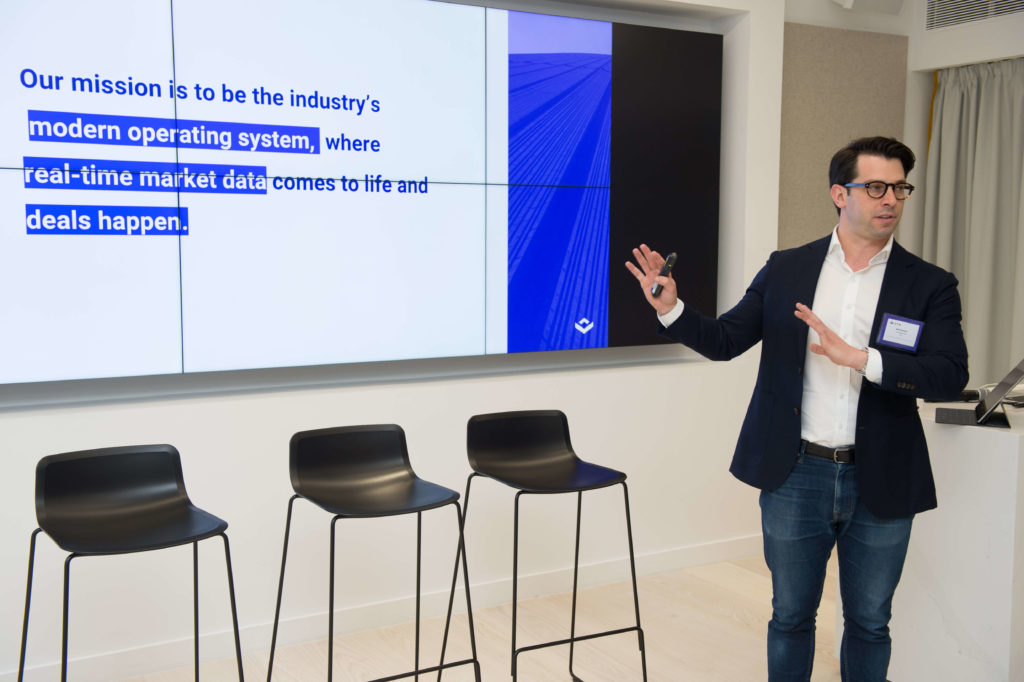 To kick things off, VTS Co-Founder and CEO Nick Romito welcomed the packed room and delivered a thought-provoking keynote focused on the key global and local forces shaping the Central London commercial real estate (CRE) market. And while the office, retail, and industrial markets are transforming at a rate no one expected, the way landlords find tenants and manage occupier transactions has not. "History will tell us that this does not scale, things will break and it will happen quickly," Nick warned the crowd.
Nick walked the audience through three major trends developing in the UK market as seen through VTS' proprietary market data:
People need less space to be productive — tenant efficiency isn't a trend, it's the norm. Take law firms as an example: according to VTS, the size of law firm leases globally decreased by 20.5% from 2017 to 2018.
Lease lengths are shortening — VTS data shows that today's average global lease lengths are down 46.5% from ten years ago.
The percentage of executed deals less than 10,000 SF in London is rapidly increasing — according to VTS, the proportion of deals represented by this size range increased by 32.35% (from 68% to 90%) from 2017 to 2018 and continues to climb in 2019.
How do landlords gain a competitive edge in this environment? Nick covered three ways leasing and asset management teams can stay ahead:
Understand conversion funnels – be data-driven
Improve deal cycle times
Use technology and process to develop a tenant retention strategy
Landlord Panel: How The Crown Estate, Brookfield Office Properties, Blackstone Property Management are Capitalising on Changes in the Central London Office Market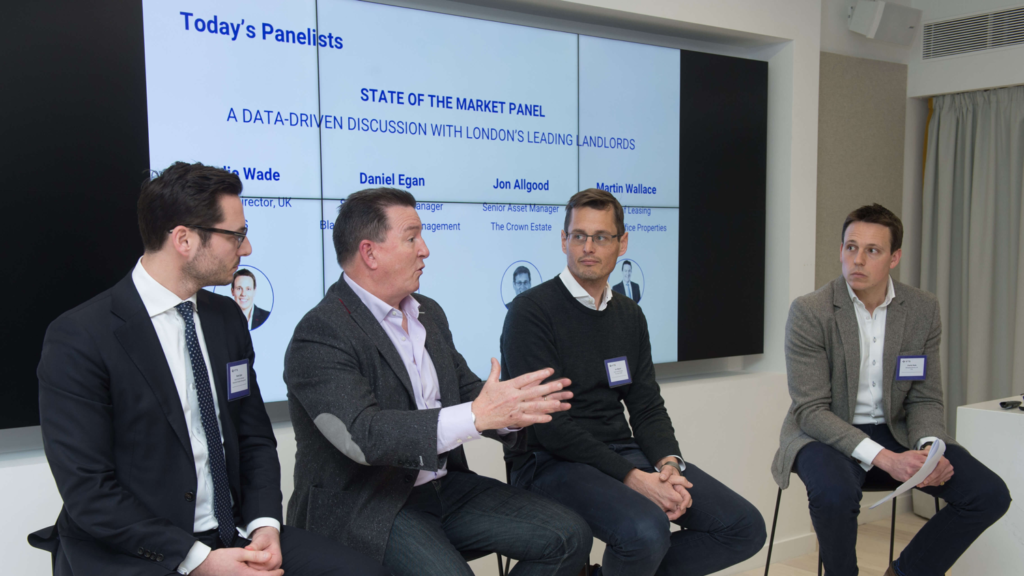 Following Nick's opening keynote, VTS Managing Director Charlie Wade led a lively panel conversation with:
Jon Allgood, Senior Asset Manager, The Crown Estate
Martin Wallace, Head of Leasing, Brookfield Office Properties
Daniel Egan, Senior Portfolio Manager at Blackstone Property Management.
The panel focused on the trends shaping the Central London market, how they're impacting CRE businesses, and the strategies these landlords are deploying to capitalise on these trends.
The panel kicked off with the topic of flexibility. The panelists acknowledged that the London market felt two or three years ahead of the New York market with regard to reacting to the shift in occupier sentiment. The group noted that tenants are increasingly willing to pay a premium for both lease flexibility and for space that is immediately ready for occupation. The London market has responded to this trend with the development of homegrown, landlord-owned, serviced office-type buildings or concepts to complement the growing sector and cater to the smaller sub-5,000 square feet size requirements. Interestingly, Danny Egan discussed that the desire for this type of space has increased to 200 person or 20,000 square feet requirements.
The conversation quickly turned to the development of pre-built or "Cat A Plus" type space to capitalise on this trend. It can be a risk to the traditional leasing model to invest the capital upfront to provide fully connected, plug and play type space, but the evidence so far suggests shorter void period, fewer incentives, and higher rents can be achieved. Jon Allgood highlighted that a tenant could sign an agreement at One Heddon Street in less than 30 minutes and be in occupation the next day. This is having a bigger impact on the wider business and their goal is to "transform their standard lease and space offering. Why can't we move to a more T&C's style approach where appropriate, and think of a lease more like a mobile phone contract in that the majority of the terms remain standard and you negotiate two or three key points at the most?" The focus for the market will now be on whether the prebuilt space has an impact on the retention rates for those shorter leases – this will identify the real results and value implications of the new model.
The increased desire for flexible leases is challenging views about the traditional approach to valuation and the role of valuers. Jon Allgood shared that the industry is moving in a different direction – for example, Cushman and Wakefield is looking at desk rate occupancy, learning from their hotel colleagues, rather than solely relying on the rental income. Martin Wallace noted that moving forward, data will make the conversation easier. He said that valuations are "not always about rent," and encouraged the audience to think about other factors such as asset age or retention. The panelists unanimously agreed that the industry will rely on new data points in the future and that this increased insight into how buildings operate or perform will play a much bigger role in how they are managed and ultimately valued.
Next up – tenant relationships. The panelists agreed that while occupiers make space decisions based on different factors, having strong landlord/tenant relationships helps drive discussions and build longer-term connections. Daniel Egan noted, "We need to change people's opinion of landlords, we need to engage and listen." Martin Wallace added, "We can make their lives easier, which makes them money. This is the value." He indicated that he hasn't done a deal in the last year that's been over 25,000 square feet where the HR team for the occupier was not involved. Talent retention is huge and the landlord can become a key partner in helping to achieve this goal. Property has never been closer to the boardroom of the tenant and that presents a real opportunity for the engaged landlord. The panelists all agreed that every owner should have a plan in place for managing those relationships.
Lastly, our landlords pondered the need for better marketing channels and the changing role of the agent – now and in the coming years. Jon Allgood commented, "Agents are the lock and key, they make introductions. It allows us to access the market." Martin Wallace added, "While roughly a third of the requirements for our buildings come direct, agents are here to stay and the top ones will allow you access to their clients. Each transaction is bespoke in terms of the people and the history, this is where agents are helpful." Daniel Egan did, however, note that the way landlords market space and the external channels they use today to engage with prospective tenants needs to change. "A greater emphasis in the future will be placed on the ability for landlords to brand themselves as well as their buildings." This will become increasingly important as the industry looks to improve its relationship with the ultimate customer. Jon Allgood noted that "the way we lease space today is not right for us or the tenant. It's a series of Chinese whispers, which is not a great first experience for our customers."
Fireside Chat: The Office Group's Charlie Green and VTS' Nick Romito Talk Using Data to Deliver a Premium Tenant Experience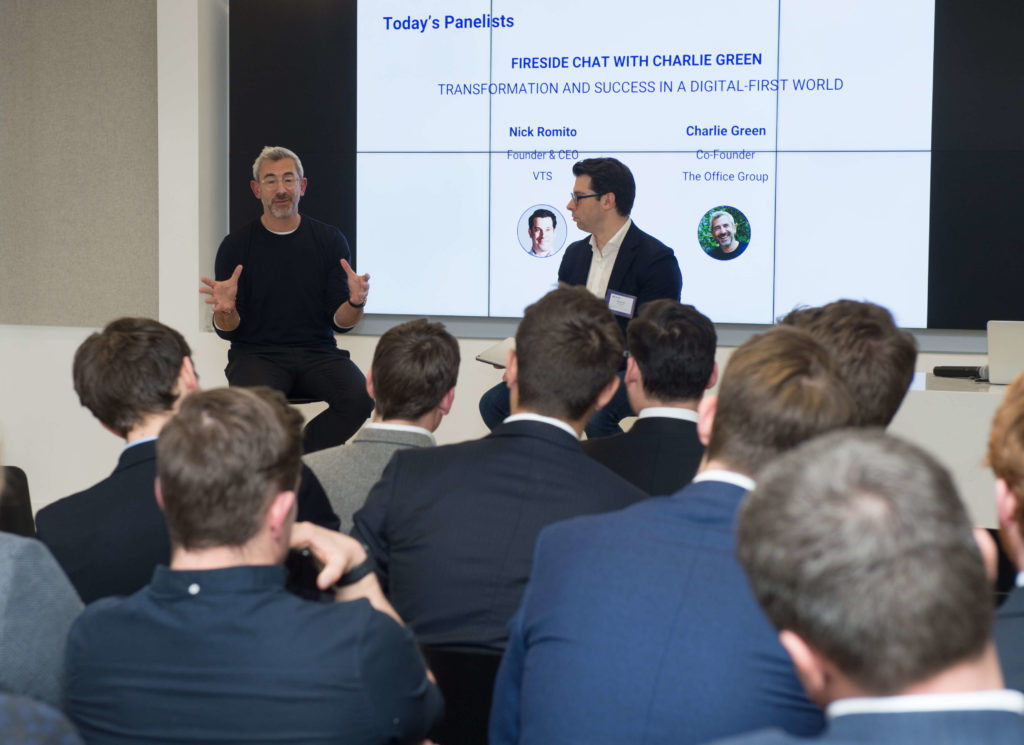 "We set out to challenge the serviced-office market, but ended up challenging the traditional lease." In this fireside chat, Charlie Green, Co-Founder of The Office Group (TOG), talked to Nick Romito about how the UK firm pioneered the shared workspace concept in Britain, and how they're serving modern tenants today.
Central to TOG's early success? "It was the branding – buildings are our brand," explained Green. "We needed to get that offer with the environment right." The company drew early inspiration from hotels, restaurants, and barber shops to provide service and flexible amenities.
Fast forward to today, TOG is focused on servicing a tenant who's making decisions fueled with more information than ever before. "Tech is changing everything, people are demanding new things," shared Green. "It's not about gimmicks. People want the substance of office delivered in a brilliant way. We are looking at designs that are different without alienating. We keep looking forward. We don't want to lose that level of care."
In response, TOG is also using data to deliver a premium tenant experience. "As competition increases, loyalty decreases. We collect loads of data to make sure we know what is going on and that we understand what tenants want and need," said Green.
A big thank you to all of the landlords who joined us for this event!
Did you miss our NYC Market Insiders' event? Read the recap now to get insights from Rockefeller Group Development, RFR Realty, and Sage Realty Corporation.