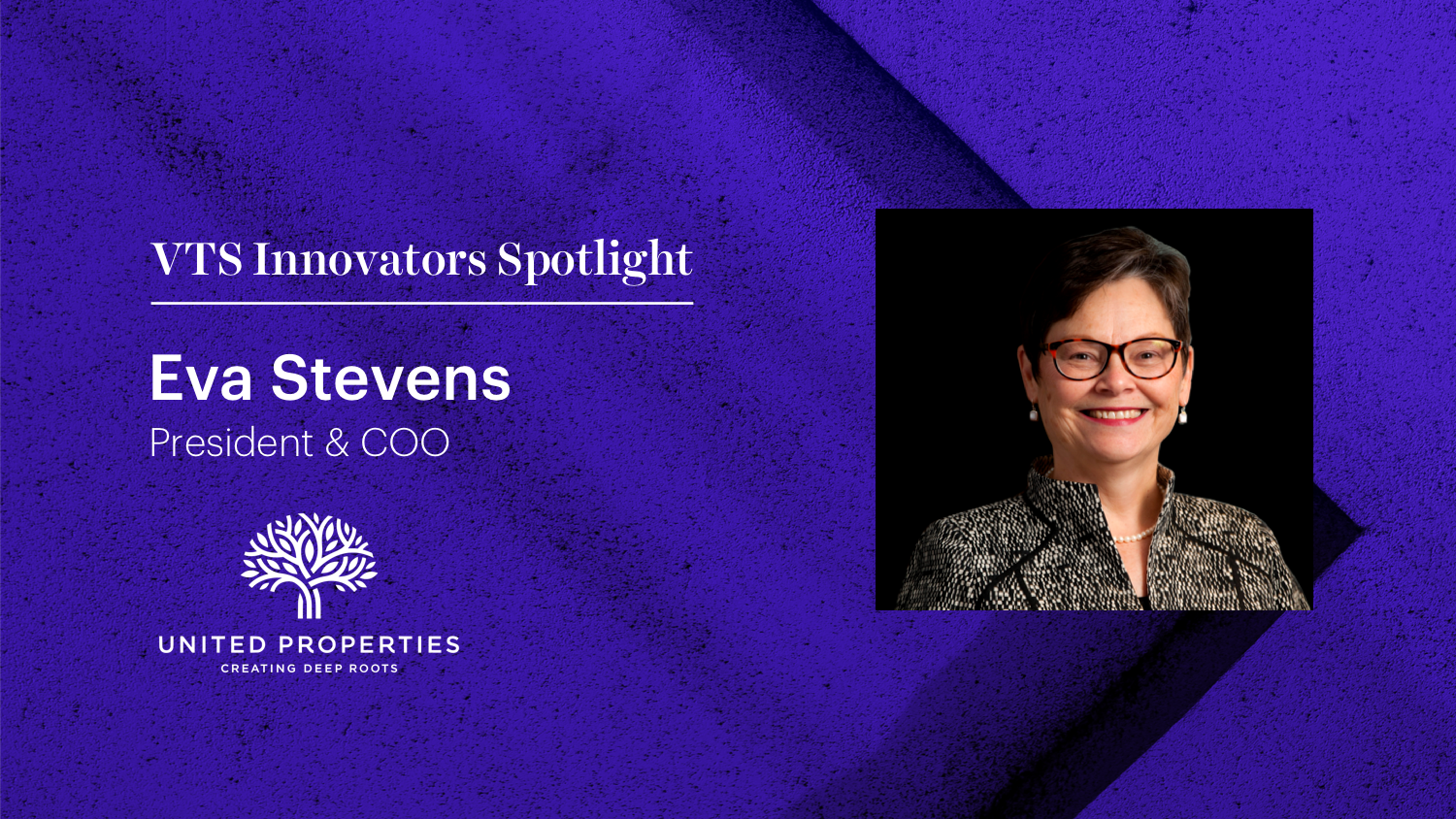 United Properties President and COO Eva Stevens on Why Technology is Critical in the Fast-Paced World of CRE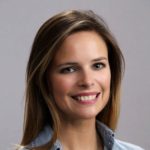 Director, Content and Communications, VTS
Eva Stevens, president and COO of Minneapolis-based development and investment company United Properties, is a self-proclaimed problem solver. A 17-year veteran of the company, she's responsible for all aspects of portfolio and asset management for the firm's owned assets, as well as overseeing all company operations. United Properties is one of the most active developers in the Twin Cities market and is owned by the Pohlad family, owner of the Minnesota Twins.
We sat down with her to find out more about how technology like VTS enables her organization. She shares that "access to quality controlled information from anywhere at any time has added an element of speed to decision making."
Enjoy.
VTS: How did you get your start in commercial real estate?
Eva Stevens: I have an accounting degree and I started working for Coopers & Lybrand out of college in 1977. I immediately gravitated to the real estate team. My job was to build a financial model in support of the bond sale that financed the Metrodome Stadium [the former home of the Minnesota Vikings], which has now been demolished and replaced with U.S. Bank Stadium. I watched a piece of property be evaluated, constructed, and now, almost 40 years later, demolished and replaced with something else. So I've been around a long time. I was fascinated.
It became clear to me early in my career that I'm a problem solver, that numbers tell me a story and that I was interested in real estate. When I left my second job (at Ellerbe), I joined a commercial real estate company as an analyst, giving me the opportunity to work through my second economic downturn. I joined United Properties 17 years ago as co-manager of the portfolio of real estate owned by the company. I became the first female on the executive team and recently became the president of United Properties Investment and chief operating officer of United Properties.
VTS: What are some of those responsibilities?
Stevens: I co-lead United Properties with my partner Bill Katter. As co-leader of the company, I'm the COO, and he's the chief investment officer. He's the president of the development company, and I'm the president of the investment company. As COO of the parent company, I'm responsible for all things operational: finance, accounting, IT, HR, administration, asset management, financial analysis.
As president of United Properties Investment, I'm responsible for portfolio management of the stable operating portfolios – the assets that we own for our own account. We hold ourselves collectively responsible for the total return of the company. The development side of the company – Bill's side – is deploying higher-risk, higher-yield capital with a goal to create and monetize value.
VTS: You've had a seasoned career in commercial real estate. What do you love most about your job?
Stevens: It's a couple of things. First, I'm a lifelong learner and a natural teacher. Working at United Properties really gives me the opportunity to pursue all of my passions: teaching and mentoring, managing real estate investments and participating in community outreach.
One of the differentiators for me is the family that owns our company – the Pohlad family itself. They're real people. They empower the people in the organization and they encourage us to give back to the community as well as make a profit. That really rounded out what makes me whole. I gain energy by making a difference in the community.
Another thing is the people. I surround myself with brilliant people. I'm not afraid to work with people who are a lot smarter than I am. Everybody is rowing the boat in the same direction and we benefit from that. We have an internal culture declaration: 'We are one team, accountable for the whole, and we have each other's backs.' We really walk the talk internally, even as complicated as real estate can be sometimes. We access resources across divisional lines and access knowledge and wisdom to support each other.
VTS: The pivot from a property-focused industry to a tenant-centric has many landlords calling this shift the number one disruptor. Is this a major shift that is top of mind for United Properties, and if so, how are you adapting in response?
Stevens: There are a number of disruptors in our industry right now, and the speed of change in our world is getting faster and faster.
We think the world we live in will become more complex, because of changes in how space is being used, technology and the number of generations in the workforce. What we're focusing on is viability and relevancy of the company. We have established clear, measurable investment objectives. We're dedicating extraordinary resources to employee and leadership development, and we're enhancing infrastructure so we're efficient and agile.
Our strategic plan really is focused on developing our employee base to be resilient problem solvers, because we don't see the speed of change slowing. We're focused on meeting the undefined needs of the changing world with talented individuals prepared to think strategically, act appropriately and decision make as the world changes around us.
In 2018 we've expanded our diversity and inclusion initiatives. We've identified a three-year goal: in 2018, we are focusing on creating awareness. In 2019, we will focus on embracing differences. And in 2020, we're going to focus on celebrating differences. Our organization is 56 percent female and we recently confirmed that we're in good standing on a gender wage gap analysis. We are dedicated to making sure our recruiting practices and networking focus provide us the opportunity to see a wide range of talent.
We recently worked with a managerial psychologist and put together a leadership program to help us develop the next generation of leaders and resilient problem solvers in this organization. The model centers around the fundamental belief that leadership is the intersection of skills set and mind set.
We have development programs in place for all employees that help them achieve the right mindset. To us, this means coming into any complex problem and taking ownership: remaining curious and seeking diverse opinions; remaining humble; learning from others and from their mistakes; listening and being courageous, all of which gives us the ability to make tough decisions and think objectively. We're helping our employees develop a strong mindset combined with a strong skill set around strategic perspective, leading people, driving execution, maximizing collaboration and leadership.
From the actual hard asset side of the world, we continue to expand, modify and change the filters through which we look at our physical assets. We have what we call a 'success test' that we run our assets through annually. It's a comprehensive series of questions that address everything from functional obsolescence to sustaining or creating value.
This discipline is really important to us because the world changes and those changes will inform investment decisions. For example, access to labor is an issue – not only for us but also for our tenants. We are interested in how access to labor will impact where we locate our industrial buildings. We want to have them in a community that has access to the workforce. We're trying to be thoughtful and disciplined about how we evaluate which assets to hold long term by taking into consideration the changing conditions in our markets based by product type.
VTS: How has your approach to tenant management relations changed in the past few years with the consumerization of the industry? Do you think about that at the hard-asset level?
Stevens: We do. We procure our property management and brokerage services from third parties. We set the strategic intent that we're a customer-centric landlord, and align ourselves with best in class service providers. We ask our property managers to be thought leaders in how to manage the physical asset and to provide our tenants with high touch service, responsiveness, comfort and flexibility.
For us organizationally, a cultural match along with strategic alignment between us and our service providers and us and our investors is really important.
VTS: What's the biggest impact that technology is having on your portfolio and asset management processes?
Stevens: Speed and access to quality-controlled decision-making information from anywhere.
When I started with the company in the early 2000s, we were still in an environment where people had their own empirical data. We had so many transactions to work on and really needed to become more efficient. To remain competitive, we knew we needed to be empowered with quality-controlled information on a current basis to make a decision.
Fundamentally, with that belief inside our organization, it commanded platform changes. When VTS became available, we were intrigued that no matter where we were, if we could migrate our culture to that type of an integrated platform, we could all be looking at the same quality-controlled current information simultaneously. This would allow us to reach the best decision we could, as fast as we could, letting us convert the conversation to a completed transaction. Sometimes speed really does make the difference.
Another thing that has been very useful is the different technology tools that give us the ability to accumulate information. Now, if I want to see something across a product type or across the portfolio, I have the ability to do that easily and quickly. Where historically, if I wanted to see something across a product type, across the portfolio or by asset manager, one of my analysts would have to take time to pull information from four or five different locations, quality-control the data in the template, and then bring it in to me. And then I will want to see something else. Then back they go to their desk.
Technology has made market information transparent, which better informs my decisions, and I can get to our information faster, which in turn better informs decisions. I can feel confident that we're going forward in making the decision based on information that's quality-controlled.
VTS: You're a first-time speaker at Accelerate, welcome! What are you looking forward to about the event?
Stevens: I'm really looking forward to learning how my colleagues are navigating change and staying personally and organizationally resilient with the change we're facing. I'm looking forward to the camaraderie to have conversations about what they're doing.
VTS: What would you be doing if you weren't in real estate?
Stevens: I am interested in equine coaching or equine therapy. I like working with horses and am intrigued by how they interact with people. I have a horse and I ride. What I have noticed is how time with the horse and at the barn soothes my soul. I've also been doing some research that indicates there are a number of different health situations that are bettered by being around horses or riding horses. I think it would be fun to participate in that somehow, maybe as a volunteer.