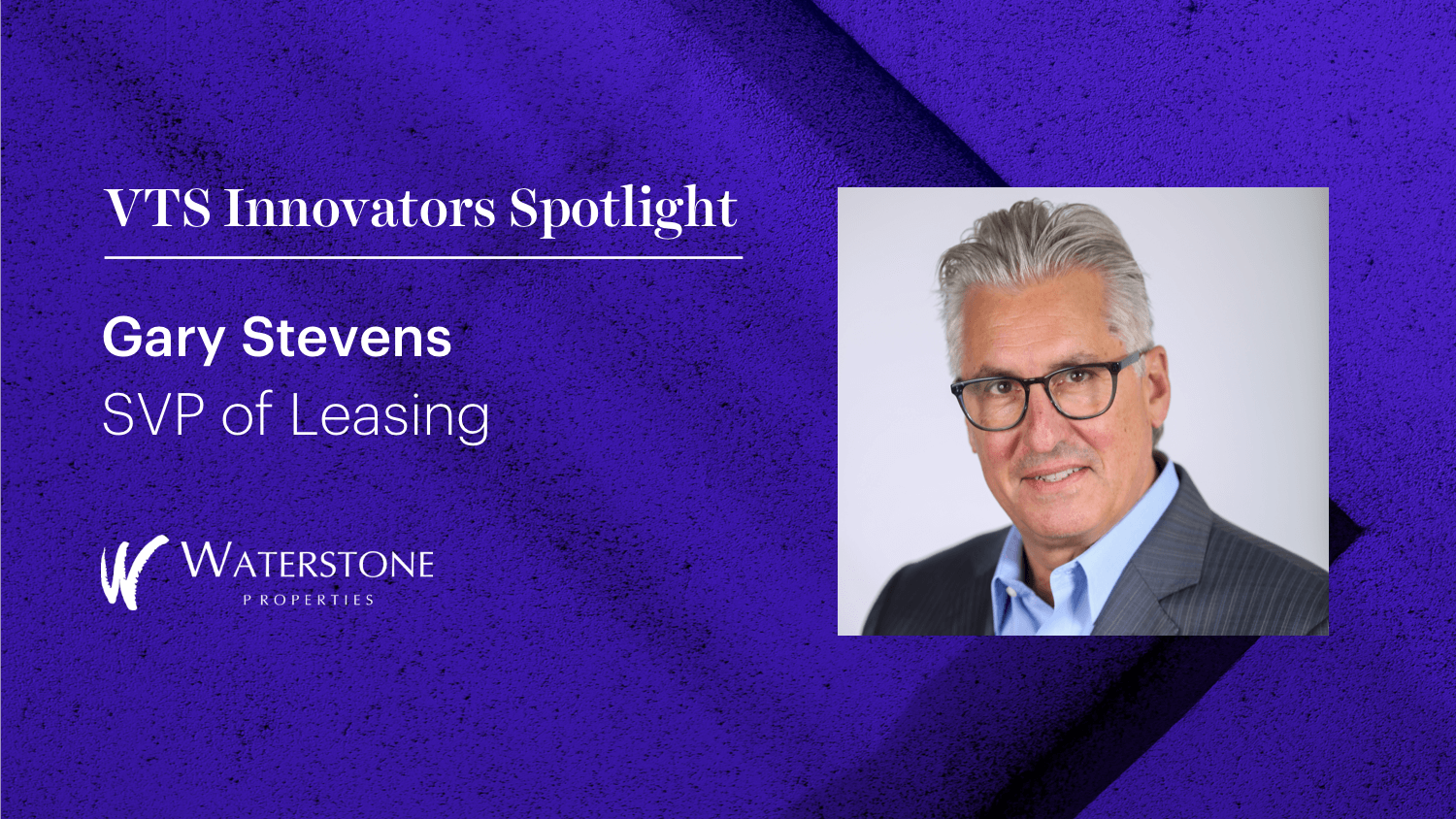 Gary Stevens, SVP of Leasing, at Waterstone Properties Group on the Need for Retail Landlords to Adopt Technology Now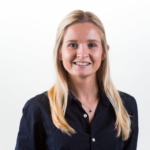 Content Marketing Manager, VTS
Gary Stevens, SVP of Leasing at Waterstone Properties Group, has quite a commercial real estate background. In fact, commercial real estate is his second career — he started as a professional musician! Throughout this "second career", Gary has worked on all sides of a retail deal-making table. From his start as a broker to working as the Head of Real Estate for various retailers to managing the leasing process from the landlord perspective, he's done it all.
We sat down with Gary to learn more about how Waterstone is embracing the current retail revolution through the use of technology like VTS.
Enjoy!
VTS: How did you get your start in commercial real estate?
Stevens: It's strange, but real estate was my second career. I started as a musician from a very young age and then worked professionally as a touring drummer and singer through most of the '80s. I had always planned on staying a pro musician, but I grew tired of life on the road after years of performing at 250-275 shows per year and started networking about what might be a rewarding second career path.
One of my connections owned a supermarket chain in Connecticut — where I was living at the time — and he suggested that I get a real estate license and start working. So I got my start in commercial real estate as a broker. After about a year and a half of general real estate brokerage, I started to focus on retail with an affiliate of that supermarket chain and had a progressive career involving supermarket development and leasing. I got hired by Staples when I lived in Atlanta to grow the chain throughout the Southeast. From there, I was tapped to be a developer for the Visconsi Company, a wonderful company in the Midwest. I did another stint at Sears Holdings when the recession hit. And from Sears, I became the Head of Real Estate for Lifetime Fitness.
About four years ago, I left Lifetime to head the Leasing Department at Ramco-Gershenson Properties Trust, now just called RPT. And at Ramco, I did my first VTS launch. Now I'm the SVP of Leasing here at Waterstone, since April, and I just did my second VTS rollout.
VTS: What does your current day-to-day look like?
Stevens: I've been here a little over six months, and my first objective was to get VTS on board. Since the rollout, my day-to-day looks a lot better than it did before! I manage the leasing staff here at Waterstone — with agents at our Boston-area HQ, and remotely. But I'm also a player-coach, so I do get involved in some of our larger deals. Therefore, my day-to-day is a mix of managing the leasing function, being the player-coach running some of the deals, site underwriting, demographic analysis, and research. Despite my age, I've also become the "data guy" around here.
VTS: Retail has been going through some pretty major shifts. What would you say the most pressing trends are?
Stevens: Retail has just gone through a significant transformation in the past 15 years. In the early 2000s, I remember saying that the four horsemen of the retail apocalypse were Home Depot, Lowe's, Walmart, and Target. When one of them got a cold, the industry really suffered. At that time, they were just ending their organic expansion, and it changed how shopping centers were developed once they reached their saturation point.
That was the first wave of adopting new technologies and improving site selection, and it became more difficult after that. And like every change in the industry, it weeds out people. The ICSC ReCON of 2008 had more than 30,000 people and the next year had about 8,000 attendees. The convention floor was unrecognizable in areas.
This retail shift has been borne from new distribution channels taking hold and shifting shopping trends among Millennials. The book industry changed, then the sporting goods industry, and then the electronics industry, and so on. Anything that was commodity-driven — you knew what you wanted to buy, it was strictly a matter of place and price — those retailers just started flooring in terms of sales per square foot. It made shopping centers change their makeup and layout from what used to be a power center with eight mid-boxes — a BestBuy, Staples, Michaels, Dick's Sporting Goods, DSW, Marshalls, Homegoods, etc. — to growing rent primarily on the small shop spaces when the internet started hitting those mid-boxes' sales.
VTS: And how have you been adapting your strategy to stay ahead of these trends?
Stevens: I like to spread our areas of expertise across the leasing team. We have one person who's really close to fitness, so I have her following that area specifically to see how it goes. There's so much information and data, and in some cases misinformation, that you need someone who's really in the know.
Another thing that's really changed is attracting tenants, and we've also adapted to that with data. We are developing a mixed-use asset in the Portland, ME area, called Rock Row. To activate the site, we ran a series of concerts this year and used Placer.ai, a mobile device analytics platform, after every concert to analyze the travel patterns of concert-goers. We figured out where the people came from, where they went before the concert, where they went right after, and all of it gave us a data-rich picture who's coming to that site and why, and how to build the site out around them. And now a lot of retailers are savvy to it and know how to interpret that data themselves.
VTS: How has this transformation changed your role? What new expectations are required of you?
Stevens: We need to spend more time hunting for the right tenants, so we need to be sure we're using the rest of our time wisely. I want my leasing team out generating new business rather than filling out a spreadsheet for a proforma.
To that end, a platform like VTS just saves us so much time. Just this week, we approved our first deal through VTS and the person who put it through had been complaining about how long it was taking to move her information into the platform. I told her that the hour she spends now inputting everything accurately is going to save her ten-fold the time down the road. So, we're moving the deal into the approval queue and we attach the LOI and the deal approval summary. She says, "What about the economics in the deal approval summary?" And I said, "You've already done that. They're in VTS. Just click on this financial analysis tab. It's all done." She goes, "Wow, that was fast! It usually takes two hours to fill out that sheet." That's where the time savings comes in. I also think that it instills a better sense of deal accuracy within the agents, as they realize the platform is transparent and also that work is never wasted since there's no redundancy of entering economics from document to document.
I can't imagine trying to do this job without technologies like VTS. I know what it was like and it was inefficient. It made you rely on memory and spreadsheets — that's just not smart. With VTS, if anyone comes to me with a question about a deal, I'm going to be able to give them the update in a couple of clicks. At the same time, their questions are more about, "This deal seems to be taking a long time. Is the delay on our end or the tenant? What can we do to break the impasse? How can I help?" It's become a lot less about deal management and fact-finding and more about deal improvement and leasing efficiency.
VTS: As you were evaluating technology what were some of the pain points you were trying to solve?
Stevens: When we were first evaluating a technology like VTS, the first pain point we were trying to solve was the transparency of the deal cycle, which is personal to me. Usually, you don't see the deal until the tenant approves and the leasing agent brings it to me for my review. So, you don't understand how they arrived at the rents or how — or even if — the deal evolved. And I don't want to look at a deal approval form where my agent just met the tenant in the middle. I want to understand what the last deal looked like, the average base rent in the shopping center, the reported sales across the center, and the proposed tenant's projected sales so I can gauge an appropriate rent factor.
With VTS, the back-and-forth proposals are side by side and I can see the genesis and evolution of the deal. When they're filling out the financial analysis, they can put in projected sales and VTS calculates the rent as a percentage of that. All of those things are time-savers and lend transparency to the deal structure.
Our Head of Development, Architecture, and Design also loves the Daily Digest because he can immediately see the tenants coming into our centers and where the activity is located. Then he knows if he needs to do anything to the space if the use has been approved by the city before, and start planning for the workflow in Tenant Coordination. It's streamlining his approach to our executed deals.
VTS: As a company that's adopted technology, what advice do you have for other companies that are just starting to think about it?
Stevens: I suggest they think about it really fast. If they haven't adopted technology, they need to start thinking about it now, or we, the "early adopters," all just look better and faster and brighter and stronger. Either change or perish.
And if you choose to change, I would also recommend speaking with each of your team members to help prepare them for the change. Before we rolled out VTS, I went to each of our leasing people on a one-to-one basis and chatted with them about VTS. I said, "I'm excited about this. I know you're going to love it. Like any change, it could be a little overwhelming. And this is just one way that will make you a better deal maker."
VTS: What would you be doing if you weren't in commercial real estate?
Stevens: I'm involved in the philanthropic side of the music business now. I'm on the board of the Cuban-American Youth Orchestra. My wife is a very well-known cellist and instructor of cello at a leading conservatory. My son is a partner with Artsy, a tech startup in New York within the arts field, blending content and commerce. So if I wasn't in commercial real estate, I'd be doing something related to music or art.