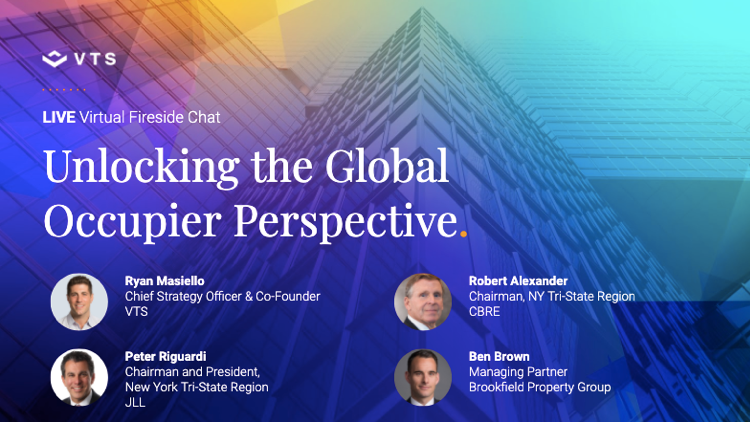 The Global Occupier Perspective with CBRE's Robert Alexander, JLL's Peter Riguardi, and Brookfield Property Group's Ben Brown [Webinar]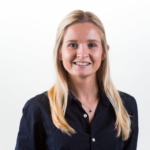 Sr. Manager, Content Marketing, VTS
As markets start to reopen and companies prepare to return to work, the needs and expectations of tenants have understandably changed. In order to provide the best experience for their tenants and remain competitive, landlords need to adapt.
In the next installment in our COVID-19 relief webinar series, we brought together three leaders on the front lines of leasing and likely the three most qualified people to talk about the pressing questions on the minds of the world's largest companies as they prepare to return to work. CBRE's NY Tri-State Region Chairman Robert Alexander, JLL's NY Tri-State Region Chairman and President Peter Riguardi, and Brookfield Property Group's Managing Partner Ben Brown joined us for a discussion on the Global Occupier Perspective. Robert and Peter are two of the world's most influential tenant rep brokers and Ben manages a large portion of Brookfield's portfolio, one of the world's largest landlords.
During the session, we covered what landlords need to be thinking about now to make sure they're delivering on what tenants need – to both ease the way back to work and get new leases signed. Enjoy!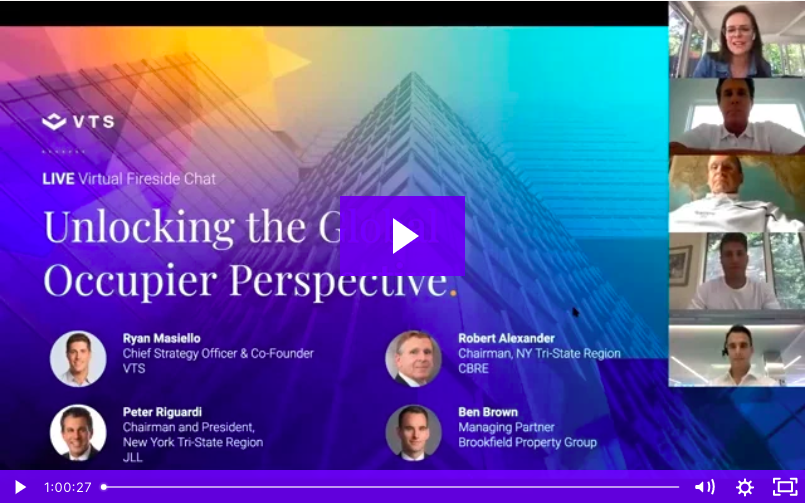 Ben Brown covered the landlord perspective: "[Brookfield has] a global perspective on the impacts of COVID-19 because we're operating in many cities at various levels of reopening. Our businesses in China and Korea have been further ahead in terms of reopening, relative to the rest of the world. Office and construction were first to reopen in China. In our Shanghai business, we saw traffic congestion come back to pre-COVID levels and retail and manufacturing activity are back to about 70-90% of pre-COVID levels. And the subways are at about 80% capacity, so we're really getting much closer to normalcy there.
When we look at South Korea, it's actually been pretty interesting. Globally, our properties all stayed open, but that had different meanings in different places. In Seoul, our office occupancy only dipped down to about 30% at any given time and it's already ramped back up to about 80%. But in our U.S. business, across any city, we were in the single digits, so while we were open, we had very few people going into our buildings. So I'd say China, Korea, and Asia were generally way out in front in terms of being impacted by COVID-19 and they're way out in front in terms of their response to reopening.
Flipping over to the balance of the world: India, Dubai, Brazil, Europe, North America, and Australia are all in different, but earlier, stages of reopening. India's restrictions have eased substantially, with the exception of Dubai. The European countries have also moved pretty quickly to reopen — most of the retail centers are open, pools are open, and beaches are open. Here in the U.S., all the states are in different stages of reopening, and in New York, we've just opened up our offices. Australia was just in the first phase of reopening and Canada is coming along with Toronto moving into phase two.
In Berlin, London, Houston, now New York City, we've seen a slow return to occupancy. People are being cautious and we believe that's the way to continue. And it's twofold: Many companies are taking a pretty measured approach and it's also summer, so we think for the balance of the summer months we're going to see a slow ramp-up of occupancy through Labor Day. In our office the last two days, we've probably had about 10% occupancy and my guess is that after the 4th of July, it may be closer to 20%, and then we'll see where we get to at the end of summer.
During the pandemic, our office portfolio across the U.S. has fared pretty well. Collections have been around 90% across the portfolio, which seems to compare to a lot of our peers. And we're pretty optimistic about the credit readiness and health of our tenants."
Peter Riguardi commented on the strength of the NYC market: "One of the interesting things about COVID-19 is we've lost a tremendous amount of jobs, and obviously there are a lot of people suffering and hopefully we can get them back to work, but only about 17% of the job loss was office-occupant type jobs. That's a good sign that when things start to come back, we'll have a little bit less of a hill to climb in getting our office economy back.
The second thing that's interesting about the job market, according to our data, is that tech firms in New York City have added jobs to the marketplace since March. A lot of those companies were grabbing talent that may have been let go by other firms and that bodes well for our recovery. In fact, New York has become another tech hub similar to Silicon Valley. And I think, for the first time, the New York market has such a great base of tenants other than financial services that buoy this market and make us a little more counter to the Dow."
Robert Alexander spoke to the significant transactions that have still been executed amidst COVID-19: "Finance, tech, and law tenants make up almost 50% of Manhattan's occupancy, which is 410 million square feet depending on how you count it. So the reality is that any sort of adjustments we get in the finance sector are going to be telling and we hope that tech goes from 10% to 12-14% over the next couple of years to take up the slack.
There have also been some very significant transactions in Manhattan by a whole host of tenants — financial firms, technology firms, legal, government, etc. so any rumors that the Manhattan market has gone dead are going to be rebutted."
Watch the full webinar on demand here.