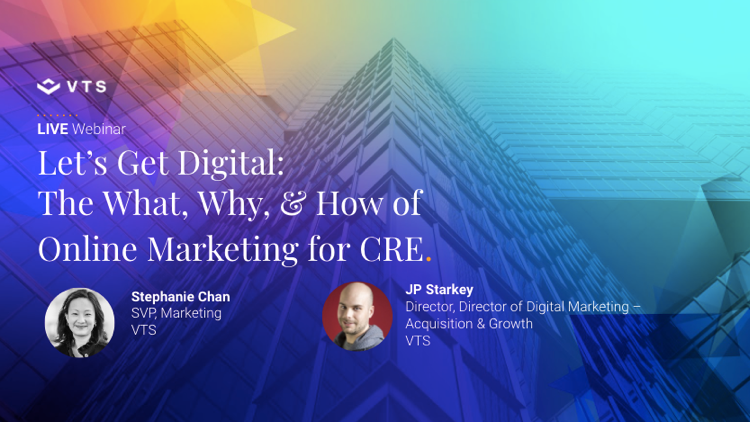 How to Get Started with Digital Marketing for Commercial Real Estate [Webinar]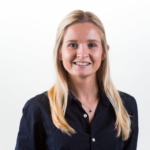 Sr. Manager, Content Marketing, VTS
The whole industry's buzzing about digital marketing. And top landlords, including SL Green, Columbia Property Trust, Ivanhoe Cambridge, Tishman Speyer, Hines, Oxford Properties Group, and more, are already weaving online tactics into their existing marketing strategies to get more eyes on their available spaces and close deals remotely. But what is digital marketing? And how can you get started with a strategy today?
In this webinar, VTS marketing experts Stephanie Chan, SVP of Marketing, and JP Starkey, Director of Digital Marketing, break down the what, why, and how of online marketing for commercial real estate. Read on to see how you can get started with digital marketing to market and lease your available spaces. Enjoy!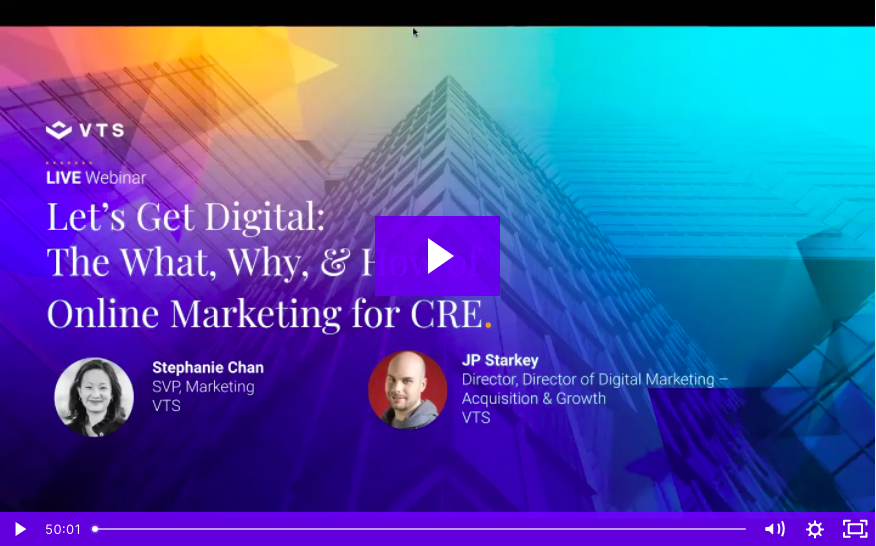 Why is everyone talking about digital marketing for commercial real estate now?
Stephanie Chan: COVID-19 is accelerating the adoption of digital marketing in commercial real estate right now, which is something that's already happened in many other industries. We've already seen a huge digital disruption in how we consume media. Think about retail marketing. Amazon has been rapidly disrupting everything and we've seen a transformative impact in how we shop today. In the transportation world, can you imagine life without Uber or Lyft?
Where does that leave commercial real estate? The shift to digital marketing we're seeing now is the point of digital disruption for this industry. We actually ran a survey of 250+ tenants in July to understand how COVID-19 was impacting how they thought about commercial real estate and finding office space. We found that 70% of tenants surveyed expressed discomfort in doing an in-person tour. 86% preferred to take a virtual tour to narrow down spaces before they saw them in person. And 67% of respondents wanted to see a floor plan before touring in person. Prior to this, tenants expected that the first time they would see a space would be walking into an office on a tour. Today, they're saying, "I would like to have a little bit more information and I would like it to be digital."
Even post-COVID, that's not going to change. When we go back into a world where we can interact with each other face-to-face more and go into office spaces, tenants and tenant reps are still going to want those digital pieces as part of their decision-making process.
What is digital marketing?
JP Starkey: Digital marketing encompasses all marketing efforts that use an electronic device or the internet. Anytime we search for something on Google, when we're browsing our social media feeds, when we're checking our email, or we're reading digital content on the Wall Street Journal, we're always engaging with digital advertising, whether we realize it or not. Here are just a few examples of digital marketing:
I was scrolling through LinkedIn and saw a promoted post from Volvo. I don't actually follow Volvo on LinkedIn, but I was on their website. My brother-in-law is looking at getting one, so I was checking it out. Volvo knows I was on their website so they served me this ad on LinkedIn, Facebook, and throughout my internet journey.
I received an email from Zillow. I've been looking at homes recently and every time I search for a particular zip code or I'm looking at a listing in Stanford, I receive an email of other houses I may like that are similar to ones I've viewed.
One of the distinct advantages of digital marketing is that it allows for real-time and exact tracking. You can see how something is performing at any point in time, which allows you to optimize for good results, hit your goals, and see the return on investment for every dollar spent. You can't really do that in traditional media. Once you place an advertisement on TV, that money is spent.
In digital marketing, you can also reach your audience wherever they are. For example, I take the train into New York City every morning. If I were to read the newspaper before I left my apartment, I'd put the newspaper down and any ad is in one ear and out the other. But if I'm using my phone while I'm on the train, I may see an ad on Facebook and click on it. I may not take action at this time, but then when I check my Twitter feed, there's the same ad. You can do the same thing in commercial real estate to market your available spaces.
How to run a successful digital marketing campaign in commercial real estate
JP Starkey: A campaign starts with a series of connected activities that support a specific goal. In commercial real estate, that goal is very simple: get your available spaces seen by as many tenant rep brokers and tenants as possible. Let's look at a campaign in action as an example:
A tenant rep broker searches for a space in an online marketplace like VTS Market. They find a space that looks interesting, so they click into it, and then they experience some high-quality digital content. They're looking through a series of HD photos, they engage with a very rich walkthrough video tour, and they can see some of the amenities. They're impressed with the content that they see, but it doesn't exactly match the requirements for their tenants at the time.
They don't fill out the inquiry form, but a retargeting campaign that continues to show them this space follows the broker on their internet journey. They see the same space everywhere. Eventually, the broker gets a new tenant requirement and immediately remembers that space. They return to the marketplace and fill out the inquiry form because of this journey.
This is a successful campaign. When the tenant rep brokers first saw the space, it didn't match any tenant requirements, but they were so impressed by the content they saw in the rest of the campaign, they remembered, and came back to it when there was a good fit.
Watch the full webinar on-demand now to learn more about some specific digital marketing tactics you can deploy in your next (or first!) campaign and to understand how we're applying these tactics ourselves and for our clients on VTS Market!
Curious about VTS Market? Learn more here.