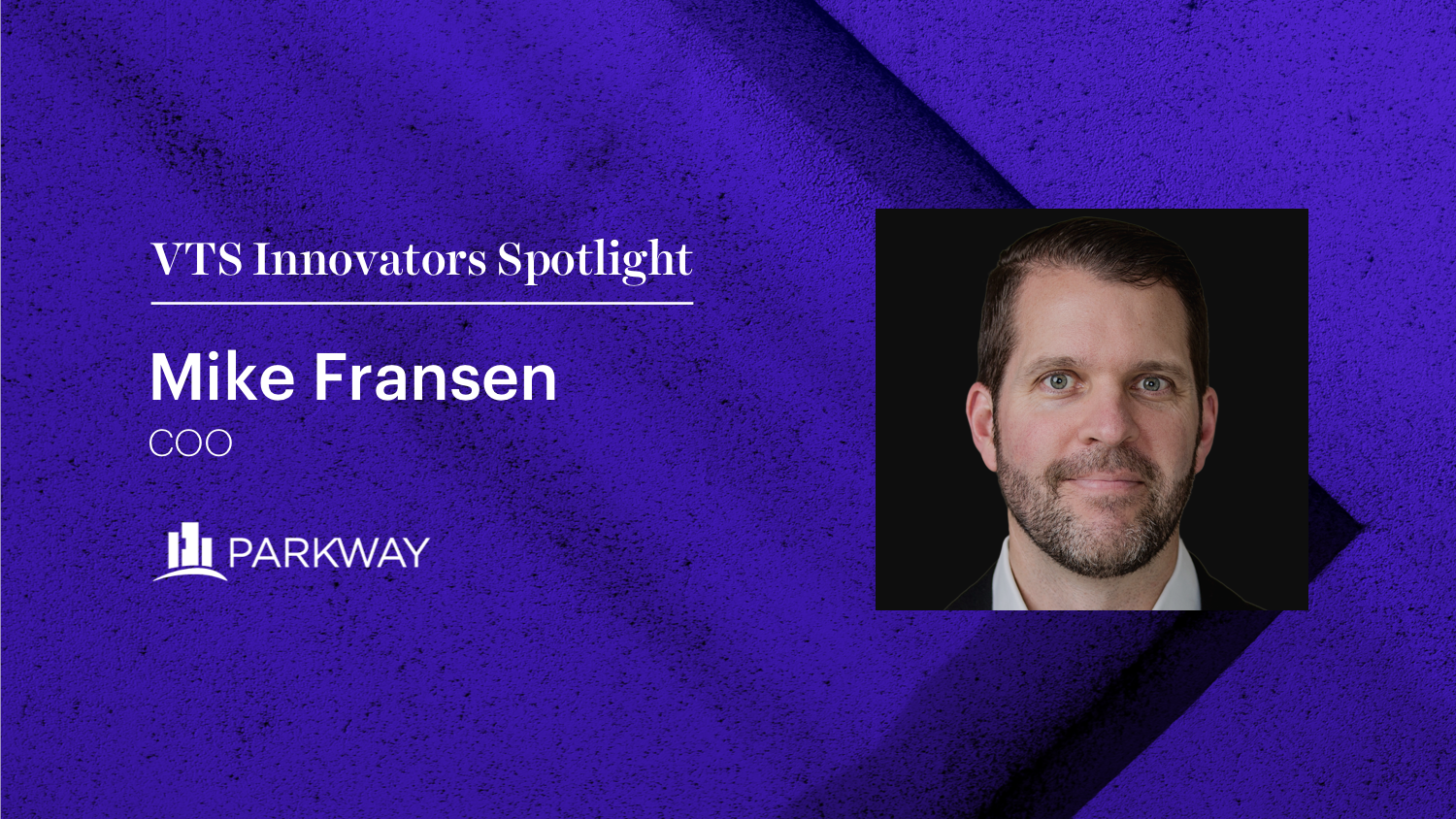 Parkway Properties COO Mike Fransen on His Pursuit to Create Properties Tenants Don't Want to Leave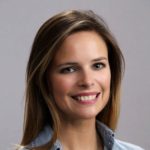 Director, Content and Communications, VTS
Mike Fransen is COO of Parkway Properties Investments, LLC, which owns and operates high-quality office buildings in the Sunbelt. Fransen, who oversees a nearly 9 million-square-foot portfolio, leads the charge in adapting strategies to meet the rapidly changing needs of today's tenants. Parkway understands that space today is more about the experience, and data is critical to understanding what their tenants want. They operate their properties with one goal in mind – to make customers more profitable and productive.
Mike was a panelist at VTS' user conference, Accelerate in 2018. He sat down with VTS to share in more detail why it's so important to be data-driven as a landlord. He also says he wants to "Apple-ize" tenants.
Apple gets "you locked into their brand," he tells VTS.
"They want you to have a hard time walking away from them," he continues. "In our industry, it's often too easy to walk away from a building – we commoditize ourselves. It's about figuring out a product lineup, really understanding the buckets of customers that come through the door, and then building and curating an experience from there."
Enjoy.
VTS: How did you get your start in commercial real estate?
Mike Fransen: By accident. I was in the Army for five years. I bought two years to figure out what I wanted to do after I got out by attending business school. Anything I was going to do was going to be new, which is both good and bad. It was tough to figure out on the fly where I was going to fit the best.
I had a friend who worked for Parkway. I didn't take any real estate classes. That was the only real estate job I applied for. I knew I wanted something where I could learn quickly and then have the opportunity to have some degree of responsibility and move into a role where I could lead and make a difference. I also knew I didn't want to sit in front of a computer. I'm not a spreadsheet person.
The more I got into it, I realized it's a really hands-on industry. It's multi-faceted. Every day is different.
VTS: What do you love most about the job and what keeps you coming back every Monday morning?
Fransen: What keeps me coming back now is the opportunity in a key industry to help innovate and advance it.
You've got an alignment right now that you probably haven't had for awhile – capital markets are interested in it, operators are interested in it, and of course users are very interested in getting it right. There's not complete alignment, but there's a real focus around it, which means you can actually execute on some really interesting ideas. I like real estate because I'm a 'mow-the-lawn' kind of guy. I like to mow the lawn, because I can look behind me and see immediately what I've accomplished.
VTS: We're seeing some major changes taking place in the market that shift the way landlords manage their portfolios. What are the major trends that you and your team are seeing, and how is Parkway adapting?
Fransen: It's going to sound unoriginal, but I think the ongoing major shift in workforce is just putting a lot of things front and center that once would have been a casual, unactionable, 'Oh, that would be fun' to 'How do we do it?'
For example, food is one category that comes to mind. When we were in Austin, there was a major transition at the time. You had traditional firms like law firms and lobbyists that had occupied buildings in downtown Austin that were in close proximity to the state capitol, and they were getting replaced by young technology-type firms. On the food side, we had a building that had a very 'safe and predictable' deli food option available. We found, however, that we were not very successful in attracting this new brand of user with this deli. We realized that people didn't just want food, they wanted there to be an experience component.
Out of that conversation, we ended up with a food hall. We saw young people connect almost immediately, even though we just communicated the idea with a rendering and some level of commitment to do it.
It wasn't just that this was better food than the deli (although it probably was) but tenants (employers) saw it as a major replacement for some of the efforts they needed to embark on for employee attraction and retention. They felt as though a huge burden had been lifted from them in that regard. So once the food hall opened, tenants were willing to pay a premium to be around it. And in that moment we also realized that "community" became real – we were/are no longer just an 8-5, weekday operation. These concepts start to become weaved into the fabric of the evenings and weekends of surrounding residential offerings… true live, work, play opportunities done naturally and organically.
VTS: Your Accelerate panel was all about capitalizing on changing tenant needs by adopting a tenant mindset. What does that mean to you?
Fransen: Trying to have more meaningful conversations. Lately, I'm enjoying having more conversations with HR instead of just real estate. Don't get me wrong. It still takes real estate to ultimately do deals, but at the end of the day, if you're going down this experience path, for most companies, people costs are as much as 10 times more than real estate costs. In some cases, I don't necessarily find that those two disciplines within a given company are actually co-existing as well as you'd like them to be.
The question becomes, how do I in a very logical, simple, effective way make life easier for the employee and in doing so give a company something in return? Everybody wants productivity. Everybody says, 'I'm going to make you more productive.' But how do I do that, measure it, and make you want to stay at our asset longer than anywhere else – especially when you consider we're shifting to an era of companies wanting shorter term agreements?
That's not easy to do. Here's a tech-related example that we're living in real time. Firstly, it's hard to figure out what your tenant is thinking because the nature of the feedback you get from a monster corporation is all over the map. We rolled out an order-ahead app called Ritual, it's basically an app for our population that allows them to preorder for lunch. They can pick their time, order, pay and pick it up. And for a retailer, it's great. It's very practical.
What it does for us, and I probably didn't fully appreciate this, is it's almost like we're tagging birds and seeing their migration patterns. We have a 5-million-square-foot campus here in Houston, and I asked people (who were on the other side of campus to the retailer), "Hey, this new amenity we put over here – are your people using it?" They didn't think there was a chance, it was too far away.
But I know for one particular company, on the first day of launching the app, 40 people walked across campus, and I know exactly what vendors they hit. In the next meeting I had with that tenant I asked them what they thought of the new offering and they said, "We never get over there."
I showed them the last month's report – they're averaging 35 people a day who are making their way over there. "Holy smokes. We didn't realize that," they said. "That's great. Can we see the report? We'd love to work with you on it."
VTS: How's technology changing your leasing and asset management processes?
Fransen: It allows us to be more surgical in the pursuit of users. I'll use the term 'customer segmentation.' I often use the analogy of being an Apple store. We're hosting and have a really bright, cheerful, easy-to-use and easy-to-find store.
The beauty of Apple is they don't just sell phones or ear buds or computers. They get you locked into their brand, locked into something bigger than any one of those components. They want you to have a hard time walking away from them. Their products are easy to use... very intuitive. It's tough to walk away from that.
In our industry, it feels like it's way too easy to walk away from a building. It's about figuring out a product lineup and segment and really understanding the buckets of customers that come through the door.
The way I think about it is I want to 'Apple-ize' you. I want you to have a project team that's in co-working and the bulk of your core requirement sitting in traditional office leases. And maybe we have a spec space for another use or group. But the idea of you leaving all of that on top of the food and well-done fitness and our programming just isn't an option. When you package all that together, you go, 'It's not about the rate. I would pay for this value. What I get out of this far exceeds whatever rate I'm paying and I still have the opportunity to achieve savings in all the other ways I can measure it.'
It still has to whittle down to the basic metrics. I can't abandon the metrics that our business is measured by. People still want to see good retention. They still want to see good rate per foot. So if I can outperform in those regards, you may not be into co-working and the rest, but you're sure going to like the outcomes and the results.
VTS: What would you be doing if you weren't in commercial real estate?
Fransen: I feel very fortunate. I sincerely love what I do. It's fulfilling, which is always everybody's aspiration. This industry and role has given me access to so many great people, and I just hope I'm paying it forward and somehow making a small difference each day.