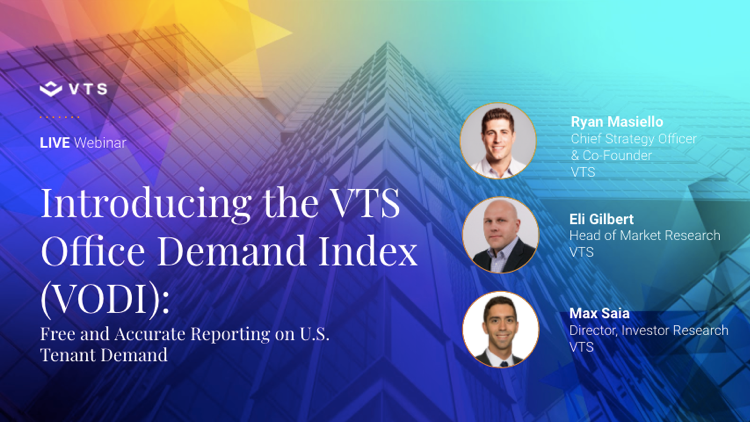 Introducing the VTS Office Demand Index: Free and Accurate Reporting on U.S. Tenant Demand [Webinar]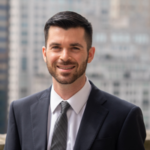 As commercial real estate grapples with the biggest recession and public health crisis in U.S. history, office landlords and brokers are asking two major questions: how is the market pacing to recovery and how is tenant demand tracking? But these questions have been impossible to answer due to the opaque and lagging nature of information typically available in CRE. Until now.
In this webinar, VTS Chief Strategy Officer and Co-Founder Ryan Masiello, Senior Director of Market Research Eli Gilbert, and Director of Investor Research Max Saia gave an exclusive first look at the brand-new VTS Office Demand Index (VODI). The VODI is the earliest available measure of demand for office leasing both locally and nationally, and a free resource provided to the industry by VTS.
In this webinar, Ryan, Eli, and Max discussed not only key insights into what office recovery looks like across the seven top U.S. markets (New York City, Los Angeles, Washington, D.C., Seattle, San Francisco, Boston, and Chicago), but they also shared how leading landlords and investment teams are applying those insights to their portfolios. Enjoy!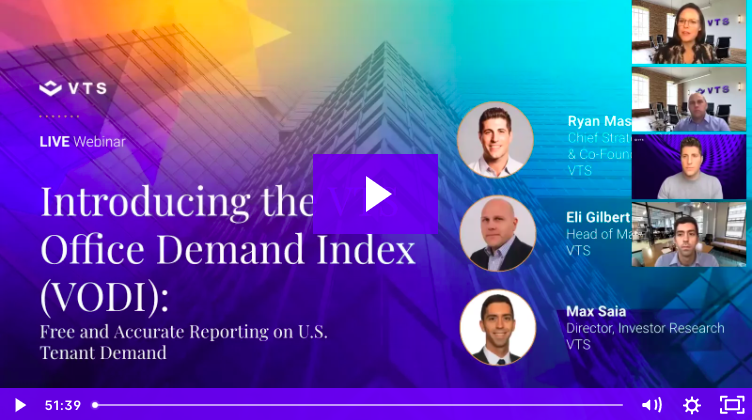 VTS: How was the VODI born?
Eli Gilbert: Even in the most transparent markets around the country right now, there's a severe data issue — It's virtually non-existent.
Max Saia: We're intimately aware that even though bad data has always been the industry norm, it creates this incredible amount of friction and risk at every step of the asset life cycle. We believe that lots of smart minds in the industry are spending way too much time on things that aren't driving revenue or returns because they're instead focused on collecting information for reporting, trying to navigate these anecdotes rather than being strategic.
VTS: Where does the data in the VODI come from?
Ryan Masiello: We now have about 12 billion square feet that are being managed on the platform globally. In North America, that's 50% of the overall U.S. office market. And in core markets, our average market share is worth 75%. We now have about 45,000 monthly active users.
That's from brokers, asset managers, and portfolio managers who are logging in and pumping in data. It's those same people that managed over 38,000 deals across 80,000 assets within our system last year. With over 700 accounting system integrations, our data is the most current in the industry and is only ever a day old at most.
VTS: What valuable insights about performance in major markets is VODI providing to leasing and investment teams?
Gilbert: The first is that the market is still down about 56% from a pre-COVID value. The bright spot here is Los Angeles, which has outpaced every other major market.
New York City is the one that is providing a very unique story given that Trophy and Class A properties are now seeing incredible amounts of demand and Class B properties are seeing virtually no demand. What we're seeing in early demand indicators through the VODI is confirmation of this "flight to quality" trend because tenants are looking to capture some of those potential downturns to get into a much nicer lease than they may have been in previously.
A few industries that we're focused on are professional business services. Obviously, folks like law firms have started to get off the sidelines and fill some of those gaps that tech has left behind and government tenants actually have a small showing within New York City as well.
Saia: The VODI also pointed out that the San Francisco market had actually been slowing down for months pre-COVID, a fact that's garnered a lot of interest from investment and leasing teams. Social distancing policies put in place by local municipalities have also had a dramatic impact on San Francisco. But what we were still pretty surprised by was how little recovery we've seen there. It's still down 76% versus those pre-COVID levels in February.
Moving on to Washington D.C., one of the things we've noticed is that small and mid-sized tenants have been quite active in this market. Earlier this year we delivered a study on this data to a client around a Class A redevelopment where we were able to confirm, and more importantly quantify, the depth of demand in the tenant-size ranges that they were targeting as well as the industries they were targeting.
Gilbert: As 2020 ends and 2021 begins, we do believe that because of the prospect of increased government spending and tenant activity that typically follows, D.C. may see a fair bit of activity moving into the spring as we sort of pull our way out of this crisis.
VTS: How are CRE companies starting to put this data to work for their leasing and investment strategies?
Saia: I think a lot of investment professionals that we work with realize that shifting markets like the one we're in today with these really big inflection points can actually signal a lot of opportunity — maybe not today, but in six or 12 months. So this data has really helped those teams build a lot of conviction faster and allowed them to lock in on where they want to deploy their resources in order to maintain a competitive advantage as these markets start to heat up.
Gilbert: This data is the earliest available indicator as to how the activity will start trending in future months. What we're able to see with this data is where markets have started to turn faster and how we can start to use the data to create actionable direction for leasing strategies. For some, that means looking at potentially changing your asset or your available spaces to be more closely aligned with where the demand is coming from. The data also helps inform large capital investments as far as renovations and particular markets which may be outperforming others.
If you haven't downloaded the full VODI December report, get your free copy now for more insights.
Watch the full webinar on-demand here.