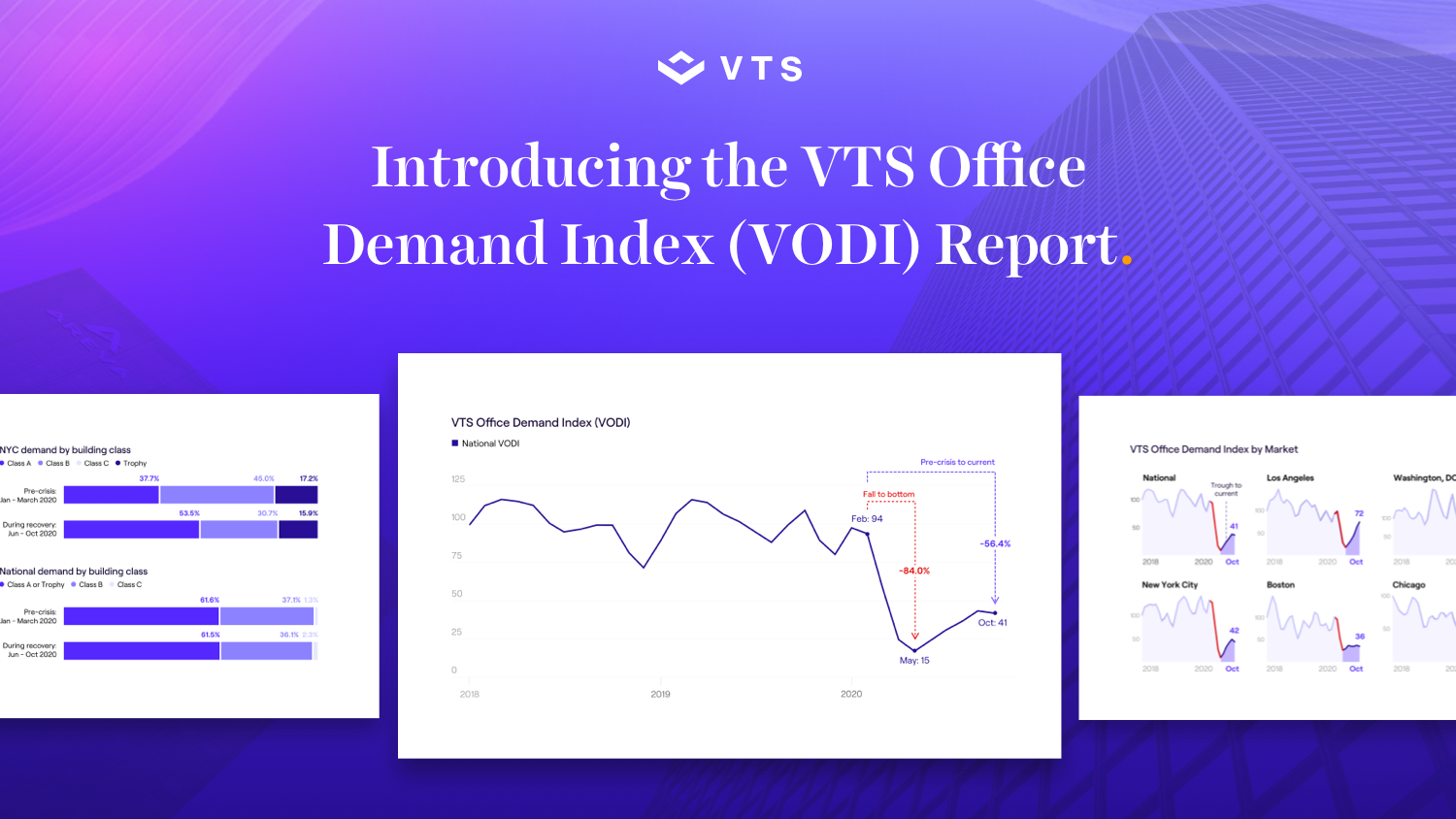 Introducing the VTS Office Demand Index (VODI) Report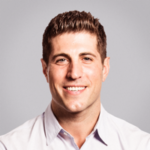 Chief Strategy Officer & Co-Founder, VTS
Since the onset of COVID, VTS has been committed to providing the industry with the most valuable resources for navigating this uncertain market. And now, as we continue to grapple with the biggest public health crisis and recession in recent history, all of us are asking: how are tenants behaving, and how is the market pacing to recovery?
To help, we're incredibly excited to share the brand new VTS Office Demand Index (VODI) with you – a free, bi-monthly resource that VTS is providing to the industry.
What is the VTS Office Demand Index (VODI)?
The VODI is the earliest measure of office leasing demand, nationally and locally, capturing 99% of all unique tenant searches in seven markets – New York City, Washington D.C., Los Angeles, Chicago, Boston, Seattle, and San Francisco. It provides an unprecedented view of tenant behavior over a year in advance of a lease hitting the market, and ahead of official employment figures.
The VODI is powered by the VTS Leasing platform which is used by major landlords as their system of record and captures, aggregates and anonymizes supply and demand data across an excess of 65% of office buildings in major markets.
Key takeaways from the VODI December report:
Nationally, demand for office space is down by more than half of pre-COVID levels. After several months of gradually rising demand, the VTS Office Demand Index (VODI) fell slightly in October. Regionally, and likely due to the explosion of new COVID-19 cases in recent weeks, the pace of demand began to reverse in October across most markets, a signal that this coming winter will bring more challenges to the office market.
A local bright spot in the VODI is the Los Angeles market. While the pace of growth has slowed a bit, the overall growth -bolstered by the creative industry--has been impressive, gaining back three-quarters of the demand lost after stay-at-home orders were issued in March 2020.
In a "flight to quality" and response to new availability coming to market in a typically supply-constrained segment, leasing demand in New York City has shifted towards Trophy and Class A office space and away from Class B properties post-COVID, as seen in tour activity over the course of 2020.
Download the full VTS Office Demand Index December Report for in-depth insights with detailed methodology.
Want an even deeper dive into the data included in the VODI and how to apply it to your business? Watch this webinar with myself and VTS Head of Market Research Eli Gilbert, and VTS Director of Investor Research Max Saia for a walk-thru of the report and our personal insight and takeaways.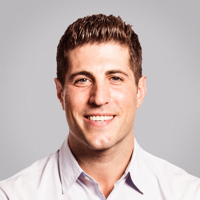 Ryan Masiello is the Chief Strategy Officer and Co-Founder of VTS. He brings 12+ years of experience in Midtown Manhattan commercial real estate – the world's most competitive office market – to the table and is charged with leading VTS' international expansion. Ryan started his career at Cushman & Wakefield, before getting recruited by JLL to help lead the firm's business development efforts in New York. During his seven years at JLL, Ryan became Senior Vice President and brokered over 2 million square feet of office deals with Fortune 500 and high-growth technology companies, earning him honors as a four-time global top-producer. Ryan frequently advised on corporate technology and growth strategies for JLL.