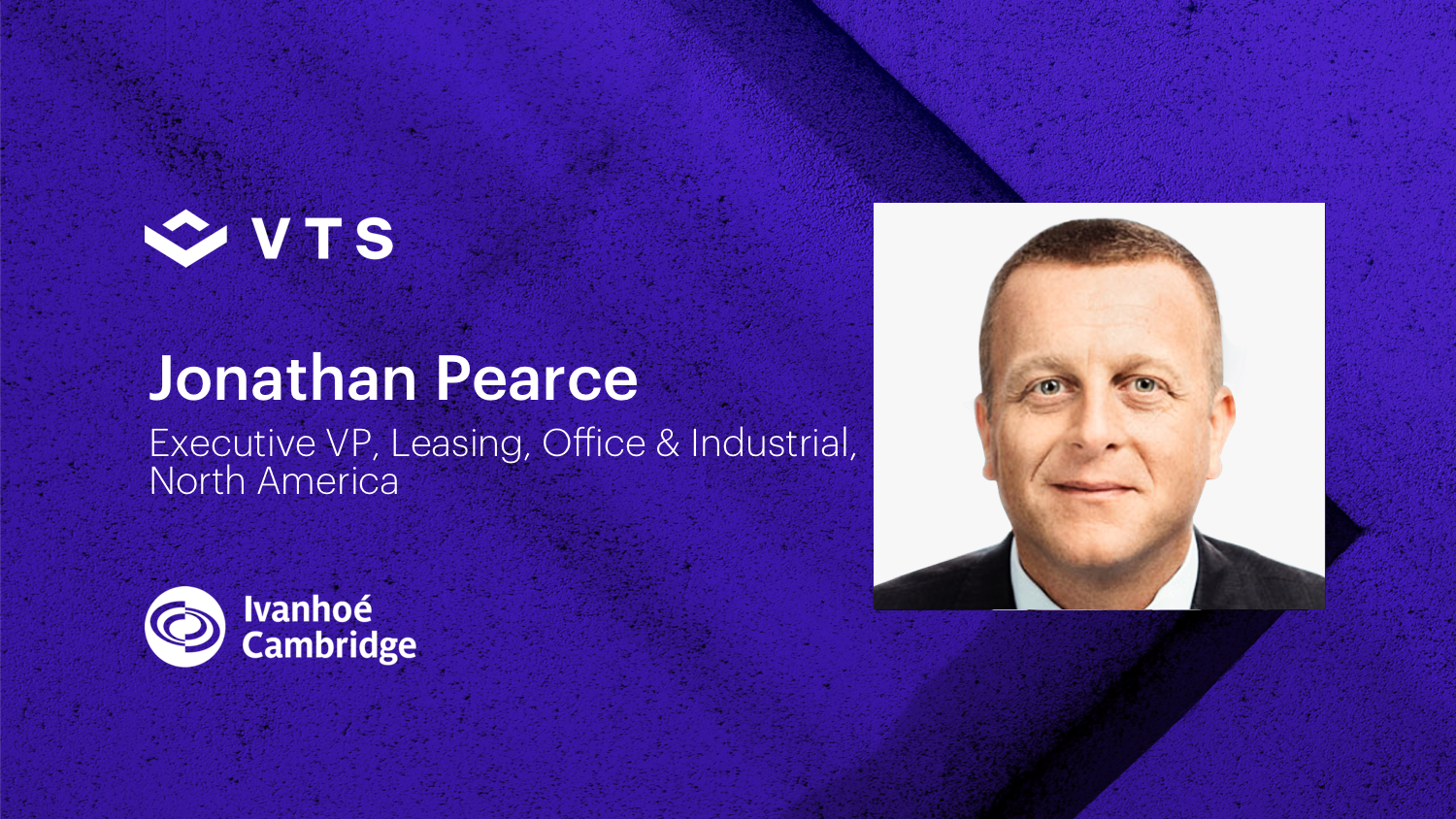 Ivanhoe Cambridge's Jonathan Pearce on Why the CRE Rule Book Has Gone Out the Window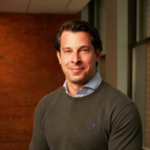 I'm a husband, father, surfer, real estate lover, tech junkie, and CEO. One of the best parts of my job is having the privilege to work with the most innovative minds in real estate — from those who have created markets to those changing the future of our industry. I realize how lucky I am to be able to learn from these special humans and I wanted to create a forum where I can share their stories and insights with you.
Going forward I will be interviewing VTS clients who are changing the game by embracing technology and navigating unchartered new approaches to long-accepted ways of operating. Hopefully this insight will provide some inspiration as you pursue your own journey – whether you're starting a company, growing a 100M SF global portfolio, or anything in between.
For the first interview, I sat down with Jonathan Pearce, Executive Vice President of Leasing for Office & Industrial across North America, at VTS client Ivanhoe Cambridge, a Montreal, Canada-based commercial real estate company with assets around the globe.
Jonathan is a key figure in leading the charge as Ivanhoe navigates the macro forces that are fundamentally changing  commercial real estate. The firm is at the forefront of implementing new technologies and approaches throughout its global portfolio to optimize their leasing efficiency and provide a richer experience for its tenants. Pearce told me that he's always pushing his team: "Can we do it better? Can we do it quicker? Less process? More automation?"
Enjoy the ride.
Nick Romito: Where did you grow up and how did you get into commercial real estate?
Jonathan Pearce: I was born and raised in North Yorkshire, a small village outside Harrogate in England, and I was there until I was 21 years old. I graduated university as a chartered surveyor, a designation that's much more prevalent in Europe.
At the time in 1993, the property market in England was in a bit of a funk, and I also had a bit of a travel bug. I had a meeting with a Canadian, an alumni sort of chat at my university and that led to a lengthier chat over a few drinks, and he sold me on the idea of coming to Canada. I figured it was an easy jump. It has lots of great elements of North America – and it sounded pretty dynamic, so I thought I'd give it a try. I loved it and have been here ever since.
I spent the first 20 years of my career in brokerage. I did predominantly landlord agency, so my roots have mostly been on the landlord side of the business. Then I made the jump over to the institutional side to Ivanhoe about four years ago.
Romito: Where did you work on the brokerage side?
Pearce: I was one of the original partners at Avison Young in Toronto. When I joined, we were one office and about 14 people, and when I left there were 71 offices and 2,300 people. Then I hit my early 40s and felt – did I want to be a broker for the next 20 years? I wasn't sure about that. I was just figuring out what my 2.0 would look like and Ivanhoe approached me through Korn Ferry, which led to me joining them in 2014.
From a leasing guy's perspective, we've got probably one of the most exciting portfolios in some of the deepest and most liquid markets around the world. So it's really a leasing guy's dream.
Romito: What's been the hardest part of running a portfolio of this size in all of these markets?
Pearce: One of the harder things was the aggregation of information, which I think is now being solved largely by the VTS platform. I started using VTS about two years ago. I got to see it and liked using it, and the broker feedback was really good. And as you know Nick, we have just signed on with VTS for our entire office and industrial portfolio across North America, an initiative that I'm really excited about implementing.
The other thing is the vast inconsistency of brokerage talents. The hardest thing for me is I expect a certain standard from my brokers. As a result, I have to really develop relationships at the grass-roots level with best-in-class, local broker partners. To me the 'one-size-fits all' solution doesn't work. One brokerage might be really strong here, but really weak in another market.
One of the great things about Ivanhoe Cambridge is we have depth of knowledge and can make very large investments. One of the things that potentially can trip us up is our ability to execute at the weeds level on a local basis. I've organized my portfolio to leverage best-in-class brokerage talent at the local level, so that we're much more nimble as we buy and sell investments, as opposed to having a significant in-house leasing team and dragging around all that G&A. We can now optimize the size of our leasing representation as the scale of our portfolio changes, and if a performance issue arises, we can rotate talent accordingly – both from third-party property management to third-party leasing. And that's where we leverage both our partners like Callahan and Hines, and also our brokerage partners to help us not make those missteps in the markets themselves.
Romito: What do you think will happen over the next five to 10 years with both leases and the leasing process?
Pearce: To answer your question in one word – everything. I believe change is going to absolutely touch every part of the business. We deal with large tenants. We deal with small tenants. We have multi-market tenants. The same sorts of words and phrases keep coming back like 'flexibility' and 'hub and spoke.' A lot of these tenants view their head offices and critical facilities as facilities they want to see on a long-term lease or ownership. But for the most part on the other stuff, they are increasingly wanting agility. They want flexibility. They want shortened lease terms. They don't want to fund massive capital outlays for leasehold improvements.
And the other part is the leasing process – the brokerage. A part of that business, quite frankly, is under some level of threat. For tenants looking for strategic advice or locational advice or research and data, I see that moving much more slowly. Tenants will continue to rely on their broker partners for strategic advice, but for commodity or smaller transactions, I see heightened change. Where I see it completely changing is the Airbnb model where anyone can rent a condo in Florida for the weekend. I think that same thing will happen when you sign a lease for office space. You're effectively going to see the automation of the leasing process to some extent, likely predominantly for the smaller or more straightforward lease requirements.
It might happen with big tenants, but I think it's primarily going to be for non-strategic and small spaces. Look at WeWork. Everyone thought for so long it was a temporary disruption. But I think that's shifting. WeWork itself is evolving much more to this enterprise model. It's not the person who's looking to lease one or two desks. It's IBM or Amazon who's looking to lease three or four floors.
I see change coming at this from so many different angles. What amazes me when I speak to a lot of my landlord colleagues at some of the other big institutions is how few of them are really thinking about this. They think, 'Oh, we've been riding the secular bull market of leasing for seven or eight years. Our properties are 90%-plus leased. Yes, we've got to do a bit of a capital spend, but we don't really see a lot of need to change. We're still going to run these massive leasing teams.' The way I see it, the rule book has gone out the window.
Romito: So this also poses a whole set of challenges for landlords. How can they address those?
Pearce: Obviously, one is with the WeWorks and the Convenes and all of those. I know a lot of landlords are starting to think that WeWork comes in and effectively leases space wholesale and marks it up, and maybe that doesn't sit well with certain landlords. But my view is it does so much more than that. It activates your building.
Ivanhoe did the first WeWork in Canada – in Place Ville Marie in Montreal. At the time that was a very ordinary high-rise complex of buildings, but very centrally located. The WeWork transaction completely changed the composition and culture of the building. In fact, we are now mid way through a very exciting re-positioning of this entire project. It went from a suit-and-tie, stuffy, 'your father's office building' to a really dynamic tech hub. We've also been able to convert a series of formal WeWork tenants into leases within our own portfolio. Not to say that I'm going to fill my entire portfolio with WeWorks, but I definitely see value in partnering with groups like WeWork and Convene to potentially activate and provide a better and richer amenity offering for our tenant customers.
Romito: WeWork is driving a lot of the expectation of tenants. In terms of companies as large as Ivanhoe, are those conversations about the shifting tenant experience happening at the executive level or still in the leasing segment of the business?
Pearce: It's happening in both. Effectively, I'm that linkage. I'm at the executive level, but I'm also driving it down to my team and my brokerage partners. So it's very much a field-led initiative, which I think it has to be. But when we get together with our board to talk about strategy, and how we're positioning ourselves, Ivanhoe is a bit of a rare breed compared to a lot of other landlords. Yes, we're a pension fund, but we're a total return buyer. We are not so much interested in buying and holding real estate for the next 50 years. We will come in and buy something. We will take some leasing and re-positioning risk, and we also have developed some significant assets across the globe. Over the past few years, we have been rotating probably between $5 billion and $6 billion a year of capital into actively buying and selling office buildings in North America, so we're a very active manager. We're focused on current return and capital appreciation.
Our executive needs to understand that winds of change are coming. It's beholden for guys like me to educate them and say, 'Look, this is what we're seeing in the field. This is how we're positioning ourselves to address it, and these are initiatives we're looking at.'
In terms of doing what I'm doing with LiquidSpace, VTS or WeWork, those are within my business unit, but we're obviously reporting up and letting our executive know what we're doing. They're taking comfort that there's somebody out there on the business side of things, who's thinking about how do we best position ourselves for the future, because our success is based on being able to continually fund that pension liability going forward. So we've got to stay ahead of this.
Look at the retail business, there's a whole industry that has let e-commerce take them by surprise, and now they are having to respond reactively as opposed to proactively. Office guys have seen that movie and they're trying not to follow suit, so I take some comfort in that. I'm a very inquisitive guy, and I'm not afraid of change. I embrace it. I'm always pushing our team: Can we do it better? Can we do it quicker? Less process? More automation?
We're piloting bot concierges in a couple of our projects. We're developing from ground-up apps. We're trying to take a leaf from WeWork's book to create a sense of community, like have an ability to make our tenants feel sticky so they don't want to leave. Offering them more services. Changing the food and beverage experience in our buildings. Bringing in interesting operators. Activating our retail.
Romito: You mentioned being sticky for tenants, which I think is critical for any owner. I think you're going to see the word 'tenant' shift to 'customer' more and more.
Pearce: Absolutely. We're not operating office buildings. We're operating five-star hotels that have office space, and tenants who are valued guests or customers. Experience matters more and more.
Romito: In a market that's changing quickly, what's the most important KPI that a leasing broker or operator needs to start tracking?
Pearce: If I had to pick one, it's flexibility in lease term.
Romito: As the leasing process changes – where flexibility is everything and leases get shorter – what will that do to brokers' fees?
Pearce: I'll give you a great example. We renewed Fox News Corp. at 1211 Sixth Ave in Midtown Manhattan earlier this year for about 1.2 million square feet. It was a large transaction. You can imagine the fees for both our guys and the tenant's agent were very significant. It was a massive deal, and it's the cost of doing business with companies like that where it's critical space, they have studios, and it's their head office.
But I think with the non-strategic facilities, you're going to see a trend to shorter-term leases. It's definitely going to impact broker comp. These smaller spaces are going to be shorter commitments and maybe the fee structure will change.
Romito: If you weren't in commercial real estate, what would you be doing?
Pearce: Probably own a pub. The old proper English pub with a beer garden. A real beer aficionado's paradise. You know, with a tin roof, a great old-school pub, with hand-pulled beer and traditional English pub comfort food — fantastic. But real estate has been part of my life for 25 years and I really cannot imagine doing anything that didn't have some involvement with property either professionally or personally.