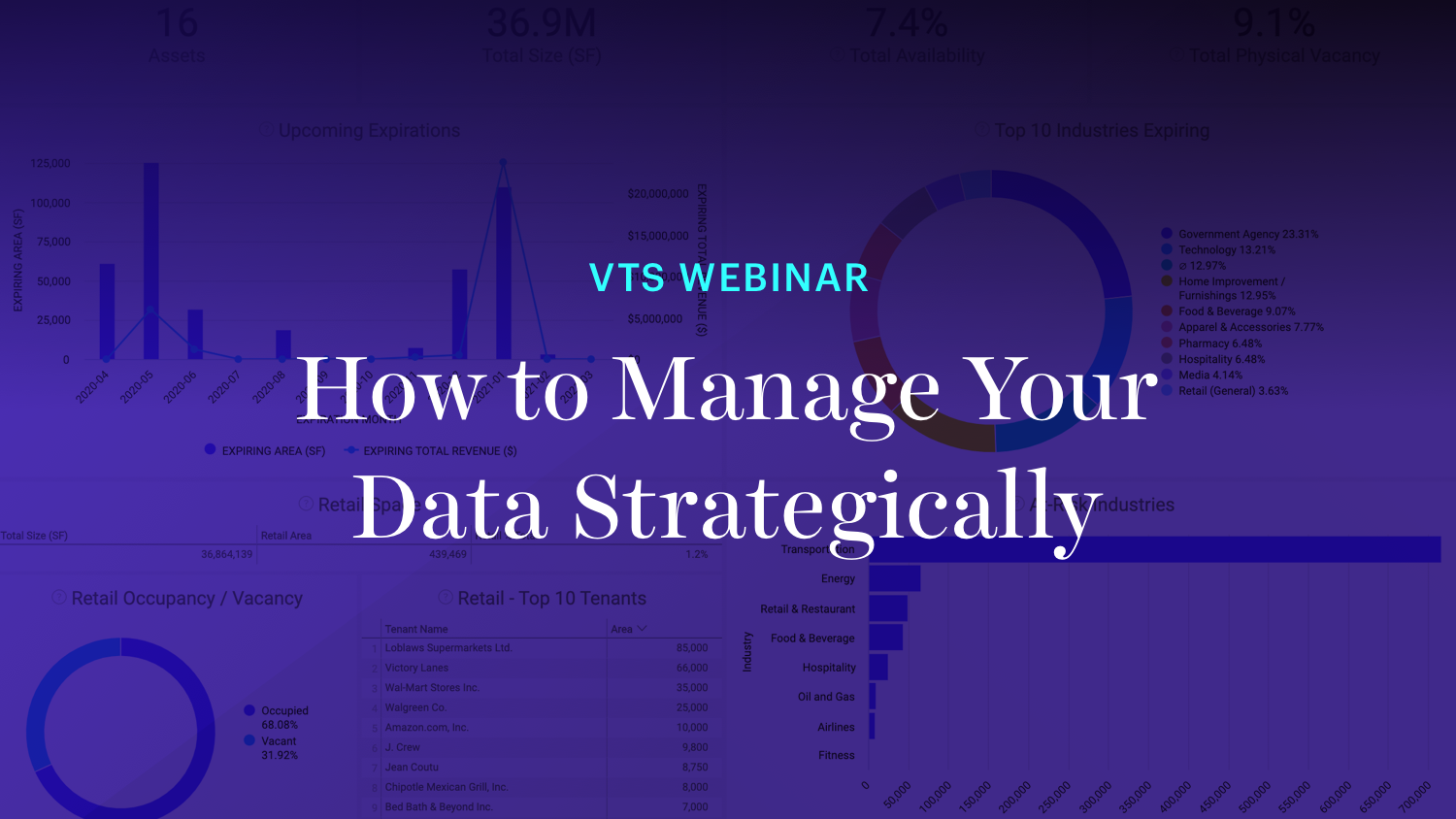 How to Manage Your Data Strategically [Webinar]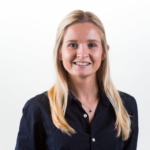 Content Marketing Manager, VTS
The challenges posed by COVID-19 are unlike anything our industry has ever faced before. As the situation rapidly evolves, landlords across the board are navigating the impact of the pandemic on their business operations as well as the shift to remote work.
As your partner, the VTS team has been working around the clock to help in the areas you need it most. As part of our efforts, we're hosting regular webinars focused on VTS best practices related to COVID-19 and practical tips for managing its effects on your business.
Our fourth webinar — How to Manage Your Data Strategically — was hosted by VTS Chief Strategy Officer and Co-Founder Ryan Masiello and our Learning and Development team. They focused on the state of commercial real estate data today, diagnosing your data quality with the VTS data health score, and a deep dive into each focus area of the health score. Enjoy!
State of commercial real estate data today
Over the past 18 months, the resounding theme we've heard in working with our customer executives is that they want to be more strategic around their data. At the same time, we recently completed one of the largest industry surveys of landlord executives ever conducted, which included both VTS and non-VTS customers: The 2020 VTS Global Landlord Survey.
The survey covered a variety of topics but data quality was a clear theme that emerged from the responses and aligns clearly with the requests we're hearing from all of you, our clients, around your desire to be more agile with your business in this environment. Here are some key takeaways from the survey that will help frame the state of commercial real estate data today:
Only 17% of landlords say their asset data is organized and up to date: One of the first clear themes was that asset data isn't up to par for the majority of owners in the industry. We'll dive into what this asset data consists of in a bit more detail.
Only 18% of landlords have enough tenant data to make decisions: The importance of comprehensive tenant data is something we've seen firsthand. A lot of our new clients come to VTS without a firm grip on how to handle it.
51% of landlords track their marketing spend, but nearly 67% don't know their space-level ROI: Finally, space-level data is something we know a lot of landlords struggle with and the survey clearly showed that had an impact on the ability to track their marketing spend and ROI.
Diagnosing your data quality with the VTS data health score
Data — primarily your asset, space, lease, and options data — is the solid foundation that the rest of your business is built upon. And at the aggregate level, whether it originates in an ERP or accounting system, or even VTS directly, the quality of this data impacts your ability to gain insight into what's happening in your portfolio.
We've developed a method to dig into that foundation and help you ensure it's a strong one: the VTS data health score. It's a diagnostic that benchmarks the quality of your data before and after the review. When we've gone through this process in the past with customers, the average data health score is 65 out of 100, with respect to data accuracy and consistency. After the review, we get them to an average of 85. This helps our landlord customers make a massive jump at the fundamental level of data that's most important in this market.
The importance of asset data
Every asset in your portfolio has some basic facts you should be able to locate, filter, and analyze to understand asset performance. These include:
Simple things like address, year renovated, number of floors, etc. that aren't always tracked accurately or consistently.
Other metadata like JV partner and leasing company - Is this asset represented by CBRE? JLL? Cushman & Wakefield?
And who is the property management team? A lot of our clients are working with their property management teams to determine re-opening procedures, and organizations who have this data clean are able to pull a list of the properties they manage with a specific team and create best practices that are shared with the users of those properties in VTS very quickly.
When this data is accurate, you unlock the ability to benchmark asset data for different asset managers, brokerage teams, regions, or JV partners. You can also quickly pull portfolio-specific reports and analyze performance based on attributes like "year renovated" or available amenities.
The importance of lease data
Again, every tenant in your portfolio has some basic facts you should be able to locate, filter, and analyze. These include:
Simple things like lease commencement dates and execution dates that can often have different definitions.
Other data like tenant industry can be surprisingly tricky. It's important to pick a framework, but some like NAICS don't always serve a real estate owner's needs. The important thing to consider with industry classification isn't the classification itself, but that it gets implemented consistently.
When this data is accurate, you can pull exposure reports instantly, which is especially needed in times of crisis, with industry data that's actionable and appropriately specific. You can also connect subsidiaries and parent companies to better understand credit, financial standing, and your larger relationship with a specific company.
The importance of space data
The space-level data that's critical but not often immediately available is space condition and availability status.
Space condition is essential to understanding what types of space perform best in leasing as well as giving prospective tenants accurate information on how turn-key the space might be and if budget will be required for additional build-out.
Availability status also gives leasing teams the ability to quickly filter space and share those units with prospective and existing tenants who might be looking for additional space. It also helps ensure space discovery on listing sites.
The importance of options data
Options are going to be especially critical over the coming months and many customers have come to VTS with a lot of questions on how to handle them. Things like having targets on options will be key as buildings experience increased turnover. Giving your teams an easy understanding of lease clauses across all assets will be vital to minimizing risk.
How to take advantage of the VTS data health score diagnostic
This look into asset, lease, space, and options data are a few of the key elements we review with our customers in a one-on-one diagnostic call. We'll walk through the findings and your resulting VTS data health score, and then work with you to identify areas for improvements and set strategies and goals to improve the score from there.
If you're a VTS customer and interested in taking advantage of this diagnostic offering, the first step is to reach out to your account manager. If you're not a VTS customer and would like to learn more, reach out to our team at info@vts.com today!
If you're a VTS customer, you can watch the full webinar here.