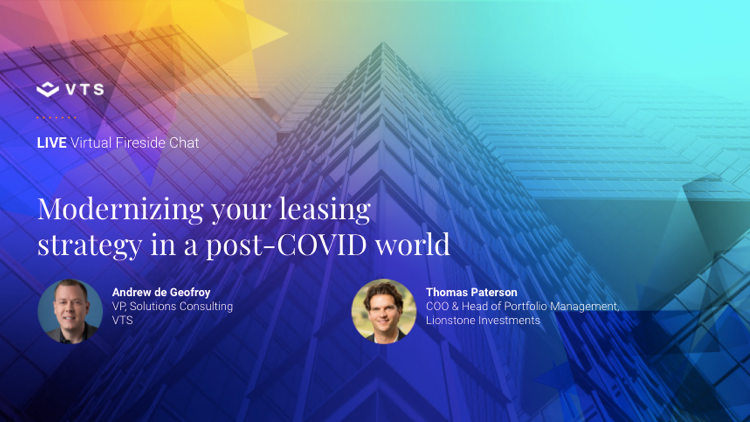 Modernizing Your Leasing Strategy in a Post-COVID World [Webinar]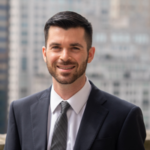 COVID-19 has forced the commercial real estate industry to adapt and overcome a number of challenges. From the management of buildings to tenant relationships, landlords have had to learn how to balance the fundamentals of CRE with emerging technology in order to weather this storm.
In this virtual fireside chat, VTS VP of Solutions Consulting Andrew de Geofroy and Lionstone Investments COO & Head of Portfolio Management Tom Paterson discuss how to modernize your leasing strategy for the post-COVID world. Andrew and Tom discuss everything from the art and science of real estate to supplementing a leasing strategy with digital marketing. Read on for helpful tips and insights into modernizing the leasing strategy and process at your own organization to adapt to the "new normal" of today. Enjoy!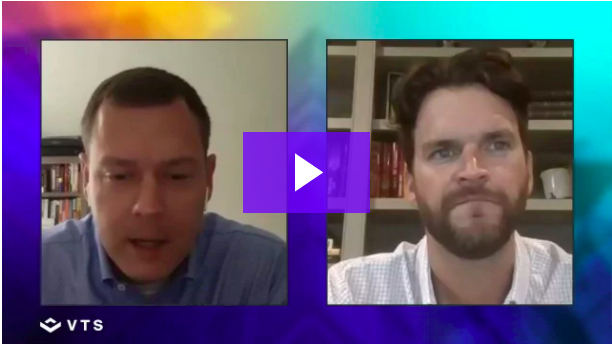 VTS: What changes have you made to keep business moving over the past six months?
Tom Paterson: Like everybody, we had to pretty quickly transition to a digital footprint. And for better or worse, Lionstone had a test run of that in 2017 when hurricane Harvey hit Houston pretty hard. We were all forced to work from home for one to two weeks during that event and that helped us really get ready to make this change. So I think as a business, we were ready for that transition.
Beyond that, I think we had a goal of trying to make sure that our business and our company response was both decisive and thorough. As an investment firm, it means we tried to very quickly review our entire portfolio and understand the impacts of COVID — both on a short term and long term ability for our investment portfolio to be able to navigate the storm. We have a saying of performance and trust at Lionstone, so we're always trying to do everything we can to drive performance, but on the trust side of the equation, it's about open, clear, and transparent communications. Not only internally, but particularly with our investors, so they know exactly where they stand. Those were the most important things for us, and we tried to implement them very quickly.
VTS: What are some of the biggest ways you've needed to adapt your leasing processes during COVID-19?
Paterson: Even though the world stopped, we needed to continue moving our portfolio forward. We weren't willing to just accept that people were home and no business was happening there for a period. We have a 17 million-square-foot portfolio. And thankfully, over the last six months, we've been successful in signing over 75 leases and 600,000-square-feet. That's been a big move to keep driving everything forward.
From a business standpoint when we think about our processes, COVID in general is accelerating trends — it's making everything move faster. Things that were already in process, or maybe they were going to happen in 2025 or 2030 are happening today. We're always attempting to be kind of progressive and leading edge in terms of using data and technology and tools to optimize our execution. But during COVID, we've certainly accelerated the adoption of a lot of the new tools, even faster than I think we had already been anticipating making those changes.
VTS: How are you running your leasing meetings now that you're all remote?
Paterson: VTS has helped a lot. We've been using VTS and several other tools to help manage our pipeline and facilitate our internal communications as we work through deals. I would say there's been a big combination of VTS and Zoom, Microsoft Teams, or Skype. The combination of those has been really critical for us to be able to continue managing our pipeline and our team and leasing meetings effectively and virtually.
VTS: Fewer tenants want to do in-person tours as a first touchpoint. How are you supplementing your leasing strategy with digital marketing to bridge that gap?
Paterson: So there are new digital marketing platforms that I've referenced through VTS, like VTS Market. And then just trying to use the other more basic tools like Zoom to hold sessions, provide content, and reintroduce buildings in a 30-minute virtual broker event.
VTS: And on the supply side, how are you adjusting your long-term investment strategy to take advantage of this shift?
Paterson: At Lionstone we were already thinking a lot about the future of office buildings and had already been developing our thoughts on the office of the future. We've been building it and we've been leasing it to great success, but we now have to rethink that again.
And what are the things that need to change? How is COVID going to impact building design? We're thinking about everything from touchless features and upgraded building systems to elevators, stairs, and operable windows. Things that we think will see some shift in preference both pre- and post-vaccine.
We're also thinking a lot about the environments people are going to want. Lionstone's a big believer in mixed-use environments. And while we think they will endure, probably for a period it will be with slightly lower densities, and also in locations that provide access to talent and allow people to minimize their commutes.
Watch the full webinar on-demand now to learn more about some of the specific ways Lionstone is modernizing their leasing strategy for a post-COVID world!