The 5 CRE Leaders You Need to See at Realcomm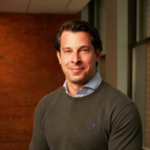 Innovation and change in the commercial real estate industry are happening at a pace that has never been seen before, and it's certainly not slowing down. To stay ahead of these trends and understand how your business needs to adapt, Realcomm is the place to be.
Coming up in Las Vegas in June, Realcomm will bring together a lineup of leading commercial real estate professionals at the forefront of this innovation to discuss how technology, automation, and innovation is impacting how we use, transact and operate real estate.
With such a high caliber of people attending and speaking, it's tricky to narrow down which speakers and sessions to add to your shortlist. Here are some of the people I'm most looking forward to hearing from:
1. Ilene Goldfine, Vice President, Hines
Ilene Goldfine is Vice President of the Business Technology Group at Hines, the global real estate investment, development, and management firm. Ilene plays a critical role in furthering the firm's technological capabilities. Her group works with Hines' IT department to understand what technologies the firm needs and then champions the processes improvements that need to be implemented across the firm in order to adopt these technologies from a business standpoint.
Ilene recently spoke to VTS about Hines' approach to implementing new technologies: "With the speed in which technology is advancing, you can't wait anymore. If you still try to do that, you're five versions behind and staying in that late adopter category, and that's not where we want to be."
2. Jim Whalen, CIO, Boston Properties
Jim Whalen will always be a close friend to the team at VTS. As one of the earliest adopters of the platform, he has been an incredible partner and continually provides invaluable product feedback that has helped us evolve our offering to ensure it solves the main challenges of landlords like Boston Properties.
On the subject of innovation, Jim has been one of the industry's most forward-thinking advocates for many years. Under his stewardship as Chief Information Officer, Boston Properties has transformed the way it operates through investing in technology. According to Jim, the new era of commercial real estate technology platforms has provided the company with "the ability to have an awareness of everything that's going on so that we can probe deeper into the things that matter most."
3. Hazel Mann, Manager, Strategic Business and Technology Intelligence, KBS Realty Advisors
If there's someone who has their finger on the pulse of innovation in CRE more so than Hazel Mann, I'd love to meet them. Fun fact – she's also the best person to ask about trends in video gaming!
In her role at KBS Realty Advisors, Hazel works across teams including the finance, IT and operations departments, to spearhead strategic initiatives. The firm is one of the largest buyers of commercial real estate in the United States, and this year was ranked by National Real Estate Investor as the 7th largest office owner globally.
4. Brendan Wallace, Co-Founder & Managing Partner, Fifth Wall Ventures
Brendan Wallace (along with partner Brad Greiwe) is one of the minds behind the Los Angeles-based Fifth Wall Ventures – the first venture capital firm established to invest exclusively in real estate technology. Launched in 2016 with an initial fund of $212M, Fifth Wall concentrates on technology for the "built world," connecting the world's largest owners and operators of physical space with the entrepreneurs and innovators redefining how the world uses and interacts with their environments. Some of its big-name limited partners include Hines, CBRE, Prologis, Lennar, Macerich, Equity Residential, Prologis and other players deploying capital into built world technology.
To get the inside scoop on the most promising CRE tech startups, Brendan is the person to talk to.
5. Rick Ferrino, Chief Data Officer, VTS
I couldn't talk Realcomm speakers without giving a shameless plug to our VTS Chief Data Officer, Rick Ferrino.
Catch Rick at our booth to get all of your questions answered about data, integrations, and the VTS platform.