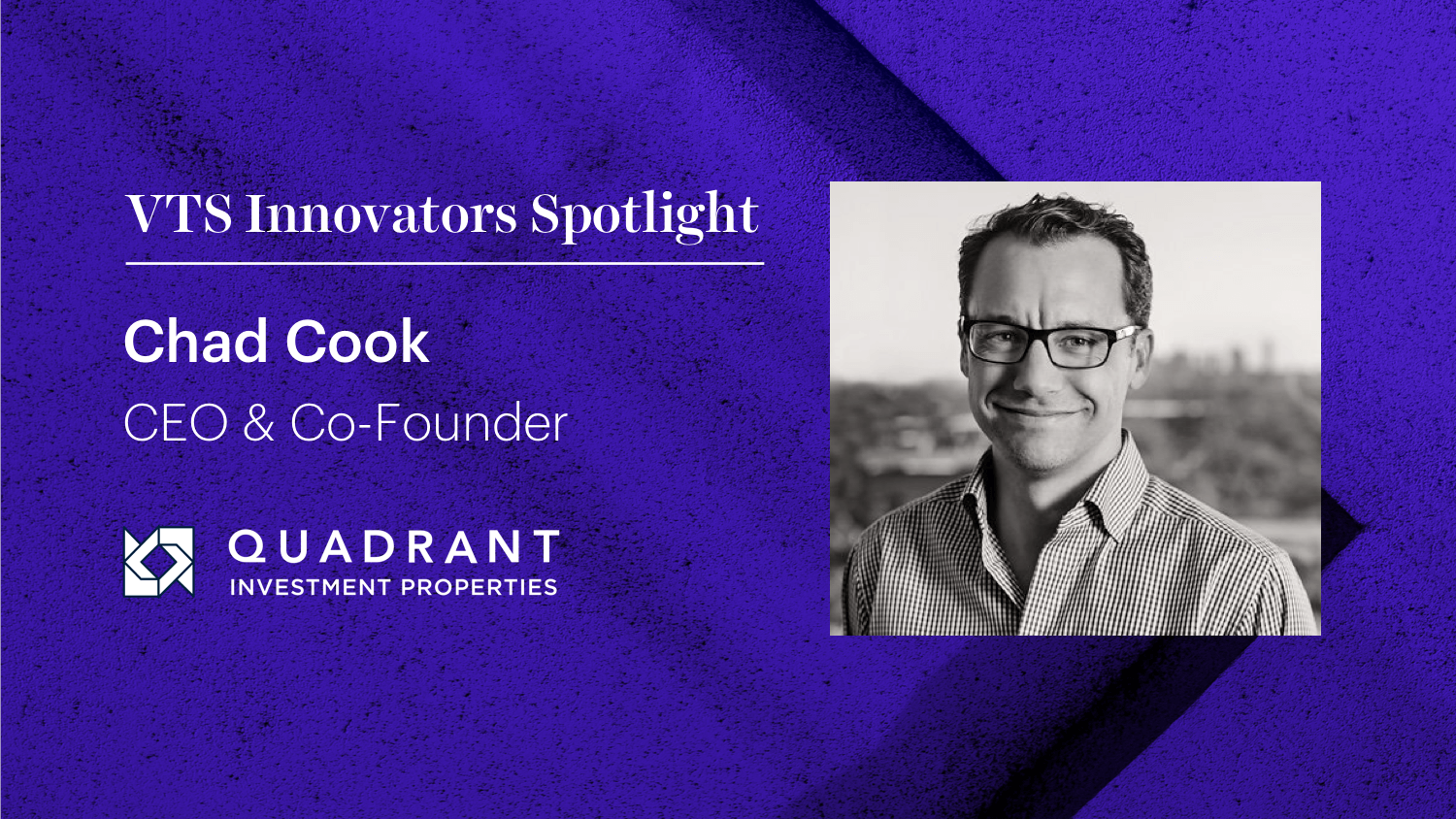 Quadrant Investment Properties CEO Chad Cook on How Technology & A Unique Culture Helps His Team Scale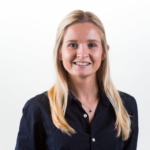 Content Marketing Manager, VTS
Quadrant Investment Properties isn't your typical commercial real estate firm. With an entrepreneurial mindset and hands-on approach, the company is focused on scaling into new Texas markets as efficiently as possible, and introducing creative office space to a new generation of Texan tenants.
As Quadrant enters this next phase of growth, technology and an open mindset toward new ideas have been essential to their ability to stay lean. And according to CEO and Founder Chad Cook, Quadrant has two core company values that help them stay on track. As CEO Chad Cook says, "The first we call 'Creative Solutions.' This is a defined focus on how we question existing norms and implement solutions, often using new technology. The other stated value is 'Bold Moves.' We really encourage the team to push the limits in every aspect involving design, leasing, and management — even if that means we're at a higher risk of some level of failure."
Read on to see how technology and a unique company culture is powering Quadrant's expansion into new markets!
VTS: How did you get your start in commercial real estate?
Cook: When I was a sophomore at TCU in Fort Worth, I had dinner with a family friend who was in the industry. After hearing about his experiences, I completely fell in love with the business. I started cold calling every company in Fort Worth I could to find a brokerage internship. I was very blessed to land with a smaller group that offered me great exposure to several asset classes and many different aspects of the business. After a year there, I found a job with a small syndicator called Emerson Partners in Dallas and spent five years there.
From there, I was lucky enough to find an opportunity to join Hillwood where I worked for eight years before starting Quadrant Investment Properties (QIP). I thoroughly enjoyed Hillwood but toward the end of my time there, I became very interested in doing something smaller and more entrepreneurial. The process took a couple of years but over time I went from wondering, "What if I actually left this great job and started my own company" to wondering, "What if I don't?" So I pulled the trigger and jumped.
VTS: What does your current day-to-day look like?
Cook: Right now, my day-to-day is very busy. We intentionally run a lean, hard-working team by utilizing as many third-party partners as possible. We're also very hands-on, which equates to a lot of time implementing new processes and coinciding checks and balances. All of this, in theory, enables us to pivot when a new opportunity arises.
On a day to day basis, I try to work out early enough to finish and still allow quiet time before the day starts to organize thoughts and strategy for the week. Mid-morning on, I'm usually spending my day bouncing between meetings.
I try to balance my scheduled time with internal team "touch bases", tenant meetings (addressing particular problems or just catching up), meeting with brokers, peers, or potential capital partners on current or future projects. In the last six months, we've expanded to San Antonio and opened an office that oversees Austin and SA. We're also working on opening an office in Houston as part of our larger Texas expansion plan. This involves more travel but we like the opportunity in these markets.
VTS: What commercial real estate trends are you and your team watching and how are you adapting to stay ahead?
Cook: In Austin and San Antonio, we're seeing more projects that are designed with the next generation of collaborative user in mind. In Houston, we're finding a lot of interest in creative office but we're seeing less implementation. The office community there still has a more traditional approach, which we feel provides a window of opportunity for us.
Given the number of talented operators in Texas, our team is very focused on maintaining the right mentality and applying our "special sauce" in how we operate our buildings. In particular, we're hyper-focused on how we can use technology to measure our performance, how we capture data, and how we communicate with our tenants, managers, and leasing team.
VTS: How has the rapid transformation of commercial real estate changed your role as CEO? What new expectations are required of company leadership?
Cook: From a leadership perspective, I believe it's most important to be the kind of general that leads from the front. You can't simply sign up the latest technology and expect your team to adopt it. You need to live it, implement it broadly, and use it every day to effectively change the collective team mentality. We have two values at QIP that relate to this. The first we call "Creative Solutions." This is a defined focus on how we question existing norms and implement solutions, often using new technology. The other stated value is "Bold Moves." We really encourage the team to push the limits in every aspect involving design, leasing, and management — even if that means we're at a higher risk of some level of failure. Obviously, we need to do be cognizant of the fiscal responsibility to our partners, but we believe a greater opportunity exists if the collective group is looking for the big opportunity.
It's also important to make sure we're analyzing, understanding, and talking about the mistakes or better stated, how we could have done better. We call this "lessons learned." When we close a new deal or a big lease, we have a group session to discuss what we could have done differently and document the group's feedback. The goal is to ensure previous lessons are front of mind on our next deal.
The big idea is to train everyone involved in a project — from the day porter to the security guard to the head of asset management— to constantly be looking for inefficiencies and feel empowered enough to speak up and offer solutions. If we get that right, we will always win the day.
VTS: As you were evaluating technology, like VTS, what were some of the pain points you were trying to solve in the company?
Cook: Originally, we were only in Dallas and were so ingrained in the detail we could operate on instinct. This made the reporting and forecasting in a platform like VTS very helpful, but not necessary. But as we started to scale and work with larger institutional partners, we realized a more efficient method of reporting and forecasting was needed.
We used to be the cliché spreadsheet addicts, where every metric and report was produced in excel. VTS has helped us break the habit of saving time and providing better data.
VTS has also helped us track macro trends we might not have previously noticed. In Dallas, we can see a real-time shift from Class B projects to Class A. The tenant demand is clearly shifting to the higher-end product. Catching this earlier using VTS data has helped us more effectively pivot.
VTS: What's the biggest impact that technology is having on your portfolio and asset management processes?
Cook: As it relates to VTS, technology has streamlined our processes. It has made our Director of Asset Management's life a lot easier. The ability to view the entire portfolio simultaneously, flag encumbrances and provide an open portal we can share with our leasing teams have all benefited the team.
There has also been a clear benefit in reducing time creating reports for our institutional partners. Keeping them in the loop in real-time allows us to all move more quickly, which is the name of the game in leasing.
VTS: As a company that's adopted technology, what advice do you have for other companies that are just starting to think about it?
Cook: Be patient and keep an open mind. Some of our most effective advances were the result of multiple problem-solving iterations.
I would also advise to start simple, implement a plan A, then layer in additional iterations later. Trying to create the perfect, all-encompassing tool can mean months or years with no product instead of an initial, simpler, yet productive tool that can provide an immediate impact.
Lastly, don't be scared to ask stupid questions. Even when the technology is very complex, a few direct, uneducated questions can change the entire trajectory for a new product or process.
VTS: What are the most important things a company needs to focus on if they want to continue operating at a level of excellence during this period of transformation?
Cook: We reached a new level when we collectively set measurable goals as a team including hard dates or timelines. How are you setting metrics and goals with your internal leadership team and with the entire organization in relation to your assets?
Everyone needs to understand what you expect from them and when. It takes more pressure off the team once everyone gets on the same page. Our team recently implemented a process using OKR's (Objectives, Key Results), outlined by John Doerr in a book titled Measure What Matters. It has been a game-changer for us. I highly recommend.
VTS: As you look toward optimizing across the rest of your business, what area do you wish technology would tackle next?
Cook: We want to change the way office space is designed, leased, and managed. A technology that will help further this process is on our radar.
VTS: What would you be doing if you weren't in commercial real estate?
Cook: My father was a surgeon, and in the past, I've wondered if I missed a calling in not pursuing a career helping people in that way. I'm not sure I could have ever made it through medical school, but I do feel our team is helping people every day by providing a healthier, more inspiring workplace.
Our goal is to make people's lives better with the renovations or new developments we provide. This is my calling. If we can scale a platform around that idea, I won't ever need to do anything else.