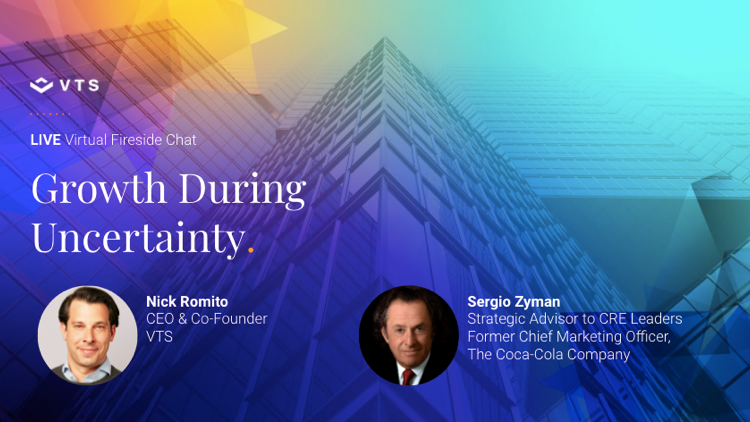 A Conversation with Sergio Zyman, Marketing Visionary & CRE Advisor, on How to Grow During Uncertainty [Webinar]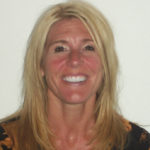 As 2020 draws to a close and we prepare for a new year, commercial real estate landlords and brokers continue to grapple with unprecedented market uncertainty – the impact of which will be felt for many years to come. And yet, against this backdrop, CRE organizations must continue to operate and build growth strategies for a post-COVID world.
In this webinar, VTS CEO & Co-Founder Nick Romito sat down with Sergio Zyman – the former Chief Marketing Officer of The Coca-Cola Company, strategic advisor to leading CRE companies including GGP and VTS, and arguably one of the most revolutionary marketers and strategists of the last century. While at The Coca-Cola Company, Sergio was responsible for exorbitant growth, including the introduction of Diet Coke.
As a challenger of the status quo and disruptor of the norm, the world's leading businesses turn to Sergio to help guide their growth, making him the perfect candidate for this conversation. Through their discussion, Nick and Sergio talk through the non-traditional growth strategies commercial real estate companies need during these unprecedented times.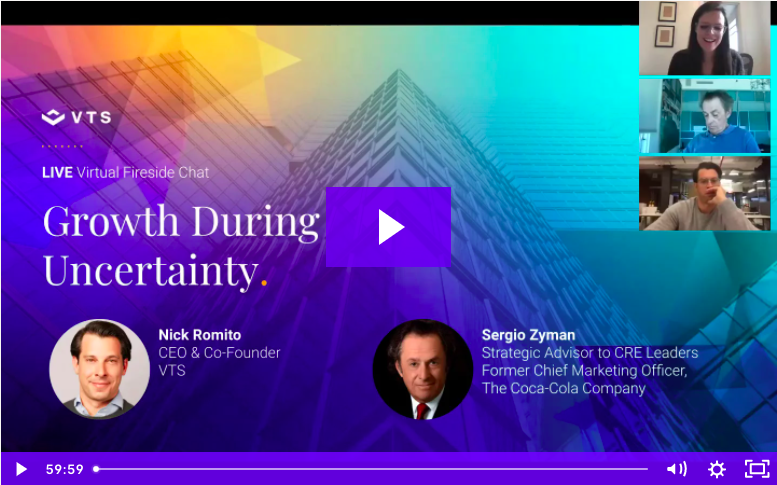 VTS: How does the COVID-19 crisis differ from other major disrupting events?
Sergio Zyman: What we're seeing right now is a fundamental change in everything that we do. There were some changes in how we behaved after 9/11. You go to the airport and you have to go through security. That's a minor change, this is a major change. COVID-19 changes how we buy, how we sell, how we eat, how we get information, and how we communicate with people. It's a significant shift in the way everything happens. I think our world totally changed, and there's nothing like it in our history.
Nick Romito: I agree. You said something to me a few months ago, and I use it all the time, "this is a permanent evolution, not a temporary revolution," meaning we're relearning how to do everything. What used to work, especially when it comes to marketing and selling, no longer does in this new world because the way that people do things has changed.
In our industry, it's a very high-touch environment. You tour people through your building and your space. It's a relationship business. What we've seen now is relationships have gone more virtual than probably ever, and to some extent, it works. What we've now seen is you can take a portion of that process and bring it online and still have a really good result. The retraining that we're seeing, I don't believe it's temporary, and I know you don't either.
Sergio: In the old days, I had a 125-person company in five cities around the world. I had to go look at the space. I had to go touch it and look at it. Now there are two things: You can actually continue to go find space, or you can use the technology and tools that were given to you. I think it's inevitable.
VTS: Do we wait for the market to return or do we implement change now?
Sergio: We don't travel for a vacation right now, but if you went to your spouse and said, "We're going on vacation," they're going to say, "Where to?" because they need to know what to pack. You're not going to pack skis if you're going to the beach. The people that fight this are never going to get to the destination, and people who adopt this new reality are going to get to the destination.
Many years ago, we used to go to the movies, and then somebody came up with the idea of something called Blockbuster. He convinced the studios to give him movies to rent in his stores by profit sharing. So look, break the rules, break the rules, break the rules. Profit-sharing with the studios, a high inventory of movies, a better way to return the movie. Then one happy day, Reed Hastings comes out with Netflix and says, "You don't have to go to the store. I'm going to mail you the movie and then you can mail it back." And Blockbuster, the company that had disrupted over and over and over, didn't believe it would work. When it came to disrupting their own model, they wouldn't. What's Blockbuster today? Gone. What's Netflix today? The largest producer of movies in the world. The day you see Netflix stop innovating, it's time to start worrying because there's somebody out there right now trying to kill Netflix.
Nick: In our industry, the old model was going to see a space in person. At first glance, the new model is bringing the space to you — especially in a world like this when you're not even comfortable going outside your home to see it. In fact, our data says that 75% of tenants today are uncomfortable going on in-person tours. So how do you bring the space to them and get that process started? Enter VTS Market.
But Netflix is a really good analogy because it's a simple concept, but the impact is significant. It's a way to restart a process in a market that really needs it.
Sergio: Even if COVID didn't happen, if people looking for space are truly driving around New York City, going building to building, they need to at least cut the number down using technology.
So I believe in your business. I don't know how it shapes up altogether. I'm sure that at one point in time, you're still going to have that lunch at a fancy restaurant in New York to seal the deal. But in the meantime, utilizing technology and being able to view this space and then sell it is really important. It doesn't mean that all of the parts of the value chain change. It's just that the role of the people in the value chain change. You still need an agent. You still need an owner. You still need everybody in the value chain, but how they play the role and execute the transaction has changed.
VTS: How can you build and deploy non-traditional growth strategies in this time of uncertainty?
Nick: One thing that our customers struggle with is often the folks who try to think outside the box, make that internal shift, and try to change the way their business runs isn't the most senior person. It's a marketing person, who's a couple of years in, or a mid-level leasing person who just knows in their bones that if they don't start doing things differently, competitors are going to kick their ass. You're definitely someone who's always been very progressive and outspoken around the fact that if you don't start doing things differently, you're going to die in some capacity.
Sergio: First of all, I don't believe in thinking out of the box. I don't think the box exists. If you look at how people buy, you can make that process easier, better, and more profitable so that they want to buy from you. Are you trying to satisfy the way you want to sell, or are you trying to satisfy how people want to buy?
Amazon is a great example. They understand how we buy and they train us to buy from them all the time. It's a machine. If I was in any business today, I would basically say, "I'm in the business of making money. How do I make money?" I make money by selling what I'm trying to sell to somebody who's willing to buy it. I've got to figure out who is that person? How do I make that easier? How do I make that efficient and effective?
Watch the full webinar on-demand here.