Tenant Experience: Three Golden Rules Every CRE Owner Needs to Stay Ahead of the Game
Tailoring your product to fit your customer needs is not a new concept. By having absolute clarity on who my customers are, their daily desires and pain points, I can sell my products to them in the most effective way.
For commercial real estate it's clear: rewards are reaped when the customer journey and expectations have been not just satisfied, but exceeded. A hugely important consideration for all landlords is tenant retention. A report by Kingsley Associates concluded that almost 80% of satisfied tenants are strongly likely to renew their leases, compared 100% of tenants who are not going to renew due to perceived poor service.
No matter whether you are a property developer, owner or manager, focusing on your customers is essential for futuresuccess, and in real estate, customer success is driven by the tenant experience.
What drives satisfaction? Technology is high on the list
A recent survey of tenant satisfaction by CBRE highlights the importance that tenants place on technology – tech services come only second to building management in retaining talent. I believe that this will only increase in importance as the market becomes more aware of the tech possibilities, and tenants view these 'building upgrades' as standard.
Technology is an essential player in facilitating this major shift from a landlord being a pure rent collector to a relationship builder. However, as I always say in meetings and at my talks, technology is only an enabler. One must have the right in-house talent that fully understands the daily customer journey in order to successfully implement the right technology. In the start-up world we say: eat your own dogfood.
For the ever changing digital world, the slightly historic 2005 Harvard Business Review article 'Quest for Customer Focus' (a must read) hits the nail on the head. "Tools and technology are important. But they're not enough. That's because getting close to customers is not so much a problem the IT or marketing department needs to solve, as a journey that the whole organization needs to make."
This is key to what I believe the entire real estate industry is in the middle of undergoing, a fundamental mind-shift in the way customers are treated.
This paradigm shift is driven by the way work has changed, become more flexible and even fully remote.
Coworking players have shaken up the real estate industry and have significantly changed the market perception of the traditional arm's length landlord-tenant relationship – moving it from simply tenants occupying the building, to customers fully utilizing the building and benefiting from added services.
Landlords are also beginning to recognize the added benefit of being able to generate further revenue by offering desired services, as well as reducing costs due to increased retention. Focusing on your customers isn't a luxury, it's a necessity. The journey towards this goal is not necessarily simple, but the rewards and payoff are significant.
The three golden rules to enhance your tenant experience
Any organization that has the desire to focus on its customers will have to approach this personal journey in their own way and develop their own 'special sauce'.I believe that there are three golden rules that should be followed to increase your tenant experience:
1. Understand who your customers are
Who are the people in your buildings (and not just the CEO and CFO)? What do they do and what are their likes and dislikes? What are the things that make their lives at their place of work unnecessarily difficult?
2. Treat your customers and your DATA like gold
Collect it, analyze it, and finally –
3. Do something about it
Use what worked last time or what did not work to improve your services, spaces, and most importantly, relationships with your customers. Actions speak louder than words.
Vanessa Butz is the CEO and Founder of District Technologies.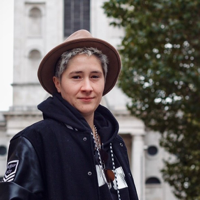 Lee Butz, is the CEO & Founder of District Technologies. They are passionate about shaping the future of cities to improve everyone's work and life experience. Working at the intersection of cities and technology, they founded District Technologies, a community and smart building platform for large commercial or residential portfolios that helps owners save time and money. Prior to District, having written their master's thesis at Oxford University on "Understanding the DNA of Strong Entrepreneurial Hubs", they took her theory into practice by building large coworking campuses (Factory Berlin and Interchange London for Market-Tech).