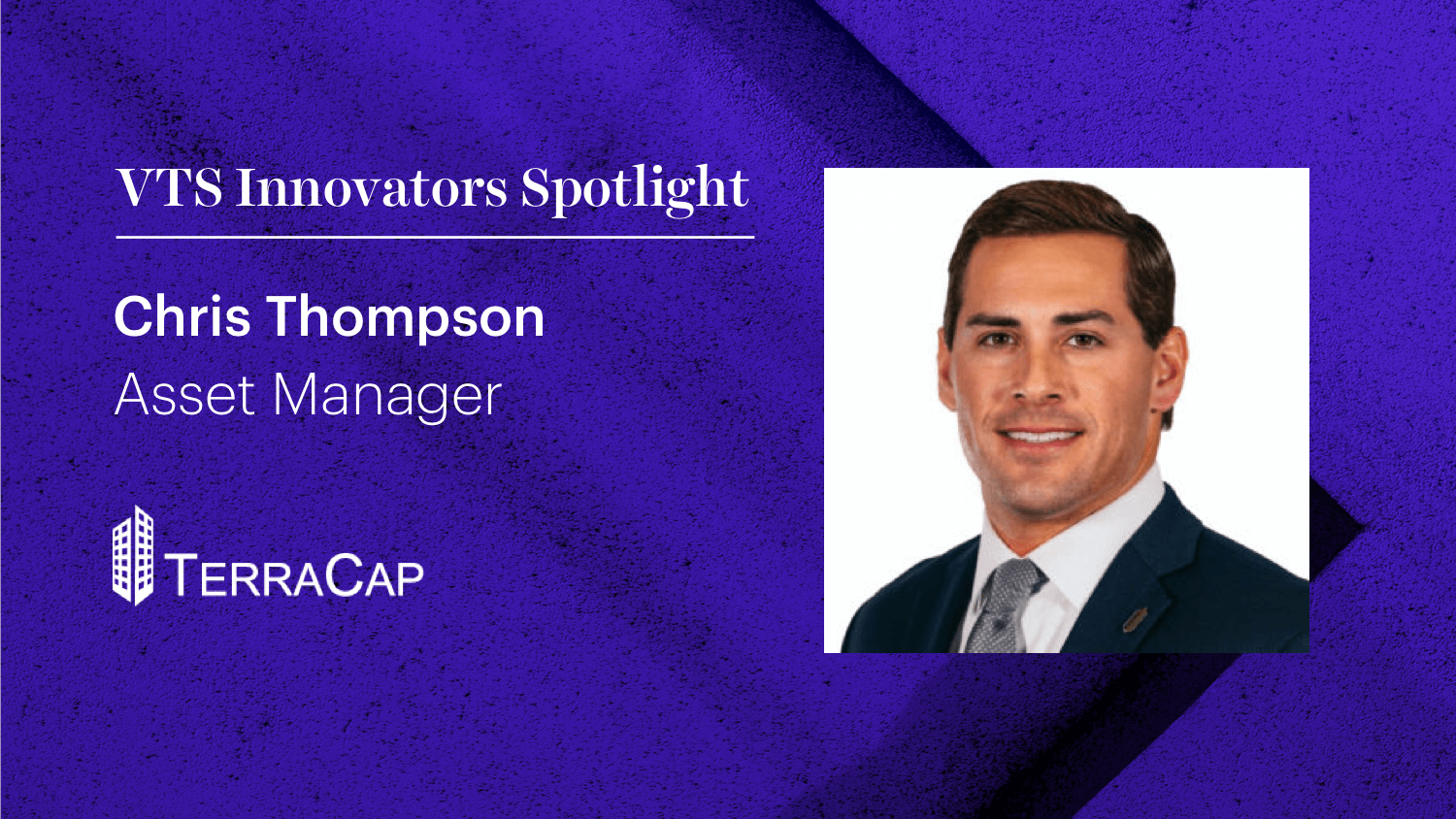 TerraCap's Chris Thompson on How He's Spending More Time on Deals, Not Reporting, With Technology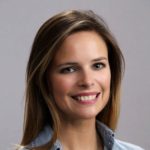 Director, Content and Communications, VTS
VTS sat down with Chris Thompson, asset manager at Florida-based investment firm TerraCap Management LLC, to find out more about how the company is using commercial real estate technology and real-time data to accelerate the leasing process and gain a competitive edge.
Enjoy!
VTS: How did you get your start in commercial real estate?
Chris Thompson: I've always been in commercial real estate one way or another. After graduating in 2008, I did a one-year business management graduate program and then ended up working for Raymond James, a big financial institution headquartered in St. Petersburg, Florida. I worked for their tax credit fund, as they invested in low-income housing. That was my first exposure to real estate, which was a very defined niche. It was a great place to break into the industry and see what I liked, but being at a large, publicly-traded financial institution felt very corporate. It wasn't entrepreneurial, and I was curious about what else was out there in real estate.
After graduating from my MBA, I found a job at TerraCap, which predominantly invests in office and multifamily. It seemed like a pretty good mix of my background, and it was very entrepreneurial.
VTS: What does your role at TerraCap involve?
Thompson: I'm an asset manager, so basically I'm responsible for the day-to-day operations of our assets in Florida, North Carolina, and Texas. I work with the leasing team and property managers on the day-to-day operations, and if we ever need capital expenditures for projects, I oversee that and make sure everything's in line with our budgeting.
I also oversee our property appraisal process and our insurance policies for all of our properties.
VTS: What do you enjoy most about the job?
Thompson: The nature of real estate is that you deal with people a lot more than you deal with a product. You're dealing with the leasing team or a property manager, and I enjoy that. Also, there's a lot of variety which is nice.
VTS: What industry trends are you most aware of right now, and what strategies are you creating to stay ahead of them?
Thompson: It varies from market to market. We predominantly invest in the Southeast, and markets in the Southeast are still very strong. With what's going on in certain markets, we like to be very involved. We'll go to ULI or NAIOP meetings. We like to talk to our lenders. We talk to our leasing team about what they're seeing. We talk to our sales team and our appraisers.
In bigger markets, like Dallas, which is one of the hottest real estate markets in the country, WeWork and shared-office space is becoming very popular. We don't have any in our buildings yet, but we've had proposals, and it's something I'm sure we'll get comfortable with at some point.
VTS: Have you noticed any changes in what tenants are looking for?
Thompson: Tenants as a whole are more aware of what they're getting into when they're signing leases. You don't see someone just sign a lease and move in. They're concerned about rate and term and want to be sure they have fair TIs. They're represented well by their tenant reps, and there's a lot of negotiation. They certainly know that there are options out there and they're looking to get a good deal. They're doing some serious investigation and really running the cost-risk analysis.
It gives us a little sense of comfort that they do know what they're getting themselves into. Some people downsize a little bit, but people aren't leaving buildings in the middle of the night or anything like that. You see that in some of the smaller markets where there are smaller buildings and mom-and-pop-type shops. We owned a building just outside of Disney in Orlando, which is a pretty small submarket, and we had a couple of tenants depart in the middle of the night — they just went dark and we never heard from them again.
VTS: How are you using technology in your role?
Thompson: When I started, we didn't have VTS. We used Excel spreadsheets that we kept up to date with our brokers who tracked our deals. We'd get updated every two weeks. Now it's in real-time. Our entire team gets email updates on a daily basis or can go into VTS and see what's happening at a certain property.
I use the mobile app all the time. When we're walking through a property on a site tour, we're able to pull up the stacking plan and look at it in real-time to see how much square footage a tenant might be in, when their lease expires, and if they have any options. It's been incredibly helpful to have access to something like that in the palm of your hand when you're actually on-site.
We also use the net effective rents pretty religiously when we look at our deals and compare them to our underwriting. It's always nice to show how we're doing compared to what we expected and the reasons why. We do quarterly business planning sessions and use the VTS stacking plans and leasing pipeline in those reports. There's a lot of good insights in there.
VTS: Based on having this real-time visibility, would you say it's changed the expectations that TerraCap has of you as an asset manager?
Thompson: At the end of the day, we're here to lease space, that's still the expectation. If anything, it opens up the discussion to everyone. Whereas two to three years ago we didn't have VTS, and it might be the director of asset management and myself having a conversation about a certain deal. Now we can get a phone call and have a discussion with the CEO of the company who has some input because he might know someone who works at this company, which VTS flagged. Before, it wouldn't be on our radar.
VTS: What challenges did you have prior to VTS that led you to try a tech-enabled approach?
Thompson: It's tough to get brokers to enter information in a timely manner. If we sent out the report we'd get it every two weeks, and sometimes, they wouldn't turn it around quickly and tracking it myself took too much time. If you're dealing with 20 assets, it could take a week to put all that information together, which is just out of control.
The technology is very useful. Like I said, it's about being able to look at the stacking plan on my phone while I'm doing something, or something pops up into my head that I can think about when I'm on the road or sitting on the tarmac ready to take off.
VTS: You said tracking took too much time. In your role as an asset manager, what types of information and data points are you tracking?
Thompson: The typical deal terms — the tenant, the size of the space, what suite they're looking at, their rate, their TI package, who they're represented by, and if they've toured. Then, once the broker puts the initial information in there, I'll put our budget numbers in and see how they compare to what we underwrote.
VTS: What is the net effect of having that information and being able to do the comparisons?
Thompson: It speeds up the deal process. If we're beating our underwriting, it doesn't really take too much time or convincing to get everyone on board with a deal. If it's a little less than what we've underwritten, we might need to have a discussion.
It's definitely a way to justify what we're doing rather than just having discussions. It's leaving a paper trail of the process and what our thought process was. If we get audited or our investors have questions — really, if anyone is curious as to why we did a deal — we can explain.
VTS: What advice would you have for companies that are just starting to think about using technology, or may not even think that they need technology?
Thompson: I'd want to know why they're trying to make it harder on themselves than they need to. The brokers use it — and they're very open to using it. I understand everyone's different and does things their own way, but it's definitely the more efficient route in our eyes. I would encourage anyone who doesn't have it to at least use something that can make their lives a little bit easier with real-time stacking plans and all your leases in one place. I don't know why you wouldn't want that.
VTS: What are the most important things a real estate firm needs to do to operate at a level of sustained excellence regardless of market conditions?
Thompson: You need to be flexible and adaptive when there's change. Remaining on one steady path is never going to be the way to get to excellence. You're going to have to be creative. You're going to have to look at things differently and that's what we try to do. We try to talk to as many people as possible. We like to attend conferences about trends and talk to different people in different roles that see things differently. You need to find ways to differentiate yourself and that flexibility is huge.
VTS: Lastly, what would you be doing if you weren't in commercial real estate?
Thompson: I'd love to be on the PGA tour or I think I'd like to run my own business.