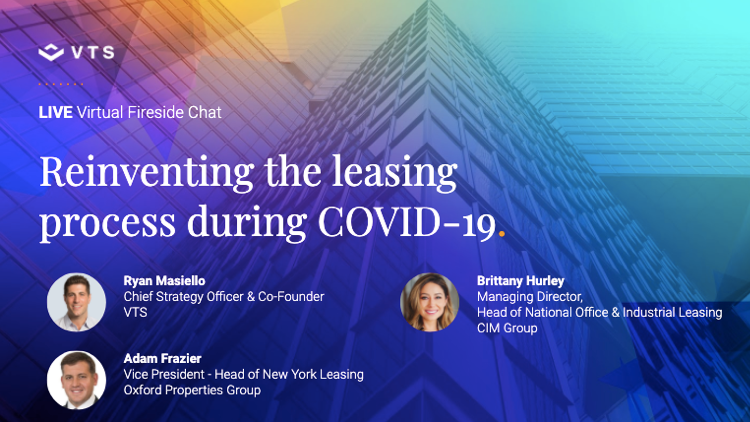 Top 7 Tips for Reinventing the Leasing Process During COVID-19 [Webinar]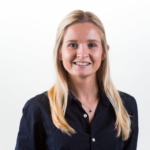 Sr. Manager, Content Marketing, VTS
The impact of COVID-19 and the abrupt change in the way we work has highlighted the challenges and inefficiencies of offline, out-of-date leasing processes. Smart landlords are adapting quickly and taking advantage of this unprecedented opportunity to evolve their current operating models and move their leasing teams from offline to online. But how?
In the next installment in our COVID-19 relief webinar series, we brought together two leaders on the front lines of leasing to share their top tips for moving this process online, what a tech-enabled leasing process looks like, and how to turn your strategic vision into tactical initiatives. CIM Group's Managing Director and Head of National Office & Industrial Leasing Brittany Hurley and Oxford Properties Group's Vice President-Head of New York Leasing Adam Frazier joined VTS Chief Strategy Officer and Co-Founder Ryan Masiello for a discussion on Reinventing the Leasing Process During COVID-19.
Read on for a recap of their top tips for modernizing their firms' leasing processes and up-leveling the way their teams operate online. Enjoy!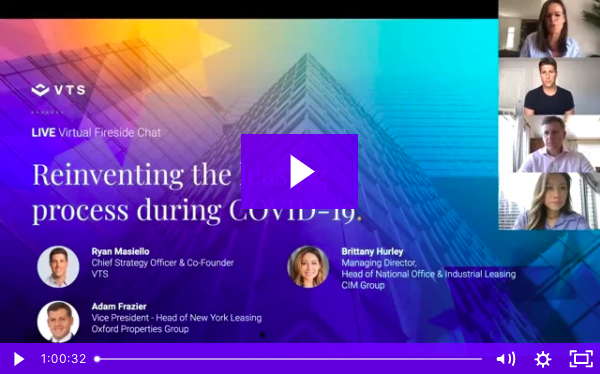 1. Change starts at the top of your organization.
Adam Frazier shared: When Michael Turner became President of Oxford Properties Group, his vision was to reconnect all our people. How do we put processes in place that connect us? One as people and an organization, but also to start standardizing processes so we understand how to move forward as a team. How can we create visibility into what everyone is doing? How can we measure risk? And how do we put all of this on a platform so that as we grow, it grows along with us — and it becomes easier to grow.
That all started from the top with Michael. Michael then brought in our COO, Dean Hopkins, who has a great vision for change as well. And what he has done is say, "Let's take inventory of what we do today and create a vision for what we want to do in the future.
2. Then get support and buy-in from the bottom of and across the organization to execute.
Adam shared: I engaged an advisory group to help us get started. This group was composed of people in three different asset classes, office, retail, and industrial, and were in different areas around the world who could be partners and champions from a knowledge perspective and from a change perspective. It couldn't just be something that was done and pushed down, it should be created by us, for us.
Brittany Hurley shared: If you're just blindly forcing a strategy on people without seeing how they're doing things today, it's not going to go over well. One of the things that have been really successful for us is creating this top-down, change management culture, so you can't just dictate to someone what to do. You actually have to be bought into it and be utilizing the technology and show that you're being thoughtful and passionate about getting everyone on board.
3. Show people the value of the vision.
Adam shared: I put together my pillars of value and what we wanted to seek out and had the people involved really identify with them, whether they were in asset management, leasing, operations, legal, or investments. People need to understand the vision as part of the change management process. I call them card carriers of the mission. They all had to believe in the mission, and you need to keep momentum on that mission and be in front of people. We have a fantastic group of 20+ people who are focused, in a meaningful way, on carrying this forth and acting on certain projects to execute on this transition and change going forward.
Brittany shared: When we kickoff any new business idea, we quickly outline a concise report on why we value it. That could be five bullet points about how this is going to make our lives easier and more efficient, how we're going to make money off this, how we're going to save time, whatever those reasons are. We then circulate that to the decision-makers of the cross-functional groups that are involved.
When we made our decision around VTS Market & Marketplace, that was a decision we needed marketing, investments, portfolio oversight, multiple groups bought into within CIM. But once we socialized that report to the department head of each group, we were quickly on the same page and we were able to quickly move forward from there because everyone could easily see the benefits.
4. Map out your existing leasing process.
Adam shared: We got on the phone or sat in person with a lot of different people and mapped out the ways they used to do a transaction. How they start out, how they set their goals, how they go to market, how they do a transaction, and so on. We mapped that out for different places to understand where each of these groups was going. Then we mapped out what we think is the ideal process, using best practices, to get from end-to-end in the best, efficient, and effective way.
Throughout our conversations, we thought we all spoke different languages and had different processes. But once we started to get to the right level of identifying what each part of the process was, we started to see things at the same level no matter where we were. There are different components and nuances, such as square meters versus square feet, but ultimately we got to a place where we realized it was much more similar than we thought.
5. Centralize leasing information for easy access throughout the leasing process.
Adam shared: If you want to understand a market, you have to know the most information. The beauty of real estate is that it's imperfect. It's totally subjective because somebody could like high ceilings with fewer views more than someone else. It sounds counterintuitive, but people want to be Downtown, they want to be on the water, or near the train station; it's all different with different value propositions for each.
So the more nuance you have to every deal, the better you're going to be. Same thing for anything you do. What's your availability? When's it rolling? How big is each square footage? What's the plan for each piece of square foot you want to lease? How do you get all that information in one place?
Getting all our information in one place was actually a huge value proposition because our infrastructure wasn't perfect. People went to 10 different places to get five pieces of information without even realizing it. And COVID just accelerated everything. We were about to roll out VTS in every part of the world and were already using it in many places. It showed us that we needed to understand a lot to navigate. For every tenant, were they in multiple locations? How much were they paying at each location? Were they paying rent? Were there guaranteed security deposits? What's their credit? What's the entity on each lease? All this information was so critical and we needed to get to it as quickly as we could.
6. Use that information to start measuring your leasing performance.
Adam shared: Once you get all the information in one place, you can start using it to help you make decisions. How well are you doing? How many people are seeing a space? How do you convert them? For everything, it's looking at the action time, measuring it, and then looking at how well you did. And if you're not doing well, then it forces you to make decisions on changing. Continuously moving through that evolution in each stage of the leasing process.
A lot of it is also goal setting. If you're not achieving that goal in a certain period of time and you know you're performing well on the other metrics you're measuring then something is wrong and you need to make a decision to change that. And if the market's getting worse, you have fewer opportunities for mistakes. You want to be as effective as you can, so measuring those conversion rates is really important. When the world's not as good as you want it to be, you've got to make sure you're throwing strikes as opposed to just throwing balls.
We needed to rethink our process, and so having the data behind that was really helpful, and so trying to see how many deals completely fell off a cliff was very eye-opening. How many deals died due to just COVID or got put on hold was very eye-opening. Those were all data points that helped us make smart decisions moving forward.
Brittany shared: The one goal I have moving forward is to make every part of our process measurable. We've already come a long way with that, just because of all our third-party brokers and in-house teams using VTS for basic reporting, but we're trying to take a step further. We want to make our tenant relationships a lot more robust and get to a place where every single conversation we're having is getting tracked.
And when you have a vertically-integrated platform across hotels, retail, residential, all of these different sectors, you want to be leveraging the data and relationships you have in very vertical or else you're not using them to the full capacity. So I've been super focused on tying the knots together across these verticals, which will ultimately make us a lot more powerful and provide better client services.
7. It's time to move from offline to online.
Brittany shared: Things that we relied on before, such as it being a great real estate market so we don't need the marketing to be perfect because people are going to come tour just isn't going to happen anymore. We needed to make sure we had a digital presence and digital strategy that was great, and in a really short amount of time.
When we looked to ramp-up our digital presence, I realized that we were using different vendors in different markets because we had a local relationship with this video group or this person was doing renderings for us, and it created a lot of vendor relationships. Not only are you spending a lot of time talking to all these vendors, but you're also not able to leverage any sort of bulk pricing or agreement and you're reinventing the wheel with every conversation. Then to make matters worse, you go online and your space looks different for every project you have across the country. We just didn't have a good partner, but VTS Market helped us solve that problem really quickly.
Ready to move your marketing from offline to online? Get started with VTS Market today!
We decided that we wanted to have a consistent way of marketing our assets, whether it was a million square foot industrial building in Texas or a million-square-foot tower in New York. We can't market those assets the same, but the process and the technology can be the exact same. Why should it be different? You still need to get a virtual tour online. You still need to get your listings and transparent information up there.
Watch the full webinar on demand here.