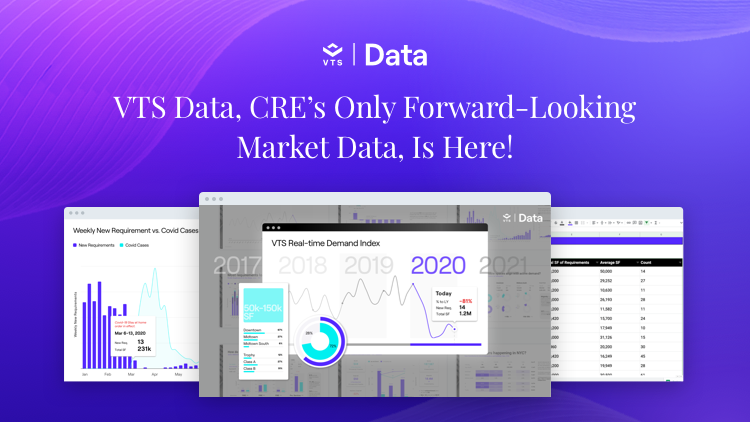 VTS Data, CRE's Only Forward-Looking Market Data, Is Here!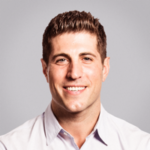 Chief Strategy Officer & Co-Founder, VTS
Commercial real estate has changed profoundly over the last several months, with all of us trying to navigate market conditions we have never experienced before. To stay competitive in this new world, you need to understand what's actually happening in the market today. Yet, commercial real estate is one of the only industries still using lagging indicators and anecdotal information to make billion-dollar investment decisions. It's been even harder the last several months because markets change day-to-day, and no one has had access to what's happening right now — until now.
I'm excited to share the news that VTS Data is now available. VTS Data is the only accurate source on what's happening in the market today as it's the only data product powered by the aggregated and anonymized data captured from the $200B in leasing transactions and 12B+ SF of space managed on the VTS Leasing Platform — updated daily. VTS Data captures 98% of new tenant demand in the top 10 U.S. markets. As a result, the product provides an up-to-the-minute understanding of the types of active tenants in the market, including their industries, the spaces they are looking for, and what they are paying.
At launch, VTS Data is already being used by industry leaders including RXR, Eastdil Secured, and Brookfield Properties. VTS Data is as real-time as it gets — the average data point is approximately one day old. This up-to-the-minute information means investment professionals can anticipate market fluctuations and identify market trends 12-24 months ahead of the competition. Gamechanger.
The availability of VTS Data completes the vision Nick and I had for the VTS Platform from the very beginning. Over the last eight years, the VTS Leasing Platform has become the standard for online leasing – centralizing data for hundreds of landlords and helping them streamline the leasing process. After we reached this critical mass of information, we were able to create the industry's first integrated, online marketing software and marketplace called VTS Market, built directly on top of our Leasing Platform.
And as a result of bringing the marketing and leasing process online, we can now provide the industry's only forward-looking view on the market. With VTS Data, investment teams can reinvent their investment strategies using data informed by today's demand activity, instead of delayed leasing information.
"With VTS Data, investors and operators will now have a real-time view of supply and demand to help navigate the rapidly changing market conditions," said Scott Rechler, CEO and Chairman, RXR Realty. "VTS Data represents a new era for market data and will be critical in supporting our acquisition, leasing, and disposition strategies."
With VTS Data, investors can subscribe to a standard market report or commission a customized report that compares their specific portfolio or asset performance to the market according to specifications on submarket, industry categories, and more. Additionally, investors will be able to work with VTS' team of CRE experts, data scientists, and analysts as a trusted resource to analyze and evaluate investment decisions.
VTS Data is now available in New York, San Francisco, and other major U.S. office markets. For more information and see VTS Data for your market, visit vts.com/vts-data.
You can read our official announcement here.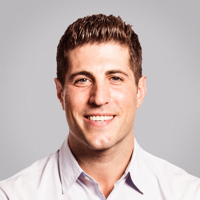 Ryan Masiello is the Chief Strategy Officer and Co-Founder of VTS. He brings 12+ years of experience in Midtown Manhattan commercial real estate – the world's most competitive office market – to the table and is charged with leading VTS' international expansion. Ryan started his career at Cushman & Wakefield, before getting recruited by JLL to help lead the firm's business development efforts in New York. During his seven years at JLL, Ryan became Senior Vice President and brokered over 2 million square feet of office deals with Fortune 500 and high-growth technology companies, earning him honors as a four-time global top-producer. Ryan frequently advised on corporate technology and growth strategies for JLL.