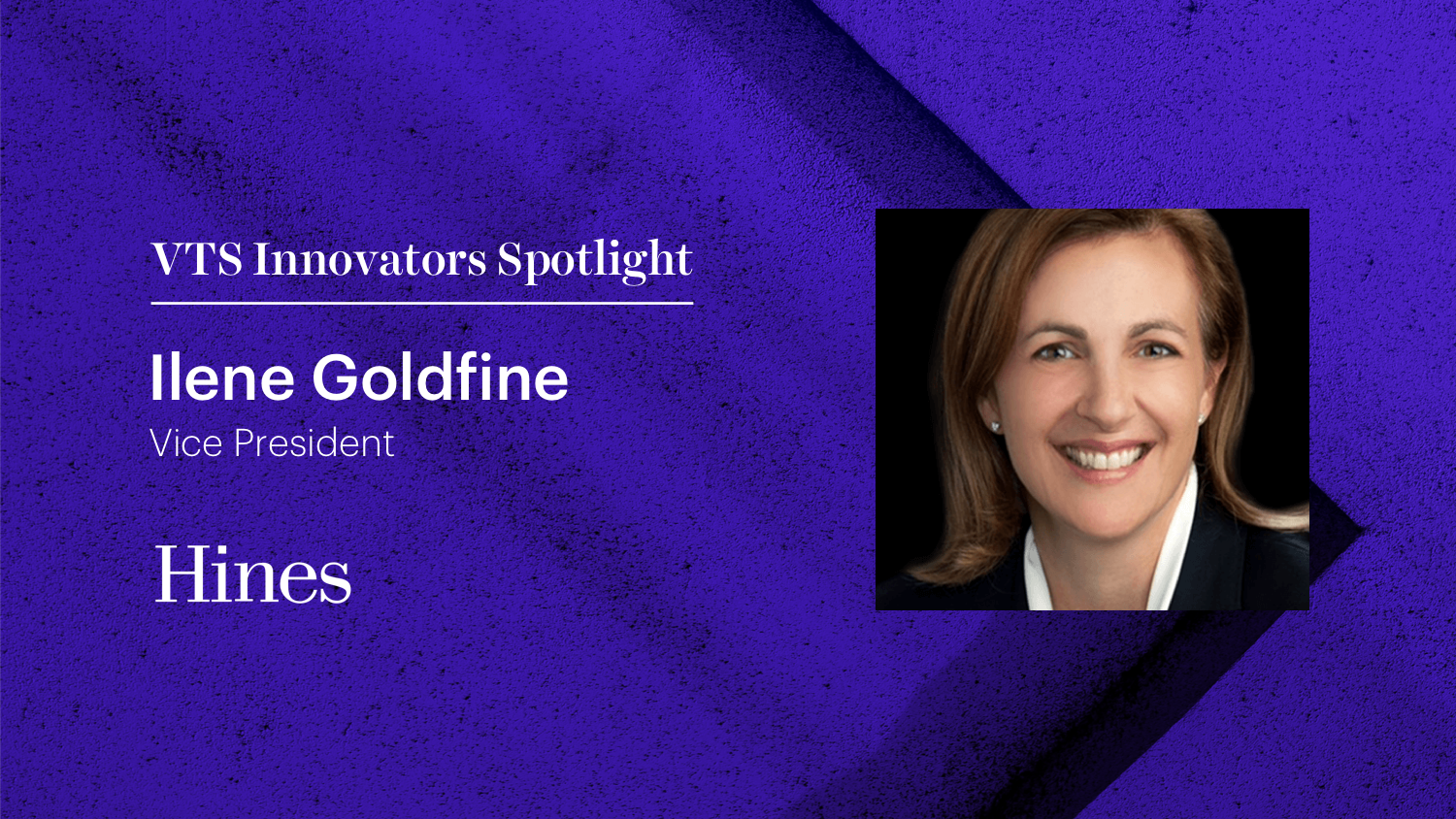 VTS Innovators Spotlight: Ilene Goldfine, Vice President, Hines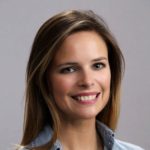 Director, Content and Communications, VTS
Hines, the global real estate investment, development and management firm, is well-known for its innovative culture. Few people understand the power of that culture better than Ilene Goldfine, Vice President of the firm's Business Technology Group, who plays a key role in furthering the firm's technological capabilities. Goldfine has been with Hines since 1998 in a variety of roles, including senior project accountant, fund controller and director of investment management — all of which prepared her to lead the group, which was launched in 2015.
VTS sat down with Goldfine to learn more about how Hines embraces innovation, and its approach to implementing new technologies at its properties worldwide to improve the experience for its tenants and investors.
VTS: Tell us about the purpose of the Business Technology Group and your role in it?
Ilene Goldfine: I've been with the Business Technology Group since it launched about three years ago. The group works with the Hines Information Technology department to understand what sort of technologies the firm needs, and then champions the processes improvements that need to be implemented across the firm in order to adopt these technologies from a business standpoint. Our group basically functions as the business "project sponsor" that owns these initiatives.
VTS: Is this role relatively unique to Hines?
Goldfine: I think in the past few years, more and more organizations are creating these types of roles. The real estate industry has always lagged behind in technology initiatives and as a way to accelerate adoption, more companies are creating roles within the business that support this type of innovation. What's interesting is who these roles report to. While historical thinking would be that these roles report to the IT department, in order to break down the silos across the business, more and more firms are having these roles report up through the business.
VTS: Hines is well-known for being entrepreneurial. What has Hines' technology strategy has looked like over the years?
Goldfine: Hines just celebrated its 60th anniversary, and while we've always been entrepreneurial and very innovative, that's been more on the product side and what markets we're going to be in. As we like to say, Mr. Gerald Hines, our founder, was "green" before green was even a thing. He always used his engineering background to let more light into a tenant space, to build better buildings, and to create a more innovative product — pretty much before any other company. So from a company perspective, we have always been innovative in nature.
From a technology standpoint, we weren't. Up until four or five years ago, our theory on technology was to always be a late adopter, never an early adopter, and that's for a couple of reasons. First, technology really wasn't there in real estate when you think of where the cycles have been. And second, we're a very conservative company by nature. We wern't going into a technology solution or realm until others really tried it and worked through all of the issues. From a technology perspective and as a company, we were perfectionists. Upon building or buying a technology solution, we would want it to be perfect before we launched it. We would say, "Aim. Aim. Aim again. Aim again. Wait. Line it up again. Aim. Aim. Aim," and then shoot.
What we're doing now is understanding that technology isn't always perfect, but if it's most of the way there or it can get us some relief, we're going to accept that and then work on the adjustments later. More recently, we're definitely trying to be more on the early side of adoption than on the late side.
VTS: What's been the reason for that change?
Goldfine: With the speed in which technology is advancing, you can't wait anymore. If you still try to do that, you're five versions behind and staying in that late adopter category, and that's not where we want to be. It's not that we don't care about being right. We absolutely do and want it perfect. But you're going to miss opportunities if you don't start the process and then refine as you are going.
VTS: How does your team work across the organization to find and implement new solutions?
Goldfine: We really see innovation holistically and a very important function across the firm. As such, last year, we created an Office of Innovation headed by our Innovation Officer, Charlie Kuntz. When it comes to innovation and technology, we go with the "it takes a village" approach. Our Office of Innovation is an overarching umbrella, and there are then different groups that support the innovation function; the Business Technology Group, our Conceptual Construction Group, our Corporate Operations and Engineering Group and of course our Information Technology department.
My group then focuses on internal business process and internal systems that help us to function more efficiently and provide even more value to our tenants and investors.
VTS: Diving into the technologies that you've implemented – which ones have had the most impact?
Goldfine: We're doing a lot right now, so I can't necessarily say what the most pronounced results are in a certain area. But what I can say is holistically, we're trying to get better information to the people at the firm. And by getting better information to the people at the firm, they can do their jobs better and be more efficient. Whether it's using VTS to get leasing information to our property managers, leasing managers and asset managers faster, or using technology to bid and track capital expenditures, these tools allow our folks to spend less time behind their desks and more time interacting with tenants and investors. Whatever is related to getting information into the hands of our users faster, those are the most pronounced results.
VTS: Looking to the future, what technologies is your group most excited about?
Goldfine: We're heavily looking at AI (artificial intelligence) and robotics. Robotic process automation is very exciting to us. As a firm grows, if you can take some of those tasks that are repeatable and consistent and automate them, this then allows your employees to have more opportunities to do different things — that's very exciting to us. In addition, we're heavily focused on providing service and flexibility to our tenants and investors. That's where we're focusing a lot of time and energy right now from a technology perspective. We're looking at how to improve the experience for our tenants as well as the experience for our investors.
VTS: The idea of the tenant experience is quite new. Is that a trend we'll see develop in the next few years?
Goldfine: Absolutely. But what's going to be interesting is what really matters to the tenant. You have a lot of different things out there that sound really cool, but does it really matter to the tenants? We say all the time that it's great that you can use your smartphone and then your coffee is waiting for you when you show up, and the elevator is there when you arrive, but does that matter? That's what we're trying to determine.
The tenant experience is totally changing because of social media and all of the capabilities out there and what people expect now. I think you're going to see a shift in the real estate industry. The tenant representative concept may change because you can get more information directly to your tenants rather than having to go through a funnel. I think the ability to control your own personal space, temperature, comfort, and lighting are going to be very, very impactful in the real estate industry in the next few years.
VTS: What advice would you give companies just starting out on their technology journey?
Goldfine: We talk about this a lot. Mr. Hines has said that he has seen more change in our industry in the last 5 years than in the entire 25 years preceding that. So things are coming fast and furiously at everyone. Our advice is you've got to understand what that technology is trying to do and not implement technology just for the sake of using something new. There's a technology for everything right now. You talk to these vendors and some are only trying to solve one small piece of the puzzle. You need to say to yourself, is that really a problem? If I could do a bank reconciliation in 30 minutes before, and now it's 15 minutes, is that really getting me that much? I don't know. That is what we are trying to determine and prioritize.
In addition, you need to look at all of these solutions and how they fit together. If you go put in all these technology answers and they don't tie together, people are just overwhelmed and it's not going to work. Our recommendation is to really look at what are the right technologies and be cautious about how you go about implementing those, because change management in a firm is so crucial. Everybody has their day jobs. All of a sudden, you can't slam five new technologies on them and expect them to go do that all at once. That doesn't work.
VTS: If you weren't in real estate, what else might you be doing as a career?
Goldfine: It wasn't that real estate was my dream job, but I knew I didn't want to go into something that I couldn't concretely understand. I can't imagine myself anywhere else. I love real estate. When we go to a city, I'm looking at buildings. When we look at other Hines' buildings, we go see how cool their lobbies are and what they're doing. I'm a total real estate geek.