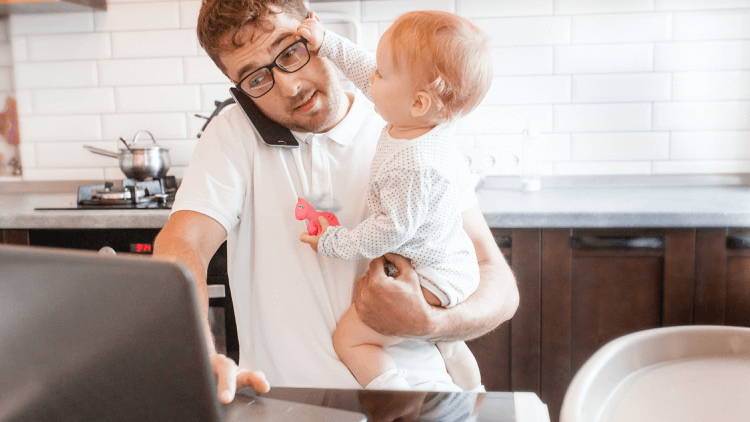 The VTS Parents' Guide to Working From Home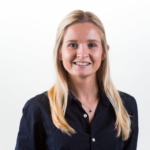 Content Marketing Manager, VTS
When we published our 9 Best Practices for Working From Home, our goal was to help those who may not be as familiar with the practices feel just as successful and productive as they would in the office. However, this isn't the "typical" work-from-home situation. In our new reality, many of you are working from home while also caring for, or even homeschooling, children — meaning those "best practices" get thrown out the window.
So, we turned to our VTS parents for their key insights, best practices, and takeaways for working from home — with their children. With that, here is their guide to making it work. Enjoy!
Kevin Rippon, Senior Product Marketing Manager
Age group: Newborn
1.Express frustration: Balancing the workday with a newborn can be profoundly tough, especially when they're intermittently fussy and not quite old enough to be on a regular feeding and sleeping schedule. Having to care for your child at the drop of a hat and get projects out the door on time can be stressful. The silver lining is that so many of us are in the same boat. I've found that giving and receiving empathy from working parents who can relate helps me retain composure — which allows me to be a better parent, employee, and teammate.
2. Express gratitude: There are many studies that prove how expressing gratitude can make you happier and even help you feel better physically. Despite the circumstances, taking stock of the real benefits of working from home (namely, spending more time with my family and saving a few bucks on commuting) has helped me stay positive and continue to put forth my best effort for a great company!
Jessica Kurz, Senior Director, Strategic Projects
Age group: Infant
3. Plan for the day ahead: Every night, my husband and I compare calendars and each block off time to be on baby duty when the other has important calls. We then work in shifts and do our best to get work done during the day. We also try to both log off during dinner and bedtime as we had done when we went into the office. It's important to still have an hour or two solely focused on spending time as a family.
4. Help your team understand the complexities of juggling a baby and work: The hardest thing about having a small baby is that they require constant care and attention. I think most people assume that when you have kids at home, you can have them watch some TV or let them do solo activities while you get some work done. Each age group brings their own complexities but having an 8-month-old who wants to constantly be held and can't entertain himself is very hard. I try to communicate openly with my co-workers about my schedule and challenges I'm facing so they can understand why I may be slower to respond at times or may have a squirming baby in my lap during a video call.
5. Find a supportive network: We have a Slack group for moms of young babies that I've found to be immensely helpful. Having people to talk to who can truly understand what you are going through goes a long way.
6. Accept that you can't do it all: This has been really hard for me but I'm trying to accept that I can't always get work done in the same way as I did before or be as present as a mom as I want to be. It's important to try and cut yourself some slack and accept that you're doing the best you can given these unique, difficult circumstances.
Chrissy Fleming, Senior Director, Product
Age group: Infant & Kindergarten
7. Get the kids on a schedule: It doesn't have to be perfect or strict, but having a general sense of what comes after what will help everyone move through the day. We also take a morning walk around the neighborhood "to work/school" together so that gets us in the mindset of transitioning from family time to work time. Having a schedule your family is on empowers you to…
8. Block out time on your work schedule for your family: Set the expectation with your team that there are certain times your family is counting on you (for me, it's lunchtime and around 5:30pm) and that you will be offline.
9. Introduce your kids to your team & vice versa: My family tries to give me space to work uninterrupted, but I find it helps that my 5-year-old knows my coworkers and they know her. It makes it easier for me to say "I'm talking to so-and-so" or "so-and-so is counting on me to get this done" instead of "I'm working." It humanizes both sides of my life when they are more familiar with each other.
Macrina Sheridan, Director, Client Support
Age group: Toddler & Preschool
10. Early morning work sessions: My husband and I are both morning people but had found the first week of quarantine that we were going to bed late, waking up when the kids woke up around about 6am and weren't getting anything done during the day outside of attending meetings. When we would finally sit down to work after the kids went to bed, we were emotionally, physically and mentally tired.
We've started going to sleep between 9-9:30pm and waking up at 4:30am to get work done before the kids wake up. It is a game-changer. We still only get to attend meetings for the most part during the day, but we're much more productive in that 1.5-2 hrs we have in the morning than at night so we feel accomplished before the sun comes up!
11. Blocking time and taking shifts: My husband and I have found that taking shifts with the kids while the other parent works allows us to go all-in on either playing/caring for the children while the other can dive into work uninterrupted (mostly!)
12. Keep routines as much as possible: We discovered very early on in this journey that it was helpful for all of us to keep our morning routine as much as possible. Everyone still comes down for breakfast at the same time we would if we were going to school & work, we all get dressed (my son even wears his school uniform at home), and we even pack lunches in backpacks. We try to replicate his experience in the classroom as much as possible at home to provide structure to his day.
Jena Booher, Strategic Culture Consultant
Age group: Preschool
13. Shift your workweek: Parents are under a lot of pressure to become their children's school teacher. Assignments are sent daily. It's hard to not feel like a bad parent if you feel your child is slipping away from the progress they made during the school year. My work is 50% project-based work, which means I can do my work outside of 9:00-5:00, Monday-Friday. The first week of isolation I was watching/teaching my daughter during the day and working at night. I burnt out. My energy levels are in the morning, not in the evening. I decided I needed a radical adjustment. I changed my workweek and things are a lot better. I work full days Saturday and Sunday. My partner is entirely dedicated to watching our daughter during that time, so I can have real focus time to do "deep work." My "weekends" are now Monday and Friday. This allows me to really be present with my daughter and be a more available teacher to her. It was a big decision to shift the workweek, but it's working!
Carol Ying, Head of Sales Operations
Age group: Elementary School & Pre-Teen
14. Meal plan and delegate: I've been encouraging my kids to help me meal plan, meal prep, or even cook for the past year so this environment provides the perfect opportunity to get them involved. I purchased a meal plan app and created a template that dictates what type of food(s) or protein(s) we want to eat on specified days (ie seafood, chicken, red meat, vegetarian), and then shift meals around during the week when our preferences or schedules change. On the weekends, I make sure I do as much meal prep as I can to minimize the effort during the week. My 8-year old is in charge of breakfast and snacks. Every Sunday, he puts together at least five jars of overnight oats or chia seed pudding that we can eat during the week. Then either every morning or night we prepare fruit as a snack we can have during the day. I have a kid-friendly knife that he is comfortable using. My 11-year old is in charge of lunch when she has time so she can put together a salad or plate whatever we are eating. She and my husband will also cook at least one dinner a week.
15. Calendar and organize: I created a google calendar for my 8-year old that mimics his remote learning schedule for the week, noting the live meetings vs. pre-recorded videos. This enables me to monitor his schedule alongside my own work schedule so if he has questions while I'm on a call, I can easily tell if it's urgent or if it can wait until I'm done with my meeting. At the start of each day, I pull up his calendar, any remote docs, and stack of folders. Each subject has its own folder that contains a composition book and worksheets and stacked in the order of his daily schedule.
16. Divide and conquer: This is the perfect age to step up their chores and transition from table setting and clearing to loading and unloading the dishwasher, folding the laundry, and cleaning the bathrooms. It may not be done exactly how you like it, but at least we're building the habit and keeping your home clean. Worst case scenario, make everyone responsible for folding his/her old clothes including your spouse.
17. Make time for yourself: Even with older children who are a bit more independent, you will be pulled in multiple directions and cannot concentrate as long as you would like. The constant mental switching is exhausting so make sure you prioritize what grounds you and makes you happy. During this period I meditate and work out before everyone is awake and end my day reading for 30 minutes.
Josh Evans, Chief Revenue Officer
18. Have a sense of humor: These little guys are just as stressed as we are about having their lives totally flipped upside down. Most of the frustrating things that they do are actually quite funny when you look at them through the lense that they are just trying to deal with themselves within everything going on in the world.
19. Remember, you're the one in their space: In my career, whenever I have to work from home I try to make everything perfect for the person on the other end. I overcompensate for the fact that I am the one requiring special accommodations. I learned on day 1 of the current work from home that if you treat work as more important and try to isolate yourself for zero disruptions, you're just going to make things worse. So go with it and again, have a laugh.
Do you have any good tips for working from home with your children that we missed? We'd love to hear them! Share them with us by emailing info@vts.com.