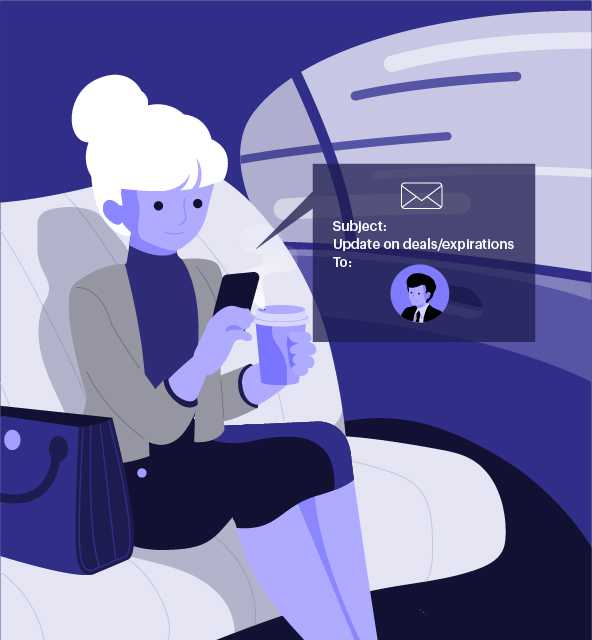 On the commute to work, Harriet, the Head of Leasing for Wright Tower, emails Liam, the building's Leasing Rep, asking for updates on his deals and any upcoming expirations so they can get ahead of them. She waits for his reply to get insight into what's happening at this asset and to see if she needs to get involved.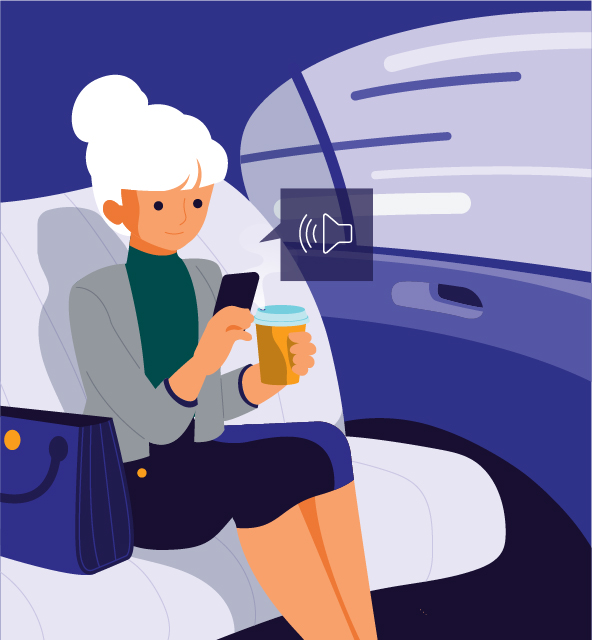 On the commute to work, Harriet, the Head of Leasing for Wright Tower, receives an alert from VTS that a lease in the building is expiring in six months. Harriet tags Liam, the Leasing Rep, in a comment on the VTS Tenant Profile, asking for an update on the renewal plan at their next leasing meeting.
8:00AM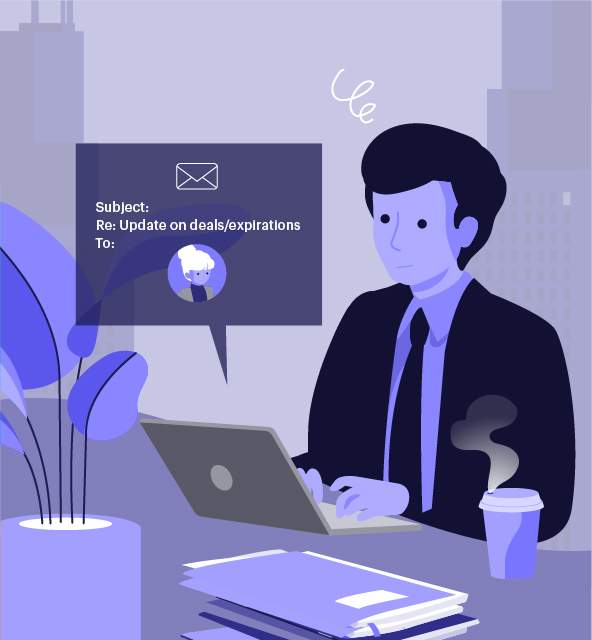 At his desk, Liam receives the email and responds that all deals are progressing. He isn't aware of any renewal conversations coming up.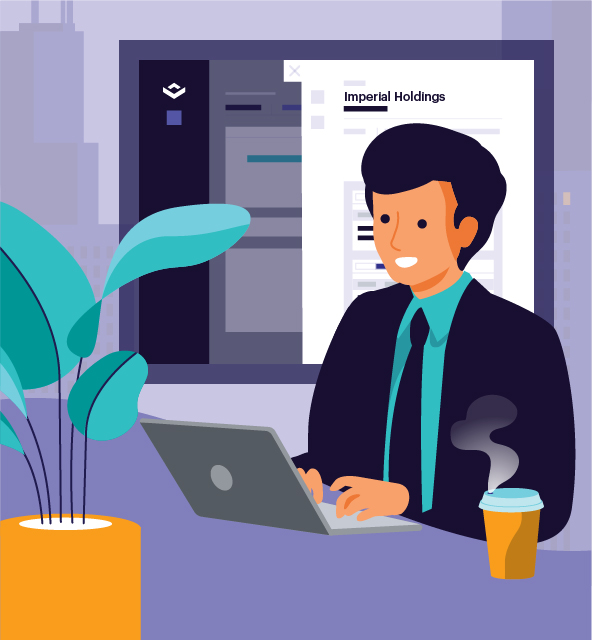 At his desk, Liam receives the notification and immediately opens the Tenant Profile in VTS to get more information. Liam sees occupancy data from VTS Rise that shows the tenant, Imperial Holdings, has only been using 50% of their space for the last six months. That's not a good sign.
8:30AM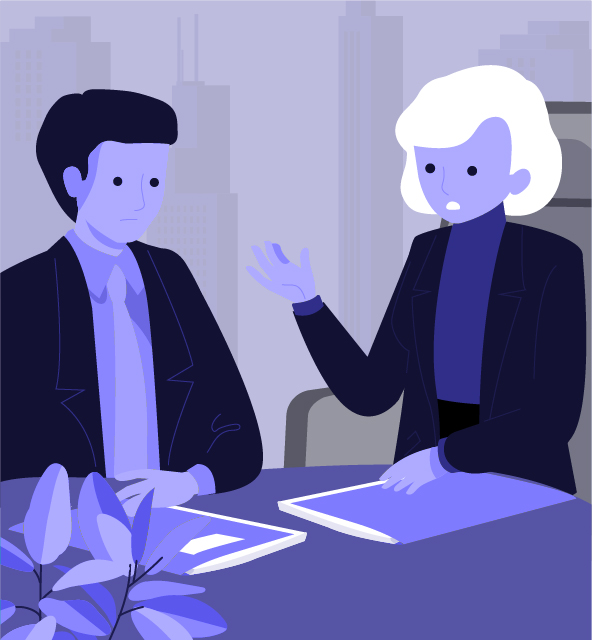 Liam schedules his weekly check-in with the property manager at Wright Tower. When they meet later that week, the property manager mentions in passing that she hasn't seen many of the employees from Imperial Holdings, a tenant on the fourth floor.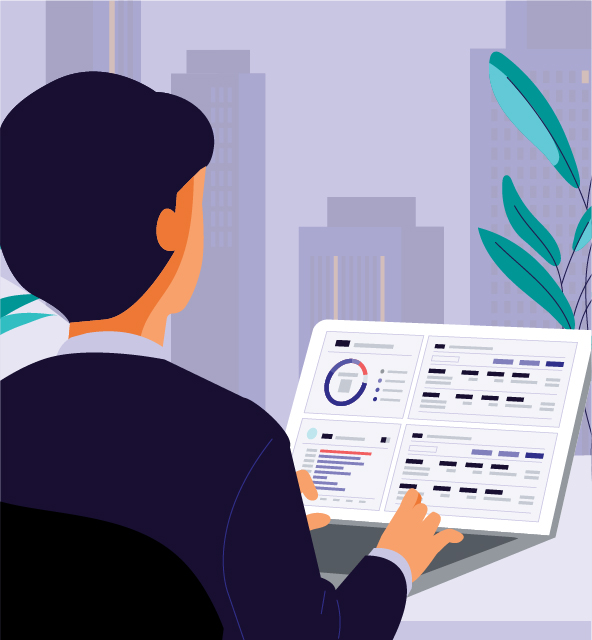 Liam also reads a recent tenant update from the property manager at Wright Tower: Imperial Holdings is happy in the building but is switching to a flexible work arrangement and may want to downsize. He also sees in the VTS Network Insights Dashboard that this tenant is one of the top contributors to lease revenue across the company's global portfolio, with five active leases and also three open deals. This is definitely a tenant they want to retain.
9:00AM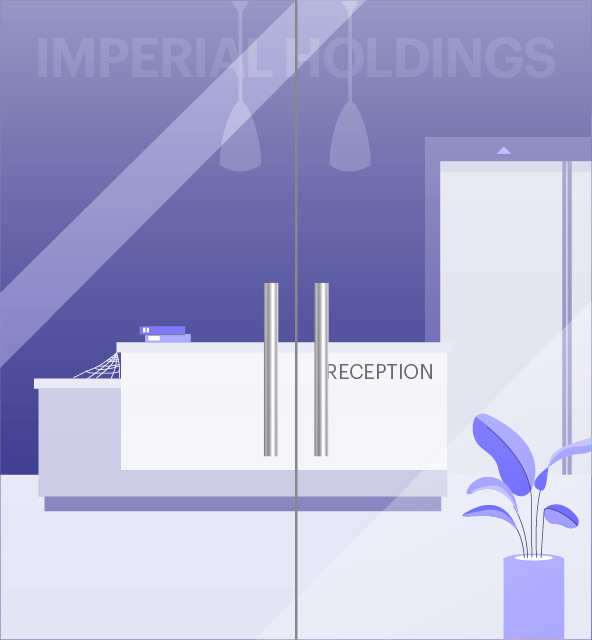 Imperial Holdings has felt left in the dark on the latest return-to-office policies at their building, Wright Tower, so it's easier to work from home most days. When they do come into the office for an important meeting or special event, they have difficulty getting through security at the lobby, don't know how to book or use the available amenities, and never feel like they know what's going on at the building. This has made it difficult for them to create their own return-to-office plans.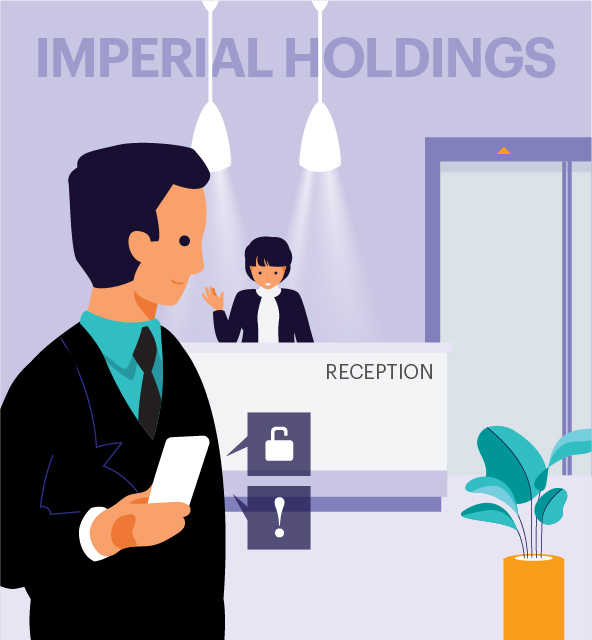 Imperial Holdings is connected to everything that Wright Tower offers through one easy-to-use tenant experience app, including return-to-office forms and policies, amenities booking, and community events. Using the app, they can also buzz through the lobby security, call an elevator, and access their office space. With all the updates from their building in one place, Imperial Holdings feels confident and excited to create a return-to-office plan that works for them.
12:00PM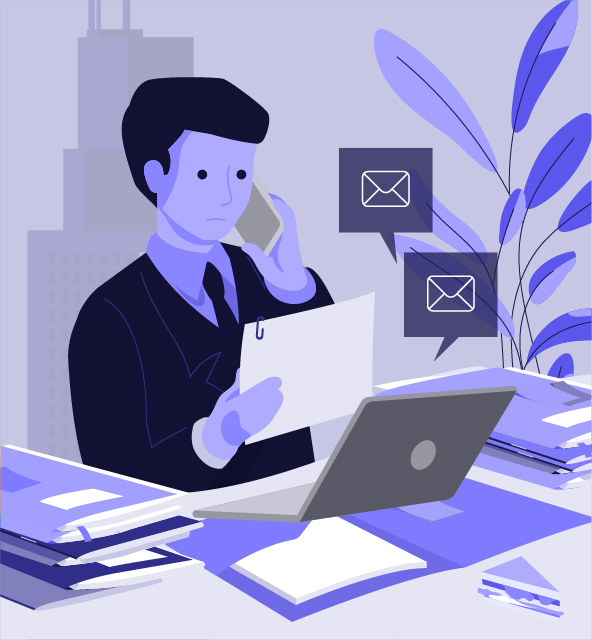 Back at his desk, Liam calls around to get a copy of Imperial Holdings' lease and digs through old files trying to find the notes he has from previous conversations with this tenant. He sees that their lease is expiring in six months — so he better figure out if they plan on renewing. Liam tracks down an email address for the original contact with Imperial Holdings, but his email bounces back because that person no longer works at the company. Liam leaves a message with another contact to find out how to kick off renewal conversations.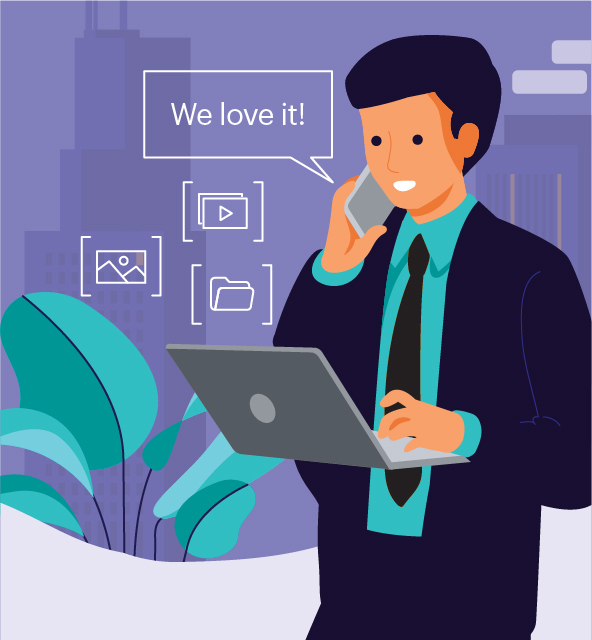 To get a better sense of what he can do for the tenant, Liam opens the VTS Site Plan for Wright Tower. Bingo! There's a vacancy for a smaller space on the fifth floor. He checks the network contacts on the Tenant Profile and gives the key point of contact in this market a call to gauge interest in this smaller space. They seem interested! Right after the call, Liam fires off an email with beautiful digital content and a virtual tour from VTS Market so that the tenant can visualize the new space. They call back right away and say they love it.
1:00PM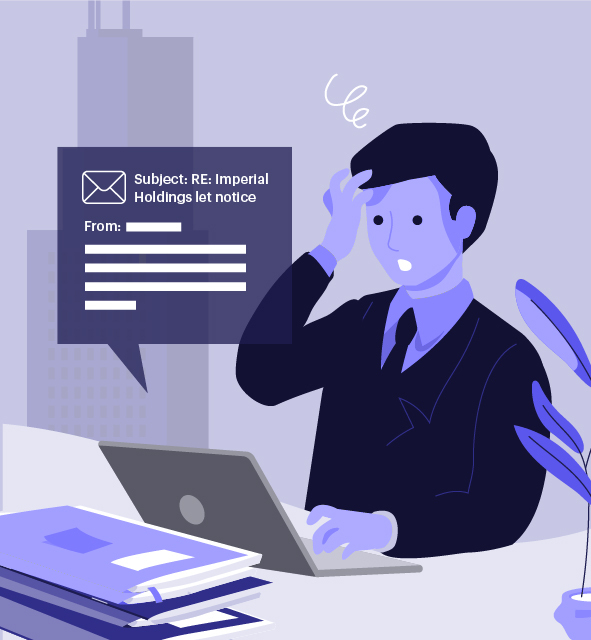 Liam finally hears back from the tenant. They're switching to a flexible workplace model and don't need as much space to accommodate their employees anymore. Another landlord who they've worked with on leases at their other office spaces has already been in touch, and they've signed a new lease to move into a different building when their current lease expires at Wright Tower. Liam was still putting together the entire picture of Imperial Holdings' relationship and wasn't aware they had multiple office spaces.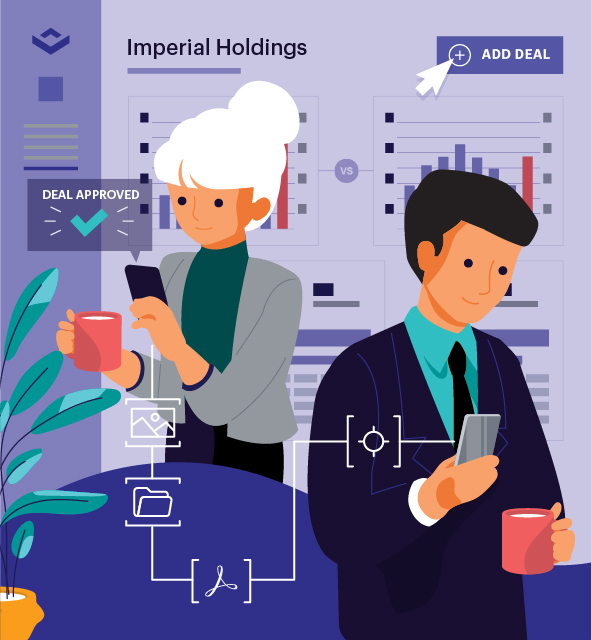 After an in-person tour to seal the deal, Imperial Holdings is ready to sign their new lease. Liam builds a proposal, referencing market-level NER trends from VTS Data. He then kicks off the approval process in VTS so that Harriet is notified to review the deal. She easily signs off from her VTS mobile app. Once approved, Liam generates a branded LOI directly from VTS and sends it off to Imperial Holdings. Within the same day, the tenant has signed their new lease — and Liam has successfully saved a relationship with a valuable tenant.
3:00PM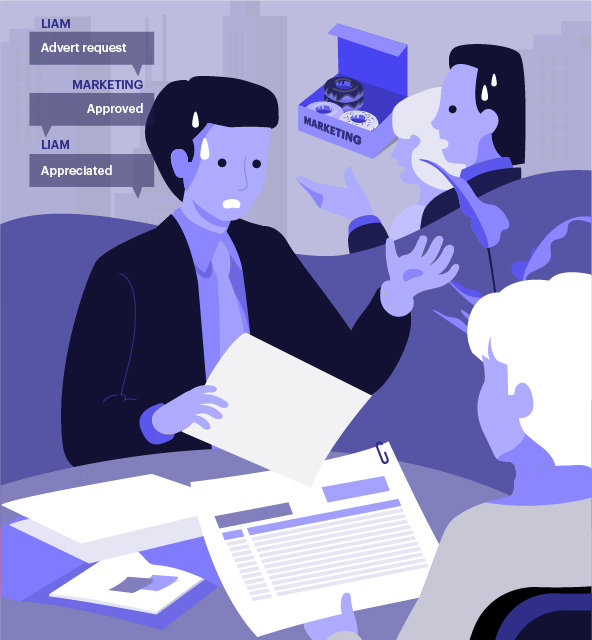 Now Liam realizes he has one open vacancy and another one looming. He reaches out to the marketing team to start creating collateral for the listings and starts making phone calls to his broker connections in the market. Meanwhile, Liam has the weekly meeting with Harriet and has to share the bad news that they've lost a tenant on the fourth floor.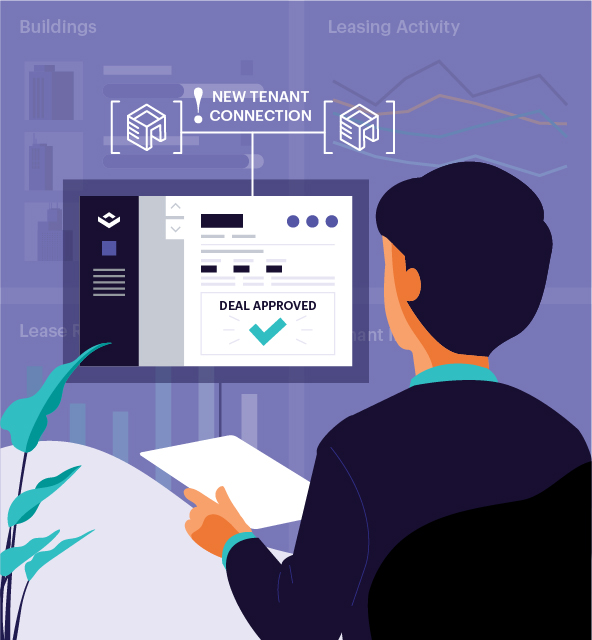 Meanwhile, Liam wants to make sure he can quickly fill the space on the fourth floor that Imperial Holdings is leaving. He initiates a new listing through VTS Market and soon sees a new inquiry in VTS. A Deal Connection Alert pops up, letting him know that the prospective tenant inquiring about the space already exists in the portfolio. When he clicks into their Tenant Profile, Liam sees they have an active lease in another city. Liam calls his counterpart in that city and gets the inside scoop. Using this insider relationship context, he's able to build an informed deal strategy that results in closing the deal.
4:00PM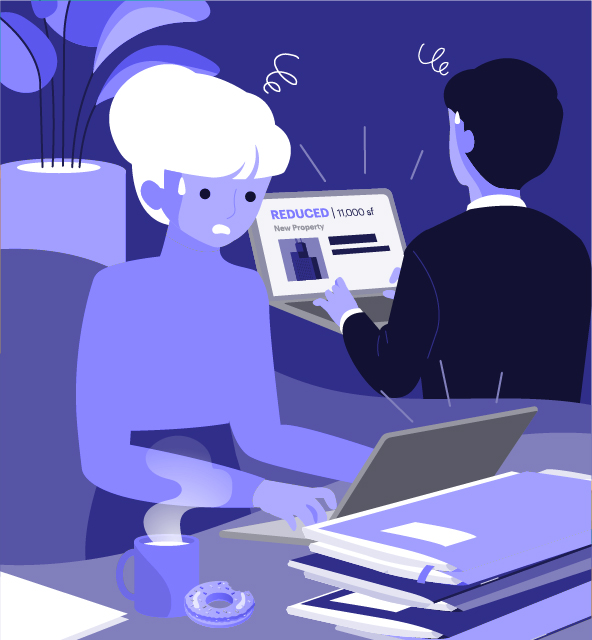 With two high-priority vacancies in Wright Tower, Liam and Harriet decide to lower their asking rents to hopefully attract tenant demand and fill the spaces quickly. They're not sure if this is in line with market NER trends, but they need to fill both of the spaces ASAP. They're worried about the ongoing downtime in their building.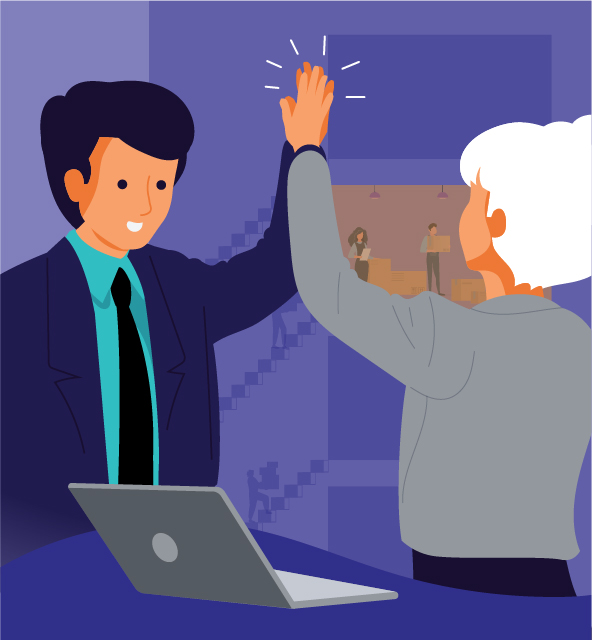 Liam and Harriet rejoice that they've saved and expanded relationships with valuable, existing tenants while eliminating months of extra downtime!
5:00PM
Want to see how you can transform your day-to-day?
The VTS platform transforms the way decisions are made and executed across
the entire asset lifecycle. See it in action.
Request your free VTS demo today.