What you can do with VTS 3
SURFACE ACTIONABLE INSIGHTS
Business Intelligence
Build a better strategy with critical business insights and portfolio risks sent directly to your inbox. Share instantly with colleagues and partners to inform important decisions.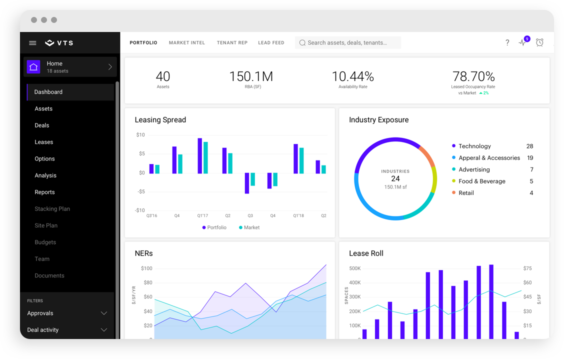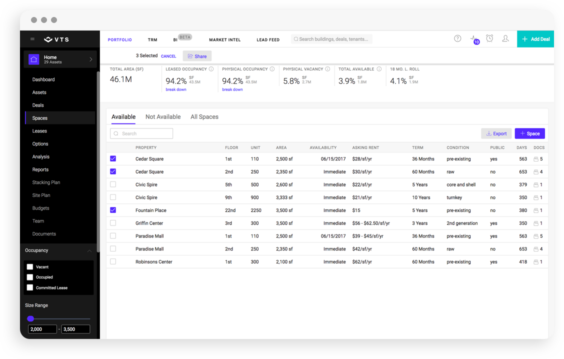 EASILY MANAGE AND MARKET YOUR SPACES
Inventory Management
Manage lease information for all of your assets and generate leads on available spaces. Crisply visualize activity for your office, retail and industrial assets through dynamic and filterable asset plan reporting.
We've been able to push out an offer same day, and I don't think that would happen without VTS.
Anthony Paes-Braga, Asset Manager
Nicola Crosby Real Estate
UNCOVER HIDDEN OPPORTUNITIES
Tenant Management
Complete visibility into your tenant relationships including contacts, sentiment, and health. Uncover hidden relationships that will help you close new deals faster with VTS proprietary AutoLink algorithm.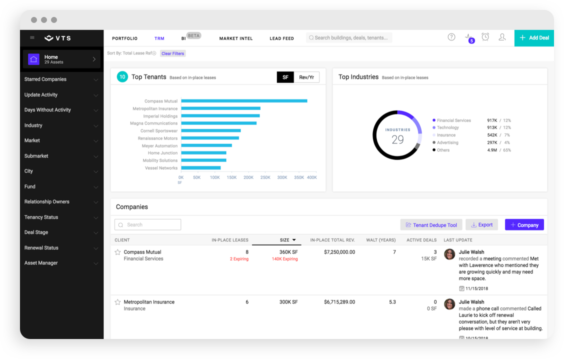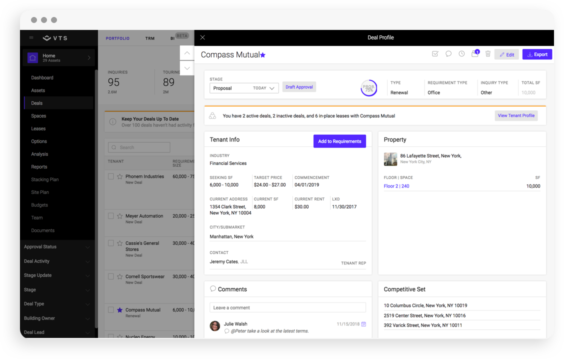 DON'T LEAVE MONEY ON THE TABLE
Deal Management
Stay in the know and monitor every opportunity from the second a prospect enters your pipeline. Log requirements, track tours, comment to colleagues and compare deal financials side by side.
VTS pays for itself every single year just by being able to move our deals quicker.
Jim Wittman, COO & SVP
Regency Properties
TIME KILLS ALL DEALS
Deal Approvals
Keep deals moving on the go. Receive alerts when your attention is needed on a deal and analyze, approve or reject deals from any device.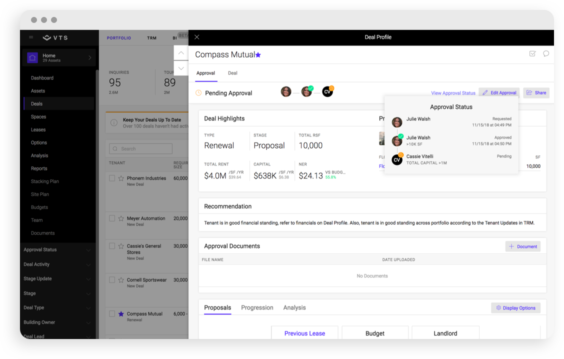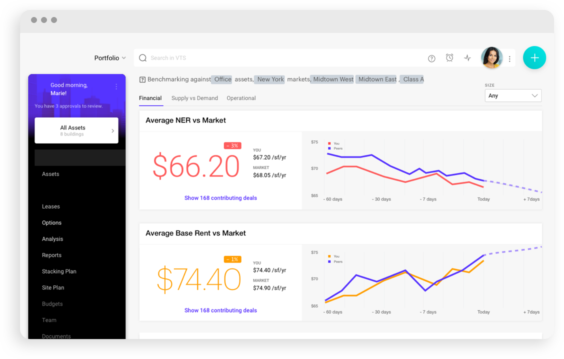 Coming soon!
MarketView
The first ever set of real-time CRE benchmarks that compare your key business metrics to the industry, enabling you to make decisions and maintain a competitive advantage.
LOOKING TO REACH MORE TENANTS WITH YOUR LISTINGS?
Check out VTS Market - the industry's chosen marketing solution for today's digital world