Bitcoin and Blockchain Technology: A Starter's Guide for CRE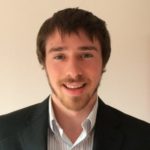 Bitcoin has been a hot topic lately. Its value skyrocketed from $600 apiece last September to peak near $5,000 in early September this year. China is trying to shut the cryptocurrency down and Jamie Dimon called it a scam, but despite all that, it looks like Bitcoin is just getting stronger.

Despite this attention, many people in the commercial real estate world don't really know what Bitcoin is, how it works and why it's positioned to revolutionize the way we do business. Of course, it's always risky predicting exactly what type of impact a new technology will have, and from its use among criminal entities to a general lack of acceptance, Bitcoin has its work cut out for it. All the same, from Bitcoin's potential to drastically increase CRE business efficiencies to reshaping contracts, players in the industry have their eyes on Bitcoin.
Bitcoin and the blockchain
Bitcoin is a type of digital money. While the mechanics that create it are complicated, most people who use Bitcoin just see it as online cash. That's a fair description, and every year more vendors worldwide accept Bitcoin as a form of payment. There are currently more than 2.5 million things you can use it to buy, including real estate.
But unlike conventional currencies, Bitcoin is decentralized. No institution or government controls the network, rather it's created by computers using specialized software to solve mathematical problems. Because it's decentralized the Bitcoin network has no middlemen, and that translates to transaction fees that are often less than those charged by traditional financial institutions. Since it's entirely digital, bitcoins can be used to make purchases and transfers globally. Those payments used to only take a few moments to complete, but recently technical problems are pushing transfer times back 12 hours or more.
Bitcoin does not run on its own. It is supported by a shared public database, the blockchain, that automatically timestamps each transaction. The blockchain links every transaction together chronologically, secures the network and makes each transaction final (no returns, sorry). This ledger contains the entire history of Bitcoin transactions and is available to the public.
Why Bitcoin and blockchain matter
Bitcoin and blockchain technology have the potential to dramatically impact the commercial real estate industry. Developers could use the technology to cut transaction fees and increase efficiencies by taking advantage of a fast, secure and fully documented public ledger.
In research published this year, Deloitte said blockchain-based smart contracts have the potential to transform core CRE operations, including all aspects of property transactions. Everything from conducting due diligence to managing leasing cash flow could be improved and made more efficient by utilizing blockchain technology. While Deloitte admits that blockchain technology is still in its infant stage, it said CRE firms that successfully implement the technology could automate large parts of the leasing process. That would create new efficiencies while making the process more exact and secure.
Some industry experts think blockchain could be used to secure property titles, according to Realtor Magazine. That would revolutionize the mortgage and title process and combat fraud by making it virtually impossible to forge documents. The International Blockchain Real Estate Association is already working to make this a reality. The group is trying to create "open source, nonprofit, secure and scalable" universal platforms for property and title. They are also working to create digital deeds.
While there are many ideas on how Bitcoin and blockchain could impact the industry in the future, at least one CRE firm is already taking advantage of the technology. Fortune recently reported that The Knox Group of Companies will develop a $325 million commercial and residential property in Dubai and let future residents buy their units with Bitcoin. This is the first major real estate development that will accept Bitcoin as payment, and the firm's chairman said he's targeting Bitcoin early adopters who may be looking to trade the huge gains they have made for hard assets.
Turbulence and promise ahead
Not everyone is a fan of Bitcoin. J.P. Morgan CEO Jamie Dimon recently said the currency is only fit for drug dealers and murderers, and added that he would fire any employee at his bank found using it. Dimon related Bitcoin to the famous tulip market bubble from the 1600s and said it will eventually come crashing down.
While certainly not its primary purpose, Bitcoin has been used to fund illegal activities. Criminals may gravitate towards the digital currency because it is hard to trace and payments made are permanent, and early this year hackers demanded $28,000 in Bitcoin from the Los Angeles Community College. Bitcoin defends itself from claims that it is associated with crime by saying, "Bitcoin is money, and money has always been used both for legal and illegal purposes."
Adding to Bitcoin's list of woes, the Chinese government recently cracked down on Bitcoin trading within the country. Chinese authorities said the move is designed to reduce the country's financial risks and fight criminal activities. While Bitcoin initially plunged 41% from its record high following the news, in a matter of hours Bitcoin recovered most of its losses.
But when it comes to challenges, Bitcoin's largest obstacle is undoubtedly its general lack of acceptance. Much of that is due to misunderstanding or lack of knowledge on the currency and blockchain, but that is steadily changing. Bitcoin promises to make transactions faster, more secure and more efficient, and blockchain technology could revolutionize the way the CRE industry does business. While it's too early to say whether Bitcoin's promises will come to fruition, it's certainly a technology worth watching.