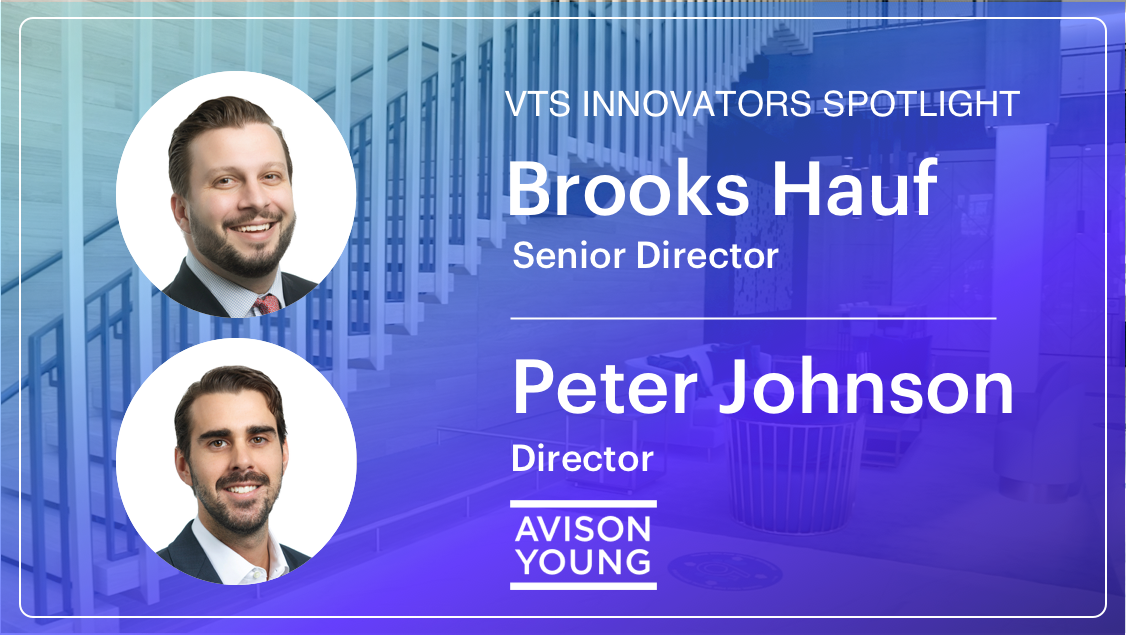 Brooks Hauf and Peter Johnson on Using Virtual Tours, Digital Marketing, and All-New Virtual Tourbooks to Move Space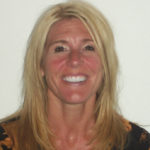 Over the last year and a half, COVID-19 has accelerated the commercial real estate industry's adoption of data and technology. Why? In many cases, to help kickstart the leasing process in a market of limited demand where the majority of tenants are still hesitant to tour space in person.
Enter Avison Young Senior Director, Office Leasing Brooks Hauf and Director, Office Leasing Peter Johnson. This duo is helping their landlord clients pivot to online marketing and leasing efforts in order to continue moving space during the pandemic. Avison Young has always been at the forefront of cutting-edge technology in CRE and that mindset has made them a powerful partner to landlords and tenants alike.
VTS sat down with Brooks and Peter to find out how they've been streamlining their processes through the use of digital marketing, virtual tours, and all-new virtual tourbooks. The pair told us that the pandemic has been a forcing function for people who previously wouldn't have gone digital, to do so, and brought tech to the forefront of the industry. And "if you're not going to adapt, the industry is going to leave you behind."
Enjoy!
VTS: How did you get your start in commercial real estate?
Brooks Hauf: I went to Trinity College in Hartford, Connecticut, as did Peter. During my senior year, I was introduced to Peter Duncan, CEO of George Comfort & Sons. After he and some other mentors took me under their wings, I got connected with John Cefaly, Executive Vice Chairman at Cushman & Wakefield. I worked with John, Gus Field, and Rob Lowe at Cushman for about five years where I learned quite a bit and was exposed to large-scale deals on the tenant rep and landlord rep sides of the business.
After that, I had a wonderful opportunity to come to Avison Young and start something very different and collaborative. The first person I called was Peter. We played lacrosse together, we were in the same fraternity, and he's virtually my brother. I needed somebody I could trust. Peter was my first call, even though he wasn't in the CRE industry.
Peter Johnson: So I was a transplant from the financial services world. After Trinity College, my first job was at Bank of America Merrill Lynch. I worked in private banking for about seven years. I worked with high-net-worth individuals and institutions, focusing on the client relationship side as well as business development. By 2017, I was ready to make a switch. The timing couldn't have been better when Brooks called and asked me to join AY's team. He said I would be great in this industry and my skill set from the financial services world would transfer to real estate. He needed good people first to build a solid foundation. We've been doing this for over four years now, and we're rocking and rolling.
VTS: Can you tell us a little bit more about Avison Young?
Hauf: Avison Young is a global 5,000-person company that's tech-driven, so we're very forward-thinking and progressive. We're the largest, privately held commercial real estate brokerage firm in the world. As we've grown around the world, we recently opened our Tel Aviv office and a few other international offices, which are huge to add to our arsenal.
VTS: What does the day-to-day look like in your roles?
Hauf: We handle tenant and landlord conversations, proposals, and tours. We talk with agents for different buildings on behalf of our tenants to understand the relative value in the market. We conduct site surveys and do strategic sessions with our clients. We also work with Avison Young's in-house technology platform, which helps add an additional layer of insights with real-time real estate data.
We've become data scientists in the last year. We do a little bit of legal, a little bit of arts and crafts, and a little bit of marketing. Every single day is something different, which is why we love it.
Johnson: Our days are jam-packed. Time is the most important asset we have, so how do we operate efficiently and get things done and delivered to clients with an A-plus effort, but also in the most expedient amount of time? That ties into how and why we use the VTS platform. With VTS, I don't have to spend two days putting together a booklet for a client. It now takes me as little as 10 minutes on the more streamlined platform. I hope the use and impact of technology like VTS only continues to grow within our industry.
VTS: In an environment where transaction activity is increasingly occurring online, how have you had to change your processes or approach to doing business?
Hauf: We quickly pivoted to digital, which I feel is true for a lot of companies. We were fortunate enough to pick up one million square feet of listings during the pandemic, so we really leaned into the benefits of digital marketing and virtual tours, especially as a majority of people were uncomfortable taking an in-person tour. Even today, what used to be the first tour is really now the second tour. Virtual tours are giving executives that much more information to minimize risk and make the most informed, cost-effective decision for the company. Having more flexible solutions to bring to our clients has also been important as we're trying to build consensus among multiple executives who are probably sitting in multiple places geographically and don't have the benefit of physically touring the space.
To the value of digital on the landlord side, we've had multiple proposals received and deals completed where there wasn't a broker on the other side; it was a tenant reaching out to us directly. On the tenant side, we've received an extraordinary amount of unsolicited proposals; sometimes without our client ever having physically toured a space. The last year and a half has been a unique time that's changed the whole process of signing a lease.
Johnson: We also have to streamline everything, at least from an agency side. With our owner rep clients, we want to give as much transparency as possible in all phases of the deal, whether it's a tour, incoming proposal, where we stand with that proposal, or what round we're trading in. So having VTS Marketplace integrate into the VTS Lease dashboard many landlords are already using for this source of truth has been key.
And on the tenant rep side, most of our clients are tech-savvy. They don't want a PDF or a massive book when they arrive on a tour. That's outdated, and candidly, needed to be changed anyway. COVID-19 was, dare I say, a blessing in disguise because it's forcing people, who previously wouldn't have gone digital, to do so and brought technology to the forefront of our industry. If you're not going to adapt, the industry is going to leave you behind.
Hauf: In many ways, it was archaic in how we marketed space, so our world has really changed. A healthy majority are still behind. Even the smallest metrics that you can get, such as sharing space videos on social media, has translated into 10,000 views at some of our properties. And from the standpoint of broker efficiency, these tools allow us to be more efficient, share information in formats our clients can easily understand, and remove a lot of the guesswork — all of which really streamlines our process.
Johnson: From the tenant rep perspective, landlords have to expect that if they don't have their space marketed with quality photos, virtual tours, and digital floor plans, that space won't go into a tourbook for one of our clients — and you won't be put in a position to be generating tours. It's as simple as that.
VTS: Have landlord expectations changed in terms of how brokers can continue to deliver value? What adjustments have you made in response, and what role has technology played in helping you navigate?
Hauf: For our landlord clients, it comes down to information. More information is necessary, especially now. It's knowing who's in the market touring spaces, what tenant rep brokers are active, and tracking when tenants need to be in the space. It's figuring out current and future headcounts. Landlords want more information so they can curate spaces to meet tenants' needs. We're listening to the market and making sure we're in contact with brokers every single day to stay on top of changing requirements and staying in lockstep with the tenant reps.
Additionally, it's having information and making sure it's visible to the world. With VTS Market, we can see how tenants are looking at and interacting with our spaces online. That's really impactful to share with our landlords so that we can help them become more strategic in their visibility. Landlords were already using VTS for leasing and reporting, so it's been a natural stepping stone for the platform to take this next step.
Johnson: As it relates to the changing environment, tenants need more flexibility than ever due to the available competitive space and sublease space. So how do owners stay competitive in a market like this to get in-person tours and signed deals? It's all about flexibility, whether it's the length of term or the ability to maneuver quickly and modify space to fit a need. Our suggestion to many of our landlords is to take a two-year lease term for furnished, turnkey space, show how they can benefit that client, and they'll eventually turn that into a longer lease term. But landlords are going to lose out if they can't stay competitive and flexible.
VTS: What other industry trends are you aware of in terms of demand, and what strategies are you creating to stay ahead of them?
Hauf: We're seeing a lot of demand in Grand Central and even in Tribeca areas. We've heard many people say they don't want to make their clients go from one train to the next train to get to work every day, so coming into Grand Central is a big ask. We'll see that continue. We've seen additional activity in Times Square and the Penn Station areas. Downtown is still ratcheting up, but it seems to be moving forward. The tenant rep world has become much more strategic and consulting in nature. We're focusing on headcounts and figuring out the growth and return-to-work strategies for clients. Built, furnished space with limited capital expenditure is in high demand.
Johnson: We're also seeing a flight to quality, confirmed by the success of One Vanderbilt and Hudson Yards, and that's what we're hoping for at 56 North Moore. Nowadays, tenants want to be in an environment where they feel comfortable and safe. Also, tenants are less prone to a price point. If you can give tenants quality, built space, and access to transportation, those spaces will move in this market.
Hauf: We're also seeing a flight to quality in other markets. People are thinking about their headcounts and how to get people back to the office, and a lot of that's with quality rather than quantity. Companies are taking less space and making it more flexible for people to come in. We're doing a few deals in Maryland and Pennsylvania, for example, and it's seemingly the same story: If you're going to bring people back to work, you need quality space to entice them.
VTS: When it comes to driving leasing activity, what are some challenges that have been addressed with VTS Market & Marketplace?
Johnson: If I go to a client meeting and they want 10,000 square feet in downtown Manhattan at $60 a foot for high-quality, furnished, ready-to-go space, I used to go to other listing platforms where I would receive over a hundred options. Then I'd need to spend a lot of time manually narrowing down the list one by one, by calling every agent, and getting the additional information.
This process to go from the initial search to delivering the tour book to that client would take at least a day or two. That's not to mention that after populating the final list of spaces, I had to do some arts and crafts in a PowerPoint presentation to create something I would consider client-facing friendly and A-plus work. It's crazy that this two-day turnaround was standard in our industry.
Brooks and I believe that your clients should get a response back to you within an hour of their correspondence. If they want something back, it should be sent back within that hour. That's impossible as it stands, but with VTS, I ran a search this morning for an upcoming client tour for those exact metrics, and that two-day process took me 10 minutes. I went through each space and each one had everything populated: rents, detailed specs on suites, whether it's furnished/unfurnished. I then put it into a virtual tourbook to send it, share it, and have it updated in real-time if I want to add a space, subtract a space, or add my own edits/comments. That's literally a market-changing technology that frees up so much time for brokers — and every one of them should be using this.
Hauf: I completely agree. That hits home from an efficiency standpoint, but VTS Market & Marketplace also adds another layer of trust. This transparency allows clients to see what the market value is right now for factors that matter to them. It gives them more transparency to share with their teams and it helps to build synergy between brokers and tenants in a time of so much uncertainty. This layer of trust has helped build a stronger bond and helps our clients make smart, educated decisions.
We received a request from a client who wanted to tour updated options in Soho. Instead of having to go back through the other listing sites and get all the new relevant data, with VTS Marketplace, the new search was instantly pre-populated with everything I needed. All I had to do was tinker with the virtual tourbook for five minutes and send out the updated book.
In the old world, if I waited a week and more space came to market, I'd have to go back and redo the entire book to resend a new PDF email to a client every time because my book would be outdated. With VTS Market & Marketplace, I don't have that. Everything in the virtual tourbook is real-time so it's ready for the client to go back and check at any time. It streamlines that back and forth and makes it easier for all parties involved, with the client at the forefront.
VTS: Lastly, what would you be doing if you weren't in commercial real estate?
Johnson: I'd be a youth lacrosse coach. I would like to teach our younger generation how to truly navigate around on the lacrosse fields.
Hauf: That's funny. I was going to say Peter and I would work together in a personnel department for a sports team, preferably football. We're already used to that team atmosphere after working together the way we do. It's not about ego or getting the credit, it's about doing the best for the client. That's probably why we both chose sports.