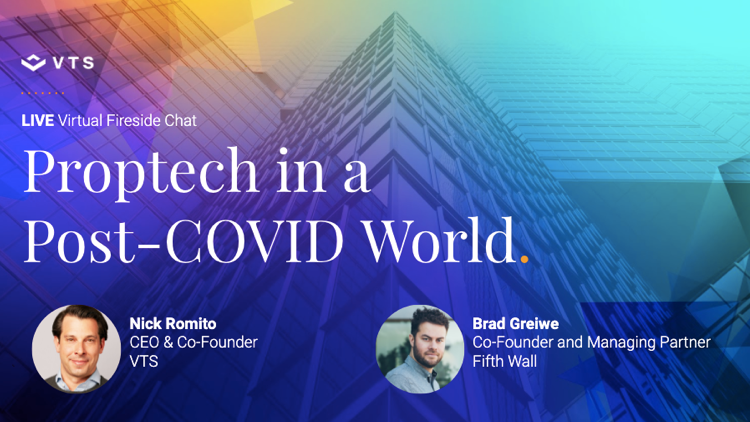 Fifth Wall Co-Founder and Partner Brad Greiwe on Proptech in a Post-COVID World [Webinar]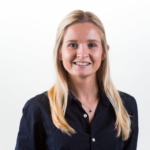 Sr. Manager, Content Marketing, VTS
Since the start of COVID-19, VTS has been committed to delivering the resources the commercial real estate industry needs to navigate the impact of the pandemic. We heard loud and clear that people wanted to hear directly from industry leaders about how they're managing their teams, tenants, and portfolios through the crisis. That's why we launched our new virtual fireside chat series.
Second in the series — A Virtual Fireside Chat with Fifth Wall's Co-Founder and Managing Partner Brad Greiwe on Proptech in Post-COVID world. Fifth Wall is the first and largest VC firm focused on the intersection of real estate and technology. Their network of LPs includes some of the largest investors in the world. They activate opportunities by investing in early-stage companies and by helping their strategic LPs from the real estate industry implement those technologies across their portfolios to generate real value for their organizations.
In this webinar, Brad and Nick talked through how Proptech has evolved, why commercial real estate has previously been slow to adopt it, and which solutions will be critical for landlords as they prepare to reopen their buildings and welcome tenants back to work. Enjoy!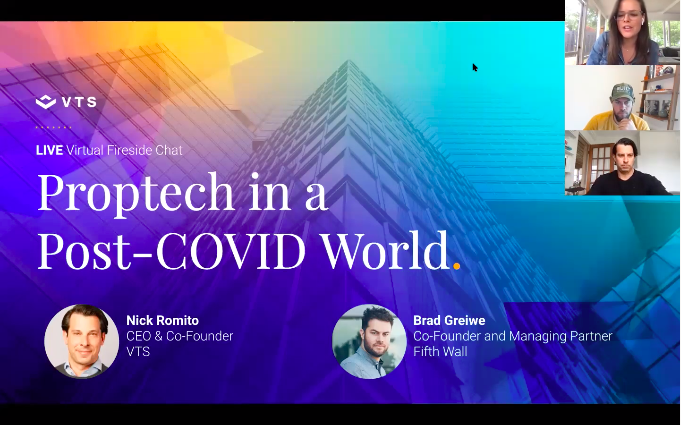 What's the single biggest change you've seen in the Proptech space over the past four years, with the exception of the past three months?
Brad Greiwe: It's been a confluence of a lot of different factors. There's the inaugural Proptech class from the early 2010s maturing to a point where they've now built enough product, credibility, and engagement to demonstrate ROI. I think VTS blazing that difficult path was extremely important because, without that track record, it would be really hard for us, especially when we raised in 2016, to tell a credible story about what it really means for an industry that's been wildly behind in technology for far too long to move up that adoption curve and generate real results.
Second, I think real estate owners and operators have realized that with more money and more data, the old playbook doesn't work as well, and there's a real need to create competitive moats and reaffirm competitive positions with greater efficiency by using technology and innovation. It took the industry a few years to really recognize and realize that. And now that it's started to take hold, the last few months have really reinforced and accelerated that.
Nick Romito: To your point about this inaugural class of Proptech, when we started in 2012, Proptech wasn't a thing. It was VTS. It was a company called 42Floors. Shortly after that, Honest Buildings, CompStak, so there was a 2012 class, all of which, except for one I think, are still around, which is great. But Proptech wasn't a thing.
And there was certainly no venture capital. I remember very, very clearly my first meeting with a venture capitalist, who was introduced to me through a friend. I had never met with a venture capitalist before, but my friend introduced us and said he was really smart and would give his honest opinion on what we're doing and the opportunity. He says to us, "no one's going to buy this, no one's ever going to invest in this category because these people will never change." But fast forward to today, and you'd be hard-pressed to find a fund that doesn't have some percentage of their capital for Proptech in some capacity. I think Fifth Wall really pioneered that.
And I've always said that I firmly believe that when someone gets on a platform like ours, there's no going back. No one's ever going to say you know what I hate VTS, I'm going back to Excel. But now the past three months have really tested that hypothesis. There are people in every organization who don't want to change. And they've always said I don't need this or that because my team sits outside my office and I can get what I need. Well, guess what? The past three months, you can't get those answers and it's now an environment where you've been forced to use technology whether you like it or not, so you get to actually see the benefit and get back to work in some capacity if you have a platform. While I didn't want a global pandemic to be what helps catalyze this thing, I think it has opened people's eyes to the fact that if you don't adopt technology, you went from being behind to not being able to compete at all.
Why do you think commercial real estate has historically been so slow to adopt technology?
Brad: There are so many different ways to answer that question. One thing that I think has been proved out over the last few years, and we've been harping on it for quite some time and it's part of the reason I think the proliferation of flexible workspace has been so dramatic, is just a shift in consumer expectations about what it means to operate and exist within an office asset. That experience has remained stagnant and stale for the past 50 years. And based on the tech-enabled experiences consumers are having in their homes in multi-family and residential assets, they want at least some semblance of that experience in an office setting.
It's going to provide an opportunity to provide those tenants with more services and monetize them in different ways that extend well beyond the lease negotiation. That requires transformation to a certain extent of the existing business model, but at the same time opens up a massive aperture of monetization that just hasn't existed and really creates an impetus for office landlords to build brands for the first time and develop real customer engagement that they just haven't done in the past.
Nick: The one thing I would add to that is if you look at other software platforms that have grown quickly, such as Salesforce, integrations into other platforms are a core component of that growth. And the larger incumbents in this space for so long were completely non-flexible to integrating with anything. I think at this point, VTS is the most integrated platform in the industry. But it took about three years for our customers to go to these other systems and say, you've got to give these folks an API because we want our data in their system. And it's really hard for any modern technology company to offer or provide the kind of value you want if it doesn't integrate and take other data in and push other data out. I think that lack of willingness for the large incumbents historically to really work with other players was a huge impediment to innovation in commercial real estate.
I also think the way we build technology is so different now than when those companies probably started. Back in the 90s, you needed to have your own server and it took a year to get a release out. Now it takes a day. We don't need to buy anything, it's off the shelf, it's in the cloud, and the next day you have access to the latest version. The speed at which you can deliver value is so fast. I think the third piece is obviously the iPhone right? Real estate may be the most mobile workforce in the world who largely had no mobile technology. Then the iPhone came out and changed everything.
What's the general sentiment of the industry right now? How are they thinking about this very new landscape?
Brad: I think everyone across the board went into crisis mode when COVID-19 first hit. Let's batten down the hatches because the world has changed too dramatically, too fast, and nobody can make heads or tails of it. The good news is that over the last month or so we've seen everyone emerge from their shells and start to go from playing defense to actually looking to play offense. That's been extremely encouraging and that offense is reflected in reinforcing current business models and also challenging them and taking advantage of new opportunities in a post-COVID world.
How is the industry thinking about the return to work and reopening their buildings?
Brad: The initial focus on the health and wellness of tenants is going to be paramount. The operational changes, the infrastructure changes, and again the technology changes are going to be where a lot of landlords are focused first and foremost right now.
There's a strong corollary to what happened to airports post 9/11, there's going to be a similar change to office lobbies. I think a year from now it will seem like everyone will forget what it was like to enter an office building prior to that. But I think a show of force for landlords to make their tenants feel like they have the proper operational and infrastructure improvements in place are going to allow them to feel confident that this is a safe haven, not a place where you come to get sick. And it goes back to my earlier comment about the opportunity landlords have to build a true brand. Brands are going to be paramount here because brands come with trust. And not many people unfortunately even know who the landlord or owner of their building is.
The grand experiment of open floor plan intensification is over and while I don't think we're necessarily moving back to those corner office concepts, I do think there needs to be a thoughtful re-imagining of office space — that's not guessing, but actually using real data to determine it. And again, landlords potentially have a really unique position to be an active participant in providing that access and insight so that employers can make better decisions.
Nick: I agree, I think this is a big opportunity for the ownership community to really put their money where their mouth is and think through what the new built world looks like, what does the new piece of space look like, and what is the new lobby experience. We're going to have to learn to live with this virus, it's not going away. Hopefully, vaccines are here sooner rather than later but it's not going anywhere.
In the markets that were really impacted, it's going to be a very slow burn in terms of coming back. There seems to be a little bit of false optimism across the ownership community that tenants are all going to come back immediately, but that's going to happen for a while, we're going to come back in pieces. We're also very dependent on the school systems. If schools don't open in a market, it's very hard to ask people to come back to work because you can't get help and that dictates a lot of the planning.
Brad: I think the other thing landlords are going to need to start thinking about is that they're not just responsible for what happens in the space they own, they also need insight to what happens outside the space in terms of where people are coming from, how they're getting there, and being able to use that make informed decisions about managing that space.
We've always encouraged our LPs to see that it isn't just about four walls, it's about the environment you interact with and rendering space in ways that deliver on the customer service experience and sentiment. That's going to be consistently changing and the only way to stay on top of it is to have the operational capabilities to analyze and make decisions based on it.
Nick: I agree and I think that hopefully owners see this as an opportunity for them, they've got to weather the storm like everybody else, but there is a big opportunity for not just the owners but also the companies in a space like VTS. We've spent the past eight years thinking about it and the past year working on it, and are gearing up to launch VTS Market and Marketplace.
We're going to be in a remote world for some time and this is a way for owners and brokers to market and lease space online and get tenants excited about a space from their home or their phones, which has never been more timely. We didn't have a crystal ball, but it sure feels like it.
Brad: 100%. For an office owner to be able to activate a new line of opportunity and activate a new way to engage customers in more intimate, data-driven ways are going to be par for the course. And you need to have that capability or you're going to lose to your competitors who are able to figure that out. I think the other element of this and that reinforces it, is your ability to create a safe haven and mitigate the risk of the environment that we exist in is going to determine whether or not you can attract and attain tenants moving forward.
Watch the full webinar on-demand here.