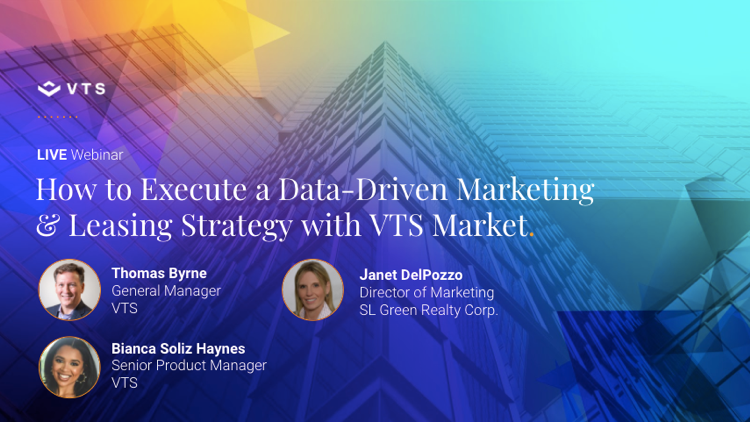 How to Execute a Data-Driven Marketing & Leasing Strategy with VTS and SL Green [Webinar]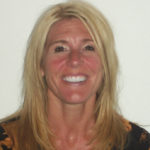 The way landlords market space to tenant rep brokers has been forced to change. The digital trends that were already underway in the industry have only been accelerated by COVID-19 — meaning the traditional offline methods no longer apply. In fact, 80% of tenants surveyed by VTS want to virtually tour a space first to narrow down their search before they visit their top choices in person. And in such a volatile market, landlords need up-to-date information about how spaces are performing, so they can act now (not months down the road) to change up their leasing tactics and execute an overall marketing strategy that works.
VTS Market — commercial real estate's most powerful online marketing and leasing platform — was purpose-built to solve these needs for landlords and their brokers. We launched VTS Market back in June 2020, in the middle of the pandemic, after hearing directly from our customers about what they needed during this time. And in eight months, we're at about 725 million square feet of office assets under management on VTS Market.
In this tactical session, Thomas Byrne, VTS General Manager, former CEO of PropertyCapsule, and former President and COO of Loopnet sat down with Janet DelPozzo, representing SL Green Realty, and Bianca Haynes, VTS Senior Product Manager. During their discussion, Tom and Janet discussed how to implement a data-driven online marketing strategy that meets your critical needs today — all from within the VTS platform.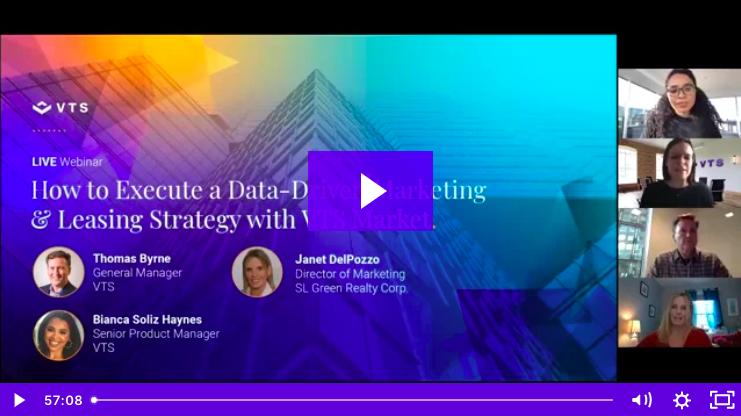 VTS: How has COVID-19 changed the landscape in which you market space?
Janet DelPozzo: I find commercial real estate has been a little bit of a laggard in the digital technology revolution. Being in this sector for so many years and going from traditional marketing to a more data-driven approach, we've seen tremendous results. Now COVID has definitely been a disruptor, and nobody really knew how to handle it.
We took a pause. No one wanted to see any of the spaces. And VTS came in, took footage of our spaces, put a lot of inventory online, and we felt very strongly that this was the right platform. A platform that's now synchronizing all our touchpoints and giving us KPIs so we can track our marketing efforts and see how they're driving sales.
We really just singularly reached out for the video walk-throughs, but what the VTS team is producing for us is basically a conduit to our current content marketing and where we implement it. We're thrilled to be part of it.
Thomas Byrne: You were one of our first customers to sign up, and we're very pleased to have you. You were already a leader in digital marketing. VTS Market was underway before COVID-19, but COVID has just changed how quickly it has been adopted. We believe that a lot of the changes that we've seen as a result of COVID are going to be permanent. We've accelerated the digital need, and our view is we're not going back. We're now in a world where tenants and the brokerage community expect to have high-quality insights into the spaces they're looking at, including virtual tours and digital experiences. All this is going to be an expected starting point for the future. Hopefully, you agree, Janet?
Janet DelPozzo: Yes. You have a lot of decision-makers that are out of state, and this has definitely enabled more of those decision-makers to come to the table. The way we look at space, the way we analyze it, all of that's taking a whole new shift in a much more positive way. VTS is creating a platform for commercial real estate and brokers to really work together. Owners and brokers, hand in hand, and I think it's fantastic.
VTS: As the first step of the marketing and leasing process, how do you use data to create your go-to-market strategy?
Thomas Byrne: From the VTS platform, we alert users when there's a space that's potentially going to roll. For example, the minute Amazon notifies your team that a property or space is going to be vacant, our system proactively surfaces that and empowers our landlord clients. So in nine months, you've got a space that needs to be ready to market. What VTS also provides is access to real-time data on demand, and we've categorized that demand by a number of things, including space condition and size. Our landlord clients can really drill down and figure out what they're competing within the market and who's in the market nine months from now when the space hits the market.
Janet DelPozzo: There's a great benefit to understanding and also being able to prepare your marketing campaigns well in advance to a space coming online. It could be 100,000 feet or 200,000 feet being vacated, and you're looking 18 months out already starting to prepare for that. Having these analytics online in one platform and at your fingertips is very beneficial. As an owner representative, there's synergy having our internal leasing agents in sync with the brokers that are representing our space. They're seeing what we're seeing and they're able to communicate a lot better.
VTS: The second step is how do you create the right content for the space?
Thomas Byrne: Every space and every building requires its own unique approach, and we believe it requires a data-driven approach. If you have raw space, it could be best suited by video, internal photographs, and maybe 3D space renderings.
And even though an entire floor may be vacant, maybe the data says, "nine months from now, the best thing to do on that floor is to be ready with some pre-builts. And maybe you should have two blocks of 9,000 square feet and one block of 18,000 square feet rather than a full floor of 36,000 square feet." In those cases, the marketing collateral or the digital production we may do would be a video and photos because it's already built.
These are just two examples of how you would use data to develop the right strategy for each space. We think of each space as a collection of opportunities for content. We try to do video tours on every single space. Tenants want to know how they enter and exit the buildings. They want to see amenities. Some spaces may be relevant to do 3D-walkthroughs. These are things that we talk to our clients about and figure out what's the most relevant for them. And then we obviously provide digital, high-quality photos for every space.
Janet DelPozzo: Having the menu of options really works because not every building or space is produced or developed the same. Each individual offering has its own unique attributes. For us, the amenity space in the building, the floor layouts, and the value props of the space is what we like to put forth. We find high-quality photos are very valuable. And leading with our amenities, whether it's the bike room or the infrastructure, in today's market is really important.
VTS: For step three, how do you distribute that content to the market — and your prospects?
Thomas Byrne: Today there are a lot of "spray-and-pray" or disjointed marketing tactics, and if you can't measure and monitor it, it's really hard to figure out how to optimize. There are several things that you might be doing like e-blasting your prospects and the market. You're embedding content on your websites. You're building your brochures and fact sheets, and then sharing that around. If you do this all in a disjointed way, it's really tricky. We've pulled together the ability to unify and integrate this into one coherent, manageable, modern platform.
Janet DelPozzo: We've really started to evolve our marketing and take that data-driven approach. Across all these touchpoints, the video is critical. Whether we're marketing on our website or in our social and digital touchpoints, anywhere we're reaching out, we're embedding a video. But more importantly, it's being able to integrate with our CRM and see that customer journey. In partnering with VTS, the results are going to be tremendous. We're pulling what we want to track and we're doing a lot of AB testing to see what's working and what's not. If there's not a lot of engagement on a piece of content, we're going to pivot. We're much more nimble in making changes and having these new analytics has been a game-changer.
VTS: Finally, step four is how do you monitor and optimize for future performance?
Bianca Haynes: Now that you understand how VTS can power your digital content and distribute your listings via multiple channels, let's dig into how you can measure the effectiveness of that distribution. With VTS Market analytics, we're able to give you insight into which channels are driving the most engagement and with whom. VTS Market is your one-stop-shop for understanding which channels are working best, and which ones are not.
By using these analytics, you can understand how your target audience is engaging with the videos, the listing views, if the listings are being sent out by the leasing team, and more — all of which is critical to putting your best foot forward and getting your vacancies in front of your target audience.
Watch the full webinar on-demand here.