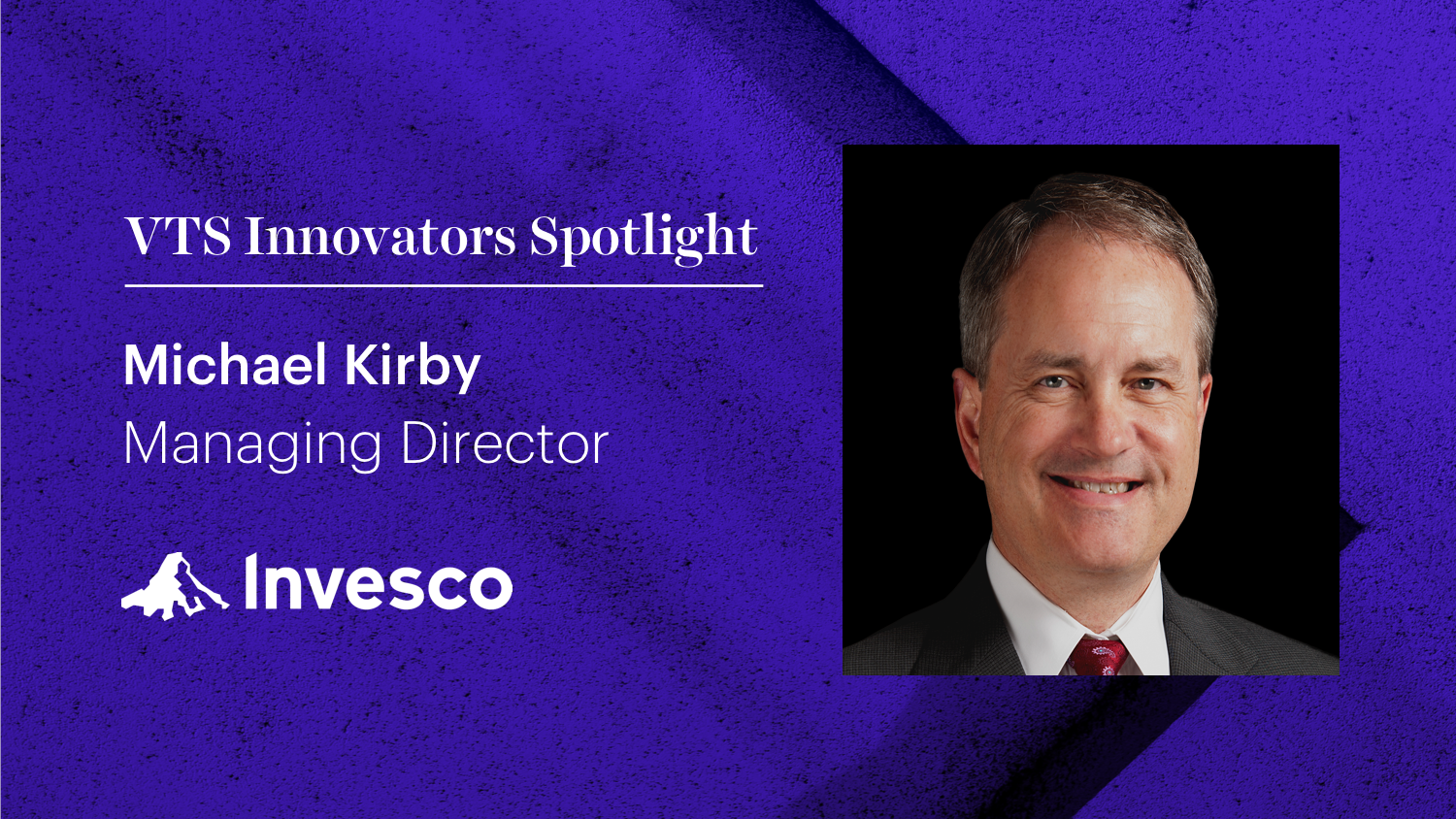 Invesco's Managing Director Michael Kirby on How Technology Helps Drive Portfolio Performance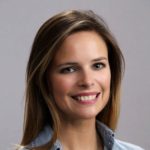 Director, Content and Communications, VTS
Michael Kirby is Managing Director of North American Real Estate Operations and Asset Management at Invesco Real Estate, which manages $64.8 million in direct real estate investments and publicly traded real estate securities. The forward-thinking company is on the front lines of continuing to adopt new technologies and processes to ensure that employees have access to current asset information at their fingertips and in real time.
What excites Michael most is that the "real power" and "potential is in the data we're collecting and trying to use to make better decisions on our investments," he tells VTS. "And then there's the potential, not just to facilitate existing processes and the way things have always been done, but ultimately, the potential with technology is to change the way it's done."
Enjoy.
VTS: How did you get your start in commercial real estate?
Michael Kirby: I started as small child in the industry. My mother was a pioneer in multifamily property management. I grew up in and around the business. She was very active in real estate organizations.
I went to the University of Texas and got a degree in civil/environmental engineering, which in hindsight would not have been a bad path, but I had an opportunity to work in real estate and have never looked back. It sounded much more interesting than sitting behind a drafting board, which was the way it was done back then.
I took an opportunity with a Dallas developer who was primarily doing office and industrial development. I started on the property management side. I learned the business from the ground up there. Fast forward 8 or 10 years from the beginning of my career, and I was involved with the Institute of Real Estate Management on the local level, and I met David Farmer, who was COO at Invesco. One day he called me and asked if I'd be interested in becoming an asset manager. I had no idea what that was, but it sounded like a regular paycheck! I've been here ever since.
VTS: You've been at Invesco for almost 25 years. What keeps you coming back to the office every Monday morning?
Kirby: What's been fun about it is it's been an ever-evolving industry. If you roll back 25 years ago when I was just beginning, real estate was just then becoming recognized by the institutional investor world as a serious part of their portfolio. There had not always been a place for real estate and alternatives, but it's become an essential asset class for institutional investors. As a result of this institutionalization, the industry has become much more sophisticated.
At our company, I was fortunate: I didn't get in on the basement floor, but I got in on the ground floor and it has been a very interesting ride. We've always been growing, changing and evolving, so there's never been a dull moment. Today the market is as exciting and challenging as ever and as a firm we've grown to be global and we invest across the risk spectrum for the best clients in the world. It makes it fun to come to work every day. It makes it fun to be engaged in the industry.
VTS: There are some major shifts taking place in commercial right now. What do they mean to Invesco and how are you responding?
Kirby: We, like the rest of the industry, are trying to adapt and change, to keep our investments relevant, to meet the changing needs and demands of our occupiers, and we're always trying to figure out how to gain a competitive edge in this environment.
Coworking, for instance, has had a tremendous impact on our thinking about office buildings and tenants, but you look across property types and the trends are similar. It's all about the experience, whether you're talking about multifamily and what you're delivering to the resident or office or retail or even industrial today. We used to not worry about things like green space in industrial parks. However, tenants today are looking for those things, because they want to provide a better environment for their employees. It really goes across property types, and it's impacting how we're thinking about the real estate. It's about differentiated real estate and trying to find real estate that has the attributes that are attractive and then programming them to be exciting places.
It impacts how you amenitize. Whether they are on-site or near-site amenities you have to think about what's really important for the occupiers that you're targeting. And certainly, the roles of the traditional landlord and property manager have changed. We're not just providing and maintaining "space" but are focused on providing a higher level of service and an elevated experience to our tenants. I don't think there's a one-size-fits-all answer. You really need to understand your tenants and customize what you are offering to meet their needs and demands. Historically, we haven't done a good job of that as an industry.
VTS: Do you have specific examples of implementing an amenity to address the changing needs of tenants?
Kirby: An easy example is the fitness center. If you look across Class A office buildings today, it's hard to find one without a fitness center. You take for granted that you're going to have that today. For example, Williams Tower in Houston is an iconic suburban office building in our portfolio and the tallest suburban office building in the country but it was built in an era when tenants didn't worry about providing "healthy" amenities for their employees. We just spent a tremendous amount of capital putting in a state-of-the-art fitness center — not just a workout room but a health club level facility — in the building to keep it relevant and competitive. It has been very well-received by tenants.
Historically, tenants didn't expect that much from their landlord. But it's not just about putting in the capital and FF&E; it's about delivering an experience that you would think more common in a hotel or hospitality environment versus a traditional office building environment.
VTS: Do you now have more direct communication with your tenants and the end users of those spaces to understand what they want?
Kirby: We're trying to do a better job of understanding what our tenants want. You really have to talk with and engage your tenants and let them drive how you program your building.
Frankly, it's a challenge. The property management model has evolved, and honestly, become a little bit commoditized and cost-driven over time. I believe more value needs to be attributed to good property managers. They're on the front line. They touch our tenants every day and they have a material impact on the revenue that we derive from our buildings, whether it is through tenant retention or the fact that we can drive better lease economics due to the service level and relationships. I think we need to be a little more top-line focused when it comes to property management versus simply expense-focused. They can help drive value.
VTS: How's technology changing your asset management processes?
Kirby: We're on a J-curve in terms of real estate technology and how it's applied in the industry. It's in the early days. You have platforms like VTS, which is facilitating what has historically been a pretty inefficient process – the leasing process. So it's making what we've always done more efficient.
But the real power and the potential is in the data we're collecting and trying to use to make better decisions on our investments. And then there's the potential not just to facilitate existing processes and the way things have always been done, but ultimately to change the way the business is done. I don't think we've really seen that in a material way yet, but it's something we need to be very thoughtful about and open to.
Look at the role of the intermediary, or broker. As you have a transfer of power from 50-something white guys running corporate America to a more diverse, younger leadership, I think the expectations of tenants will change. The next generation expects efficiency in their transactions and they are used to dealing direct versus through an intermediary. They are used to having a tremendous amount of data and transparency at their fingertips, and they're going to demand more of that from the real estate industry. I'm not suggesting the role of the broker will disappear overnight; just that it will change. And landlords need to think much more in terms of partnering with their tenants to facilitate their business needs versus just providing space on a long-term leased basis. There's a lot there, and it is early days but it's exciting. We're all trying to figure it out!
VTS: Are you seeing that kind of consumerization in your buildings as well, and do you see the potential impact of technology in that area?
Kirby: Yes. When you talk about how users interact with the building, we're starting to see technologies emerge that are going to facilitate that interface — whether it's the building-centric app that allows tenants within a building to create community and communicate with one another and allows the tenants to interface with the building — or whether it's controlling their space and HVAC and having their coffee pre-ordered in the cafe in the lobby.
On the business side of real estate there is tremendous potential for process improvement. For example, the leasing process, which VTS is facilitating, is such an inefficient process that there's real potential for further improvement. I can't tell you exactly what it looks like, but any time you see that kind of inefficiency, there's potential for disruption and for technology to play a part in that.
VTS: What would you be doing if you weren't in real estate?
Kirby: Laying on a beach somewhere in the Caribbean.