Commercial Real Estate's Data Revolution is Here – Are You Ready?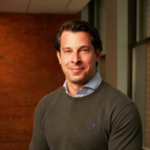 Transformation is underway in commercial real estate with data fast becoming the most important competitive differentiator for today's landlords and brokers. In an industry long dominated by people being successful doing things the way they've always done them, there's been little motivation to adapt. Today's decision, however, is clear — if you don't position your business to capture critical insights and act on them, your success will be limited.
We can look to other industries for the play by play
We can look at other industries to see the transformative power of data. Netflix is a prime example — the modern media company has redefined how content is produced, using viewer preference data to hone original programming and personalize the customer experience. This approach has left traditional media companies for dead or scrambling to make up ground.
The evolution of the stock market also highlights the value that technology and actionable data unlocks. Look at the New York Stock Exchange — thirty years ago it was characterized by highly inefficient and manual processes and opaque information. Today? Technology has transformed the way the market operates and traders are able to leverage real-time data and algorithmic trading to execute deals in nanoseconds, creating far-reaching value and prosperity.
The opportunities for data in commercial real estate are vast — and we're only scratching the surface
New software offerings are allowing landlords and brokers to graduate from the static spreadsheet. Some are starting to capture and analyze data and are using the resulting insights to make better decisions that drive portfolio performance. Here are just a few of the ways:
Market benchmarking is the next frontier
While the strides we've made are helping us catch up to other industries, the true game changer is now emerging – market benchmarking.
For decades, CRE professionals had to make leasing and investment decisions with limited visibility into the markets they're competing in and their performance within those markets. Market benchmarking data for commercial leasing traditionally has been neither transparent, timely, nor accurate. We rely on anecdotal data or general market reports based on self-reported data that's three to six months stale by the time it's released.
We might be used to it, but using real-time market data to make better decisions has been the standard for some time in other similar industries such as multi-family and hospitality – think RealPage Yieldstar® for multi-family owners and the STR Global Report to benchmark hotel occupancy or revenue. But when it comes to office, industrial, or retail properties, market data on pricing, tenant demand, or operating efficiency within buildings just isn't available. The system is completely broken.
I'm happy to report VTS is changing that. We announced our plans for VTS Data – the industry's only forward-looking market data. For the first time, VTS customers will have insight into what's happening in their markets today, enabling them to make more informed, timely leasing and investment decisions.
Act now or risk being left behind
The ability to mobilize around data and market benchmarks isn't something that can happen overnight – your own data must be robust and organized for you to actually be able to use it. As such, those who have embraced data and are managing their entire portfolios with PropTech are ideally placed to be the winners of the data revolution, while the gap between those who delay will grow exponentially. In such an exciting time, I urge you – do not get left behind.
This article appeared in the September 2018 edition of the Mann Report.