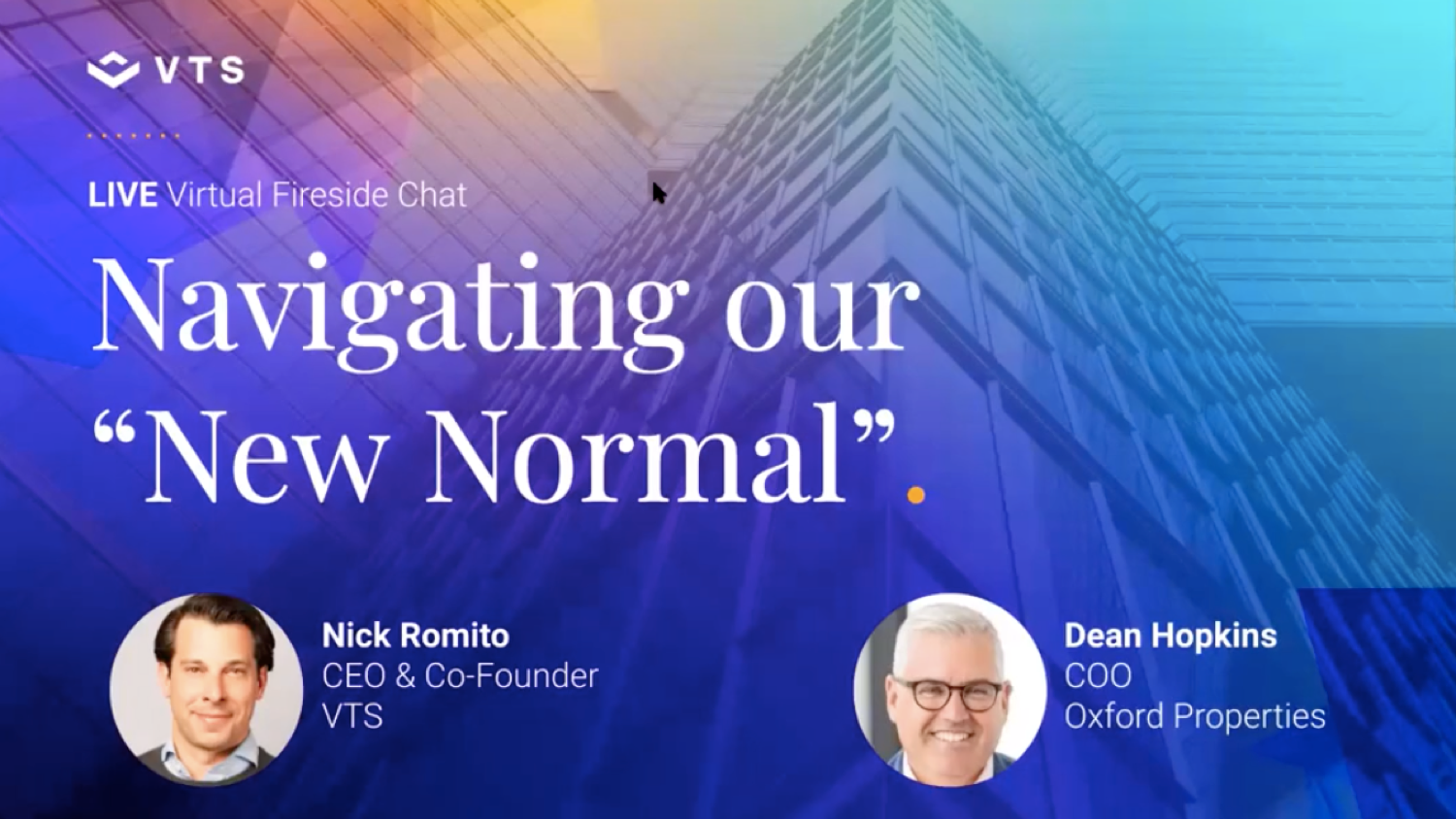 Oxford Properties COO Dean Hopkins on Navigating Our New "Normal" [Webinar]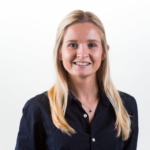 Sr. Manager, Content Marketing, VTS
Since the start of COVID-19, VTS has been committed to delivering the resources the commercial real estate industry needs to navigate the impact of the pandemic. We heard loud and clear that people wanted to hear directly from industry leaders about how they're managing their teams, tenants, and portfolios through the crisis. That's why we launched our new virtual fireside chat series.
First in the series — A Virtual Fireside Chat with Oxford Properties' COO Dean Hopkins and VTS CEO Nick Romito on Navigating our New "Normal." At Oxford Properties, Dean doesn't hold the typical role of a Chief Operations Officer. He's charged with designing the real estate company of the future — planning how Oxford is going to work digitally, globally, intelligently, and with better data and insights. Dean draws on 25 years of experience to achieve this transformation, coming from a background in technology and change management.
In this webinar, Dean and Nick talked through some of the ways the global owner is managing the impact of COVID-19 across their teams, tenants, and portfolio. Enjoy!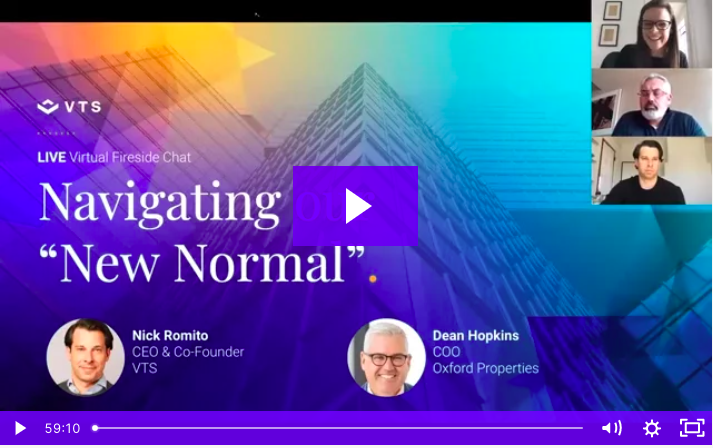 One of the major questions landlords are grappling with is how to manage rent relief requests at scale. Can you talk us through how Oxford has approached it?
Dean Hopkins: Oxford is a very empowered and decentralized organization with a lot of people at the front lines who are extremely capable of dealing with their assets, customers, and co-owners. Realizing that, we saw what we needed to do was get great tools and information into the hands of those people because they were going to be dealing with an unprecedented volume of inquiries from customers, concerns from customers, and rent relief requests from customers. We didn't want to centralize or over-manage it. What we needed to do was empower them.
Fortunately, back when I first started, I realized that one of the number one things that was occupying people's time was tracking down data, validating data, re-processing data back into Excel, and it was a real problem. That was 80% of their time. And I said, "We've got to free all that time up so that you can spend time with customers." We built a data marketplace that essentially freed all that time up.
Thankfully we did that because we ended up with about 200 million records in there of all our financial data coming from a variety of systems. And we realized we could actually take advantage of that data and get information to the front lines very quickly in a way that would allow them to make great decisions that they could take their clients through. What took us 10 days to stand up a live dashboard of all our rent relief requests, where accounts receivable was, where we were on the payment cycle, and where we were on cash; it just wouldn't have been possible if we tried to do it on spreadsheets.
Nick Romito: From a client-advisor perspective, probably 95% of our time is spent with customers or at least a very similar version of what Dean talked about around releasing asset management debt. Per Dean's point, I think what everybody's focused on right now is just information gathering. It's "How do I just understand not just what I know is at risk, but what might be at risk that's not super obvious to me?"
We're seeing two trains of thought. There are folks who are being super proactive, who are doing things like creating subcommittees internally of folks who are actively reviewing these requests and then from there deciding who they're going to give relief to in some way, shape, or form. On the other hand, there are a lot of folks who are still in a wait-and-see mode as some folks paid their rent in March and April, but May might be very different. The jury is still out as to how this really matures over the next month or two, but there's definitely two approaches to it, which I think is pretty fascinating.
When we eventually come out of this, how do you expect commercial real estate will have changed? How are you preparing for that future state?
Dean Hopkins: Much like 9/11 left a residue of change to the way we travel, COVID-19 is going to leave a residue of change to how we operate buildings, how we work in those spaces, how we travel in elevators, how we think about the public transit to get to those buildings, and whether the top floor of a building is still worth more than the bottom floor. All of those things are settling into a new abnormal, and we're watching them very carefully. The good news is the community has pulled together in an unprecedented way, whether it's the service providers like JLL, CBRE, Cushman & Wakefield, us, or McKinsey, we're all sharing our best practices and what we're seeing.
A lot of great work has been done and it continues to evolve. We'll continue to evolve with it. We've all learned that there's no static anymore. We've got to actually be able to read the market, change with it, be agile, and expect that the situation is going to be fluid and quite different in various parts of the world. We're in 19 different cities. What solves a problem in Singapore doesn't work in Calgary. We've got to be able to be nimble and allow for local market reactions, which is why it's super important for us to empower and give the right tools to the people on the front lines so they can make the best decision possible.
Nick Romito: Now what I've been thinking about a lot is what are we not thinking about once we do come back to work? What we do know is that there isn't going to be a magic switch, where whatever country you're in they say, "Okay. We're going back to work tomorrow." It's not going to happen. It's going to be a phased approach.
Dean Hopkins: Yeah, it is. I don't think we have any real answers yet, but empathy is the word that sits at the top of the list for me. It's thinking about what the journey is from the point in time where somebody wakes up and considers how to transit their way into work, or go shopping. What is that experience like? Where are the concerns? How can we best handle those in a way that we can assure the greatest degree of certainty around their wellbeing?
For example, we can't have a flood of people going back to these highly-dense, open-plan office spaces. It's just going to be a disaster if we do it, so what we're trying to do is think about how we can configure those spaces and how to rotate people in and out of those spaces so their wellbeing is maintained. It's almost like a use case or customer journey that you do in software. What's the journey people take through all the different methods and different asset classes that we have? How can we make people feel safe coming back?
I think it's going to be a slow and gradual pace to come back. One of the things we found to be a gating factor for us, in terms of getting more people to be comfortable with coming back to work, is actually waiting until the schools and daycares are open. Our population needs to do something with their kids. The buildings can be open, but if the daycares and schools aren't, we're going to be working from home. There are some very interesting things that surface when you start to unpack this.
Nick Romito: Exactly. One of the things we put in place quickly was the minute the public schools close, we work from home. I've got a five-year-old who I'm now homeschooling in addition to being a CEO, and my wife is nine months pregnant, so you're right. If parents can't get coverage for their kids, what are you going to do?
How is Oxford changing the way it works in response to COVID-19? What tools are you using to enable the team to work at pace?
Dean Hopkins: I approach things very differently than a real estate person might. I approach them as though we're actually running a software company, which sounds strange, but it's not that far from the truth. We have products. They're just called buildings. We have to market them. We have to sell them. We have to support them. We have to manage them. This is not unlike managing a software company and that can be done at a much higher rate of innovation and pace, which is what I'm trying to inject into the world of Oxford.
I don't mean to be a commercial here, but it's VTS Market & Marketplace. If you think about how people are going to research, tour, and ultimately make selections for future real estate needs, I've always been of the mind that, regardless of this pandemic, the abilities to find, select, and research up-and-coming properties are going to move digitally. It's just an inevitable force. In my mind, this has just accelerated that and given us a greater reason to enable people to find our spaces when they can't physically get out.
Nick Romito: Dean mentioned VTS Market & Marketplace. If you don't know what that is, it's VTS' new marketing platform and marketplace. We didn't have a crystal ball, but we've spent the past year working on a way to completely modernize the way our customers market space with virtual tours, video tours, and 3D renderings. It's an entire suite of capabilities for folks to experience your buildings and spaces from their phone or desktop remotely.
Dean Hopkins: Once we get everybody up to speed on the technology and remote work, it's now managing mental health and wellbeing, which are much bigger issues. We've spent a lot of time making sure people are hopeful by keeping them working on the transformation work. Keep people working on the stuff that's up and over the hills so that there's hope on the horizon while we balance managing the current state of affairs. That mix of work and optimism has kept our team moving in the right direction. Plus, I've never attended more virtual cocktail hours in my life than we've seen executed across all the teams.
I think our teams have spent more time together than they would have physically because they want to support each other. That has been a great outcome of this, a relationship silver lining. That being said, I think human beings are meant to work together face-to-face. I think we're at our best when we're challenging each other around a whiteboard and ideating in groups. Sure, there's a time and a place for quiet work where you just need to concentrate and sit down, but human beings are much better when we actually collaborate.
I know everybody's different, so some people really love it. But I think you're going to have a lot of people very excited to get back into those collaborative modes and the biggest challenge is going to be finding a way to do that safely so that we're allowing for the new normal of working together in groups without compromising each other's health.
Nick Romito: One operational thing we've changed in our cadence is hosting shorter meetings, and it's forcing people to get to a point and leave the meeting with next steps. I think it's good hygiene and it's helping us focus in a lot of ways. Two, we're doing virtual happy hours every Friday, which has been very important to our team. Third, we've told folks that there is a maximum capacity of productivity from home. You need to take time for yourself during the day. I would say around 25-30% of my day is outside with my kid. Obviously, social distancing and doing the right thing, but you've got to shut down. When your computer is in front of you, it's really easy to work all day long and never stop. Before you know it, you're fried and making bad decisions.
Dean Hopkins: You know the other thing that our teams have been doing Nick, and it's extremely humbling and I'm very proud of it. Once we got settled, and everybody was in a good spot, the teams started paying it forward, giving back to the communities, engaging, helping the front-line workers, and celebrating their successes. We have a call center that would typically deal with inbound requests from occupiers about, "I need this. I need that. I need help here," but without a lot of people in the buildings, they were sitting idle. They asked if they could use their capacity to help people who are maybe alone in residential spaces or our pensioners who may need someone to talk to — because they're great at talking on the phone.
We've now run a campaign around just that. We've also had unused resources, whether that's toilet paper or whatever, in our malls and office buildings. We've collected that up and redistributed it to people who are actually in need. The concept of engaging with your community at a local level, that pay-it-forward attitude, has really helped people navigate what I think is a really difficult mental health time.
To listen to Dean and Nick's full conversation about navigating our new "normal," access the on-demand webinar now!