PropTech: Increase Efficiency by Focusing on the Small Changes You Can Make Today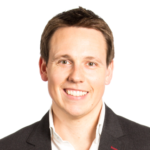 EMEA Regional Director of Sales, VTS
I recently joined a panel at the Bisnow State of the Market event in London, the title of which was "Accelerating Tech in London". Quite an open topic!
I was rather predictably asked a very simple question: "What is Blockchain?" A client came up to me after the event and asked if I could write down my answer and provide them with something they could relay to their wider team back in the office. This is something I haven't done before but I figured if I was going to jot down some notes, I might as well share them with a wider audience.
So here it goes.
The question led me to go on and answer roughly as follows. 
Blockchain, simplified
A very simple way to try and define "what is blockchain" it is to break up the word, literally.
Block - chain refers to blocks of predefined digital information, inputs and outputs, that connect together to form a chain of predefined events. It is an open, transparent and in theory incorruptible digital ledger.
An example and a possible future application in the context of commercial real estate could be the process behind a simple rent review.
First we need to make an assumption that the blocks of digital information needed to action a rent review are in place. Live digital records of all recently completed deals, a prescribed set of digital rules for that review, and therefore a prescribed outcome and transparent result. The review is actioned on a set date, the information to define the outcome is available and the new rent is set inline with open market value.
In theory you can see how that would be very powerful and ultimately drive efficiency for your customer, the tenant. However, we have a long way to go before the application of blockchain on rent reviews becomes a technical reality, not to mention some fairly major industry shifts in attitude to get us there.
Blockchain in my mind is one of many buzzwords that are doing the rounds today when we discuss technology – AI, Machine Learning, Bitcoin, TechStack, IOT, Virtual Reality, API's etc.
We need to be thinking about these terms in today's context
The real question we should be asking is not how to define these terms in a much greater context, but where do we see AI or machine learning (as an example) being implemented in our industry today. What is the short term impact of this technology for the industry?
It's great to look ahead and theorise about what might happen, but in general we are too quick to jump to the science fiction images we see in movies and expect that to become the reality. Take AI for example, people generally picture terminator sitting at their desk doing their job.
The reality is we are a long way from that. Don't get me wrong, the technology is evolving at a pace few of us actually realise, but I promise you this, a robot will not be sat in your desk tomorrow. The real question should be more focused around the definition of AI and what it really stands for - in my mind this is smart technology.
Understanding the role technology could play in our day to day
So what should we be looking out for? Let's break this down and assume one simple truth - technology is getting smarter and our application of technology in our everyday lives is increasing.
We demand things from our personal technology that we then seem to park at the front door of the office and don't demand from our professional applications.
If you are buying, or bravely trying to build technology for your team, company or clients, you should be demanding the same level of service and evolving functionality as you expect from the technology services you use everyday when at home.
Take your phone as an example, we don't think twice about demanding weekly bug fixes, monthly feature enhancements or annual upgrades. Why should the technology you use in the workplace be any different?
Demanding efficiency
If you pick up and action one thing from this article I would encourage you to do this: Challenge the way you do things today and ask yourself, could this process be more efficient?
If the answer is yes then it is likely technology will be that solution, either today or tomorrow. It will be those small incremental changes we will see to our industry in the near term, rather than an immediate and mass revolution.
A simple example of this, but I think it defines what I'm getting at nicely, is using my previous experience as an Office Agent in London. Just over two years ago I would show a prospective tenant around some space, make a note of their feedback and report to my client. Nothing revolutionary there. But the process in itself was very manual and actually for such a simple task, disproportionately time consuming.
A frequent request from my client, likely as a chain effect of them being asked the question by someone higher up in their organisation, who in turn was likely feeling the pressure from an investor somewhere along the chain, would be – "how many viewings have we had this week and what's the level of activity like?"
A simple question, right? One that I would usually answer with a gut feel response and then some considerable time spent counting the number of viewings that week and comparing it to a wider data set provided by my colleagues (held in a number of excel or word schedules we had saved on our server somewhere, if I was lucky).
That very process has changed even in the short time since I left the Agency industry. The answer to the initial question is now just a click of a button away.
Agents are today using technology to report to their clients in real time, their activities logged creating a record of events and those trends can be analysed in a multitude of ways. The conversation has shifted and the process to collaborate around that information has become more efficient. Not to mention Agents today are creating new data points that they could only imagine would have been accessible just a few years ago.
Ultimately everyone's a winner. The Agent has time back in their day to do what they are good at, sourcing and closing those deals, and the client can provide that investor with data driven insight into what is really happening. The roles and responsibilities have not changed, just the process has become infinitely more efficient.
Focus on incremental yet fundamental changes
It is these small and incremental changes that we should be focusing on. This is where we will see the short term evolution of our industry and we owe it to ourselves to not think too far into the future. Baby steps, let's crawl before we try to run.
The majority of us can only really control and manage what we can solve for today, with the tools we have available and at our disposal. However, I strongly believe that this is where you will find your competitive edge and that this is where, collectively, those small changes and adoption in technology will ultimately "Accelerate Tech in London".