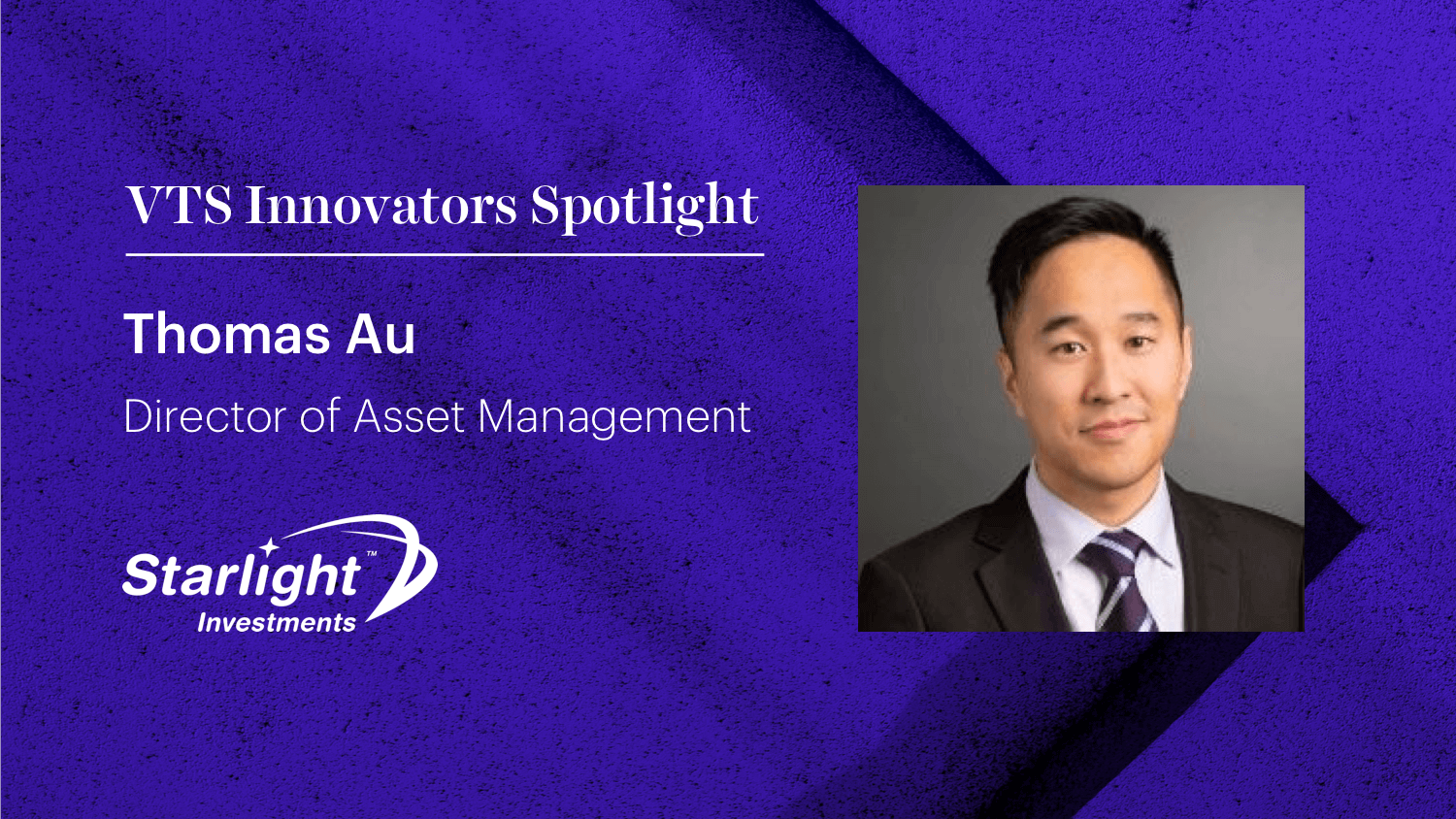 Starlight Investments' Thomas Au on the Risk of Not Embracing Technology in CRE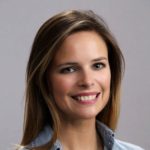 Director, Content and Communications, VTS
Starlight Investments is a North America-based multi-family and commercial real estate asset manager with an entrepreneurial approach to real estate asset management. We sat down with Thomas Au, the firm's Director of Asset Management to discover how he sees technology in commercial real estate changing the industry, the company's operations, and his own role.
Thomas told us, "While it's important to think about the cost, opportunities, and risks of introducing technology, it's actually more important to consider the risk of not introducing it — especially given today's competitive environment."
Enjoy!
VTS: How did you get your start in commercial real estate?
Thomas Au: I started on the finance and accounting side in the residential and multi-family sector. The economy wasn't the greatest when I graduated, so I decided to look into an industry that I believed wouldn't disappear and would weather the changes in the economy. Then, down the road, I was presented with an opportunity to switch over to the commercial side.
VTS: What does your role as Director of Asset Management involve? What does your day-to-day look like?
Au: At the management level, it's pretty broad. I swear I have a different answer every time someone asks me because my day-to-day isn't routine. I could start off at 9 am thinking I'm going in one direction, and then by 12 pm, someone tells me, "Hey, let's go look into all of these new contracts" and my day changes.
But, at a high level, we evaluate the performance of our assets. Then, we come up with a plan to make sure we can hit our strategic goals. In my team, there are asset managers, analysts, project managers, and members of the leasing team. You get the idea – this a "jack-of-all-trades" type of role.
VTS: What do you like most about your role?
Au: What I like most about my role is meeting different people. A key to my role is building relationships with investors, clients, contractors, and internal team members. Ultimately, a lot of our goals are affected by these people, so I get to see how different people think and what I need to do to help their strategic initiatives.
VTS: The commercial real estate industry is undergoing a period of rapid transformation. What trends are you and your team seeing?
Au: The biggest trend we're seeing is flexibility. Everyone used to want a 10-year deal and a standard TI. That's not as common anymore. Across Canada, the majority of leasing is from the tech industry. What we see now are tenants asking for flexible workspaces and amenities so their employees will stay engaged and want to be around the work environment for a longer period of time.
The other trend we're looking at is technology itself. Technology has brought efficiency and speed, but it's also created a free flow of information. For better or worse, you can use it to benchmark your performance against your competitors, but your tenants can use it to benchmark you against your competitors as well. It's created an environment where you need to respond very quickly and accurately.
VTS: In that vein, what are you doing to really adapt to a more competitive environment?
Au: From the leasing perspective, we try to keep standard leasing agreements, but we're also very open to amending clauses. Let's say a tenant wants a different type of inducement structure or they want our consulting service for build-outs, we make those services available.
We're also adopting technology. We have technology to help streamline the communication between us and our brokers. We have other systems in place to help us better communicate with our tenants — they can log work orders, offer suggestions, or just give feedback.
We then aggregate this feedback across different assets and can prioritize it by the changes that will have the most impact. As a company, we want to meet our tenants' needs, listen to them, and work with them, and technology makes it a lot easier for us to do that. It helps us understand where we are and what we need to do.
VTS: In this new environment, have you seen a shift in your responsibilities and the expectations of your role?
Au: With the addition of technology, information is so easily accessible that you're now more accountable for the entire picture. Back in the day, leasing was more segmented. Now, you're able to see the deals that are going through and you need to change your strategy quite quickly to make sure you're adapting to problems or opportunities.
Second, upper management used to be focused on deploying money to maximize its return. Now, you also have to also think of ways to improve customer experience or just be forward-thinking in general to make sure you remain competitive and differentiate your offering. A lot of companies are adopting different technologies to provide a better value proposition to their customers.
Another expectation is that you're able to analyze large sets of data. Everyone's portfolio is growing. If you limit yourself to only being able to manage a portfolio of three or four properties, it really limits the scope of what you're seeing. If you're able to manage a portfolio that's Canada-wide or some segment, you can see trends and where you should focus your attention.
VTS: How are you using VTS to gain a competitive edge?
Au: For us, VTS is used on a day-to-day basis. It enables the broker to provide updates and log tours, and we're able to see who brings in the most tours and who's able to turn those tours into proposals. On the landlord side, we use VTS as a key source for tracking our options and clauses for existing tenants.
We also use VTS as a key method for communicating between different levels of the company, no matter where anyone is. For example, today, I'm in Victoria. Someone can put through a deal for approval and I'll still see it — with all of the information attached to the approval chain already.
The approvals process as a whole has strengthened control for us and made sure everyone is on the same page when a deal needs to be approved. It assigns accountability and also lets us loop people in, so they can "follow" the deal approval process. For example, if we want to make sure the property management or finance teams are aware, we can add them to the approval chain, so they still have visibility and receive updates even though they don't necessarily have action items.
Another benefit is the financial analysis capabilities. These provide everyone — no matter their function — with an understanding of the underlying assumptions included in our analysis. Before VTS, everyone was tweaking Excel spreadsheets a little differently. VTS now provides us a consistent benchmark and we can say, "How does the deal we completed today compare to the deal we did four or five months ago?" This has created quite a bit of proficiency and efficiency. When everyone has the same understanding, there aren't as many back-and-forths.
For me, it also reduces the number of meetings I need to have because all of the deal updates are logged in the platform already. When we do have a meeting now, it's about making a decision rather than giving updates.
VTS: And for you personally, what's your favorite aspect of VTS?
Au: Definitely the NER calculations.
VTS: As a company that's adopted several technologies, what advice do you have for other companies that are just starting to think about it?
Au: While it's important to think about the cost, opportunities, and risks of introducing, implementing, and adopting technology, it's actually more important to consider the risk of not having the technology — especially given today's competitive environment.
As history has shown, technology has proven to be valuable to companies. It means if you don't adopt now, you'll lag behind, and catching up is a very different thing to overcome.
VTS: In your opinion, what are the most important things a company needs to focus on if they want to continue operating at a level of excellence during this period of transformation?
Au: To operate at a level of excellence, you have to ensure you uphold your company's integrity, while also introducing technology.
It's also important to be open-minded. You need to be willing to explore alternatives. There are many reasons why there should be a change, whether it's competition, technology, or regulation. But a company needs to be willing to redesign its strategy or realign business processes in order to adapt to that changing environment and sustain any level of excellence. However, there will also be times when it is right to say no if it doesn't fit the company.
VTS: What would you be doing if you weren't in real estate?
Au: If I were to leave real estate, I would actually love to be in the technology industry. No role in particular, but I would love to be involved with product design.