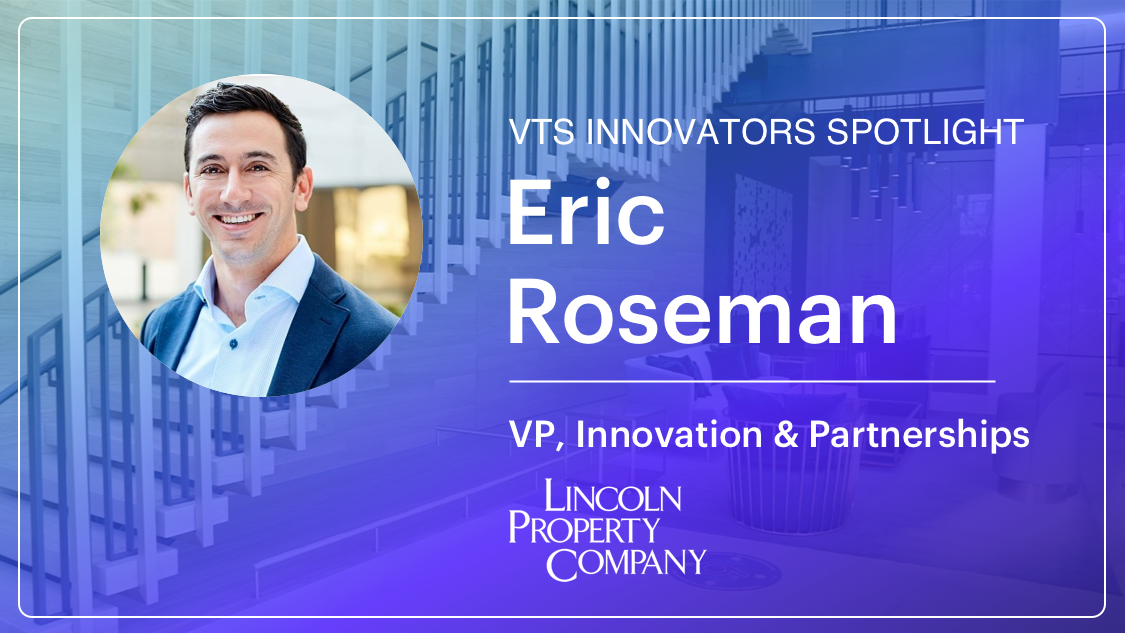 VP of Innovation Eric Roseman at LPC on the Need for Rapid Tech Adoption — And His Insights for Making it Happen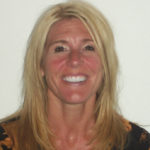 The CRE industry was already in the midst of disruption prior to COVID-19, as more companies recognized the need for cutting-edge technology to improve operations, efficiencies, and tenant experience. The pandemic has only accelerated the awareness of technology's value in the industry and the need for rapid adoption.
Eric Roseman knows all about the importance of bringing state-of-the-art tech to the forefront for clients and partners. He's VP of Innovation & Partnerships at Lincoln Property Company (LPC) and Managing Partner of LPC Ventures. A well-respected CRE thought leader, Eric and LPC are putting technology to work to make their buildings operate smarter, provide an improved tenant experience, and create vital partnerships throughout the industry.
VTS sat down with Eric to learn more and share his insights. Enjoy!
VTS: Can you tell us a little more about Lincoln Property Company?
Eric Roseman: Lincoln Property Company is a full-service real estate owner and operator managing over 200,000 apartment units and over 300 million square feet of office assets across the US. The company was founded in 1965 as a developer and manager of high-quality residential communities, and over the next few years expanded its line of products and services to include commercial real estate. We have a range of services including development, brokerage, property management, investment, advisory, construction management, engineering, and consulting services. We operate in most major US markets and pride ourselves on being cutting-edge in our real estate approach.
VTS: What does the day-to-day look like in your role? How has it evolved in the last few years?
Roseman: There's no true consistency in the role. Every day has its own set of unique challenges. My job is to project where we think our industry is heading in the next decade, and then find the right technologies and partners that will help us get there. That can be everything from the user groups that will be using corporate real estate in the future, all the way to partnering with the right technology companies that will modernize the experience of our real estate and help our internal team make real estate decisions.
More people internally, and in the market at large, are paying attention and are more curious than ever before about the role of technology. A few years ago, people were staying pretty much in their swim lane and just wanted to understand what they needed to get their job done, and some kept blinders on. The industry, at large, is now starting to pay attention to some external trends that are occurring and recognizing that they need to have a broader understanding of those trends in order to do their job better.
VTS: What role has technology played in helping LPC navigate the COVID-19? Are there any best practices you've learned?
Roseman: Like most organizations, we needed rapid technology adoption, mostly around how we communicate with each other and share information. LPC is a highly collaborative organization that likes face-to-face time. We, like other companies, adopted a more distributed approach to knowledge sharing. There was also a greater emphasis on figuring out our toolset across our different service lines. COVID-19 exposed the need-to-have — more than just the nice-to-have aspect — for technology adoption, and now we're slowly starting to see every business unit find their marquee products or solutions.
In general, there's the trepidation of adopting new things in our industry. Beyond the pandemic, we will see more of an encouragement to try new solutions, and that mindset will persist beyond COVID.
VTS: How is technology helping you meet your portfolio objectives? What's the biggest impact it's had on your business processes?
Roseman: Technology is helping us understand how our space is being utilized more effectively. It's certainly helping us monitor its use and the comings and goings of activity at our assets. Technology is also truly helping us mitigate a lot of outstanding risks and shining spotlights on areas where we can improve. It's also helping us make more informed decisions around critical items.
VTS: How is LPC thinking about the data and information advantages that come from the use of technology?
Roseman: Real estate is a game of inside baseball. Using the data that we have and the data that's shared with us is critical for the way Lincoln finds its advantage when it comes to deal sourcing and execution.
VTS: When evaluating new technology, what does that process look like?
Roseman: We vet the technology through the key business leaders, organize digestible pilots, and set pilots up to succeed by giving them the support they need. Then we use the pilots as the "standout citizen" to showcase to the rest of the organization how it makes their business line better.
Each business line in each region has its own unique pain points, and certain solutions are better suited for certain regions. I try to pair the solution and pilot with the region that is most apt. For example, we have a lot of industrial activity in the Southeast and a lot of life science in areas like San Diego and Boston. Pairing up the pilots that make the most sense for the product type, and the business unit that operates in that product type gives the technology a good Petri dish for us to be able to evaluate the results.
VTS: How are you thinking about technology adoption across a diverse range of partnerships, like the ones LPC has?
Roseman: It's finding internal champions beyond myself. My job is to source and vet and find the best technology companies. Then it's really up to the business to be the representative model of success so that I'm not the talking head but rather so the results speak for themselves.
VTS: What are your predictions for Proptech as a result of COVID-19?
Roseman: Market data is more transparent in this upcoming decade than it was in the last decade. We're going to have more market participants who are equally well-versed and well-stocked to make real estate transaction decisions, whereas, in the past, operating history was the key advantage. It's becoming a more level playing field for all market participants. Access to transactions has become more democratized, so you'll see more people purchasing real estate in nontraditional ways like through crowdfunding and online marketplaces.
Additionally, users of corporate real estate are changing rapidly. We're going to see some really interesting big users of space that we never could have imagined a decade ago, including gaming companies and esports businesses that have totally taken off. We'll also see a greater level of emphasis on sustainability and climate-related projects and a deep focus on implementation into real estate projects.
VTS: What do you think commercial real estate as a sector will look like after the pandemic?
Roseman: As a contrarian, I would say everything that we're writing off will come back even stronger. I believe certain retail categories will have an unbelievable recovery. I believe that the office market will be stronger than ever in a couple of years. And I think the appetite for commercial real estate institutional investment will only continue to improve.
VTS: What advice do you have for landlords who are just starting to think about technology?
Roseman: Start to carry a line item in your budget, because technology cannot be the last thing that's slotted into a budget. It needs to be a critical item.