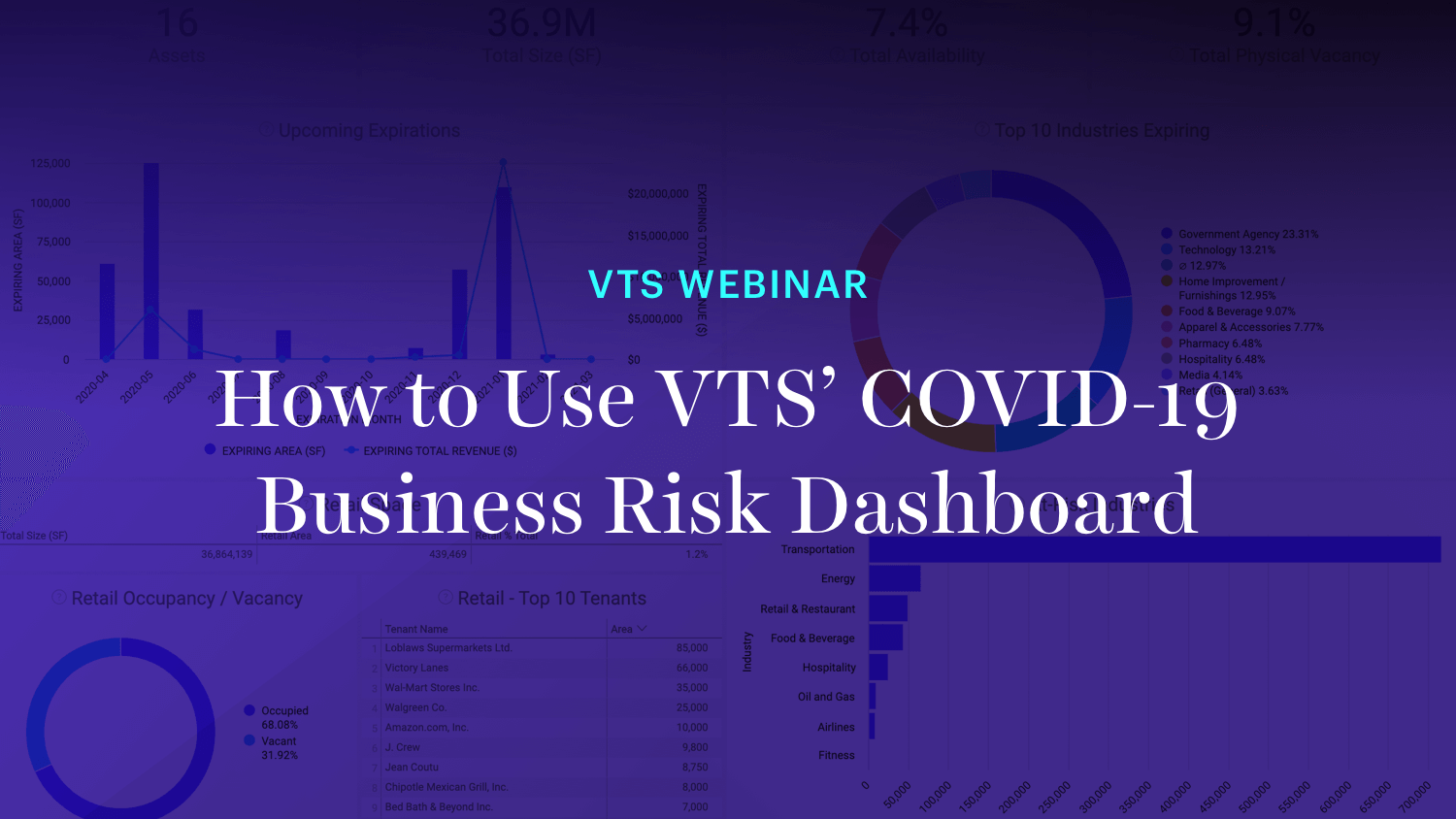 How to Use VTS' COVID-19 Business Risk Dashboard [Webinar]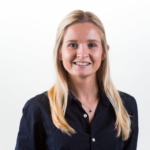 Sr. Manager, Content Marketing, VTS
The challenges posed by COVID-19 are unlike anything our industry has ever faced before. As the situation rapidly evolves, landlords across the board are navigating the impacts of this new normal while keeping their business on track.
As your partner, the VTS team has been working around the clock to help in the areas you need it most. As part of our efforts, we're hosting a weekly webinar series focused on VTS best practices related to COVID-19 and practical tips for managing its effects on your business.
Our third webinar — How to Leverage Real-Time Insights to be More Responsive During COVID-19 — was hosted by our Client Advisory team, and CEO and Co-Founder, Nick Romito. They walked through how to use VTS Insights, including our all-new COVID-19 Business Risk Dashboard (which we're offering to customers free of charge at this time), to understand the impact of the pandemic across your leasing pipeline and tenants. Enjoy!
What is VTS Insights?
We want to quickly define VTS Insights so you can better understand how we're delivering our COVID-19 Business Risk Dashboard.
VTS Insights is the dashboard and reporting functionality included in VTS 3, the latest version of our leasing and asset management software. With VTS Insights, you can easily visualize and understand the data that your teams are entering into the platform on a regular basis via graphs and charts. Examples include:
Tenant exposure and risk across regions and partners
Inefficiencies in your leasing process
Marketing performance
And with the reporting function, you can schedule reports to send to yourself or other members of the organization to stay informed and up-to-date. You can also set up custom alerts to be notified via email when critical information changes.
How to use VTS' COVID-19 Business Risk Dashboard
Throughout COVID-19, we've been hearing from our customer-base that they're looking for a better understanding around two key things: What is my existing exposure to specific industries and the rollover risk associated with each one? What risk does my active pipeline have from potential COVID implications?
So, we created this COVID-19 Business Risk Dashboard within VTS Insights to help you answer both of these questions. This new dashboard features eight charts that visualize the different ways COVID-19 is impacting your business:
Upcoming Expirations: What leases are expiring over the next 12 months by square feet and revenue?
Top 10 Industries Expiring: What are the top 10 industries expiring in the next 12 months?
Retail Spaces: What percentage of retail spaces are occupied, committed, or vacant? And what are the top 10 retail leases by square feet?
At-Risk Industries: How many leases do I have with tenants that are within an at-risk industry due to COVID-19?
Inactive Early Stage Deals: How many deals are in either the lead or tour stage that haven't seen any recent activity?
Inactive Late Stage Deals: How many deals are in the proposal, LOI, legal, or lease out stage that haven't seen any recent activity?
Tour Activity Over Time: What does tour activity look like over time?
COVID-Related Deal Commentary: What deals have COVID-related keywords in the latest comment? (i.e. COVID, pandemic, virus, etc.)
If you're a VTS customer, you can watch this webinar on-demand and see our Client Advisory team walk step-by-step through this all-new dashboard here.
We've made three new enhancements to our COVID-19 Business Risk Dashboard to make it even more helpful! Check them out here.
How to get started with VTS' COVID-19 Business Risk Dashboard
If you're a VTS customer, reach out to your Account Manager to get set up with your Business Risk dashboard. While dashboards and insights are a feature of VTS 3, we're offering this one to all VTS customers, free of charge.
If you're not a VTS customer, reach out to our team for more information!