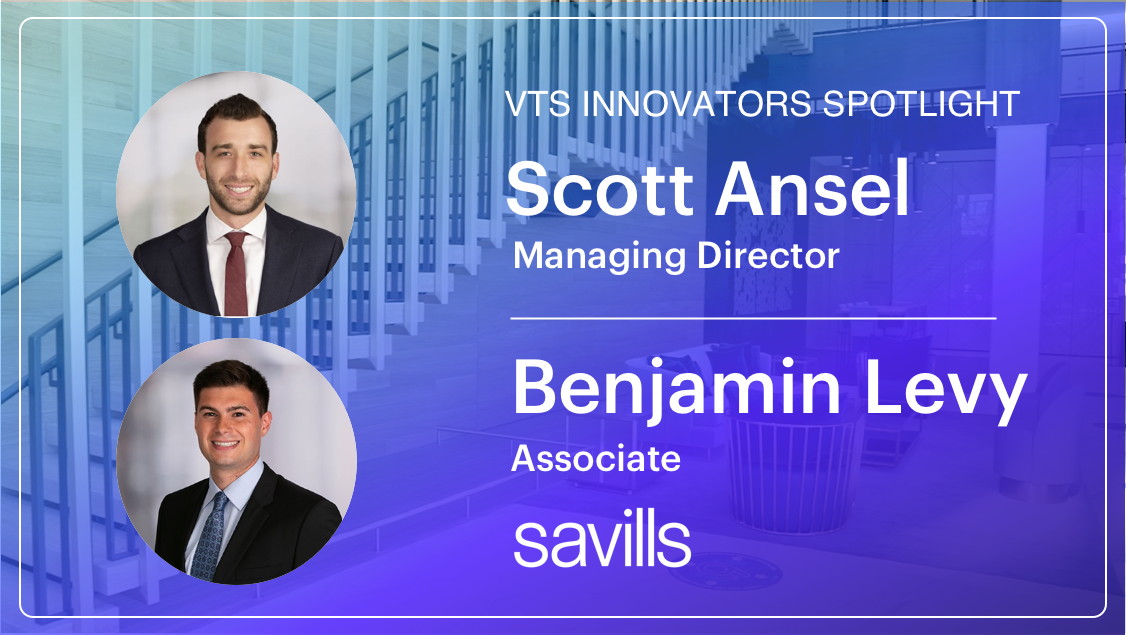 Scott Ansel & Benjamin Levy of Savills on Embracing Technology to Help Tenant Clients into New Space During a Pandemic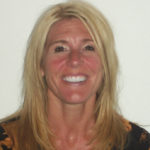 Savills has always been a frontrunner in staying ahead of the curve and taking advantage of new innovations as they advise occupier clients on their space needs. That became even more critical during the COVID-19 pandemic when the company leveraged technology and data to keep essential business activities moving forward.
VTS sat down with Savills Managing Director Scott Ansel and Associate Benjamin Levy to find out how they're going above and beyond to help clients into new space during this time by using platforms like VTS Marketplace to view spaces virtually and make these critical decisions. The pair told VTS, "the pandemic forced us all to adopt technology and brought the industry into the 21st century."
Enjoy!
VTS: How did you get your start in commercial real estate?
Benjamin Levy: My family is in the real estate industry, so from a very young age, I always knew that real estate was going to be in my future. I listened to my dad's calls and went with him to visit space or see architects, and I fell in love with the industry. I looked up to my father, so I wanted to be just like him.
Throughout my internships in college, I worked at different real estate companies. I was fortunate enough to work with Evan Margolin and Scott at Savills during my junior year and immediately enjoyed the team dynamic and thought it was a great fit for me. I guess they liked me enough as well. I couldn't have asked for a better team or set of mentors.
Scott Ansel: Mine is a more roundabout story. After my sophomore year in college, I got an internship at a hedge fund that focused on investing in REIT-preferred stock. From that, I gathered I liked the general industry of real estate. After my junior year, I worked for two developers: Hornig Capital Partners and Simon Baron Development. Going from investing in REITs to development were completely opposite sides of the spectrum, but I liked the industry and wanted to get involved.
I approached both former internship employers after I graduated, and ultimately, the managing partner of the hedge fund told me I should meet Evan Margolin and Lance Leighton at Savills, and we immediately hit it off. Now fast forward and I've been with the same team, same firm for six years with many more to come.
VTS: Can you tell us a bit more about Savills?
Ansel: Savills is one of the leading real estate advisors across the globe. In short, in North America, we help organizations find the right office solutions to ensure their employees' success. We have a team of consultants and brokers, who are experts in all types of real estate.
Levy: At Savills North America, we specialize in tenant representation but also have capabilities for workforce and incentive strategy, workplace strategy and occupant experience, project management, and capital markets. Think of us as a full-service real estate consulting firm.
VTS: What does your day-to-day look like?
Ansel: The best part about the job is every day is different. Once you get your grounding in the industry and start working deals, you see that each one demands something different from you. But by and large, the goal every single day is to either advance active deals and get them to the finish line or try to develop new business.
Some days I'm out touring, having back-to-back client meetings, meeting brokers, seeing space, meeting people for drinks, just entertaining. Other days, I'm in the office for 10, 12 hours behind a desk, reading leases, doing research, cold calling, doing space surveys. There's a complete variety in the way your day may unfold.
Levy: Every day is different, which makes every day enjoyable. We have to be quick on our feet and think outside the box in order to help our tenant clients achieve the best possible outcome on real estate transactions. For the first year and a half, I was constantly researching and cold calling to bring in new clients. Over the last six months, I've started to become a lot more active in the market now that I have some clients. I'm negotiating space, reviewing leases, and interacting with other brokers.
Our team has a tremendous amount of velocity. We work with many different companies, mostly in the financial services sector, so we have a lot of active requirements.
VTS: In this environment where transaction activity is increasingly occurring online, how have you changed your processes or approach to doing business?
Levy: At the beginning of the pandemic, it was a lot of advising because many companies had no idea what to do. Our clients wanted to hear what was happening across the market because they didn't want to miss the boat. They wanted to make sure they were on top of it, utilizing as much information as they could.
In the last 12 months, we've seen market activity increase a bit due to pent-up demand, because no one really did transactions in the first six, seven, eight months of the pandemic. Before the pandemic, we'd do a tour of seven spaces, another tour of seven spaces, and a third tour of seven spaces. We would decide which ones we liked best and go back to revisit our favorites. Now, many of our clients are using online resources to initially vet out spaces. We'll run through it on Zoom, looking at a virtual tour, video walkthrough, photos, and floor plans. Doing the vetting process online has been a huge change to our process.
Ansel: At the beginning of the pandemic, tenants wouldn't even talk about new space, let alone physically look for new space. Without VTS, we were all going to have to become experts using Matterport, which is a great tool, but a bit time-consuming.
The real estate industry was sort of archaic in the way it operated to get tenants into space. It was on a certain trajectory, and COVID-19 accelerated that trajectory by years. I don't think we would have been here naturally for another five years. The pandemic forced us all to adopt technology and brought us into the 21st century.
VTS: How have tenants' expectations changed in terms of inputs to making leasing decisions? What adjustments have you made in response?
Ansel: Aside from getting the best deal possible with lots of free rent and concessions, the biggest conversation has been workplace strategy and COVID-19 precautions. Discussion around the precautions has tapered off a bit now that New York seems to be relatively vaccinated. The focus has really shifted to workplace strategy: how much of the workforce will come back in full? Will it be a flex schedule? How does this affect space layout?
This current cycle was the exact opposite. It was jamming as many people as possible into space. Now with the consciousness of social distancing, that definitely reversed the way people are thinking about offices. At first, many companies were saying they were going to take less space because they're going to have 50% of the workforce working from home, but I haven't really seen that.
Levy: Agreed. I don't think we've seen a large decrease in square footage, but we have seen flight-to-quality. Many companies, especially our financial clients, are looking to upgrade their offices rather than reduce their all-in real estate spend.
Ansel: Class A trophy buildings, and even more specifically, new construction that's less than 20,000 square feet, has been flying off the shelves. There are bidding wars, because as mentioned, why not use this environment to upgrade your space at a similar expense and go to One Vanderbilt or 425 Park Avenue? This brand-new construction has performed extremely well during the pandemic.
Levy: It's going to take time for people to truly figure out how they want to "office" again. You can speculate. You can try out the new models and strategies, but until you actually enact those strategies, it's hard to tell what the future will hold. It's going to take time for companies to truly figure out the best approach to the physical office going forward, for work-life balance and allowing their employees flexibility while also maintaining their culture and collaboration.
Ansel: Many companies that we've worked with over the course of the pandemic were looking for under 25,000 square feet. When you're in that situation, it's less likely that an entire board is making decisions. It could be a single person or small group that owns the company. It's those companies where we've seen the most deal activity and employees returning to the office.
Larger, institutional companies haven't returned yet because they've had more bureaucracy in getting people back into the office. The unofficial restart date might be Labor Day 2021. I think it's going to take maybe even a year after that unofficial restart date to really understand the new way of officing going forward, and if it's even going to be that different than the old way of officing.
VTS: What are some challenges with driving leasing activity that have been addressed with VTS Marketplace? How are you using the platform in your day-to-day?
Ansel: VTS offered the right solution at the right time and one that will be needed going forward as the industry comes out of this. Once the bleeding stopped and it was obvious the world wasn't going to end, tenants needed to make decisions. However, they weren't comfortable coming to Manhattan to look at spaces. VTS Marketplace was perfect for facilitating that process — whether it was sending tenants the virtual tours, or as Ben said earlier, vetting out those first three tours online. That really speaks to what VTS has done. Professional photos are way better than my iPhone and having up-to-date floor plans and asking rents is even more beneficial.
Levy: The first-to-market feature has been incredibly helpful over the last few months. I'm actually working with two groups right now who we weren't originally working with exclusively and through the first-to-market feature, I'm now going to be doing deals with both of them after finding them first-to-market listings on the VTS Marketplace.
Ansel: That's another thing I love about VTS. When the listings are there, I know they're accurate. On VTS, even the rent is there, and you know it's right because it's coming directly from the owners of the asset.
VTS: What advice would you offer peers who are just starting to think about their own technology journey?
Levy: Our clients love being able to look at spaces virtually, and if it's something that you haven't already adopted, you should certainly get started as soon as possible. It makes everything a lot easier. A lot of my time has been saved, and even more importantly, a lot of my clients' time has been saved.
VTS: What would you be doing if you weren't in commercial real?
Levy: I'd like to think I'd be an Olympic swimmer or the founder of a tech startup.
Ansel: I think I'd probably be in the NBA.