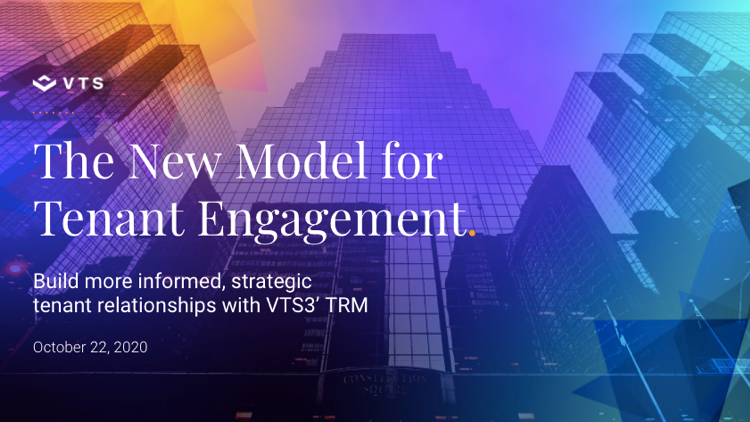 The New Model for Tenant Engagement with VTS and Echo Realty [Webinar]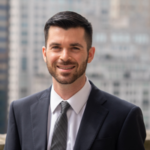 As commercial real estate grapples with the continued impact of COVID-19 and the gradual return to work, everyone from leasing to asset management to property management needs to work together more than ever to respond to changing tenant requirements. But without a centralized, streamlined way to track key tenant information, you risk not being able to retain tenants during a time when it's harder than ever to replace them.
In this webinar, VTS COO Patrick Kehoe and VTS Client Advisor Tom Kealy spoke with Echo Realty VP of Leasing Nicole Spindler about the new model for tenant engagement strategies in a post-COVID world. They cover solutions to common tenant engagement issues as well as how to use the VTS platform and its tenant relationship management capabilities to most efficiently manage all tenant relationships and interactions.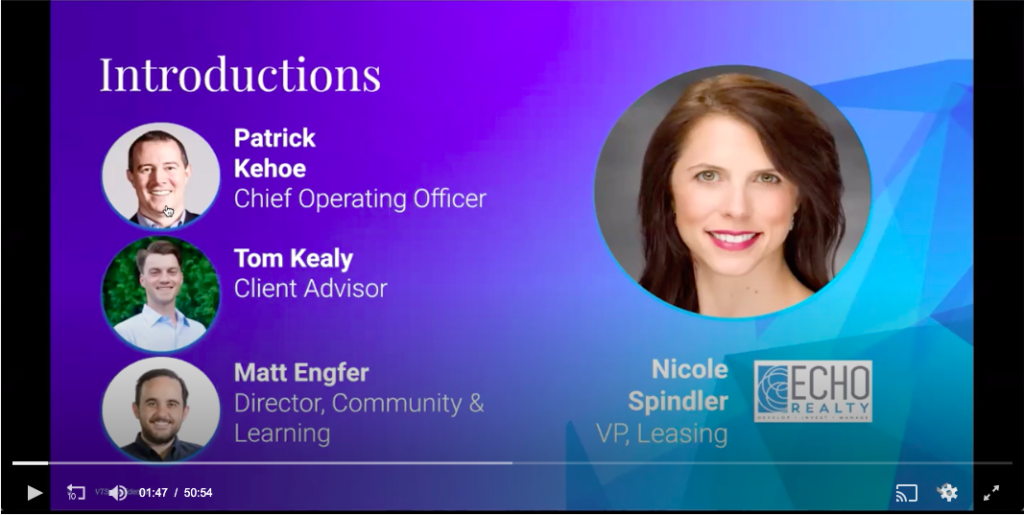 VTS: What does tenant engagement mean and why do you think it's an important problem for landlords to focus on?
Nicole Spindler: There's always so much focus on new deals and renewals, but that leaves out the bulk of our tenancy, which is the people that are in our buildings every day. Communication with tenants in person, on the phone, or over email is so important to tenant retention. We had an issue recently with a tenant who moved out of our space because of a leak in the roof of that space. I didn't find out about the leak until after they moved out, but if I'd known about it earlier, I could have intervened and we may have prevented them from leaving.
I also think that we tend to work in silos across our different departments: the leasing folks, property management folks, accounting, and asset management. Without some central point of communication or way of tracking that communication, it's hard to know who has communicated with the tenant and how the tenants are feeling.
VTS: What is your approach to solving communication problems?
Spindler: We implemented VTS several years ago and our first goal was to address the deal flow and approval processes. Once we had that working well, we realized the benefits of the additional VTS offerings and how they could solve some of these communication problems simply at the touch of a phone or on the computer. But I not only had to fight to get the additional offering, I also had help the other departments to embrace it because technology is only good if you know how to use it. There's always resistance at first when people think you're telling them to do more work, but when they realize that it actually makes everyone's life a lot easier they come on board.
We started with baby steps and one of the most important things from a property management standpoint was the condition of the space. So having that accessible in VTS as well as the details of a lease when I'm looking into a tenant to see how they're doing is super helpful.
VTS: As head of leasing, how do you use this information and build processes around it?
Spindler: We have weekly leasing meetings and every other week we deep dive into everybody's portfolio. Due to COVID, the folks who were so reliant on paper and reports now have been forced to use the real-time software. So we're on Zoom and we're sharing our screen and going through VTS and the meetings are much more efficient. At the same time, we can check out the latest communication with a tenant using VTS' Tenant Relationship Management (TRM) capabilities. Then every other week it's more of a free flow check-in, so if somebody's working on a deal we'll brainstorm and use VTS for that to look at more global stuff like how much of a presence this tenant has across our portfolio and different market trends.
VTS: What's your advice for those considering how to tackle these same problems you've described?
Spindler: The most important thing is setting the expectations; not just implementing it and hoping for the best, but really setting the expectations of what you want this to look like. That will bring everyone on board and allow you to maximize the tools.
How does VTS help?
After a brief discussion between VTS COO Patrick Kehoe and Echo Realty VP of Leasing Nicole Spindler, Tom Kealy, a VTS Client Advisor, jumped in to share some best practices on how VTS can help manage your tenant engagement strategy. In VTS, users can:
Access a single view of all the tenants across the portfolio, including active and historical leases, current deal negotiations, and important company contacts.
Monitor and understand updates made by other team members regarding tenant interactions or overall sentiment to inform outreach and renewal conversations.
Leverage data from across the platform to inform strategy and mitigate risk within your tenant relationships.
Lastly, the VTS Client Advisory team is with you every step of the way. They have experience working with our 750+ landlord customers and can share insights and best practices for tenant engagement. If you're looking to get started with a new tenant relationship management strategy during COVID-19, here are Tom's top three tips:
Get your team excited to work across leasing, property management, and asset management to more strategically engage with your tenants.
Define which updates are strategic for your organization such as:

Tenant re-occupation plans.
Return to work requirements by tenant.
Potential growth or downsizing needs.
Tenant rent relief status.

Prepare for more informed, consistent tenant conversations by leveraging your collected information, updates, and sentiment data.
If you're a VTS customer, you can watch the full webinar on-demand here.