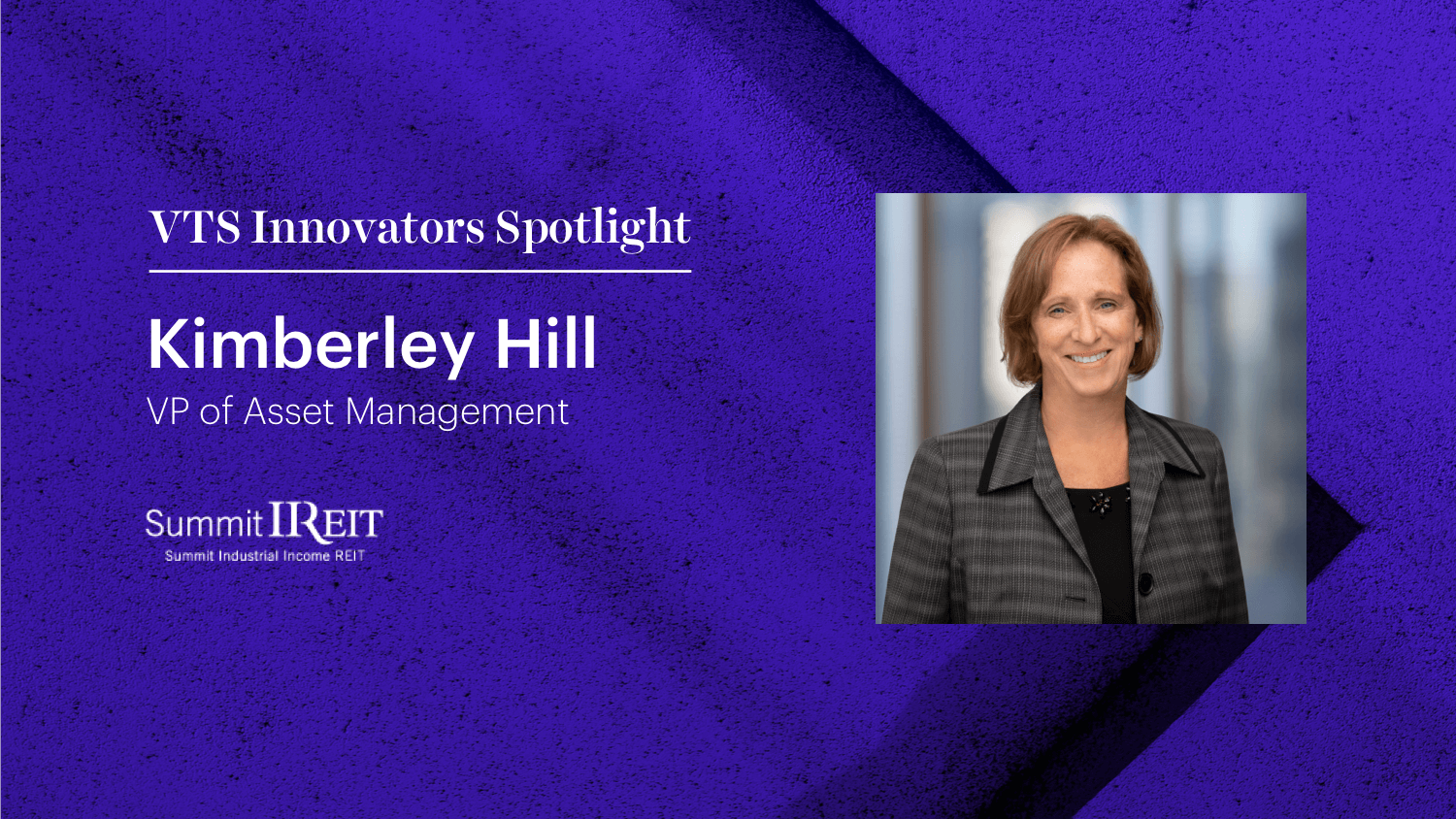 Summit Industrial's VP of Asset Management Kimberley Hill on Protecting Tenant Partnerships During COVID-19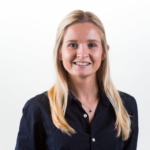 Content Marketing Manager, VTS
Summit Industrial Income REIT is a real estate investment trust focused on growing and managing a portfolio of light industrial properties across Canada. Summit believes in the value of strong tenant relationships and they have worked closely with their tenant-base to help them navigate the effects of COVID-19 on their businesses.
In fact, VP of Asset Management Kimberley Hill says, "We have a tenant that actually changed their production lines in less than 48 hours. And they came to us and said, 'Listen, we need to put a hole in the roof…How fast can you approve these drawings? Because if you can't, we'll lose the contract.'" Kimberley and her team immediately got on a Zoom call with the drawings up and gave their approvals right over the phone.
We sat down with Kimberley to learn more about how Summit is reinventing their properties and protecting their tenant partnerships as they prepare for many tenants to return to work. Enjoy!
VTS: Can you tell us more about Summit Industrial?
Kimberley Hill: Summit is a real estate investment trust. We're traded on the TSX here in Toronto. We have approximately 18 million square feet of light industrial space across the main hubs in Ontario.
Our team is pretty distributed. Our roots are in Nova Scotia where our corporate head office is located. We also have offices in Toronto, (where most of our real estate is located) Ottawa, Calgary, and Edmonton.
VTS: What does your day-to-day look like in your role? How has it changed during COVID-19?
Hill: I'm responsible for all our asset management, which includes operations, leasing, capital planning, and managing a ton of relationships. I dabble in everything that has to do with real estate. We're separate from everything with the public market. We have people who are really good at managing the public markets and the reporting we do there, but I'm strictly a real estate person. That's where my passion and love is.
Property managers and leasing managers all report directly up to me. We're a very flat organization and not big at all on the staffing side, so it's really easy for me to deal with everything from rent collection and tenant issues to lease renewals.
As soon as the government lockdowns occurred, we immediately went to home offices. And my first thought was, "Oh, this is not going to work. We're in the service industry. How are we ever going to service our tenants working from home?" But we very quickly set everyone up in their home offices. If you needed a desk or a chair, or you wanted double screens, or you didn't have a printer, we immediately provided everyone with what they needed to work from home. And then we quickly got inundated with tenant requests for rent relief, which made the home office setups extremely important.
We really had to make some changes because we had always been a paper-based company. The first thing we did (and it sounds so silly) was to buy Acrobat Pro for everyone, so every invoice, every document, could be signed from their computer top and sent off to the next person. And we're now getting all of our vendors set up on EFT, so we can automatically electronically transfer funds to them rather than printing a check, getting two people to sign it back, and getting that into the mail.
Another thing I've realized during the pandemic is that I really took my staff for granted, and I think I have some of the best in the business. I was shocked at how quickly they adapted, how quickly they stepped up, and how we've put really good processes in place. They were just on it, probably faster than my brain could even keep track of it.
VTS: How have you had to change your business processes or approach during COVID-19?
Hill: COVID-19 created a tremendous amount of extra work in the beginning. We spent the first 45 days managing a lot of rent relief requests. That took a lot of work because we had a lot of back and forth with tenants to make sure we had the proper paperwork. We helped a lot of our tenants qualify for government programs that subsidized rent during the pandemic, but that paperwork is unbelievably time-consuming.
And we're finding that tenants are a little slower to make decisions. I think they spent the first 45 to 50 days in a little bit of paranoia and fear and they weren't making good decisions because they were so worried about their businesses. Now, I think most have rallied, but it's still hard to get some of our entertainment tenants to focus back on the business.
They'd be the tenants that might have an Axe-throwing business, a trampoline, laser tag — very unconventional industrial tenants that were completely shut down. Those are the industrial tenants that have been the hardest hit and the toughest to figure out when they can open and how we can help get them there. And if we're going to lose them, figuring out what we can do with the space. And it's really hard because we want every tenant to succeed.
So that's really slowed us down, but there's nothing I can't do at home except tour space.
Can't tour space in person? VTS Market is the industry's chosen integrated, online marketing solution that speeds up the go-to-market process and drives virtual tours and engagement with tenant reps and tenants!
VTS: What role has technology played in helping you navigate COVID-19?
Hill: I don't know what we would have done without smart people who had the ability to pivot quickly to a remote environment and figure it out. Unfortunately, we did a lot of our work in Excel, and we're excited for VTS to hold a lot of this information we've collected.
We did a ton of research into our tenants to find out everything we could about them and what they actually do. How much does their CEO make? How big are they compared to us? Should we be taking the risk of rent abatement if they likely have a bigger coffer than we do? We had some of the information, but not this level of detail, and it will be great to get this entered into VTS.
In hindsight, we really wish we'd implemented VTS sooner so that we could have used that software to help manage this volume of rent relief requests. That would have been a huge benefit.
VTS: Have you seen tenant demand change over the last six months? Is it different from what you were experiencing before COVID-19?
Hill: I always tell people that I have a split personality depending on what market I work in. The Toronto market has been unbelievably strong. It's been a landlord market there for probably the past 12 months. But Calgary and Edmonton are suffering a bit. They depend on the oil industry. We're fortunate that not a lot of our tenants are in that industry, but that market has suffered. So some days I'm a very aggressive, bullish landlord, and other days, I'm just trying to get the deal.
We're finding certain types of tenants have been unbelievably busy. We have a number of plastic manufacturers. And we had two in particular that immediately needed to change their focus and make stuff that was COVID friendly. For example, if you've been to a drive-through recently, they're handing the payment system out to you on a stick, they're handing the food to you on a stick. We have a tenant that actually changed their production lines in less than 48 hours to make that. And they came to us and said, "Listen, we need to put a hole in the roof. We need to change some stuff in the flooring. How fast can you approve these drawings? Because if you can't, we'll lose the contract." And we immediately got on a Zoom call with the drawings up and gave our approvals right over the phone.
And then the logistics companies have been busy in certain types of business. Unfortunately, fashion tenants are pretty slow. Tenants that are warehousing clothing for stores are probably suffering the most in our world, but on the other hand, the tire business has been very busy. I don't understand it, but we deferred rent for a tenant in the tire business and they came back and said, "You know what? We don't need it anymore."
We've rebounded, and the recovery has been fast. Different tenants have just needed different things. We've had a lot of interest in reusable clothing. All of a sudden, the Goodwills of the world are going to start taking deliveries and accepting donations again. And everyone's been home cleaning, so they're all looking to get rid of clothes. So we've had two calls to do short term deals for those uses.
We have a couple of brewers and they are crazy, crazy busy, I guess because we're all home drinking alcohol.
So it's been very odd. I have a small tenant who sells vacuums. And I thought, "Oh, he's definitely going to come for relief." And he said he can't keep up. He's either fixing or selling vacuums. I guess people's way to get relief is to clean their homes.
VTS: How have tenant expectations changed? And are you making any changes to your properties for when they come back?
Hill: It's interesting. Because we're in the industrial business, we don't really have common areas, and most of our leases are triple-net, so anything at the properties really falls on the responsibility of the tenant.
What we are changing is the way we look at new tenants coming into one of our spaces. In the past, we might have been prepared to take a deposit that would be applied to the first and last month's rent. We're now changing our philosophy so that tenants will give first month's rent and an actual security deposit because we've applied a lot of security deposits to rents for tenants that were shut down and still aren't open. Going forward, the security deposits are really great to have because if they can't pay rent, they've got something that you can actually pull rather than collecting first and last month's rent that you can't draw from.
We also would have probably renewed a tenant and not worried about doing a credit review, but now we want to do some checks to see how they may have been affected by COVID-19 that we might not know.
VTS: What do you think the industrial sector will look like after COVID-19?
Hill: Space is going to come back to the market. The Greater Toronto Area could stand to get some space back. I think we need that rebalance because our vacancy is below 2% in that market. Rental rates will stay strong there, but I don't think the annual increases in rent will be as significant. And you might see a slight softening in Toronto, but I don't think we'll see it a lot in Western Canada.
Some tenants are going to fail. I think the failures are going to happen in the retail world and that's going to trickle down to the industrial space. There are some fairly large Canadian retailers that are really struggling. And I think when they fail, then you'll see some logistics companies possibly fail. It might also hit the oil and gas industry and then trickle down.
And you'll see landlords being more careful in doing deals. We're not going to be greedy. I think some landlords got a little greedy before COVID hit, and I think their fall from grace is going to be pretty significant. We'll definitely work with our existing tenant base. We consider it a partnership. We have very, very strong tenant relationships. I know most of my tenants by name. It's not unseen to have a 3,000 square feet tenant pick up the phone and call me when they're frustrated over something. That dialogue is going to be really, really important to understand what your tenant is doing in this space.
I'm just very grateful to be in industrial real estate because lots of tenants are going to need to make masks and other PPE to help get through this virus. And I think we're in really good standing to be able to accommodate that.
VTS: What advice do you offer to other landlords as they also start to prepare to reopen?
Hill: First, make sure you have good people underneath you and treat those people well. Be flexible. Don't be rigid in the way you treat people. Good people can make all the difference in the world. And there's a lot of good people in this business.
Second, strong tenant relationships are the best road. Keep communication open, even during good times. Don't just talk to them in bad times. I work for someone who says to me, "I want you to know the name of their husband or wife, maybe even their pet dog, and possibly what month their birthday is in." And I think that's really important. I mean, if anything this pandemic's done, it's made us human.
And so those relationships with tenants, remember that they're going through the same thing you are, and their family dynamic might be very different than yours. And they may have things to worry about, so be respectful of that. But talking to tenants in good times, and being compassionate when it's a good time for the landlord, is just as important as listening to them when times are tough.
And then finally, I think it's really important we empower people to make decisions and develop programs and projects and let them run with them. The only way they're going to learn is by failure. And the young people in my business right now, I'm telling them, this is the best experience you'll ever get in your career. Because a lot of these people have only seen really good economies and really strong times.
This is the best time to learn. Instead of people in senior positions having to make all the decisions, empower young people to make decisions and give them the tools and let them fail a bit because that's the only way they're going to learn. But if I've learned anything from this, it's that people are really important, don't underestimate what their world looks like. So it's made this a very human thing for me.