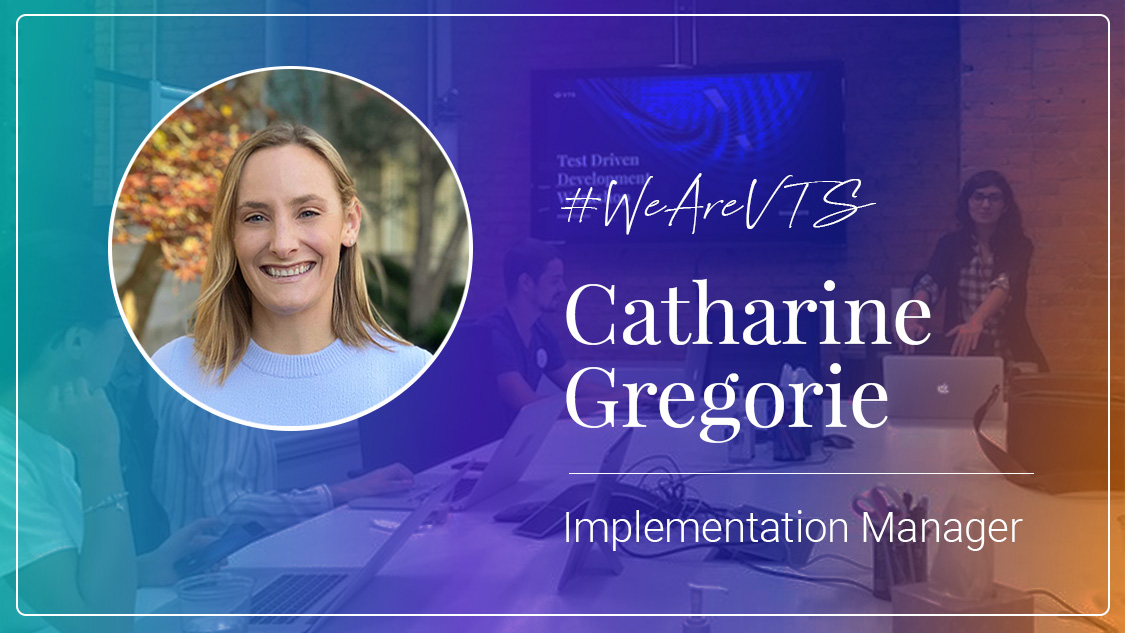 #WeAreVTS: Implementation Manager Catharine Gregorie on Not Being Afraid to Jump into New Opportunities
Eight years ago, we had a vision to change the commercial real estate industry by revolutionizing the way deals happen. Since then, we've taken huge steps in changing how CRE operates with VTS 3, VTS Market & Marketplace, VTS Data, and more. None of this could have been achieved without our team's tireless efforts, hard work, and dedication.
The VTS team consists of folks with a diverse set of personalities, talents, and perspectives, and we want you to meet them! That's why we've created this #WeAreVTS blog series to highlight some of the many outstanding people we have at VTS, get a closer look at the dynamic lives they have, and continue to create an environment where each VTSer can be their authentic self.
For our very first employee Q&A in the series, we're spotlighting VTS Implementation Manager Catharine Gregorie, who has been part of the VTS family for the last three years on the Implementation team. We hope you enjoy getting to know Catharine — and the other VTSers who are featured in the coming months!
VTS: In a sentence or two, can you explain what you do here at VTS?
Catharine Gregorie: I work on VTS' implementation team, so I work with our clients who are either new to VTS or are new to using certain VTS products. I work specifically with their business teams to get up and running and optimized on VTS.
VTS: Where are you working from right now?
Catharine: As we're speaking right now, I'm in California, but for the last six months since COVID, I've been in my hometown of Charleston, South Carolina. I normally sit in our New York office but gave up my apartment when my lease was up in April.
VTS: How has it been working from San Diego?
Catharine: It's amazing. I'm still keeping my East Coast hours out here, which has been great for me. I'm dialing into calls super early, but then I get off in the middle of the afternoon. I've got an apartment a few blocks from the beach, so after work yesterday, I went on a run and then jumped into the water.
VTS: The company has been growing so fast, how does it feel to be a part of it?
Catharine: I know, I can't believe that we have hired more than 70 people during quarantine. I feel lucky in so many ways to work for VTS. Especially now, I have confidence that our work and the partnerships we're building with clients are important. It's been great to work for an organization that's really been able to take the pandemic in stride and come up with creative solutions to these unique times for both employees and clients.
VTS: What was your professional journey like that led you to VTS?
Catharine: Prior to working at VTS, I actually lived and worked in DC for four years in the government contracting industry. In the summer of 2017, I decided to move to New York to make a change, but I didn't really know where my career path was headed yet. I knew that I was interested in both technology and commercial real estate, but didn't know that you could get both.
I reached out to a college friend in recruiting who, unbeknownst to me, was actually a recruiter at VTS. She asked, "What sort of job do you think you want?" And I said, "I'm really interested in commercial real estate and technology, but I have been in this contracts role. Can you help me make an industry switch to either CRE or tech? I think I would be a great fit for a project management role." She laughed and told me she was actually a recruiter at a commercial real estate technology company (VTS), and they literally had one project management role open. I came in and interviewed two days later, and I started at VTS two weeks after that. I've now been at VTS for 3 years!
VTS: Is there a moment you can recall that's made you proud to work at VTS?
Catharine: I feel like VTS is an organization that has a lot of integrity and respect for employees. When we went through a values exercise as an entire organization to redefine our company values, it was a sticking point for me. I realized that I work for a company that truly cares about all the individual components and what each person can bring to the table.
VTS: What did a typical weekend used to look like for you?
Catharine: I would say most Saturday mornings probably started with some sort of run down the West Side highway and coffee at the Highline Hotel in Chelsea. There are a lot of galleries and museums in Chelsea where I live, so there's always something to do. But it's hard to compress what a typical weekend in New York City is!
VTS: What does a typical weekend look like for you now?
Catharine: A typical weekend for me now includes the beach. Being from Charleston, South Carolina, that is your primary source of entertainment. I'm normally at the beach, either or both, Saturday and Sunday. I'm spending a lot more time with my family, which is nice. I'm from a huge Southern family. I've got four sisters and brothers and my parents. Everyone has been altogether in Charleston for quarantine. Normally, we would live all across the country, so it's been really cool to have everyone in one spot.
VTS: What was your dream job growing up?
Catharine: It's so embarrassing, but it's also funny. Other people would say they wanted to be an astronaut, police officer, or whatever, but I always said I wanted to be a CEO. My dad is a business owner. I always looked up to him and wanted to be the same one day.
VTS: What excites you about what you do at VTS?
Catharine: I love learning, and what I really enjoy about my current role is that I basically learn about my clients all day long. The vast majority of my role is talking to clients learning about their day to days, how they run their business, what they are thinking about, as well as what are their concerns and goals. I love to be a sponge and absorb it all. I think it's super cool.
VTS: What is one thing that you've loved about working from home?
Catharine: Prior to COVID, I would go on-site with my implementations clients only about once a quarter or a couple of times a year to see them in person. And other than that, all our calls were remote and video calling wasn't really normalized yet. So I felt like I wasn't as close with all my clients, but now that everyone is working from home, everyone's gotten a lot more comfortable with video calls and I feel like the relationships I have with my clients and teammates have really solidified.
VTS: What is one thing that has been a challenge for you?
Catharine: I miss seeing my coworkers in person. I miss our team. VTS is just such a fun place to work. Our office always has something going on. With COVID, I feel like VTSers are a bit more team- or department-centric because it's harder to have those casual relationships across departments when you're not seeing those people on a daily basis in the office. So that's been a bummer, but we'll be back together at some point.
VTS: What is some advice for someone who wants to be in a role similar to yours?
Catharine: Don't be afraid to get your hands dirty. Since we're growing so fast, there are a lot of opportunities to ask questions and get involved in different initiatives. And ultimately, if you expand yourself a little bit outside of your role and outside of what you're hired to do, you're going to learn so much faster.
Learn more about other VTSers featured in this #WeAreVTS Q&A series: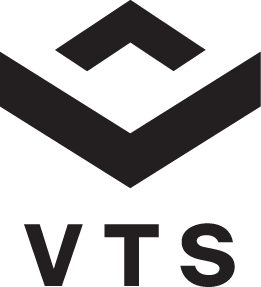 Elijah Alexander is a former member of the VTS team.