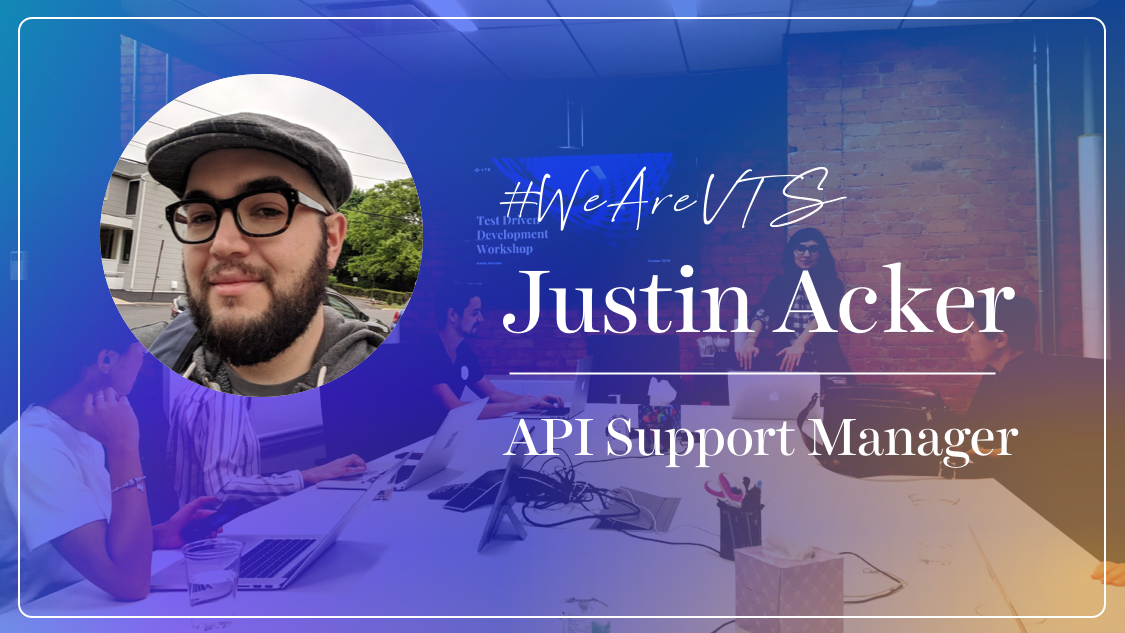 #WeAreVTS: API Support Manager Justin Acker on Solving Technical and Emotional Puzzles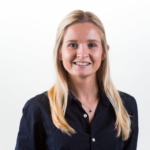 Sr. Manager, Content Marketing, VTS
The VTS team consists of folks with a diverse set of personalities, talents, and perspectives, and we want you to meet them! That's why we created this #WeAreVTS blog series to highlight some of the many outstanding people we have at VTS, get a closer look at their dynamic lives, and learn more about the important roles they play.
For our next employee Q&A in the series, we're spotlighting VTS Integrations and API Support Manager Justin Acker, who has been part of the VTS family for the last two years. We hope you enjoy getting to know him!
VTS: In a sentence or two, could you explain what you do at VTS?
Justin Acker: I'm the Integrations and API Support Manager. I head up the team that helps ensure client data from other programs comes into VTS properly so our clients don't have to enter it twice.
I'm also a VTS Values and Mindset Interviewer, which is a step in our interview process for every single candidate. A values interviewer asks a series of questions that are designed to determine whether the candidate lives up to the set of values that VTS has agreed upon and has agreed to uphold. It's designed to replace this sense of "culture fit" that can arise in a hiring process and that introduces discrimination bias into the hiring decision. We conduct these values interviews based on a specific set of criteria that helps to check a candidate would represent the diverse and inclusive culture VTS is looking to build.
Finally, I'm a VTS Ambassador, which is a role designed to meet a new hire on their first day and run them through what it's like to work at VTS. On the first day, it can be a little overwhelming being thrown into any organization, so the ambassador is there to help fill in any gaps. We show people around the office: make sure they find their desk, find the coffee, and find the office supplies. We direct them to the right people and resources to answer any questions.
It's a bit different now that we've been working from home, but I still check in on Slack throughout the day to make sure they get all their accounts set up, get access to everything they need, and to help if they run into any problems so they don't feel alone and adrift while starting virtually.
VTS: Where are you based right now?
Justin: I lived in Brooklyn for the last ten years, but just recently moved across the river to New Jersey. I'm a bit closer to the VTS office now.
VTS: What was the professional journey that led you to VTS?
Justin: My first software job was working for a medical software company in Brooklyn. I started as a training coordinator and later became a developer. After that, I worked for Zocdoc and Justworks. VTS reached out to me when I was working at Justworks and it sounded like a unique opportunity.
As I've moved through my career, I've realized that my niche is working in highly technical jobs that also require a human touch, human interaction, and strong soft skills. I now look for job opportunities that allow me to combine both of those strengths.
VTS: Is there a moment you can recall that made you proud to work at VTS?
Justin: In general, the way VTS has responded to the COVID-19 crisis has been pretty inspiring to me. Early on, when we all first moved to working from home, they made the decision to take some of the budget that we typically used for office events and re-focused it toward virtual wellness activities for the entire company, like hiring yoga teachers and fitness instructors.
Our Office Experience team could have done anything with that money, including not spending it all since we weren't in the office, but they continued supporting our team in this virtual way. And not only that, but they also put out a call to everyone asking for recommendations of small business studios or instructors who were now struggling due to the pandemic so they could give back to the community in that way.
Since I'm a values interviewer, I always tell prospective employees about the way VTS has responded during the pandemic, Black Lives Matter movement, and these big, cultural moments that have happened during the last two years because I believe we've navigated them well as a company.
VTS: What did a typical weekend look like for you? And what does it look like for you now?
Justin: They don't look that different! Since I previously lived in Bay Ridge for the last 10 years, getting into the city or to Williamsburg was a tough commute for me. On the weekends, I often didn't leave my neighborhood much after doing it all week for work. But I would get out on my bike as much as I could.
But when I would head out, one thing I really liked to do was karaoke. I'd go to the Korean- and Japanese-style karaoke lounges with private rooms or just to a karaoke bar. I'd also go to a lot of concerts. I haven't done any of that during COVID, but I've been fully vaccinated since the beginning of May so I'm looking forward to getting back to some of that.
VTS: What was your dream job growing up?
Justin: I had a lot of dream jobs while growing up. When I was in college, I wanted to be a vocalist, opera singer, or art song singer — I actually went to school for music. And when I was much younger, I wanted to be a video game developer and a lawyer at different points. I've never had a clear direction, but now I do feel like I've found my niche. It's maybe not what I ever thought about doing, but I'm good at it and I find it fulfilling.
VTS: What excites you about what you do?
Justin: I have a technical background. I'm good with computers and I understand the logic, so I wanted to use that in my daily job. But I also have a good rapport with customers and I'm good at understanding, and empathizing with, clients and users who are having a tough time. What really excites me about what I do at VTS is when I interact with someone who may not be so happy or satisfied at the moment, and I can pull them back from the breaking point and turn them into a fan of VTS — that's my moment.
It's about solving the puzzle, whether it's a technical logic puzzle, or an emotional empathetic puzzle.
VTS: What's something you have loved about working from home? What's been a challenge?
Justin: I've enjoyed working from home during this time. I had a long commute coming into and leaving the office that's now been replaced with extra time to spend on my hobbies and interests. Also, for me personally, I've found working from home to be less distracting. Everybody works differently, but for me, an office can be loud and prone to interruption. My personal productivity has been higher working remotely.
In terms of challenges, coordinating meetings or explaining things over Zoom can be harder. I don't know what it is, but for some reason, just sharing your screen on Zoom isn't the same as bringing your laptop over to someone's desk and showing them in person. It's fundamentally the same concept, and we still get it done on Zoom, but the execution has just been different and can take a bit longer.
VTS: What's your advice for someone who wants to be in a role similar to yours?
Justin: Well first, email me! My team is growing, so if you're interested in a role like this, I'm interested in hearing from you.
But honestly, for this role, it's interesting. This job is technical, but what you really need is a detective mindset. If you're motivated to solve puzzles and have a mindset to leave no stone unturned, you can learn to do this job. You can learn the technical elements.
My other piece of advice is just to talk to people and get as much experience working directly with the public as possible. All my soft skills came from 10 years of working in restaurants and as a teacher. For whatever reason, you'll never deal with someone as angry as the person who got the wrong toppings on their burger. That's just to say being able to talk to people and resolve a situation with heightened emotion is important.
Learn more about other VTSers featured in this #WeAreVTS Q&A series: