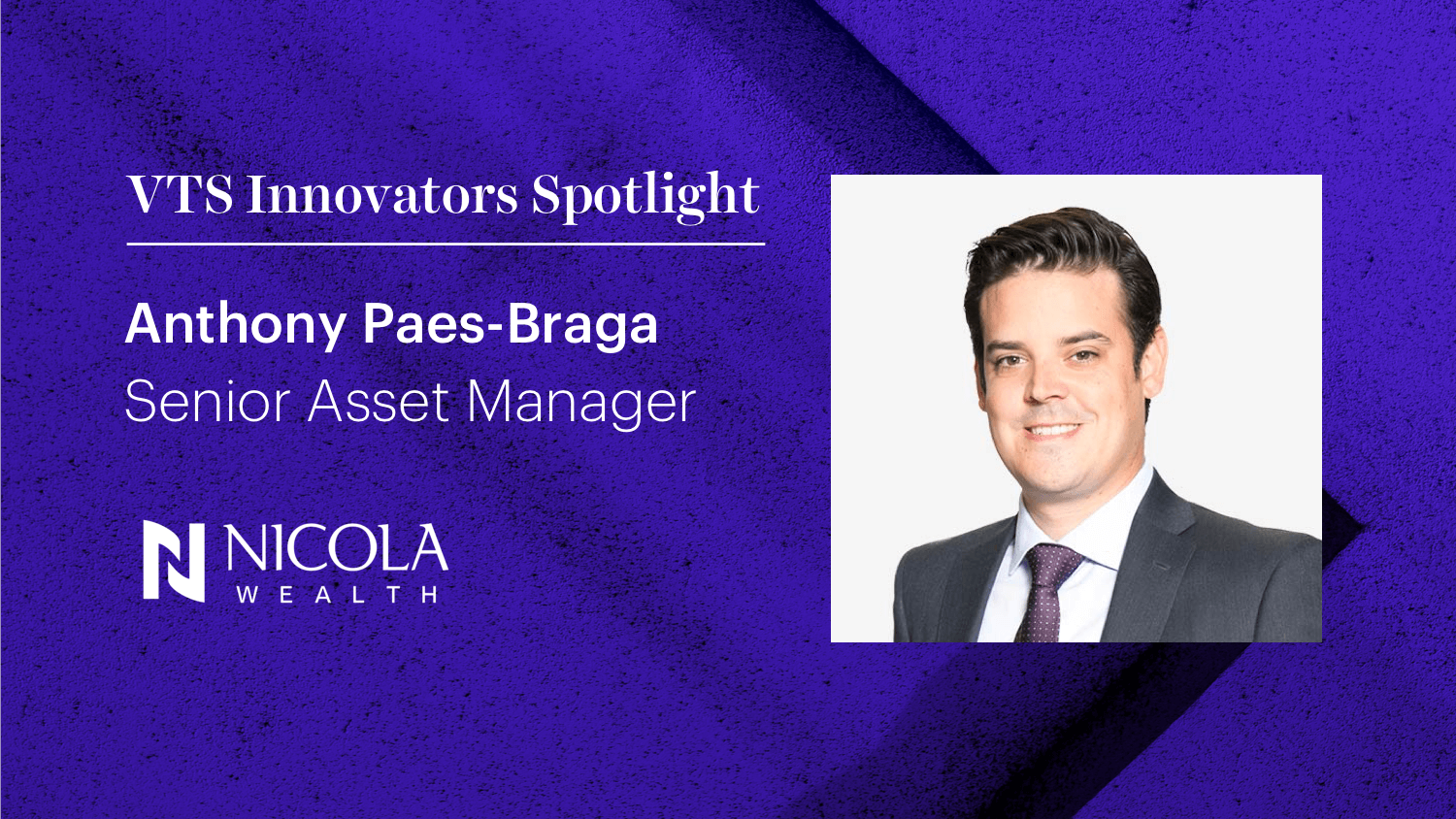 Nicola Wealth's Anthony Paes-Braga on Using Technology to Support Rapid Growth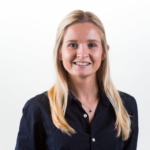 Sr. Manager, Content Marketing, VTS
Nicola Wealth is one of Canada's largest independent wealth and asset management firms, with more than $7 billion (CAD) in assets under management. The company provides affluent Canadians with portfolio diversification well beyond stocks and bonds, comprehensive and integrated wealth planning, and consistent and stable returns. Nicola Wealth has an experienced and innovative real estate team, Nicola Wealth Real Estate, that sources assets and manages a growing portfolio of properties in major markets across North America. Anthony Paes-Braga, Senior Asset Manager of Real Estate at Nicola Wealth, says the company has aggressive growth plans and is looking to triple the size of its already extensive portfolio over the next six years.
Anthony sat down with VTS CMO Amy Millard to discuss the company's best-in-class asset strategies to make that goal happen and also share his unique perspective on the commercial real estate industry. The tech-driven company is an early adopter of Proptech and continues to embrace innovation and implement new technologies. Anthony talks about the importance of technology in Nicola Wealth's leasing and management process, which has helped propel the company to where it is today.
VTS: Can you tell us a little about Nicola Wealth Real Estate?
Anthony Paes-Braga: We have three real estate limited partnerships: a Canadian income partnership, a U.S. income partnership, and a value-add development limited partnership. We celebrated our 25th anniversary this year. Nicola Wealth was started in 1994 by our Principal, John Nicola. We have just over $7 billion in assets under management. Of that $7 billion on the real estate side, we have $3.7 billion in gross assets under management with a net asset value of just under $2 billion.
The portfolio in Canada is as far west as Victoria, B.C., and as far east as Toronto. In the U.S., our primary commercial portfolio is located in the Western United States with a couple of assets further east in Chicago, Florida, and Virginia. A large portion of our U.S. portfolio is multifamily, which is in the Southeastern U.S.
VTS: How did you get your start in commercial real estate?
Paes-Braga: This is my second career. I was in hospitality management, went to school for it, was in that industry for about seven years, and got a bit bored. So I made a change and went into the real estate sector. My first year was in 2008, which wasn't a great year to get into commercial real estate. I took what little options I had and got into the property management space with a regional firm here in British Columbia, primarily focused on a retail portfolio spattered throughout the province. I was there for five or six years and then joined Nicola Wealth, which at the time was Nicola Crosby Real Estate.
When I joined six years ago, the company had $486 million in assets under management and now today we have $3.7 billion. We've already grown significantly in the time I've been here, both from an AUM standpoint and from a staffing count. When I joined, the real estate team was maybe five, six people. Now we're at almost 30 people. We've already experienced significant growth and we're really planning to continue on that path. This year, we broke last year's record of acquisitions. We did over $800 million in acquisitions directly, but $1.4 billion in aggregate with our partners, so it's exciting.
VTS: With that kind of growth, what does your day to day look like?
Paes-Braga: One reason why I love commercial real estate and asset management is there's no real direct day to day that's the same. Every day is different, but we definitely have some key focuses. Our MDs hammered into us that our one purpose in this world is to keep our buildings leased. So that's the main focus every day. We're looking at where vacancies are, where upcoming vacancies are, and investing time in our tenant relationships with larger tenants or tenants whose leases are coming up soon to really understand their businesses.
A lot of time is spent talking to the brokers to find out what the trends are and what the opportunities are in order to keep our buildings leased.
Learn more about how VTS has transformed Anthony's day to help him become even more strategic and productive here!
VTS: One of the trends we're seeing is the change in tenant expectations. Can you tell us where you think this trend is going?
Paes-Braga: Tenants are becoming more and more sophisticated in how they utilize space and look for space. It's more of a focus for them with respect to staff retention and hiring best-in-class talent. I think it's going to keep moving in that direction.
It's interesting though because I've seen some users of space — whether they're tenants of ours or spaces that I've toured — where initially they build out the space in a certain way with additional flex space, meeting rooms, and huddle areas. But as companies grow, and especially in some markets where vacancy rates are at all-time lows, they're having to transform. As they add more staff, they're changing some of those flex areas back to bullpens and permanent kind of space and locating staff there. I think that will continue, but it's really going to depend on staff counts and how they can best utilize that space for what they need in the future.
VTS: Speaking of flex space, JLL is predicting that 30% of the office market will be flex space by 2030. Do you think that's too aggressive or will the trend continue?
Paes-Braga: I think that will continue because having flex space is an asset as we're seeing tenants grow significantly and sometimes having to reduce quite quickly. It almost gives you a bit of a buffer to make sure you can retain those tenants because you can allow the ones that might need it to locate into a flex space or coworking space. The most important thing is you never really want to lose a good-quality, growing tenant because you run out of space.
Having the ability for tenants to take space in a WeWork or Convene or one of the other groups out there, I think it's an advantage. We don't have that situation currently in our portfolio. We've got a single-tenant, WeWork facility in San Francisco. When we were doing some major capital work on the building, we were able to go to WeWork and secure some space for our existing tenants that would really help mediate any potential negative impact that the capital work was having on them.
VTS: What do you think about the landlords that are creating their own brands? Boston Properties and RXR Realty are two examples.
Paes-Braga: We've looked at doing it. We haven't pulled the trigger yet, but we did invest some time, effort, and money looking at that opportunity. I think it depends on the product. If companies are trying to build a full brand around it, they're already entering a space that's — I don't know if saturated is the right word — but it's not their core business.
But I think it can make sense if you have a building with some prolonged vacancy or tenants that are growing and retracting on a regular basis. Because at the end of the day, all you're really providing them are spaces that tenants can use on a shorter-term basis. It just gives them the flexibility that will lead them to stay in your building longer. It's a new type of amenity at the end of the day.
VTS: With flex space, the average square-foot-per-person has decreased. Do you see that trend continuing or are people going to push back and ask for a little more elbow room?
Paes-Braga: I don't know how many more people you can fit into spaces. I do know there have been some challenges in some markets where the flex-space operators have run into structural issues, especially in some older buildings where it actually becomes a life safety issue in regard to floor loads and occupants.
Then the question is going to be around the next generation of office buildings that are going up in cities right now. Are they building them in a way that you can increase occupant load? Personally, I haven't seen too much of that. Some of the low-rise buildings being built might have a bit more capacity for floor loading because of access and travel distances, but I don't know if we're going to get much lower per-square-foot-per-person than where we are now.
VTS: The average lifespan of a tenant is also decreasing. Looking at our own VTS data, the average lease term will outlive a company's lifespan. What's your perspective?
Paes-Braga: It really starts at the stage when we're first responding to an RFP or when we're trying to find out everything we can about the tenant's financial business and their growth plan. If we're dealing with a newer company, a startup, it definitely impacts some of the business terms and how we execute on those terms. For example, if we can't get significant security for a startup because they don't have cash on hand, we'll evaluate other opportunities to obtain security. And I know, especially with what's gone on with WeWork, there are more creative ways of getting security from a tenant these days than previously existed.
If we're dealing with a fairly new tenant without a lot of history, we typically want more control over how that buildout takes place. We'll want to ensure that the improvements are more generic and can be reused by a future tenant. It'll be interesting to see, especially with startups, how much money has gone into these companies in British Columbia this year. I think this year was a record year and the next few years will be quite telling.
VTS: How critical is technology to your leasing and management process?
Paes-Braga: Technology is pretty important to how we've been able to grow the last six years. Since I've been here, our initial foray into technology was more with our investment management platform. We've made a great effort to invest significantly in that platform so that we could scale and grow. On the leasing side, we're customers of VTS, so you could call us early adopters back in 2015 or 2016, and it has played a key role. We've definitely seen an evolution amongst brokers and other landlords and asset managers since we adopted. When we were first rolling out VTS and getting our brokers on board, not a lot of people had heard of it; but nowadays, whenever we go out for a broker proposal, they're pitching that they use VTS themselves. It really enhances our ability to keep our portfolio leased.
We also cut down time spent on reporting and analyzing effective rents or other financial metrics that we look at.
VTS CMO Amy Millard recently sat down with Anthony to discuss how using technology is helping Nicola Wealth support their fast growth. Listen to their full discussion here!
VTS: Given your rapid growth, what advice can you offer other companies as they prepare for their own growth?
Paes-Braga: Have a plan in place. We have a goal to triple our portfolio size and we've made a plan about how we're going to get there.
You should definitely enlist expertise in Proptech, which is a very busy space now. There are a lot of players in every aspect that will promise to help you scale, enhance your business system, and automate. Make sure you hire great consultants who really have their finger on the pulse of Proptech and can provide impartial feedback on other platforms.
And I definitely suggest that you identify other landlords that are making investments in technology and give them a call once a month or go for coffee and see what they're using. See what they've seen, see what they like, and follow up with them.
VTS CMO Amy Millard recently sat down with Anthony to discuss how using technology is helping Nicola Wealth support their fast growth. Listen to their full discussion here!